Clematis terniflora 'Paniculata'
Sweet Autumn Clematis, officially known as Clematis terniflora or Clematis paniculata, is a gorgeous perennial vine which produces an abundance of sweet-smelling flowers late summer into early autumn. A rampant grower, and potentially invasive, I should have subtitled this post, "A Cautionary Tale" as it can easily overtake structures and spread, via it's abundant whirligig seeds, into other parts of your (and perhaps your neighbors!) yard and garden.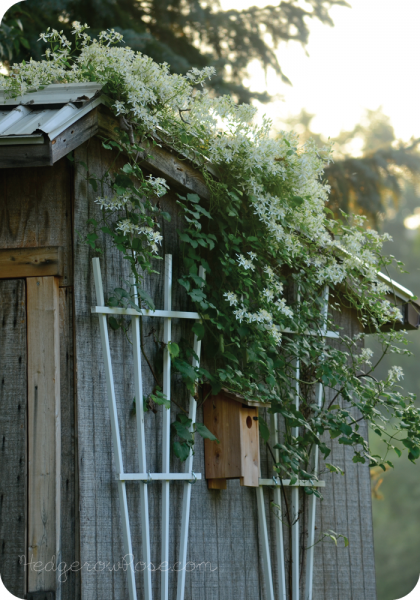 Our Sweet Autumn Clematis in it's second year
My husband and I are big fans of vining plants and are always looking for more ways to have our garden grow up. (Also, can anyone really have too many Clematis?) We knew we wanted to add Clematis paniculata to the garden and wisely took the advice of other gardeners who told us to beware the fast, thick growth, and to make sure to provide a very strong support. Additionally, we read about the potential for the seeds to spread to other areas of the garden, so we planted ours where it is surrounded by the lawn; any seedlings we don't want can just be mowed when we cut the grass. Clematis paniculata can easily grow to heights of 30+ feet in just a few seasons, but this was part of the appeal when we selected this vine to cover the sides and roof of a shed in our yard. When we purchased ours in spring, 2010, it was barely 8″ high. The picture above was taken just a couple of weeks ago–that's how fast this vine can grow!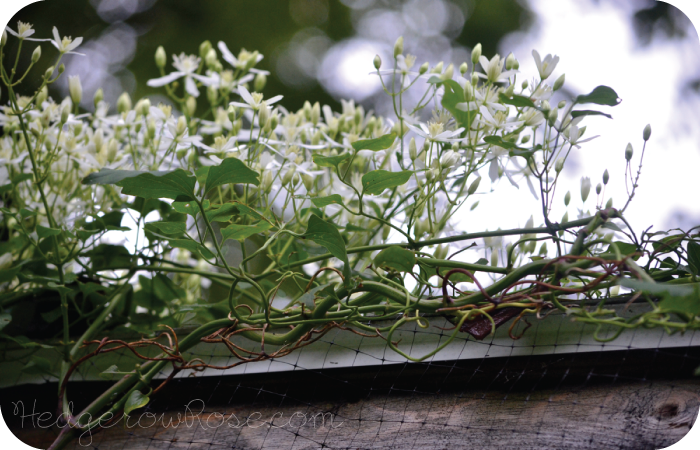 We attached bird netting to the roof of our shed so the leaf stems have something to grab onto.
Of course, we know that clematis does not vine as, say, a pole bean, but actually curls it's leaf stems around a support. These leaf stems are rather short and slender, therefore something needs to be provided for the leaf stems to grab onto that isn't too thick. We attached bird netting to the roof of our shed (it's lifted and supported underneath so there is space between the roof of the shed and the netting) and that seems to be doing the trick. Looking back, we should have also provided a similar support to the vine when it was smaller and still reaching up, but it still made it's way to the roof with just a little support against a fan trellis attached to the side of the shed.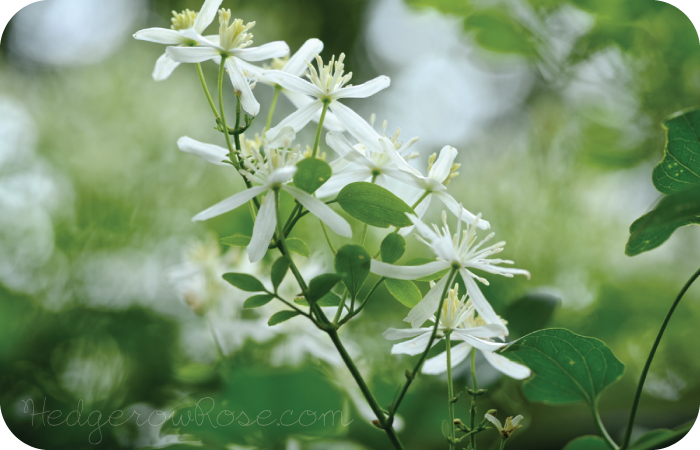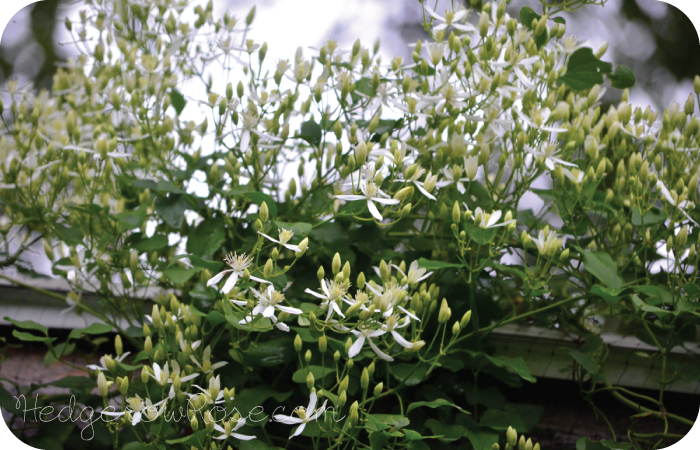 Clematis paniculata is part of Group III which means it blooms on new growth and can be pruned down to the base of the plant if necessary.
Clematis paniculata is hardy to zones 4-9 and prefers to have it's "feet in the shade and face in the sun." Planting other perennials and/or mulching around the base of the plant will help shade the shallow root system and keep them cool. Clematis vary in their pruning needs and are divided into 3 groups based on such. Clematis paniculata falls into Group III which means it blooms on new growth and can be pruned in early spring down to about 12″ high. This may be a good method for control if you're worried about it taking over! Some gardeners even choose to prune in the fall before the flowers can set seeds, which might especially be a good option if you garden in an area where the potential for invasiveness is more severe.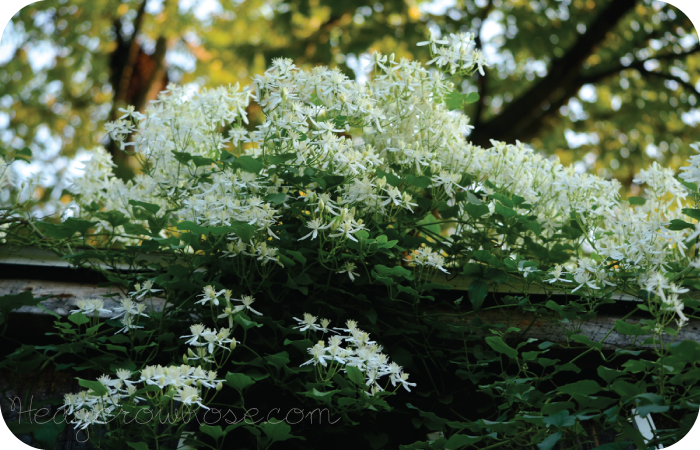 Clematis paniculata provides late-summer, early autumn nectar for bees and butterflies
Since we are only in our 2nd season with our Clematis paniculata, I am practicing a "wait and see" method of control at the moment. I'm thoroughly enjoying the look of our vine and it obviously hasn't become a problem, yet. If it looks as though spread is going to be a concern, I will probably prune back immediately after flowering and control it's size. If not, I plan on just letting it do it's thing and envelope the roof of the shed providing a beautiful, scented backdrop in our late summer garden, and of course nectar for the bees!
EDIT: I can't believe that I forgot to mention that Clematis terniflora is poisonous if ingested and some have experienced skin irritation when handling the plant. Obviously I have never poisoned myself with it, and we have an older child we aren't worrying about popping seeds into her mouth. I have never experienced skin irritation, nor has my husband, but it wouldn't hurt to wear a pair of gardening gloves if you have sensitive skin.