A bed of Zinnia elegans pumila 'Cut & Come Again'
I don't feel like my summer garden would be complete with zinnias, and every year I like to experiment with a different variety. Last winter I purchased a couple packets of seeds from Botanical Interests, and got a lot of bang for my buck with the treasured heirloom variety, 'Cut & Come Again' which were simply stunning and, true to their name, produced more flowers than I could keep up with! I wish this story had a happy ending, but as I write this, most of my zinnias are now gone. Sadness!
Zinnias are veritable butterfly magnets
'Cut & Come Again' is a bold mix of of doubles in shades of orange and pink born on branching stems and reaching heights of about 3 feet. (REVISE: I just went outside and stood next to a remaining clump, and they are as tall as me so don't believe the packet. They can get to heights of 5 feet!!) The name is apt; the more you cut flowers, the more they produce, and they are quite long-lived in a vase. I began my seeds in spring in a small greenhouse to get a jump on the season and one rainy day in May planted them all out in wide rows along the front of our house. I've learned that Zinnias need to be consistently watered until they are about 1 foot high, and then they are pretty much drought resistant. Heat and sun lovers, they will rocket upwards and outwards and start producing masses of blooms once the day and evening temps start to warm up and level out.
Zinnia seeds can be collected for the following season. I like to start mine in spring to get a jump on the season.
It didn't take long for the tiny seedlings to explode with growth and color. The butterflies, bees, moths and hummingbirds all went bananas for them so you couldn't walk by without being in the flight path of some kind of pollinator. (One time, a hummingbird literally almost crashed into the side of my head and then scolded me for being in her way). They got so big, in fact, that they swallowed up my row of lavender and engulfed my hedge of Knock Out roses. I would have had to pole-vault just to get to the climbing roses behind them, so I had to watch my Blaze and Pierre de Ronsard roses get eaten alive by the Japanese beetles and not be able to do anything about it. Was it worth it, though? You bet. These zinnias knocked my socks off.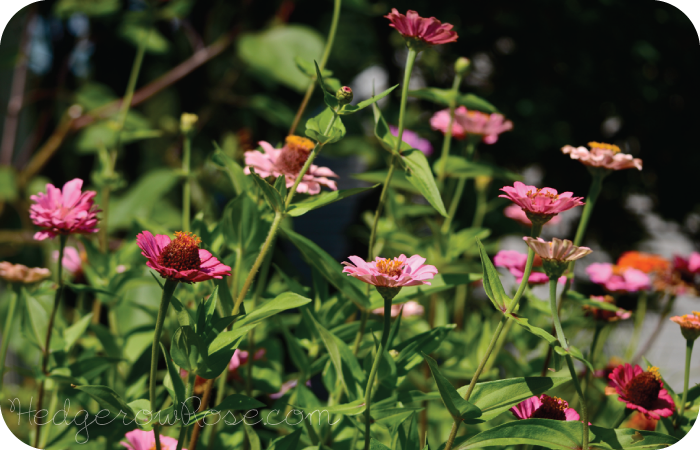 'Cut & Come Again' Zinnias come in a wide range of vibrant pinks and oranges
Sadly, last week our house decided it hadn't given us enough trouble lately so it provided us with a flooded basement immediately followed by sewer problems. My bed of beautiful zinnias were in the way of the guys coming to fix our pipes and long story short everything needed to get cleaned out. It broke my heart pulling them out of the earth while they were in the middle of growing and blooming so abundantly, but the silver lining is as I was laying them by the curb for the compost truck, neighbors were walking by and asking to take bouquets home with them which of course I was thrilled to oblige. I won't grow these again next season, not because of the bittersweet ending, but simply because I love experimenting and there are so many more to try. This truly is a fantastic variety, and if I had the space (they need a lot of space!) I would certainly grow more. Perhaps in a future garden I will–and one that's well away from any pipes!
For summer-fall color, zinnias simply can't be beat.