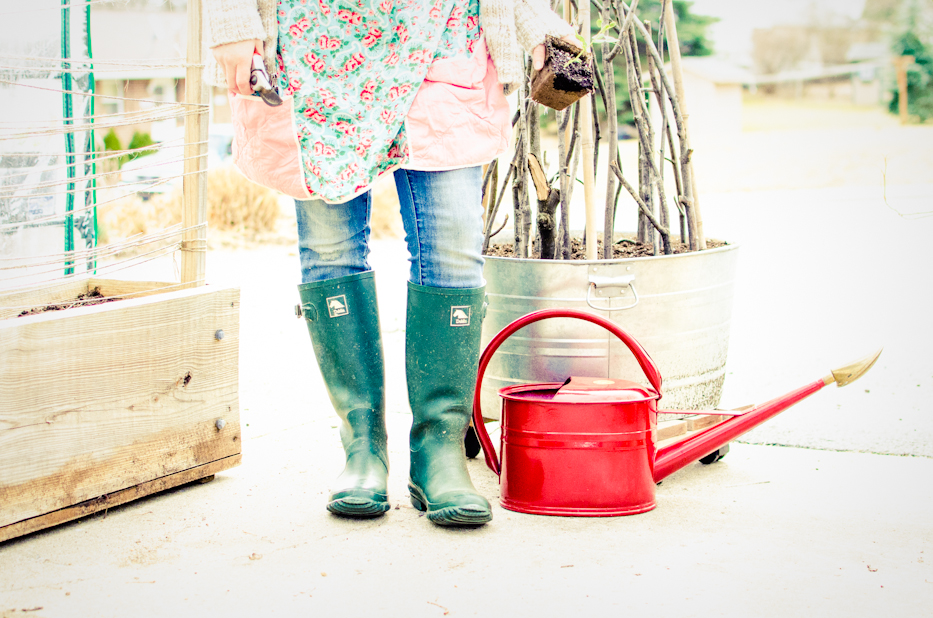 I should probably explain that all these roses that I've been sharing are not actually blooming in our garden right now. My usual readers know this, but I get a lot of people who bounce in off Pinterest and might be a bit confused wondering what amazing zone I garden in! Nope, those photos are from last summer; I just like to keep things rosy in this space year round. Maybe it's time, though, to show what's going on here and now, sound good? Well, in a nutshell, it finally warmed up and I'm finally feeling better so you know where you can find me: in the garden!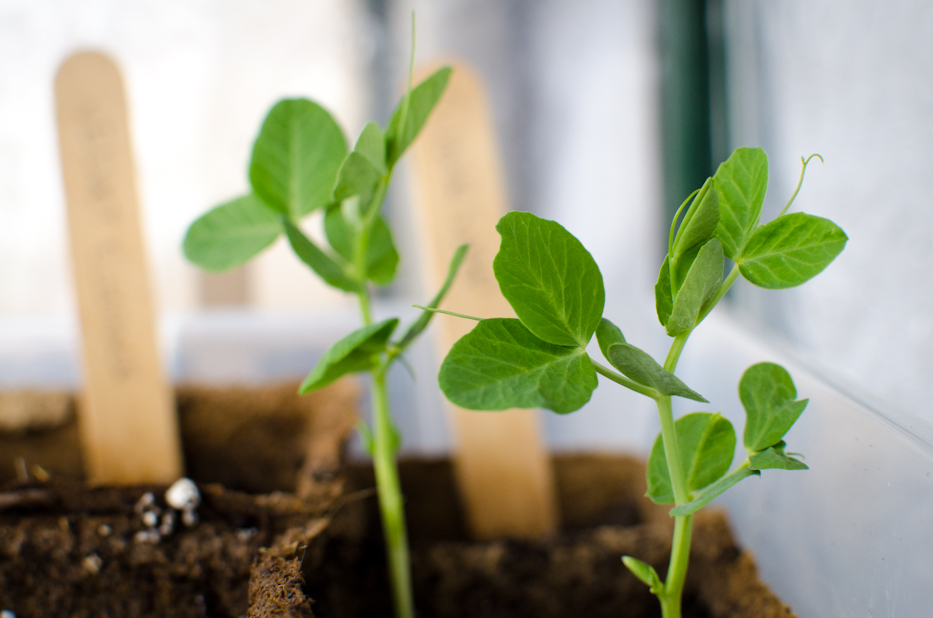 Lots of pottering about. Cleaning out debris, cutting back perennials and moving the container roses out of the garage. The peas that I sowed a few weeks ago are coming along nicely. The sugar-snaps will be planted out shortly but the sweet peas won't go in until closer to May. We never did put together that fancy greenhouse Jesse and I talked about last autumn. The issue was space. I tried waving my wand and creating a great, big, sun-filled yard but apparently my magical powers are waning. The only way a proper greenhouse will appear is if we remove some trees and, well, win the lottery. Neither one is probably going to happen anytime soon! In the meantime those flimsy plastic jobbies are doing the trick.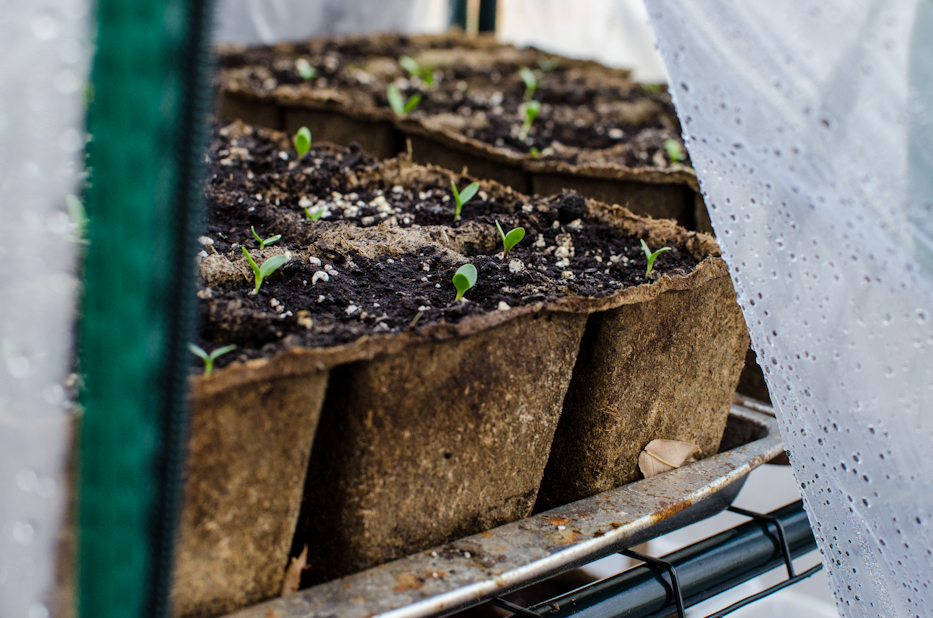 I also sowed an heirloom collection of Dianthus, 'Enfant de Nice', and they just germinated. One day I looked in and there were all these tiny leaves! I just love growing things from seeds since you get to see the plants' entire life-cycle. Remember these snapdragons? I sowed a double amount since we loved them so much and next up, more stocks. I've run out of room so once we cycle out some of the peas the warmer weather annuals will go in. Exciting!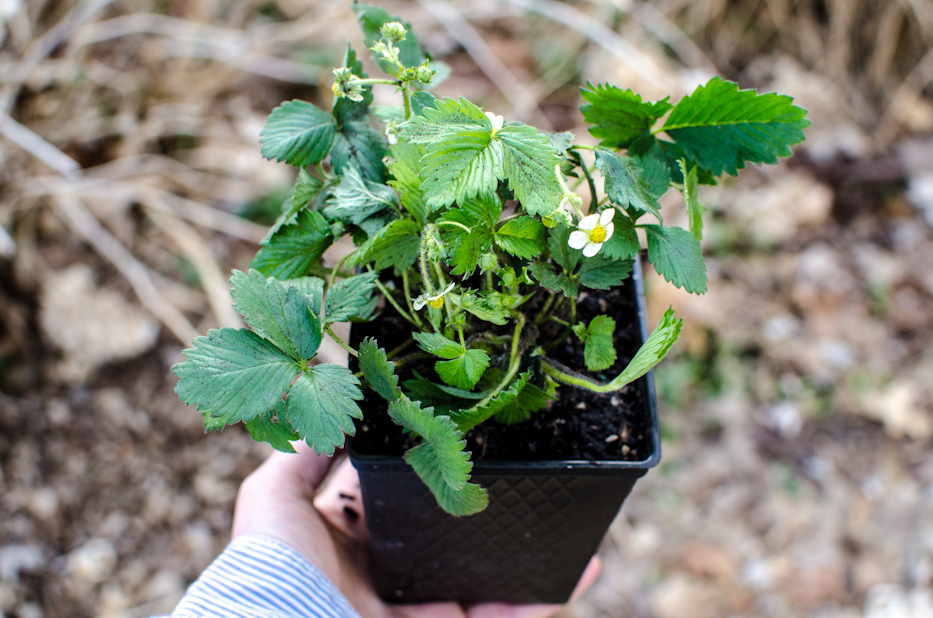 Final plant orders are being made (so happy we're finally putting in that Lilac hedge) and we got our first delivery today: 'Mignonette' strawberries arrived in the mail complete with tiny blossoms already. Oh no! I didn't expect them to be so filled out already. It's much too soon for them but I'm not really complaining. I'll just do my best to try and keep them alive until it's warm enough for them to plant out.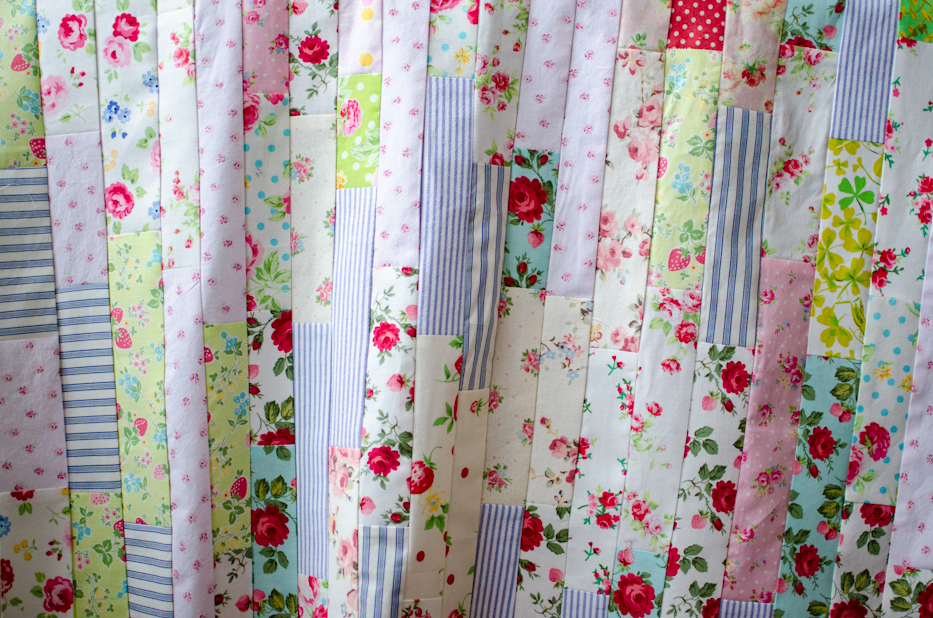 Indoors, it's been a bit of crafty business. I finished a cowgirl-inspired patchwork quilt for Madison (who loves horses) which I don't have a photo yet but I promise I will soon. The fabric I used is just the cutest. I also began my first scrappy quilt–and then my sewing machine finally died–and then I got a new one–and then I ran out of steam. Now that it's supposed to rain for the next five days maybe I'll get back to it.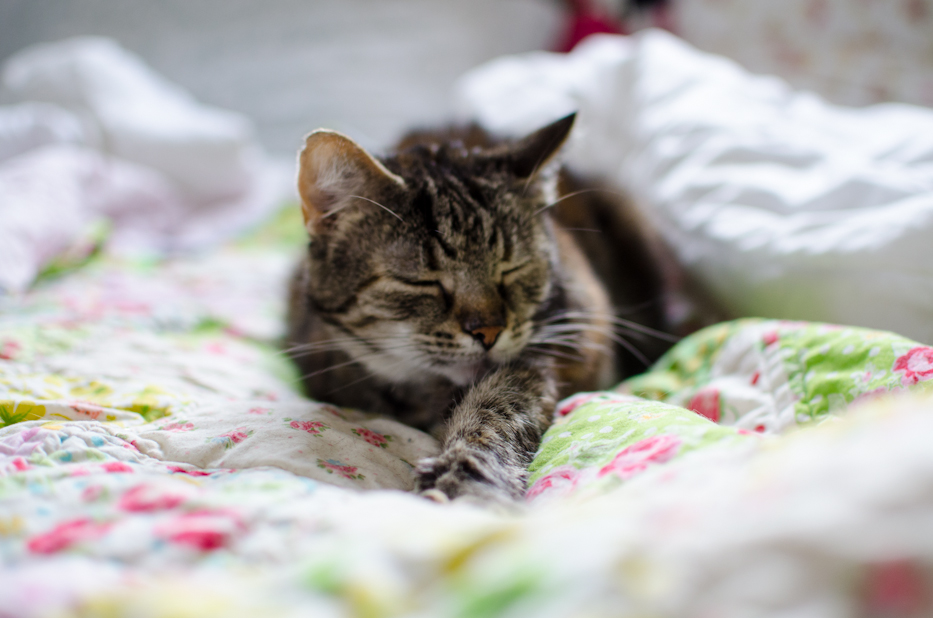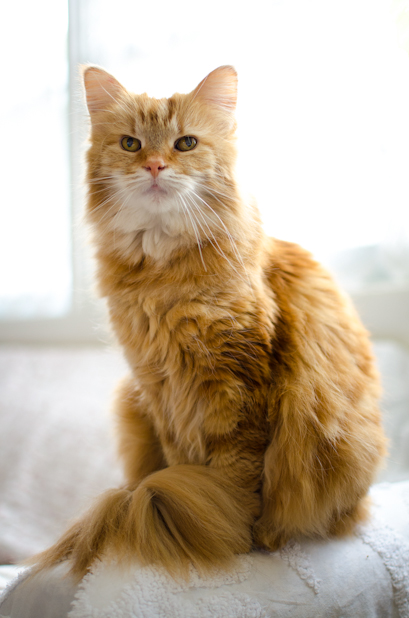 Unrelated to gardening but I have been reading such a fun series. It's meant for young adults but so what, it's good, you know? If you like books about magic, fantastical creatures and the like check it out.
Now it's your turn. What have you been up to now that it finally feels like spring?
PS: My jewelry business has been flying under the radar lately and I felt it deserved an explanation: these past 5 weeks I have been pretty ill. I won't go on about it, but I will say I spent way too much time in bed and was told I needed to "baby my lungs," which meant I had to avoid anything and everything that could irritate them such as: dust, chemicals, odors, etc. So, metalsmithing was put on hold for a while. Feeling a bajillion times better now so I'll be back at it soon…if I can tear myself away from the garden! 
♡
Laurie
PPS: Next up, 'Petite Lisette'!! Oh boy!