My mystery waterlily opened this morning in such a pretty shade of shell-pink
Since we've moved into our current address, I no longer have the luxury of fussing over the 2 ponds I installed at our old home but that hasn't stopped me from growing waterlilies. Being ridiculously easy to grow, all you really need are some smaller varieties, growing medium, a large, watertight container, and, well, water of course. Interested in starting your own container water lily garden? Read on for some tips to get started.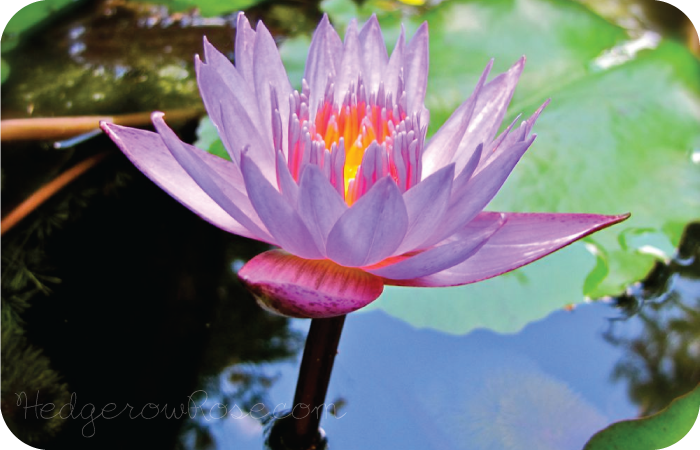 Nymphaea 'Panama Pacific' A tropical waterlily which I purchased from Lilypons
This season we are growing 2 varieties that are considered "hardy." In other words, they can withstand our winters. Tropical waterlilies, like the Panama Pacific shown above, are often times more showy and even fragrant, but in colder climates should be treated as an annual unless you're ambitious enough to try overwintering. (I'm not.) Tropical waterlilies can be incredibly viviparous as was my Panama Pacific last season. I wrote a post about propagating tropical waterlilies on my old blog if you're interested.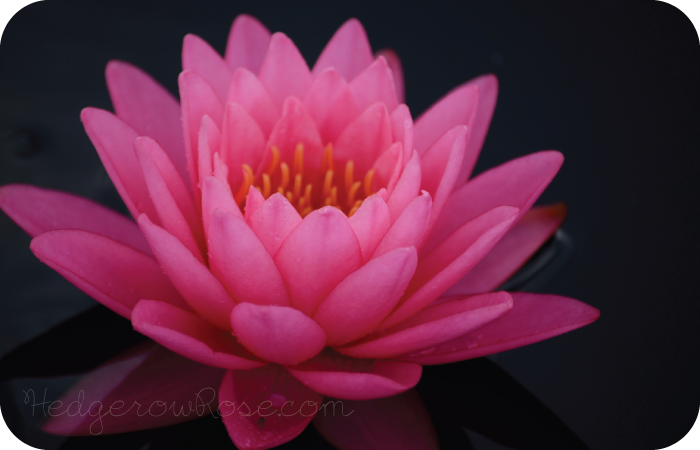 Isn't this a gorgeous water lily? This one is being grown at the H.O. Smith Botanical Garden
For us, space and funds are limited so I've chosen to restrict ourselves to only to 2 containers (for now) and stopped purchasing my plants online which can be quite costly. Instead, I purchase the sad-looking, unlabeled waterlilies that go on sale are our local Lowes at the end of spring for just a few dollars. This can have it's downsides: first, I have no idea what varieties I'm growing and second, it's possible I might be choosing one that will eventually get quite large. But of course the upside is you're saving money, which I think we all could use right about now. As for containers, I am using a large (about 5 gallon) plastic plant container for one, and a large galvanized steel washbin like this for the other. The plastic container has about a 6″ layer of garden soil on the bottom. I dropped the water lily right in and let it root into the soil on it's own devices. The lily that was placed in the wash bin is grown in a small pot filled with regular garden soil. Boy oh boy, you could have a lot of fun choosing your containers. I've seen some pretty neat ponds using anything from an old bathtub to a horse trough. Be creative!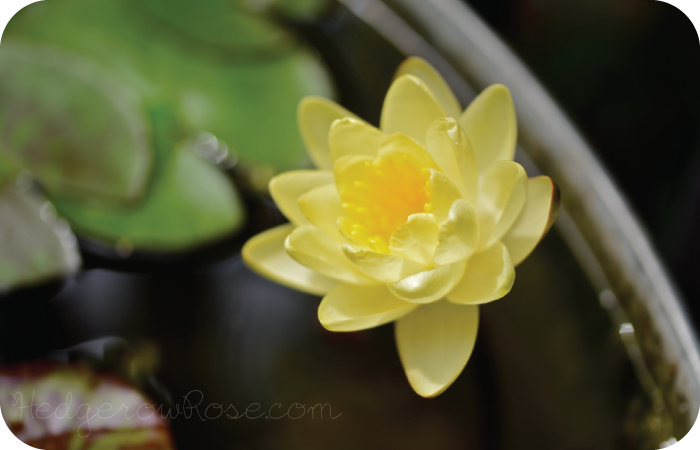 Another mystery water lily that has overwintered well in our zone 5-6 climate and is perfectly suited for a container pond.
If you're interested in setting up your own container-grown waterlilies, I've put together a list of tips:
1. Choose a good location. Once your container is filled with water it will be a pain in the butt to move. You need a place where the water lily will receive about 6 hours of direct sunlight a day. Site your container away from trees that might drop leaves in the fall.
2. Choose a waterlily. I recommend selecting varieties that you know are suitable for containers. Reputable mail-order nurseries will tell you the overall size and/or whether your lily is suitable for a container in the description. I've been shopping with Lilypons for years and really like them so I'm linking to their shop a lot, but I know there are others that are just a good, too.
3. Your water lily will most likely need to be re-potted when you bring it home. I've had success with using fabric plant pots like these which I prefer over the plastic mesh pots found in stores. The mesh pots require a liner, such as burlap. The fabric pots make it so much easier because they do not. You can use regular garden soil, as I do now, but when I had a koi pond I preferred this as a growing media instead. Do not use potting soil. Waterlilies do not need a large container; something shallow and wide should work for one rhizome. Fill your container about 3/4 full, set the rhizome at about a 45 degree angle, add the rest of the soil and a layer of gravel or small rocks. (Some say to also add a fertilizer tab while planting your rhizome. I never do, but hey, it couldn't hurt.)
4. Sink your water lily in it's new home making sure it has enough water over the surface of the plant for the particular variety and be patient. It takes a little while for the lily to become established and send out new growth. As the leaves and flowers are spent, simply snip them off as close to the base as you can reach to keep your plant looking tidy.
5. We have cold winters, so in the fall, I combine my lilies into one container pond and float a de-icer on the surface to prevent the water from freezing solid. This should be enough protection for a hardy waterlily.
Last, if you're worried about mosquito larvae, you can use mosquito dunks or try adding mosquito fish. Just be warned that your container will get quite warm when in direct sunlight and may kill your fish! Use your best judgement there.