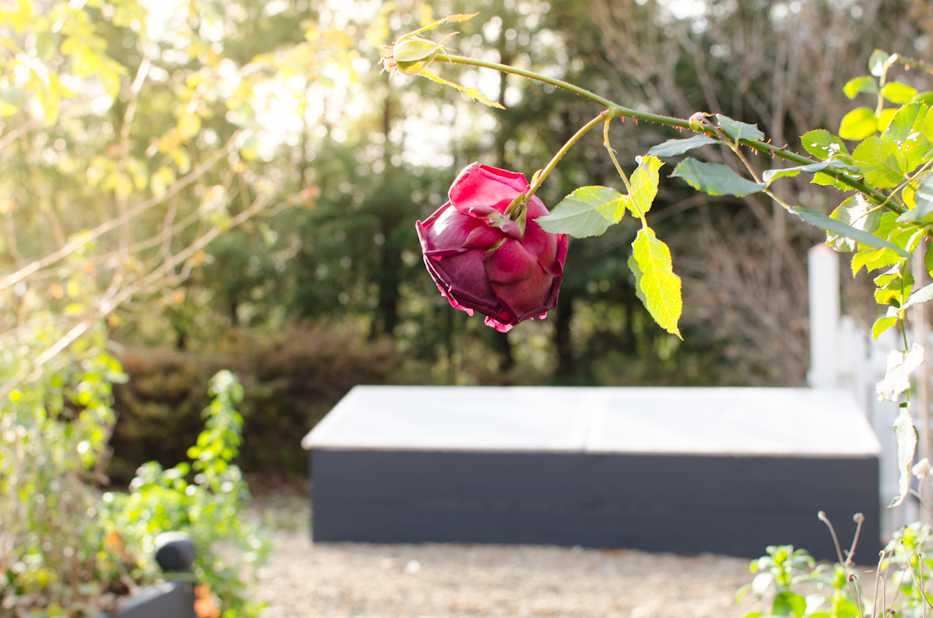 For my birthday last week, I got one of the nicest presents a gardener can receive: a cold frame! After the fence went up, we had just enough left in our budget to get some lumber to put one together. Admittedly, we first talked about just buying one, since there is already SO much on our plate. We searched around but hot diggity they are expensive! We made ours for substantially less by doing it ourselves and I think it's a lot sturdier than some of the kits out there. After I shared a few photos of the progress on my IG story, a few people asked for more details so here they are, but, keep in mind, we had no idea what we were doing and were totally winging it as we went. Take these instructions with a grain of salt. 🙂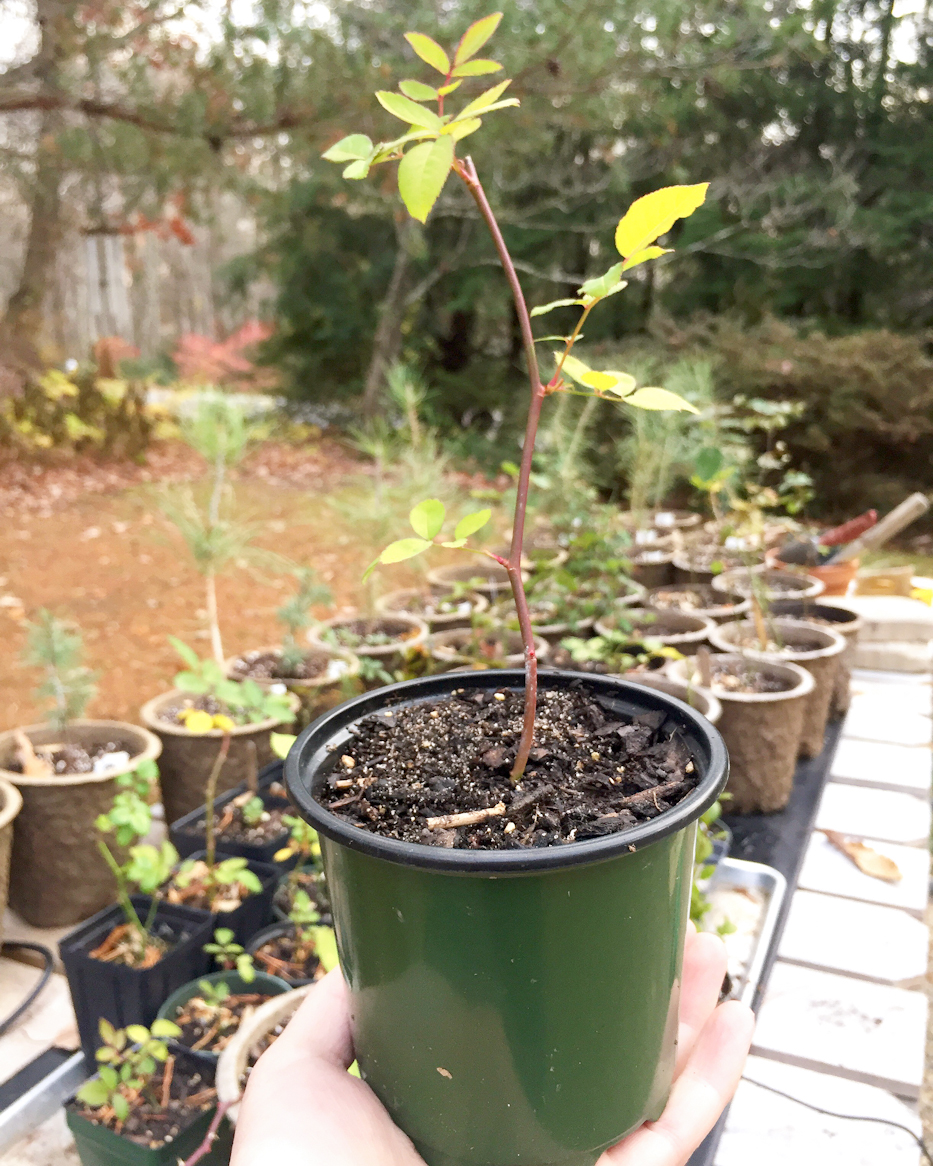 People use cold frames for various reasons: to grow winter greens, to get a jump on spring seed-starting, to store potted bulbs for forcing, etc. etc. For me, though, I mainly wanted a cold frame to help insulate many of the young roses and other plants I potted up last summer and autumn, like this one seen above. (At our new house, we do not have a garage or really anything we can use to overwinter our container plants.) If I can make a little room in our cold frame come early spring, I'll also use it to start some of my usual annuals like sweet peas, stocks, carnations and snapdragons. Here's what we used: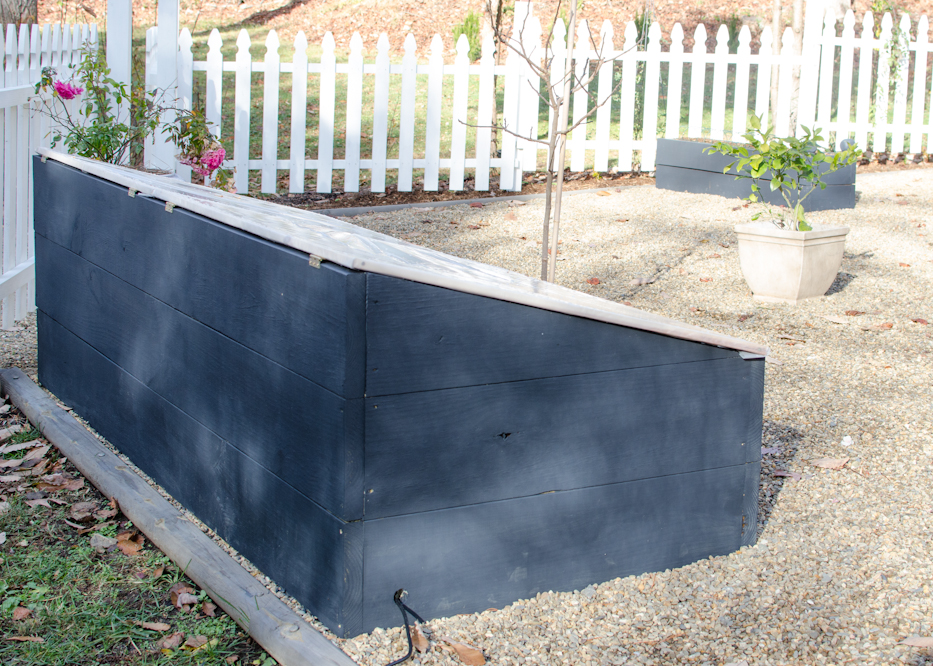 FOR THE BASE:
• (5) 2x10x8 pressure treated boards
• (2) 2x10x10 pressure treated boards
• (2) 2x4x8 pressure treated boards
• (1) box 3″ outdoor, construction grade screws
We went with pressure treated but you could use cedar boards, instead. We didn't cut the 2x10x8 boards at all. They were used for the front and back. The 2x10x10 boards were cut into 3′ lengths (you will only need 5 of these.)  One of those 3′ boards was cut diagonally corner to corner. This was the top piece of each side board. The 2×4 boards were cut to fit the height of the box and used to brace the corners and the middle. Total length and height: 8′ wide with the back part about 2′ 4″ sloping down to front part about 1′ 5″.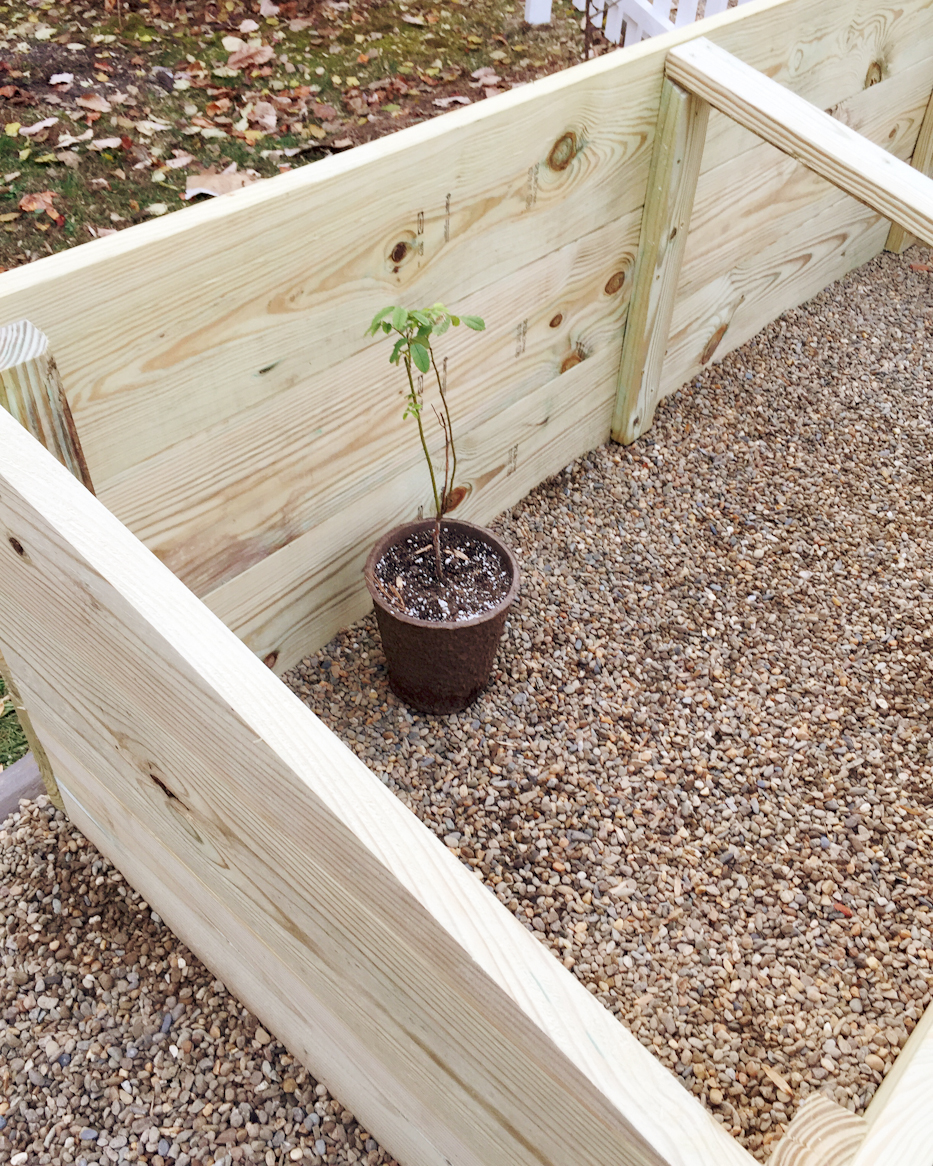 That gave us just enough height in the back to place some of my taller container plants without them getting squished.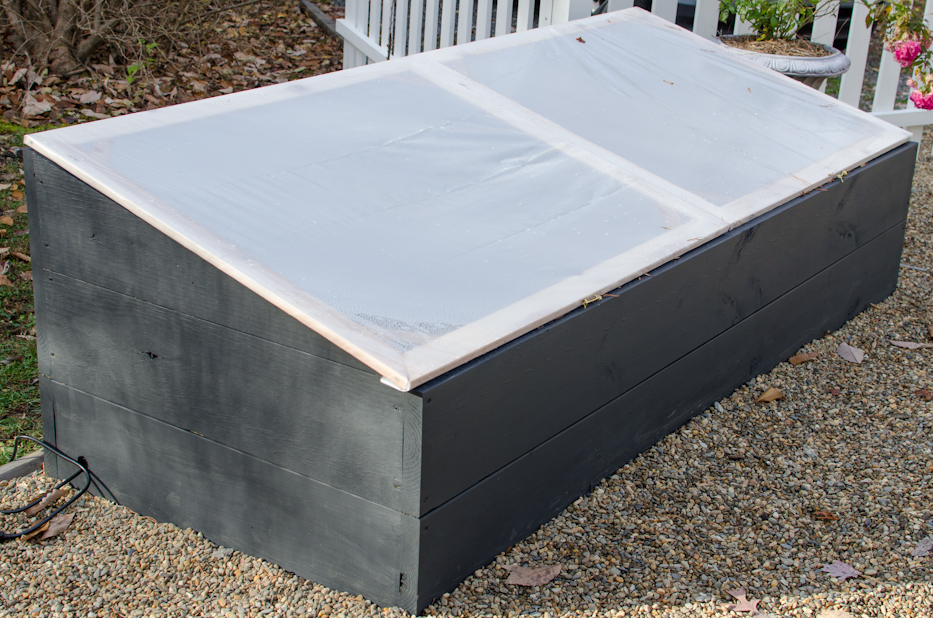 FOR THE LID
• (4) 1x4x8 cedar boards
• Thick plastic (we used a double layer of 4mil)
• Staples/staple gun
• Brad nails/1.25″ screws
• Hinges/Latches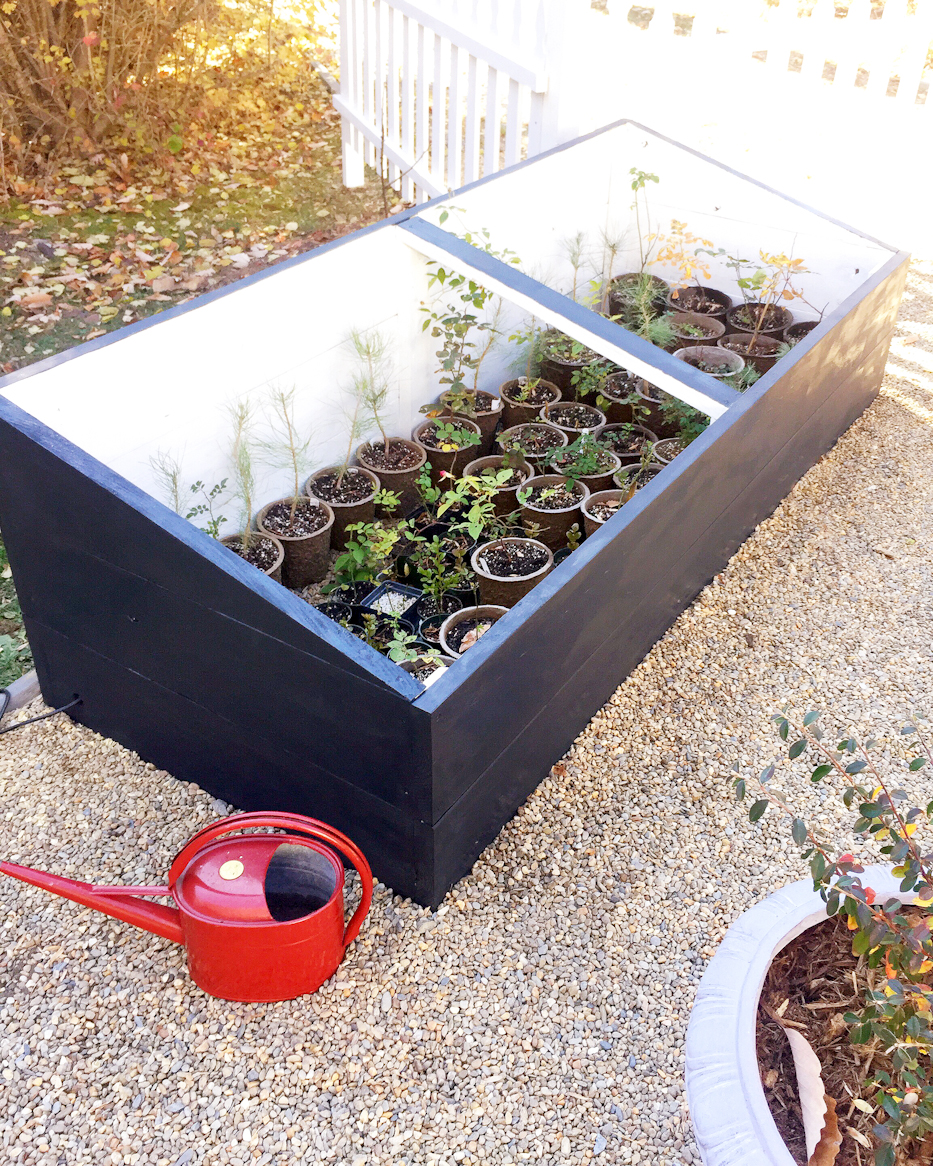 Using up some leftover paint from the house I painted the outside Farrow & Ball 'Railings' and the inside F&B 'All White'. The dark color on the outside will absorb heat and the bright white on the inside will bounce light around. Or so I hope. We left the interior with a gravel base since I don't intend to plant directly in the ground in this cold frame.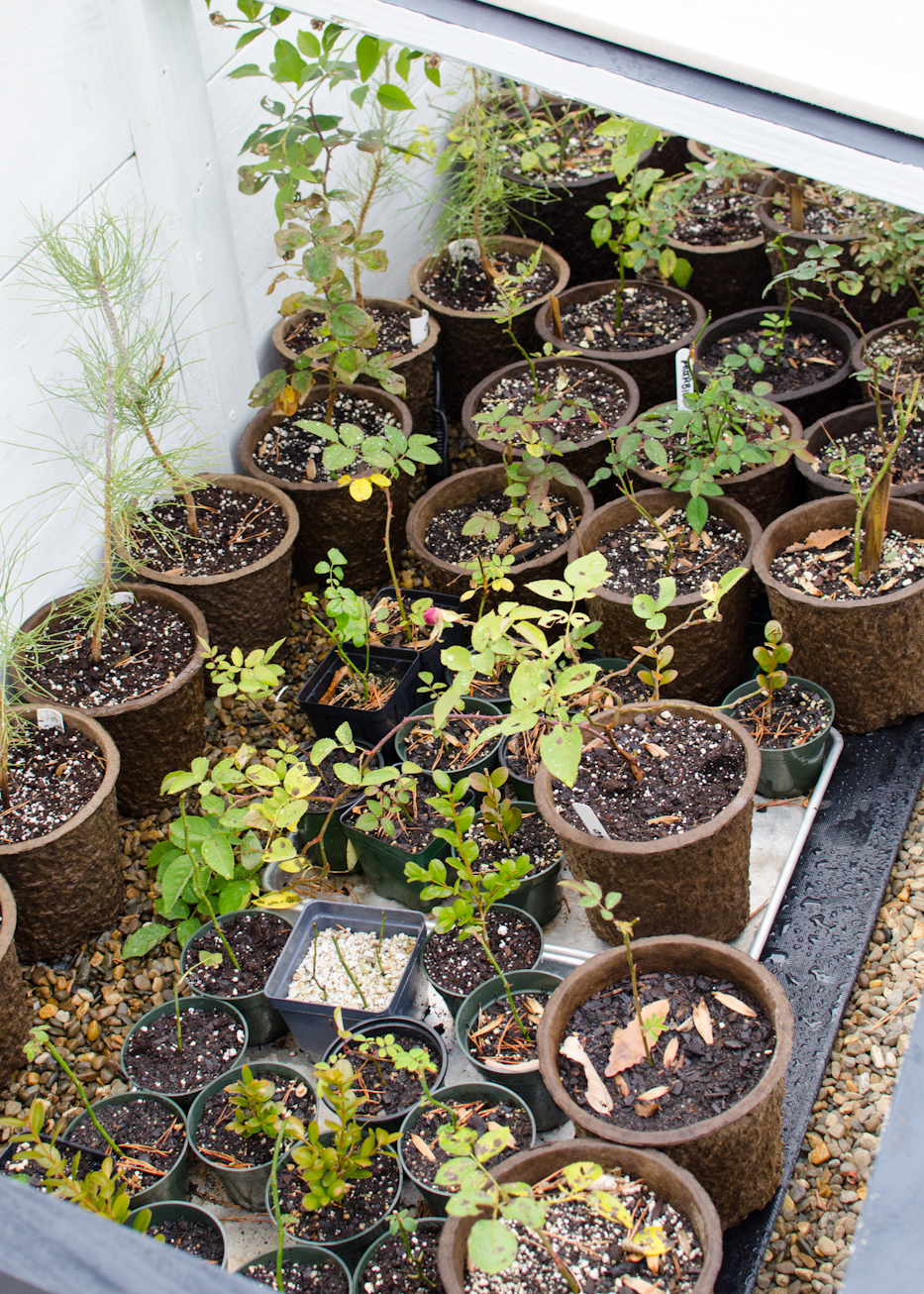 Keeping it warm: we have a heating pad in there that I've placed my baby roses on. They're still in 4″ pots with very undeveloped root systems so I figured the extra warmth would be good for them.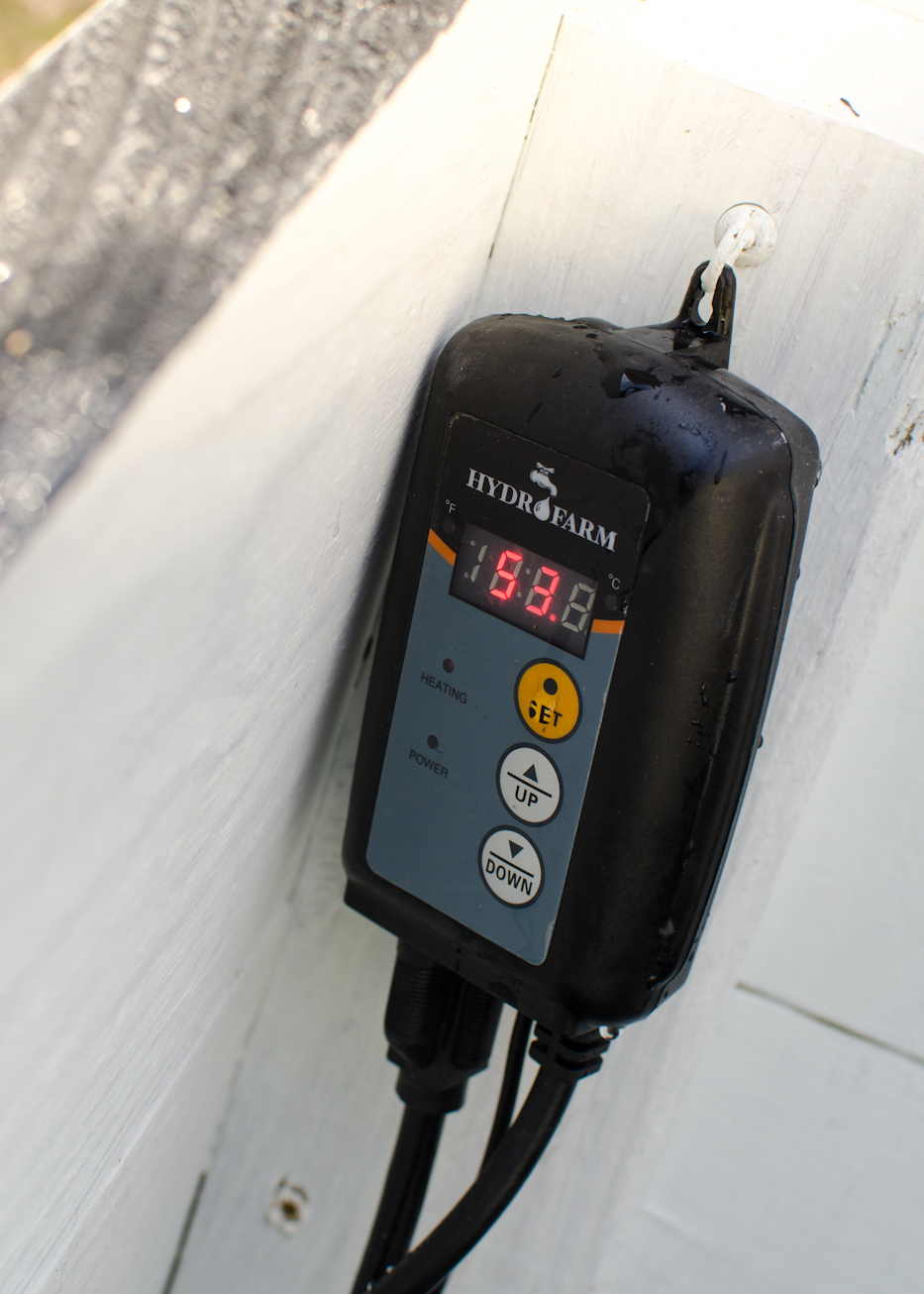 The heat pad we use comes with a thermometer to tell us the current soil temp. This was where it was at early this morning after a night of temps in the 20's. Should it decide to get really, really cold this winter I may put a strand of twinkle lights inside to add a little extra heat and cover the top with fleece. We'll see.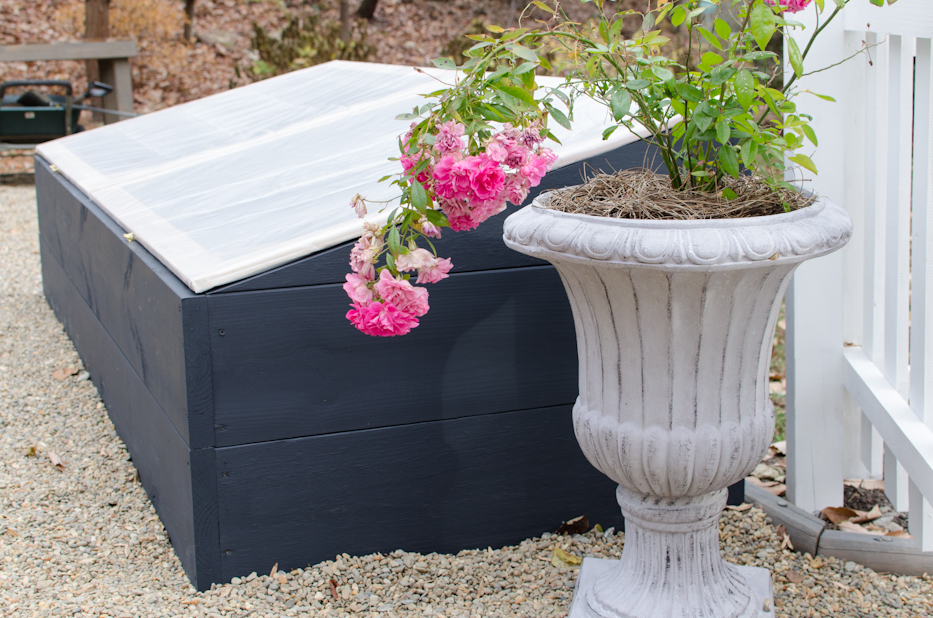 A note about the top: I really wanted something more substantial such as framed out plexi or even old windows, but time and money nixed that idea. For now, we have a simple cedar frame stretched with a double layer of 4mil plastic. Maybe next year we'll switch that out with something else but for now it's doing the trick.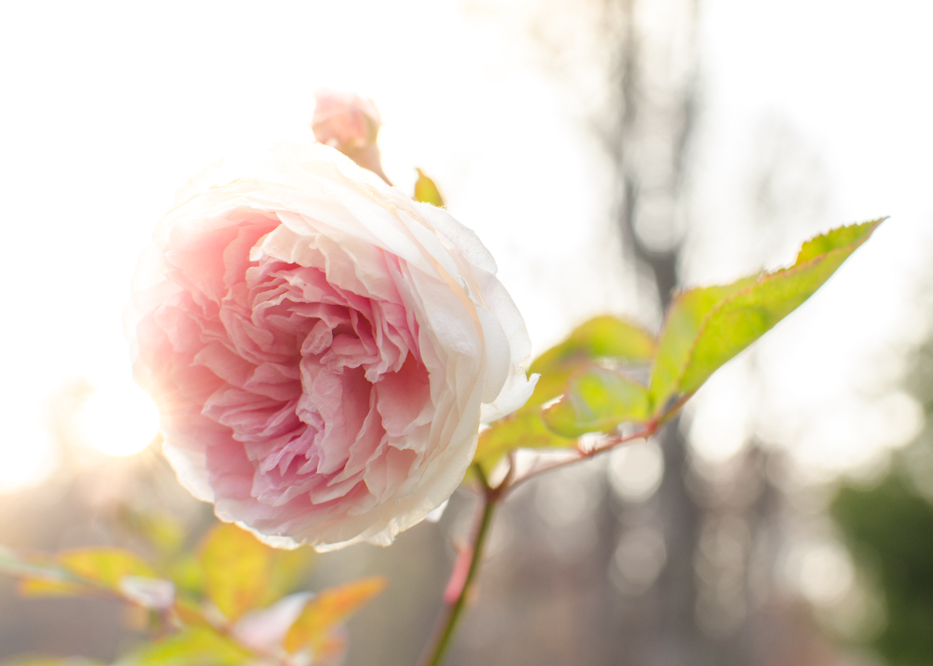 I'll make sure to report back in the spring as to how our plants in the cold frame held up over winter!