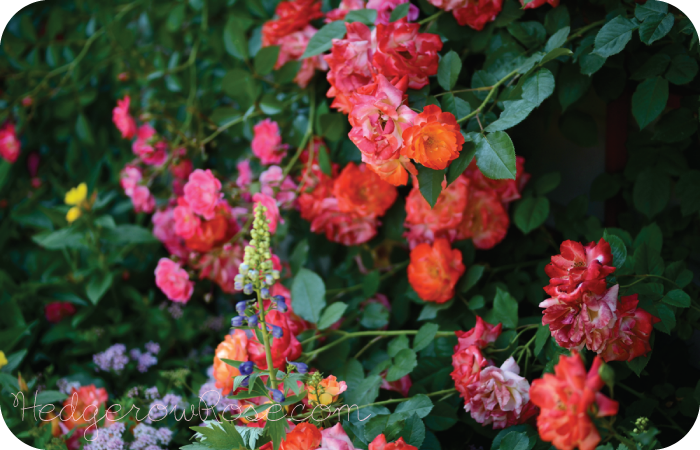 'Piñata' is a large-flowered climbing rose bearing clusters of incredibly vibrant orange, coral, yellow, scarlet and bright pink flowers all on one plant.
In our new garden, all of our roses are "recent additions" and 'Piñata' was one we planted summer of 2010. Only in it's second season, it already lights up the front of our house with it's gorgeous, vibrant blooms of coral, orange, yellow, scarlet and bright pink.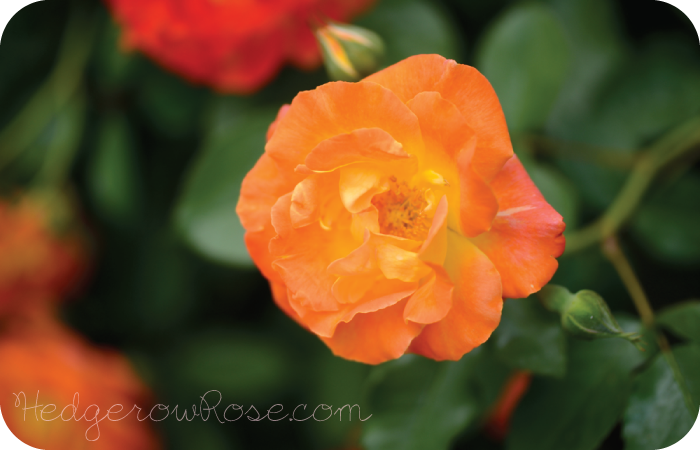 Piñata's blossoms open up first as shades of yellow, coral and orange and fade to shades of deep pink, reddish-orange, and scarlet.
Hybridized by Seizo Suzuki of Japan, 'Piñata' was introduced by Jackson and Perkins in 1978 and is classified as a large-flowered climbing floribunda-type rose. I've read a lot of reviews about 'Piñata' and they conflict with what I've experienced, namely it's susceptibility to fungal disease. In our garden, black spot is prevalent, but I have yet (where is the nearest piece of wood for me to knock on) to see a single spot on our rose; the foliage is incredibly healthy. EDIT: 'Piñata' succumbed to a pretty major spider mite infestation my garden experienced last summer. I had to prune severely. You can read more about that HERE.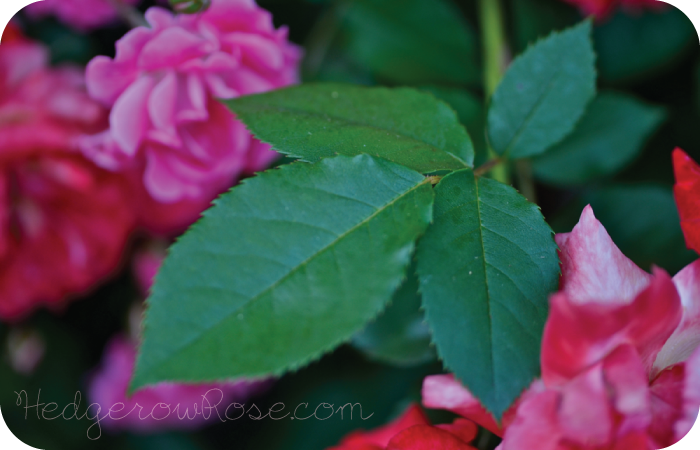 Foliage is a semi-glossy, medium green and disease resistant
'Piñata' is also listed as a rose that can "tolerate shade" and in this case I think the better phrase would be "appreciates shade." Our 'Piñata' is planted against our house in a south-facing position so it gets that morning sun roses crave and shade from the late afternoon heat. Giving Piñata a break from the sun will also help preserve the color of the flowers. In late afternoon shade, the colors of each rose will positively glow!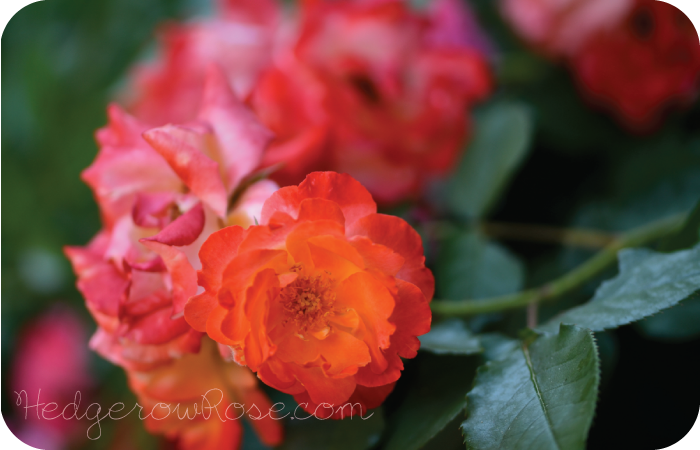 'Piñata' will appreciate bright morning sun and afternoon shade.
What our rose doesn't get is a lot of is water because of it's proximity to the house and the fact my hose doesn't reach that far. So, even though many have described 'Piñata' as a remarkably thirsty rose, I'm not seeing that where we live. However, that doesn't mean that isn't true in another garden in another climate and location. EDIT: I've since corrected the hose situation. 😉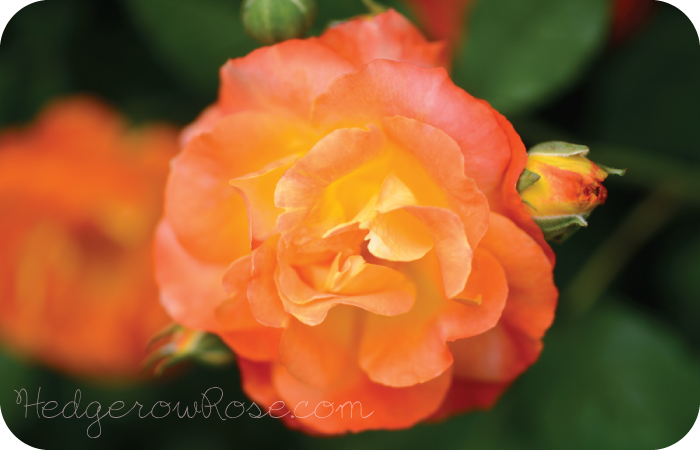 The scent is very mild, almost imperceptible. The color of the blooms more than makes up for it.
'Piñata' likes warmth (planting against the house might actually be the best location for it) and is hardy to zones 6-9 (we are in zone 6). Carrying on average 28 petals, each bloom is considered a "double" meaning it is rounded and full with overlapping petals. In our garden, we get a big flush of blooms in June followed by sporadic blooming the rest of the summer and into fall.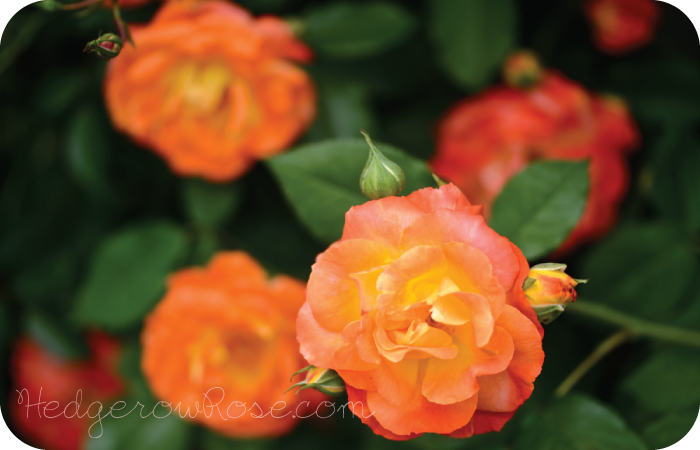 'Piñata' has been compared to a similar rose called, Joseph's Coat. However, 'Piñata' is smaller in stature, the flowers are fuller, and, this is debatable, has better disease resistance.
'Piñata' can grow to heights of 4-8 ft and can be trained on a trellis or a pillar. In our garden, we have 'Piñata' trained horizontally on a trellis under a large picture window. Training a climbing rose's canes to grow horizontally will increase the number of flowers it produces.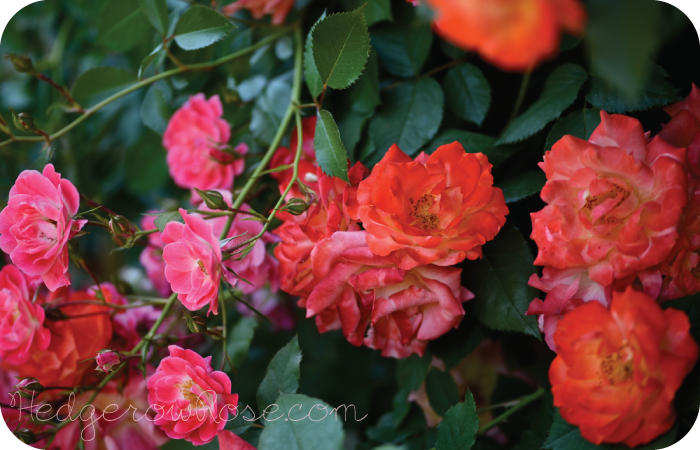 'Piñata' is the perfect rose for an entryway or front path and combines beautifully with other colorful perennials and roses.
I learned the hard way from over-pruning my beautiful 'Zephirine Drouhin' years ago (she never fully recovered) that it's best to practice a little restraint when it comes to pruning climbing roses. Although 'Piñata' is a modern rose and blooms on new wood, I have only pruned the canes to shape (I do dead-head the flowers, though), and actually haven't had to do much of that since it's such a recent addition. 'Piñata' combines beautifully with other colorful perennials and roses and I highly recommend this rose. But in case you are still unsure, I'll just leave you with this…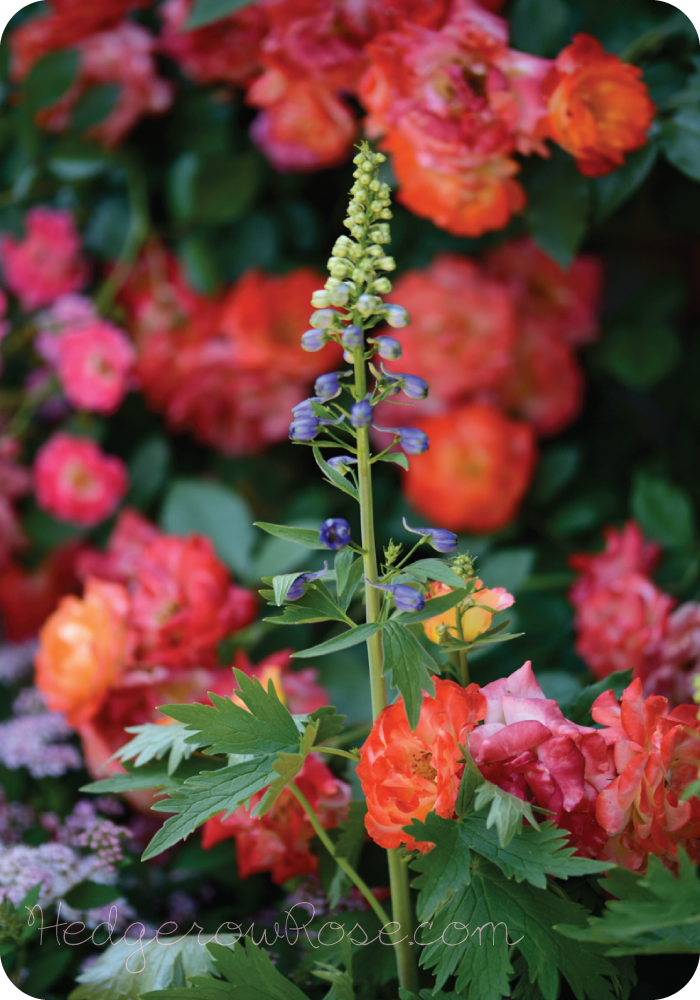 'Piñata' can be purchased for spring 2012 planting at Wayside Gardens