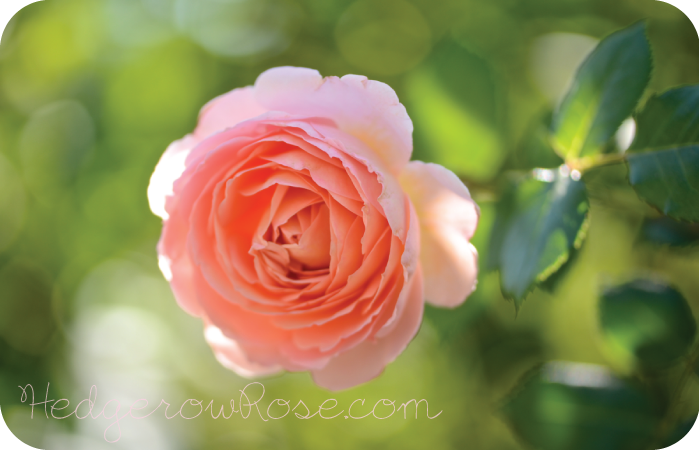 'Abraham Darby', an English shrub rose created by David Austin, is an apricot-pink blend with gorgeous scent and, in my garden, exceptional vigor.
I have a superstar in my garden, and his name is 'Abraham Darby'. Last summer this rose was only in it's first season in our garden and I was amazed at how quickly it shot up while having more roses than I knew what to do with, all the way up until fall.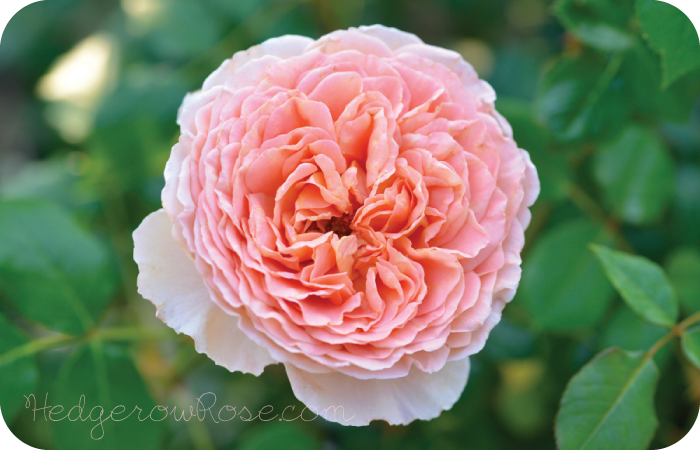 'Abraham Darby' is cross between 'Aloha' and 'Yellow Cushion'. It's blossoms have a strong, fruity-sweet scent.
Named for Abraham Darby I, a man who played an important role in the Industrial Revolution, Austin introduced this rose in 1985 as a cross between the modern roses 'Aloha' and 'Yellow Cushion'.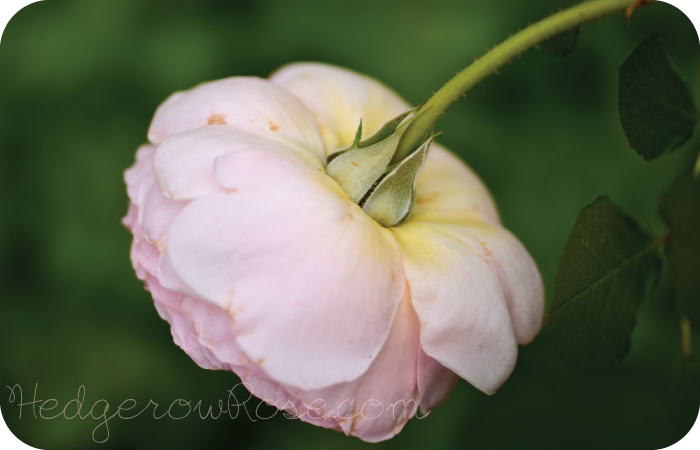 'Abraham Darby' has large, double, cupped blooms which are rather heavy and may need support such as being trained on a pillar.
'Abraham Darby' is described as a "well-formed shrub" reaching height/width of 5 feet with good disease resistance and repeat bloom. The blossoms are large, (approximately 5″ across), and are full, double, cupped, and have a strong fruity-sweet scent. I've seen Abraham Darby being listed as hardy to zones 5-10 and 4-8. Our garden is safely in zone 6.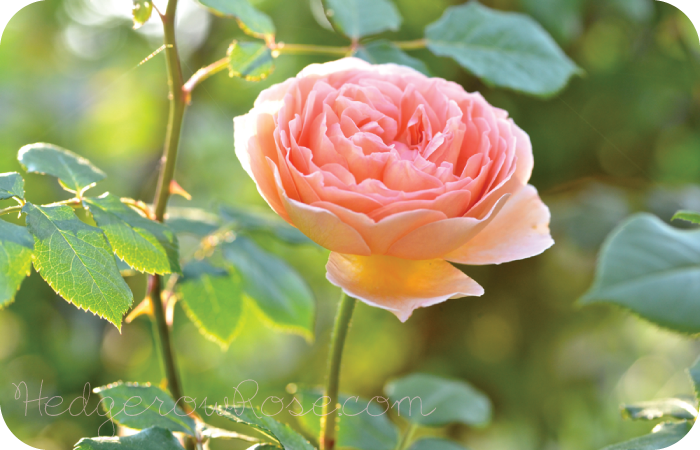 'Abraham Darby' is a soft apricot-peach, with warm undertones that fade to pink.
In our garden, 'Abraham Darby' lives up to expectations by truly being incredibly vigorous. While I've heard reports that this is a rose that succumbs to rust, I have not seen that, nor have I seen problems with black spot which typically runs rampant around here. EDIT: 5/12 Holy cats! A.D. got a serious case of B.S. this spring and was almost completely defoliated. It's recovering nicely, though, with lots of new growth and buds. Something to keep in mind, though, that this rose is not completely resistant. Additionally, I've found that it does not care for extreme hot, humid temperatures. (Who does?) We had a streak of days recently where temps climbed into the mid 90′s with high humidity and my blooms balled up and needed to be removed.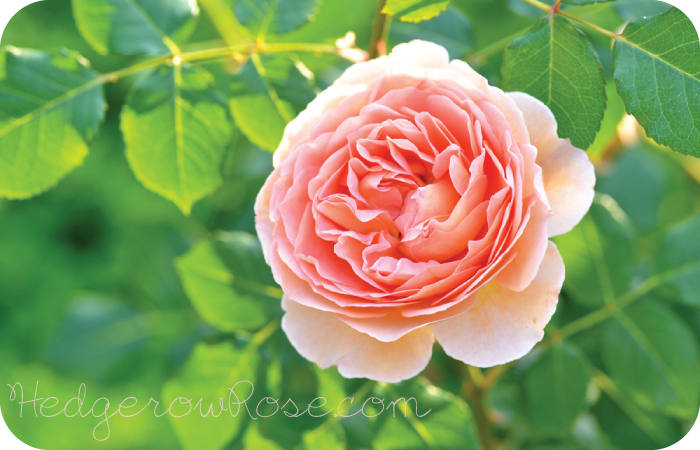 'Abraham Darby' is described as being resistant to black spot and mildew, but susceptible to rust.
'Abraham Darby' has very dense, thick growth. I sometimes have to get in there and prune away some of the canes in the center of the plant to give it more air circulation. The leaves are bright green and glossy; even when not in bloom, this is an attractive plant. It recovers quickly from pruning and with dead-heading will continue to bloom all season.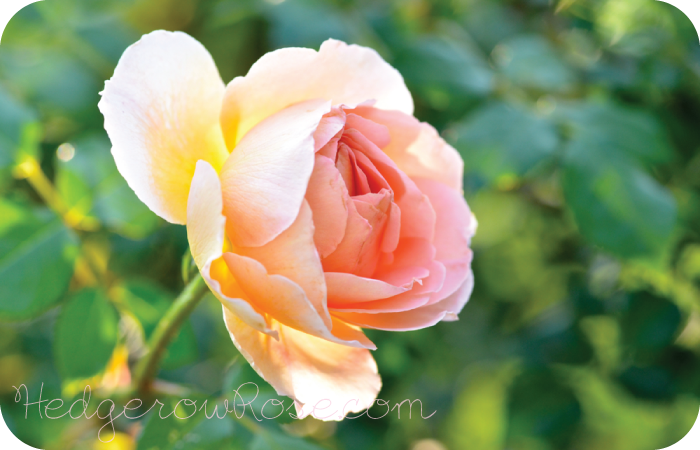 'Abraham Darby' makes beautiful cut flowers and last a long time in a vase. Sometimes they are borne singly and sometimes in clusters.
My only complaint about 'Abraham Darby' was actually rectified this spring when I did some rearranging in our garden. You see, the roses are so large and heavy that they droop on the plant, and with the addition of it's also somewhat arching canes,  it's former placement in the garden at ground level meant that the roses couldn't be fully enjoyed. I transplanted our 'Abraham Darby' into a very large pot (15+ gallons) in early spring so now the roses are at eye-level, and the canes can flow for a pleasing, billowing appearance. If you choose to grow this rose yourself, I highly recommend training it to a pillar or placing it in a container as I did. You will get much more enjoyment out of it!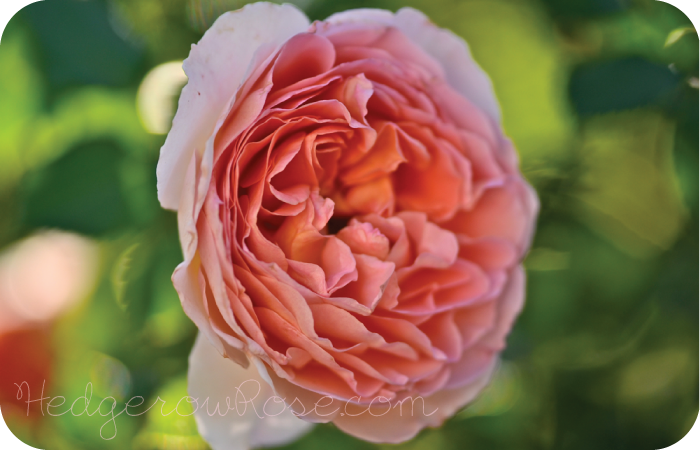 'Abraham Darby' is a shrub rose but can be trained to climb. It blooms on new wood so should be pruned early in the season.
'Abraham Darby' blooms on new wood, so pruning early will encourage new growth and lots of flowering. Roses are heavy feeders, so I give ours plenty of organic material to grow in and feed them regularly during the growing season. I've found that with our Austin roses, pruning back after the initial first flowering will encourage repeat bloom all the way up until autumn. I leave the last of the autumn blooms on the plants, though, so our roses can safely go into dormancy for winter.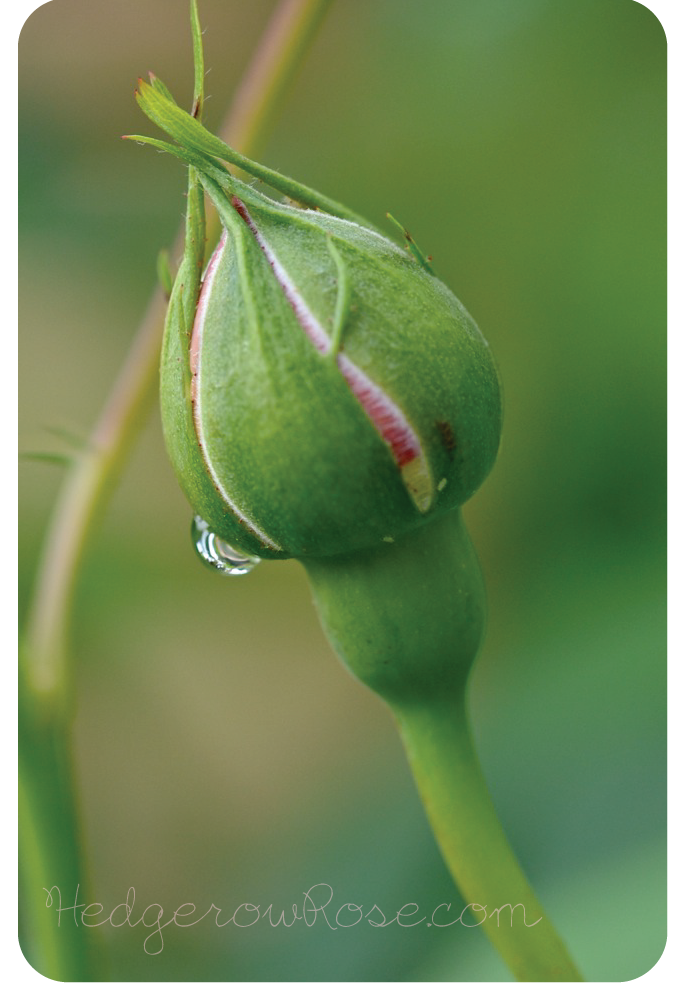 'Abraham Darby' is a David Austin creation and can be purchased HERE.
As our new garden takes shape, I find that I am increasing individual varieties of roses, but not multiple quantities of each, as I have limited space and too many that I want to try growing. However, I am making an exception with 'Abraham Darby' and hope to be adding another next spring, simply because I love it so much. EDIT: I went a little overboard with new additions this spring, so we're just going to stick with the one Darby. I can't wait for it to bloom!
'Abraham Darby' Postcards can be purchased in my shop