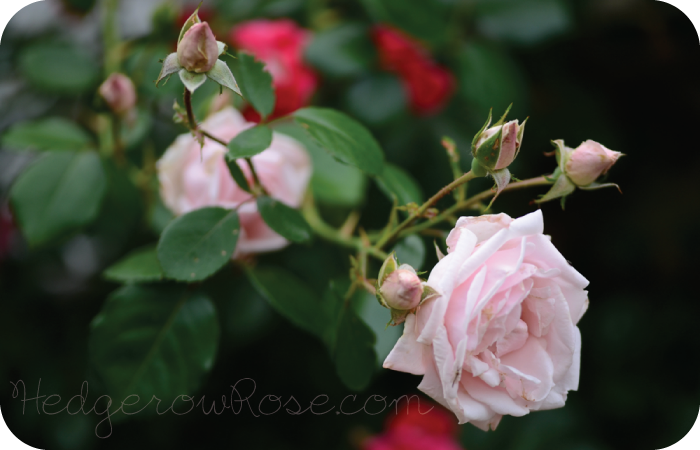 'New Dawn' is a modern, large-flowered, climbing rose that is blush-pink and free flowering. It is very popular among gardeners.
I think if you grow roses, at some point you will grow 'New Dawn'. It's almost a rule. It's a lovely rose, and one can't help but be romanced by it when seeing it rambling over a trellis or support with clouds of pink billowing around glossy green leaves. My husband described it as the "perfect fairy-tale rose" due to it's flowing shape, blush-pink blossoms, and not-to-be-reckoned-with thorns. I, too, fell under it's spell and years ago planted one in a former garden hoping for the best.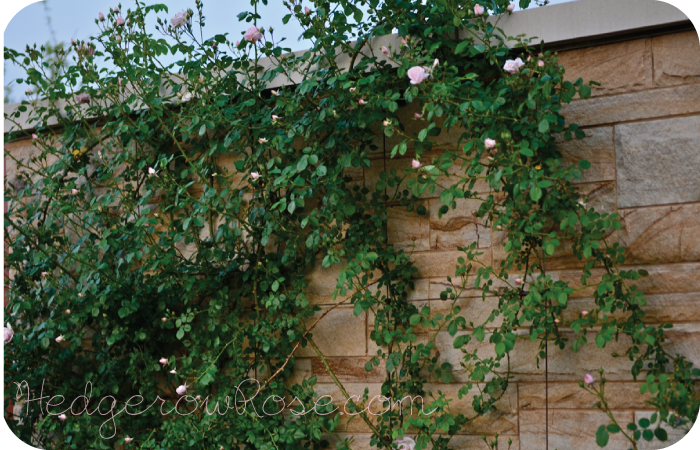 'New Dawn' grows against a masonry wall in the H.O. Smith Botanical Garden at The Penn State Arboretum.
Unfortunately, that particular 'New Dawn' never reached heights of more than 2 feet and was diseased and feeble even though the rest of my roses were quite happy. When I left that garden, my 'New Dawn' rose was all but dead, but I didn't give up; at my next home, I purchased another plant and tried again. This time, it grew a little better, but not by much (again my other roses were happy so this was very discouraging). So, when I moved a 3rd time, to the garden I tend to now, I brought my 'New Dawn' with me and thought OK, this is the last chance; if it doesn't do well for me this time I give up. Guess, what? It's doing great! (Edit: Not so great anymore! Please see Edit, below.)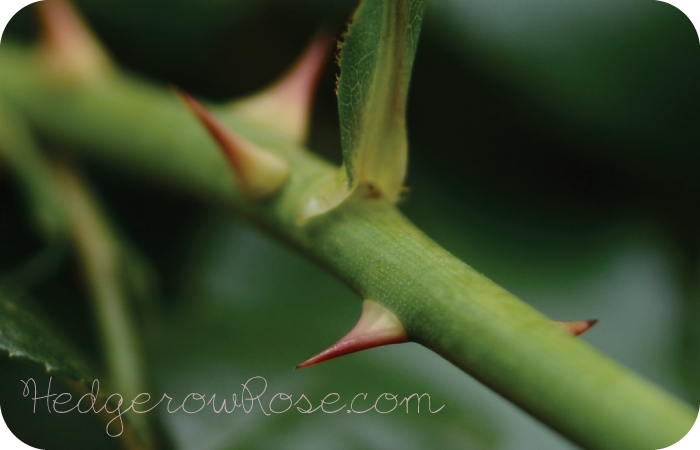 'New Dawn' has epic thorns straight out of a fairy-tale.
While I have always read that 'New Dawn' is a rampant, healthy grower, that just wasn't the case for me. So, based on my experience, I've deduced that when it comes to this rose, it's all about location, location, location. Since I moved it to a protected, warm area in a south-facing position against our home, I have seen in triple in size within the last 2 summers. We live in a zone 6 location (and my former gardens were in zone 5), and although this rose is listed as being hardy from zones 5-9, I think it prefers a warmer climate, or at least the illusion of one in mini-zones around your garden.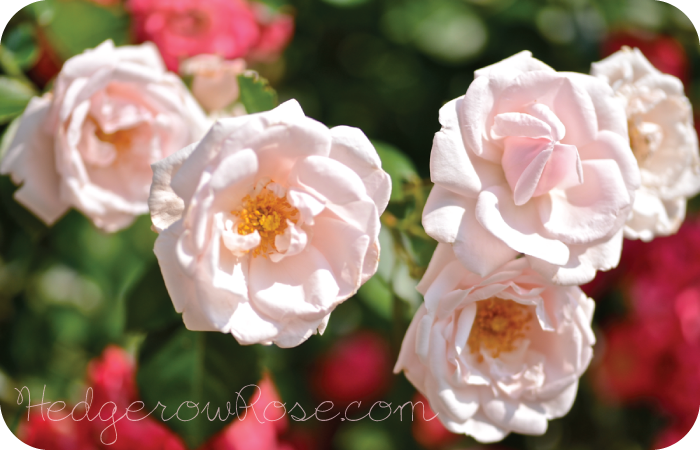 'New Dawn' blossoms are semi-double, lightly fragrant, and start out blush pink fading to almost white at the end of the bloom cycle revealing prominent yellow stamens.
'New Dawn' is a sport (mutation) of 'Dr. Van Fleet' rose and was introduced in 1930 by Henry Dreer. Because most New Dawns are repeat-flowering, it is often referred to as a "repeat-blooming Dr. Van Fleet." (I say "most" because due to careless breeding some 'New Dawn' roses are not repeat-flowering. To ensure you are getting a repeat-flowering 'New Dawn', buy from a reputable grower).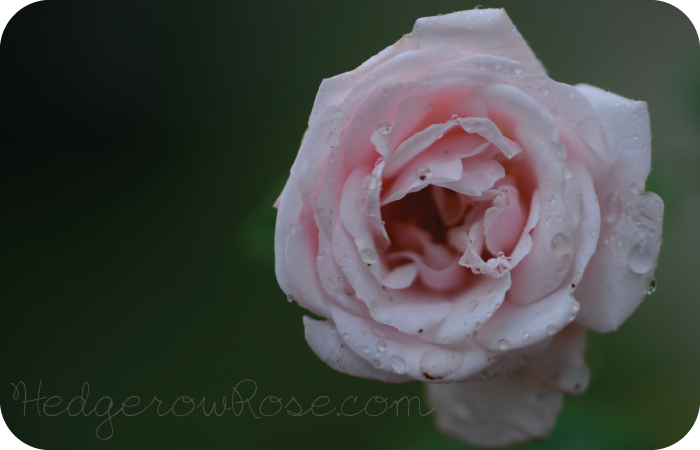 This is a 'Dr. Van Fleet' rose currently growing in our garden. The obvious parentage to New Dawn is striking.
'New Dawn' is a modern (any rose hybridized after 1867 is considered "modern") Wichurana climbing rose. It's blossoms are free-flowering and are generally produced in clusters. They each are semi-double, lightly fragrant, and bear approximately 35 petals which start out blush pink and fade to almost white at the end of the bloom cycle revealing prominent yellow stamens. The foliage is very glossy and medium to dark green; quite healthy it is disease resistant, but in my experience can be susceptible to black-spot in wetter conditions (especially in the fall). (Please see Edit below about disease resistance!)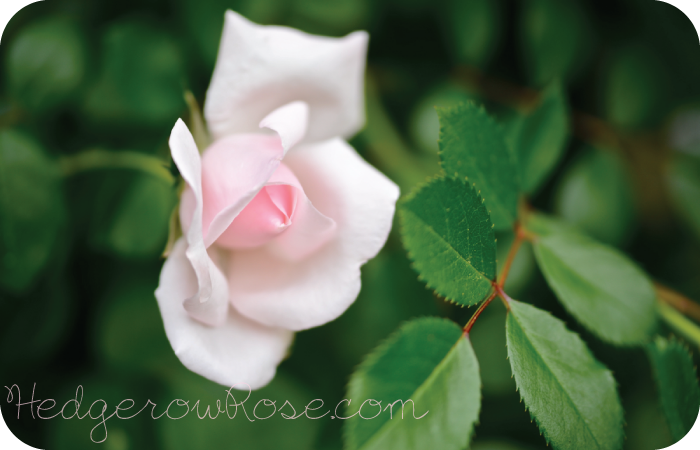 'New Dawn' blooms on last year's growth, so pruning should be done immediately after flowering or not at all.
'New Dawn' will need a strong support as it can grow to heights of 15-20 feet! We have ours supported against a  trellis and it is currently approximately 8 feet in height and weaving among a landscape rose which I am also training against that trellis. It blooms on last year's wood so pruning should be done immediately after flowering, or not at all. Because of my problems in the past with this rose, I plan on just leaving it alone as much as possible since it's finally happy!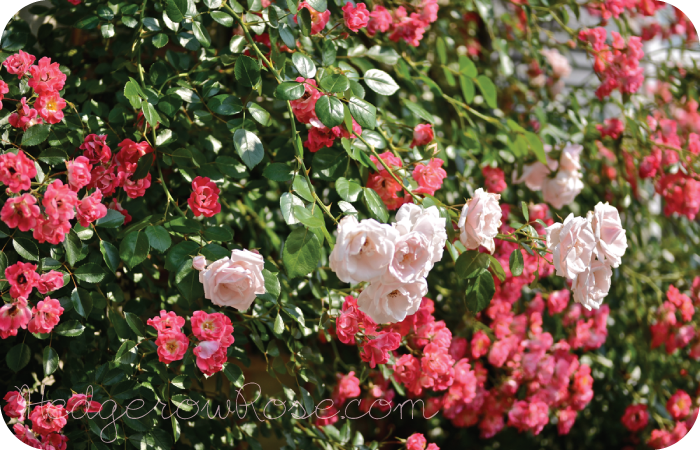 'New Dawn' happily grows alongside a landscape rose I am training as a climber against the side of our house. You can't see it in this picture, but there is a clematis planted along with these two roses.
Should 'New Dawn' be grown against the outer wall of your home (and this is true for any climbing rose), it should be spaced about a foot away so that is does not fall underneath the protection of the roof and can get rain to it's roots while it gets established. Canes should be trained horizontally (wear leather gloves; those thorns mean business) to promote side branching and lots of flowers. Our 'New Dawn' flowers heavily in June and then sporadically the rest of the season.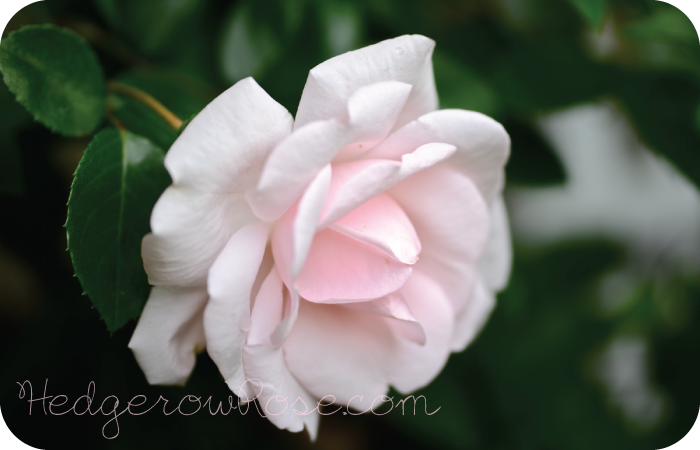 'New Dawn' is rated by the American Rose Society as a very good to excellent rose.
Do you grow 'New Dawn'? I'd love to hear if you experienced similar problems getting yours started, or if you have any growing tips!
EDIT: (Spring '12) I just left this in the comments, but I'll put it here, too. We had a really bad case of powdery mildew on this rose this spring. I mean, it was so covered it looked like the rose was made of white felt. I did try a consistent course of "Green Cure" but after several weeks, it didn't clear up and the mildew was spreading to other roses. We ended up removing it because it was taking up valuable garden real estate and I don't like roses I have to coddle and spray to keep alive. Too many others to try!