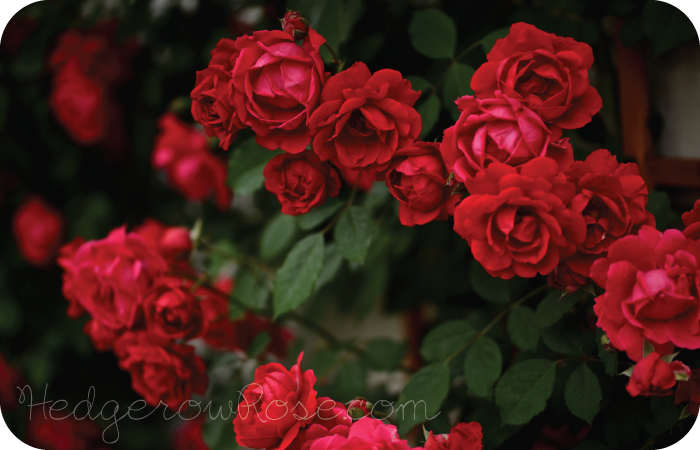 Like something out of a fairy-tale, 'Blaze' is covered in lush, red roses from spring to frost.
'Blaze' is just what you picture a climbing rose ought to be: romantically rich in color, dramatic, vigorous, and covered in flowers from spring to frost; In a nutshell a real showstopper in the garden. Foliage is a very dark, forest-green and slightly thick like leather. Although it is stated 'Blaze' has a mild fragrance, I do not notice any, but maybe that's because I'm comparing it to my heavier scented Old Garden Roses. The blossoms are semi-double, with approximately 25 petals, and are borne in clusters on sturdy stems. While in bloom, the flowers literally cover the entire plant living up to it's name as being literally a blaze of color. As I write this, our Blaze is getting ready for a repeat performance only weeks after the first flush of bloom.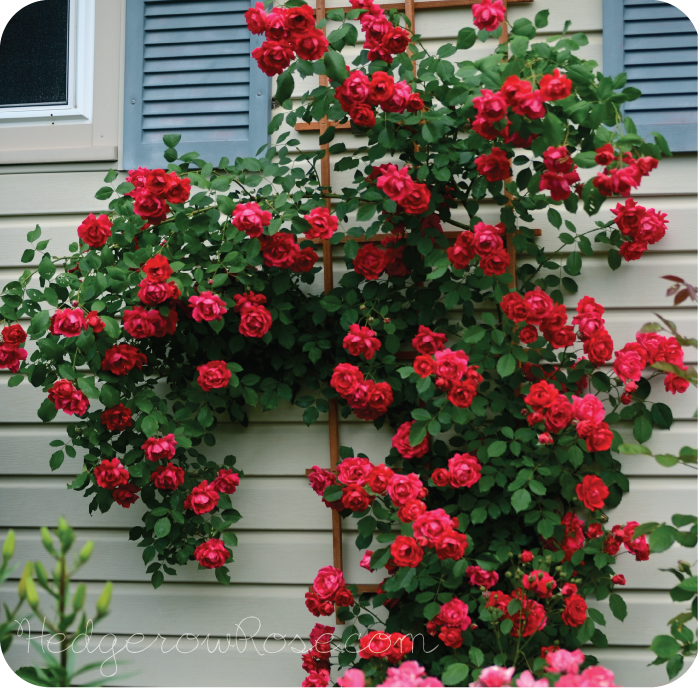 This is our 'Blaze' which is currently in it's second season in our garden. This photo was taken last June during it's first flush of blooms. 
EDIT: Full disclosure, that trellis is no longer there (it was only temporarily "hung" and as you can see was about ready to fall apart.) The Mister will be building a trellis that is more secure this spring. Here's a post we put together as to how to install a trellis against your house for a climbing rose. 
Bred by Joseph Kallay and introduced by Jackson and Perkins in 1932, 'Blaze' is considered a modern, large-flowered, climbing rose reaching heights and spread of 15 feet and more in certain locations. Hardy to zone 6b, ours is placed against the front of the house in a south-facing location.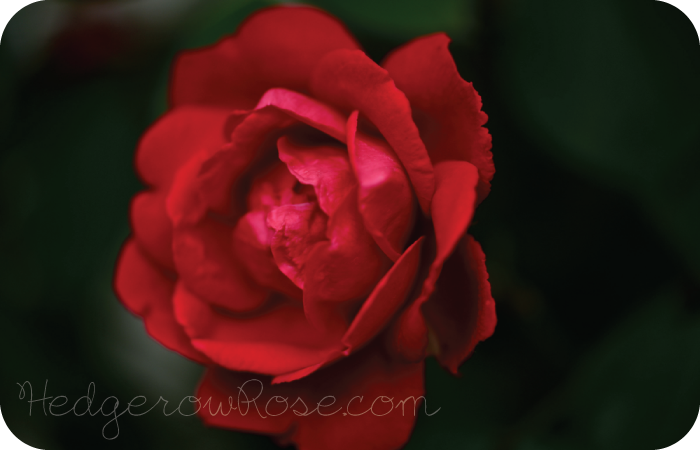 'Blaze' is not to be confused with 'Blaze Improved', sometimes referred to as Demokracie and introduced by Jackson and Perkins in 1950.
In our garden, 'Blaze' is very vigorous and disease/insect resistant. Although many gardeners complain 'Blaze' is susceptible to blackspot, I have not seen that yet with ours. EDIT: Blech…blackspot city last spring. Guess I spoke too soon!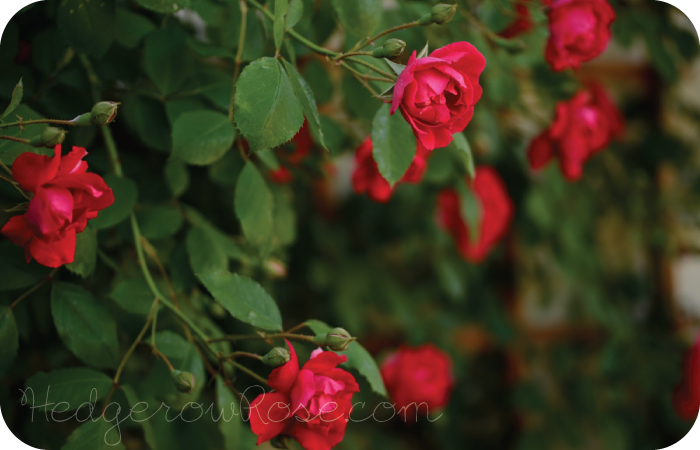 'Blaze' does have thorns, but they are not particularly abundant.
As our 'Blaze' rose continues to grow and flourish, I have one regret and that is I wish I had placed it in a location where it would be better supported. As it is, the trellis and space that I have provided it is quite narrow and it's going to be tricky training it to grow up and over the window it is growing beside. If you decide to add 'Blaze' to your garden, make sure you offer a lot of room and a very sturdy support and then maybe someday your rose will look like THIS. Amazing, huh?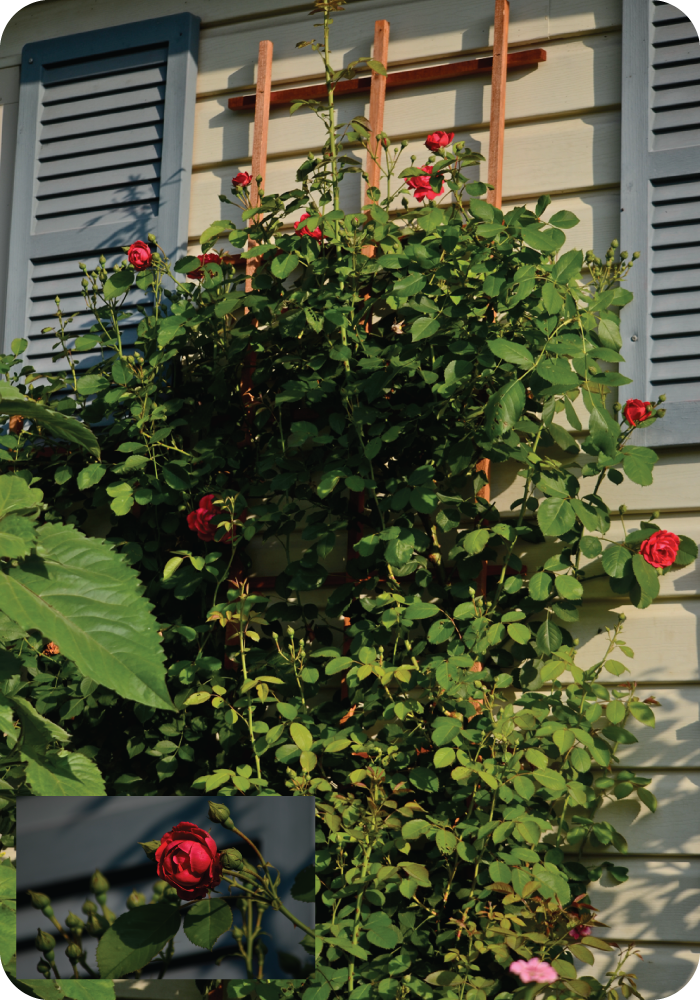 The American Rose Society rates this rose as only "average" but it in our garden it performs better than that.
This photo was taken this morning and as you can see, barely 1 month later, 'Blaze' has filled out nicely and is already beginning to bloom a second time. If you look closely, you can see some Japanese Beetle damage on the leaves (darn those beetles!) but otherwise they are very healthy. The American Rose Society only rates Blaze as "average".
Although I purchased our 'Blaze' (not to be confused with 'Blaze Improved') from our local big box store, it can also be purchased, own-root, from Rogue Valley Roses.