'Comte de Chambord' (1858)
There are times when I wish these pictures on my blog were like those "scratch and sniff" stickers from when we were kids–remember those? This rose has the most heavenly scent, and so strong, I wish you could smell it. 'Comte de Chambord', a Damask/Portland Hybrid Perpetual bred around 1858, is a much beloved Old Garden Rose and is also one of the parents of the David Austin creation: 'Gertrude Jekyll'.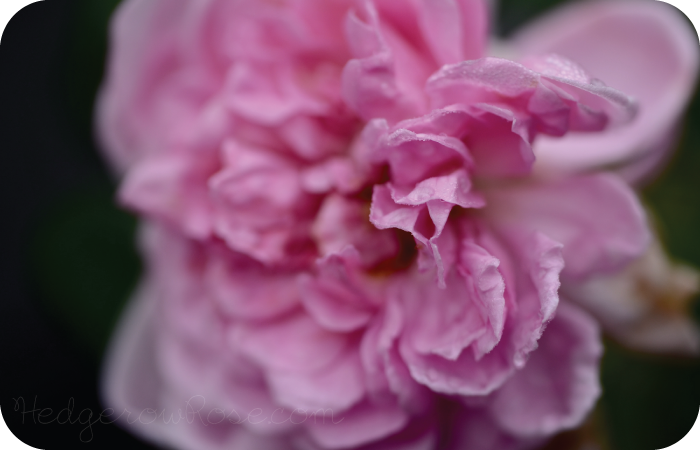 Hybrid perpetuals are types of roses that were very popular in the mid to late 1800's. They are highly scented, large-flowered, in shades of pink and red with scattered repeat bloom. Comte de Chambord has the classic pink blossoms which "sit" within the foliage typical of a Portland rose. Although new to me this season, I have noticed that she has shown very good disease resistance (in spite of reports that it is susceptible to black spot which I have not seen), EDIT: I'm seeing it now! Eep! which for me is the first thing I look for in a rose. Also, this is a rose that does not like heat! She tried to bloom several times over the past few weeks but our high temps kept killing off the buds. Since the weather cooled slightly and we have been blessed with rain, it has opened up, although the blossom is still on the small side and the petals loosened up quickly. Not particularly a rampant grower, I've read that she is slow to get going but once established is a real knockout. Comte de Chambord is quite thorny, but that's something I actually appreciate in a rose. Blooming on new wood, prune early to promote flowering.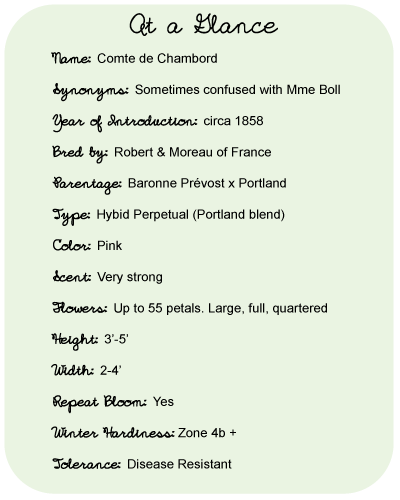 EDIT:  There seems to be some confusion between 'Comte de Chambord' and the Hybrid Perpetual, 'Madame Boll'.  According to HMF, in commerce 'Comte de Chambord' is often sold as 'Madame Boll'.  I can't remember where I purchased my 'Comte de Chambord' to help me determine what I am actually growing (and it's taught me a lesson to now always keep track of where I purchase any of my roses) and I don't grow 'Madame Boll' so I have nothing to compare it to. So for now I will just continue believing that this is 'Comte de Chambord' until proven otherwise. (Do you grow either? Can you offer any insight into this?)