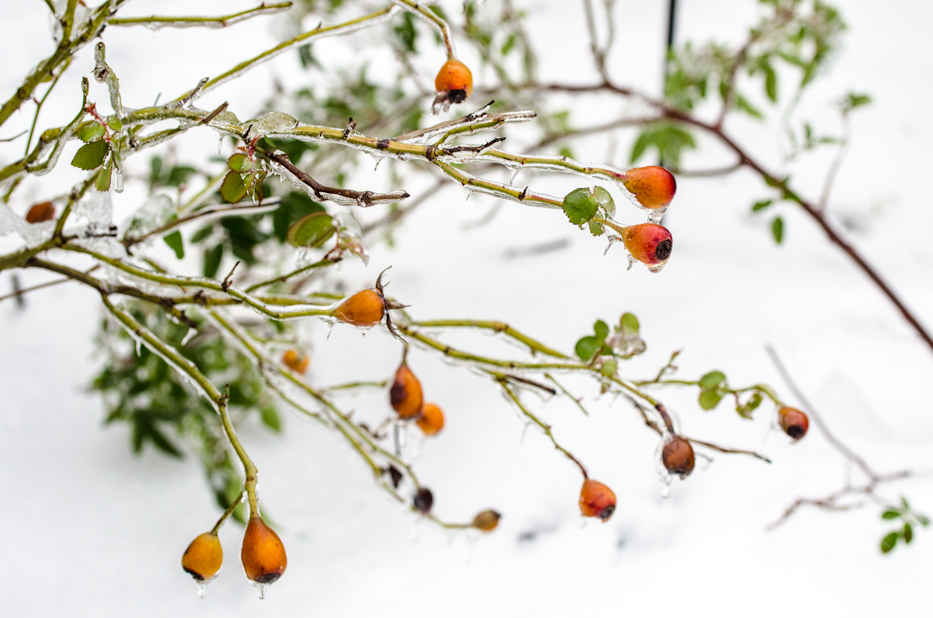 I've been asked a few times how to prepare roses for winter and so I finally sat down this morning and wrote these general rules of thumb. I just want to stress that I am a gardener who grows roses in a colder climate, so if you live in the warmer climes, your preparation is probably going to be different and I'd love to hear about them. I hope these reminders are helpful to you and as always I welcome your comments!
PS: if only it were as easy as putting a winter scarf and hat on our roses, eh?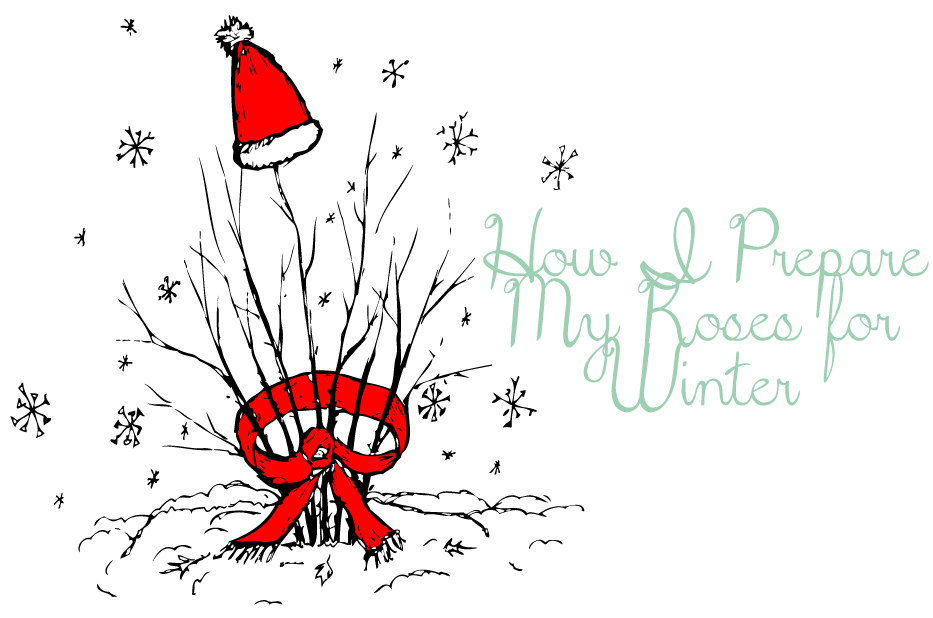 Preparing roses for winter starts as early as the spring by choosing the correct kind of rose for your growing conditions. I garden in an area where winters can get below freezing for extended periods of time so I try to choose roses which are winter hardy to as low as zones 3-4. That just saves a lot of trouble when it comes time to prepare for winter. (However, many of my roses are in containers so they will require a little extra protection. See below.) If you are growing grafted roses (not on their own roots) and you live in a cold winter region, I recommend planting that bud union a few inches below the soil line.
Stop fertilizing and deadheading roses in late sumer to tell the rose, "Hey it's time to start going into dormancy." Otherwise, your rose will continue to put out tender new growth which will certainly be killed off once winter arrives.
Clean up and discard diseased debris such as leaves that are afflicted with blackspot or powdery mildew. Actually, you should be doing this during the growing season (and by discard I mean throw out or burn–do not place in your compost bin.) But as winter approaches, chances are your roses are dropping their leaves and it's best to carefully rake them away from your roses and get rid of them so you're not harboring any plant diseases over winter.
Check roses for any pests and this is especially important if you are bring your potted roses into your garage as I will be this winter. Don't forget to check the underside of the leaves where they might be hanging out.
Know your climate pockets I'm sure you've noticed that some areas of your garden are more protected from buffeting winds and soak up more sunshine than others. For example, we have several climbing roses growing against the south portion of our house which significantly increases their protection from temperature extremes and harsh winds and the heat from the sun reflects back on the roses all winter long. They are snug as a bug in a small "climate pocket" in our garden. These roses, such as 'Blaze', 'Eden Climber', 'New Dawn', 'Pink Supreme Flower Carpet' and 'Piñata' do not require any additional winter protection other than a pile of mulched leaves around their base.
I do not prune my roses in fall preferring to wait until late winter/early spring. There are several reasons for this: First and foremost, pruning roses stimulates new growth which weakens the rose going into winter. Also, I like to shape my roses in spring after I've seen where the strongest new growth is emerging and removing any dead or non-productive canes. Additionally, many of my roses are once-blooming (Old Garden roses typically bloom once in late spring-early summer), and if they like to be pruned at all, and most don't, it should be done immediately after flowering as they bloom on the previous year's growth. And last, I grow a lot of climbers which in my opinion, really shouldn't be pruned at all unless absolutely necessary, so in spring/summer I take a look at their shape the direction in which I would like them to grow and make my cuts then.
Climbing roses may need to have their canes carefully removed from their supports and then pegged to the ground using stakes or "earth staples" if you are concerned about their canes being buffeted by cold winds. Pile up soil, compost and/or mulched leaves on top to make a protective mound, but wait until your rose is in complete dormancy before doing this or you may damage the rose. (After a few hard frosts you should be safe to do this.)
Loosely bundle and tie the canes on shrub-like roses, such as floribundas, hybrid teas, grandifloras, English roses, etc. to keep them from whipping around and then…
Pile up the base of shrub-like roses with soil, compost and/or mulched leaves. Conversely, you can…
Build a "sleeping bag" around your roses with chicken wire and backfill with mulched leaves.
Rose cones? Not my cup of tea. Here's why: In order to use them effectively, the rose must be pruned down to the size and shape of the cone so that it fits completely within the cone. And you know my thoughts on pruning–see above. However, that's just my own opinion and hey, they may work for you and that's fantastic! Just make sure you pile soil around the base of the cone after fitting it to your rose to hold it in place.
Container roses may need to be brought indoors and by indoors I mean an area of your home which is unheated but protected from severe temperature changes and winds. I will be bringing close to 25 roses into our garage this winter. Yes, my husband is not pleased, haha, but fortunately they're still pretty small. (Not sure what I will do next winter but I guess we'll cross that bridge…) Roses that are grown in containers are more sensitive to temperature changes and dehydration. As a pretty good rule of thumb, your container roses should get a buffer of 2 additional zones to what they're listed as being hardy to. So for example, a rose that is "hardy to zone 5" is really hardy to zone 7 when it's planted in a container. This isn't a hard and fast rule, but something to keep in mind when preparing container roses for winter. Before moving your container roses indoors, make sure that you've done the steps above removing diseased leaves and checking for pests.
Edit: I forgot to mention that I like to give my container roses a good watering prior to bringing them into the garage and then throughout the winter I pop in to check on them from time to time to make sure the soil doesn't completely dry out. Also something to keep in mind, your container roses, kept indoors, will start breaking dormancy before your outdoor roses. It's important to watch for any hard frosts that may kill their tender new growth if you decide to bring them out into the sunshine in the spring. You may have to move them back into the garage (like I did here) in the evenings and/or if the temps dip back into freezing.
Spread a layer of compost or mulched leaves on your rose beds this fall whether they need that additional protection or not because that additional layer of organic material will have all winter to work it's way into the soil and enrich it for next spring. Fall is a great time to compost!
What am I forgetting? Any gardeners out there who have some tips they'd like to share?