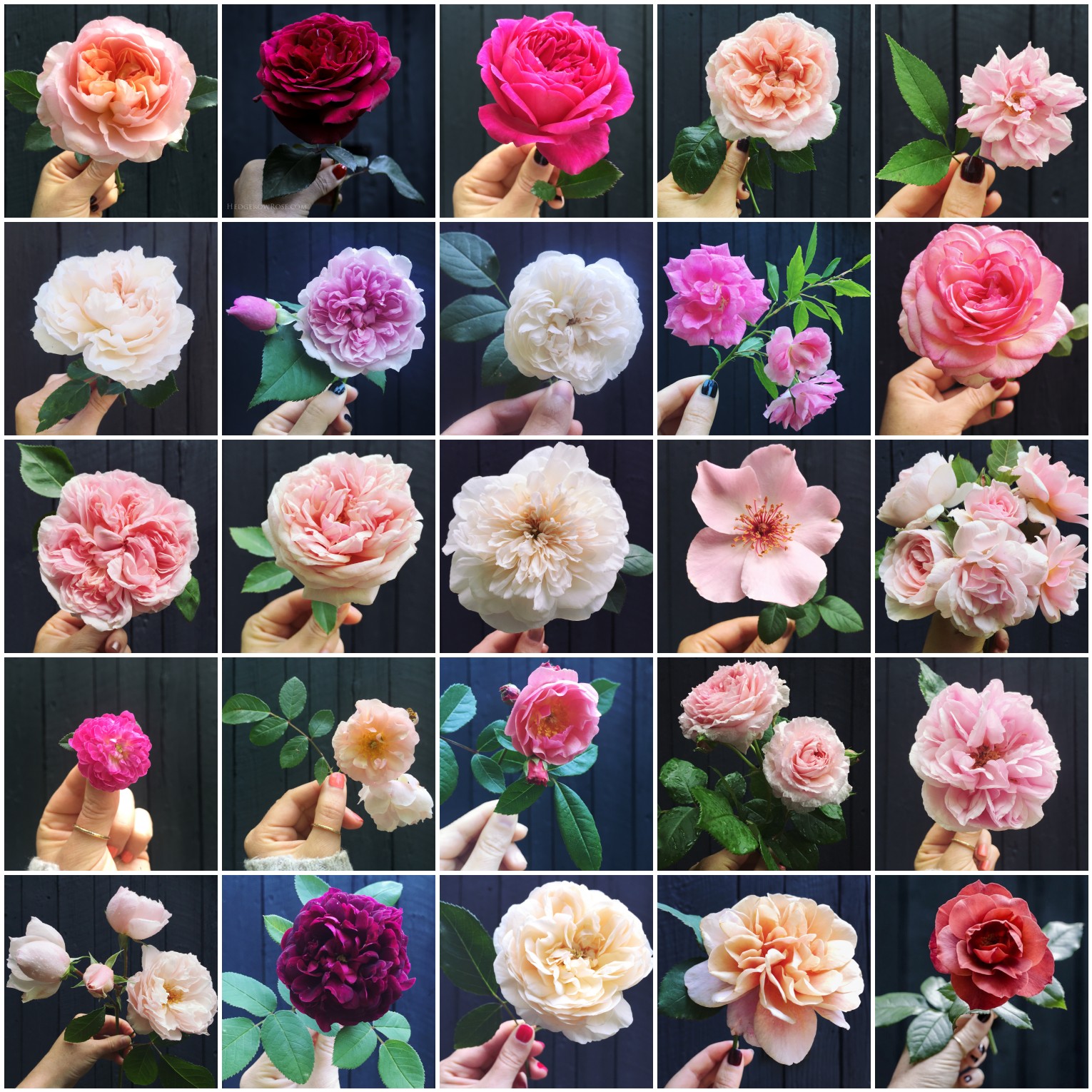 Rounding up the roses from my 2016 "Simple Beauty Rose Series" and this time, I've provided some notes on how they performed in our mountaintop, forested garden. For those of you who are new to this series, here's how it began: Several years ago, our Pennsylvania garden came down with a really bad case of rose midge. During that time, it was rare to see any blooms at all on our roses. Very depressing. When I did somehow manage to get a flower, I took it's photo to share with my IG friends, rejoicing in it's simple beauty. I've continued documenting new additions in this way because not only is it fun, it's helpful to see how the flowers relate to one another in size, shape and color.  This year, you'll note that some of these are repeats which managed to sneak in again, the saucy little buggers. And some new-to-me roses I forgot to photograph at all (see bottom of post.) The notes I've added are strictly from my own experience. We're on a steep learning curve now that we're gardening in a forest with warm days, cool evenings and a magnitude of insects. Here we go:
Boscobel Beautiful, changeable colors of pink to peach with strong fragrance. Large blooms. Not a rampant grower and a bit susceptible to blackspot.
Dark Desire Quickly soared to top of list for favorite roses, which surprised me as it's a Hybrid Tea! Fantastic blooms of deep red to black with strong fragrance. Great disease resistance. This rose was one of the few in our garden that had spider mites.
Ivor's Rose Reliably disease resistant and strong, lush growth. Mine did not bloom profusely but it's a relatively young own-root.
Strawberry Hill Well heck, how did this one end up here? I've grown this rose for years. It's an old standby. Blooms from spring to frost.
Old Blush The first rose to bloom in our garden. Shade tolerant. Disease resistant.
The Lady Gardener ? I can't remember which one this is but I'm pretty sure it's TLG. Was a bit disappointed with this rose, but again, it's only in it's first year in our garden. Blackspotted terribly and didn't give me many blooms.
Sister Elizabeth Delicate looking shrub (own-root) taking it's sweet time to get going but flowers are lovely. Some blackspot, nothing major.
Albrighton Rambler Gorgeous pale ivory blooms with sweet button eye. Some blackspot. Blooms in sprays.
Weeping China Doll "Thornless" canes with soft, fern-like foliage. Clusters of medium pink flowers like grapes. Looking lovely in an urn. Some blackspot.
Pierre de Ronsard I shovel pruned our PdeR in our old garden due to excessive blackspot. Trying again in new garden on it's own roots.
St Swithun A real MVP for 2016. Heavy flush of blooms in spring followed by sporadic flowering for remainder of season. Strong fragrance, great disease resistance. Rampant climber with formidable prickles.
Elie Beauvillain In it's 2nd year, still not a heavy bloomer. Arching canes and foliage that looks similar to Rêve d'Or. Flowers are a coppery pink like rose gold.
Sombreuil The flowers on this rose are fantastic: large, flattened blooms in a pale ivory to pure white. I also appreciate the foliage which is a lustrous deep green with bluish tint.
Dainty Bess Growing this one own-root and it's still very small. Still, it produced pretty flowers all summer long. Blackspot prone. Bees loved it.
Felicia and Heritage Not actually growing these, yet, although I did have Heritage at the old garden. Felicia is on my wishlist. These are from the ABRRS garden. Fragrant!
Burgundian Rose In love with this minute Centifolia. Leaves are tiny, buxus like. Flowers are cute as a button.
Ghislaine de Féligonde Whoops another oldie but goodie that ended up here. Give this one room to grow.
Cornelia Still up there as one of my favorites. This is another rose that will get large rather quickly. Flowers are breathtaking in various shades of apple blossom pink and apricot.
James Galway Shade tolerant, incredibly disease resistant. Slow to get going for me but I think next year will be a good one.
Madame Ernest Calvat Oh, I've talked about this one enough!  😉
The Generous Gardener Wins the award for most disease resistance in our garden. Leaves are CLEAN. Flowers are highly fragrant but best left on the plant as they shatter quickly in a vase. Produces hips.
Tuscany Superb An old favorite. In the old garden it stayed put, but in this garden, it's spreading like crazy. I've already counted 13 new runners sent out by the mother plant just last summer alone. Maybe it likes the sandier soil?
Lichfield Angel Not sure I'm keeping this rose. It's terribly black-spotty in our garden, although the flowers are lovely.
Distant Drums Not a strong grower (own-root) and only got one flower this year. It is very pretty, though, and there's always next year!
Hot Cocoa Flowered reliably all season long in singles and clusters. Really beautiful coloring on this one. Disease resistant. Not very fragrant.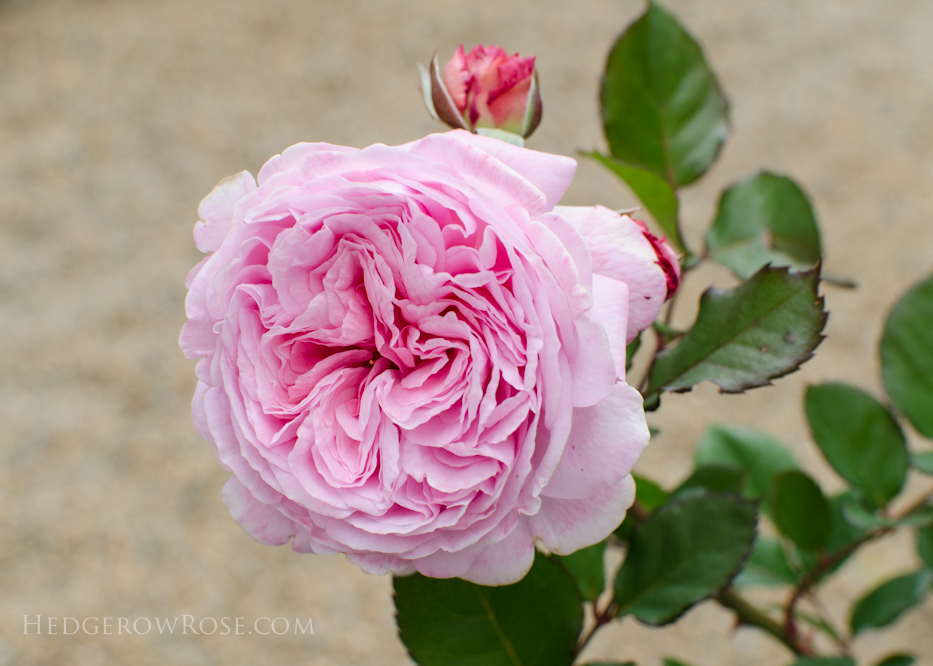 We also grew a handful of other roses that I forgot to take a "simple beauty" photo of!
The new-to-me roses not seen in photos are:
Basye's Purple If you're loving deep red to burgundy roses as much as I am, then you'll appreciate this rose. Disease-free, bee friendly, consistent bloomer. Lovely fall foliage. Prickly as all get-out!
Blush Noisette Remains popular for a reason. Arching shrub with clusters of powder pink flowers. Fragrant. Produces hips. Disease resistant.
Summer Romance See in above photo. Very pretty flowers but I only had a couple last year! It produced a solid looking shrub, though, so I imagine next year will be better. She hopes.
Veilchenblau A classic. Although shade tolerant, I'm totally giving mine too much shade and will probably move it. Showing disease resistance.
Pomponella So glad to have gotten one of these last spring as it was on my wishlist for some time. Growing own-root. Nice flush of blooms from spring to frost. No fragrance to speak of. Good disease resistance.
Benjamin Britten Really love the unusual shade of red on this rose. Fragrant. Some blackspot. Seems to prefers afternoon shade.
Nymphenburg This hybrid musk is simply stunning in shades of warm, pale pink. Fragrant. Produces hips.
Claire Austin Lovely flowers in ivory to white. Fragrant and disease resistant. Produces hips.
Red Smith's Parish Delicate looking, candy pink blooms "tan" to deep, carmine red. Produces hips.
Clotilde Soupert Susceptible to powdery mildew. Blooms ball in damp weather. The flowers, when they do open, are very pretty.
Ascot Own root and still so itty bitty! Fragrant. Flowers well formed, reddish-purple.
….and a few more still in pots. Until next spring…. 🙂
Take a look at past Simple Beauty Rose Series posts HERE and HERE.