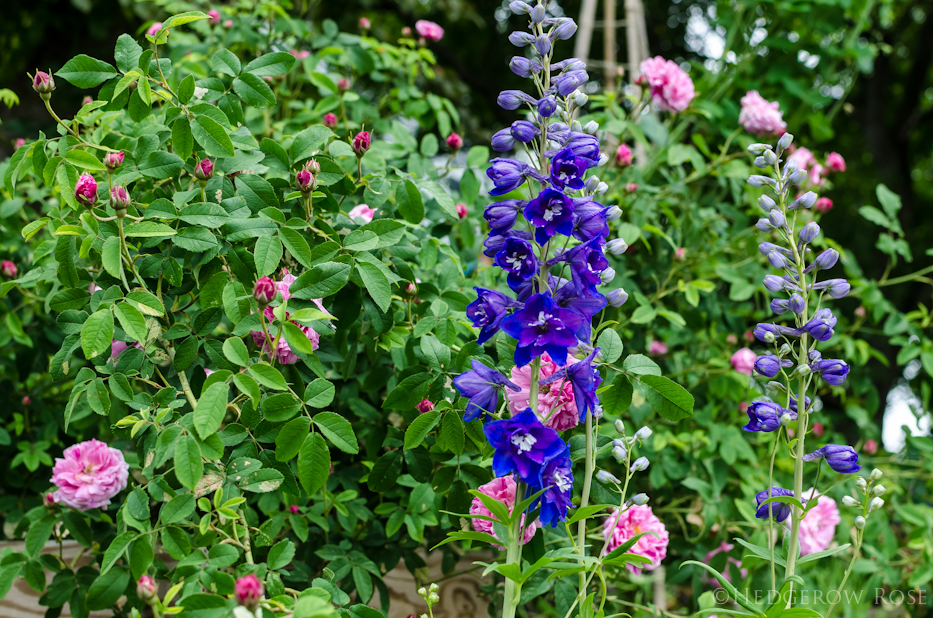 The old house: Delphinum and 'Georges Vibert' Both were left behind, with Georges going to a former teacher of our daughter's. He took a bunch of our container roses, actually! I brought a cutting of this Georges with us to new garden and he's planted out. We'll see how it does…
Well here we are in 2016! I don't know about you, but even though this winter has been mild, I've had quite enough of it. I can't wait for all the wonderful-ness that spring  brings, my favorite being the time spent with a cup of coffee and loads of sunshine, potting up the baby roses and planting out the seedling annuals. I've noticed that there are lots of birds singing in the morning these days, and there is more sunshine for longer, so I feel like spring really must be right around the corner.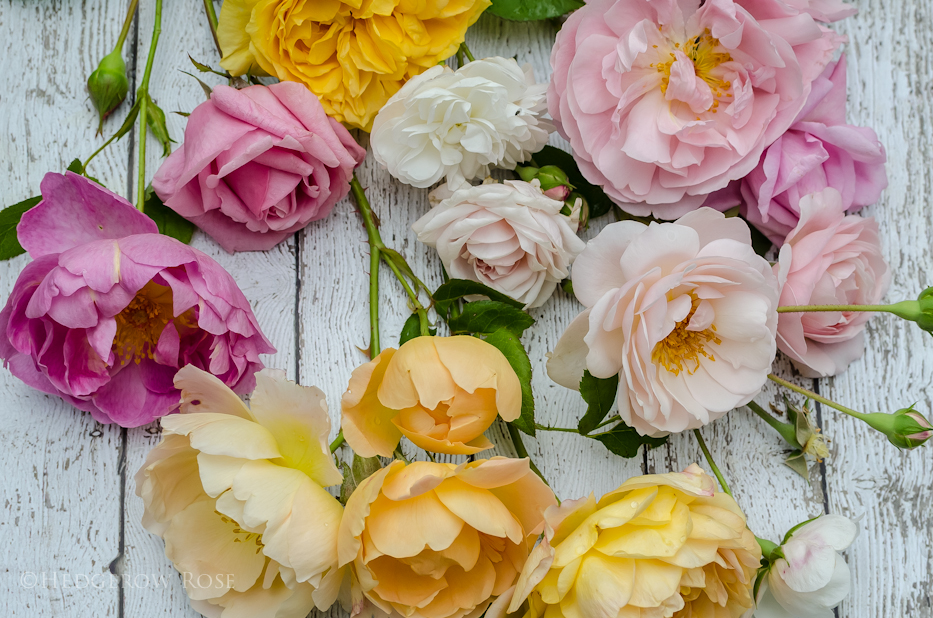 Remember my monthlong Celebration of Roses in 2015?  I really tried to do that again this year, because I think we all could use some rosy goodness in January, but sadly, with the move and such I simply didn't have enough new content to go around. I will shout it from the rooftops: I cannot wait to have my garden and this blog finally get back to normal!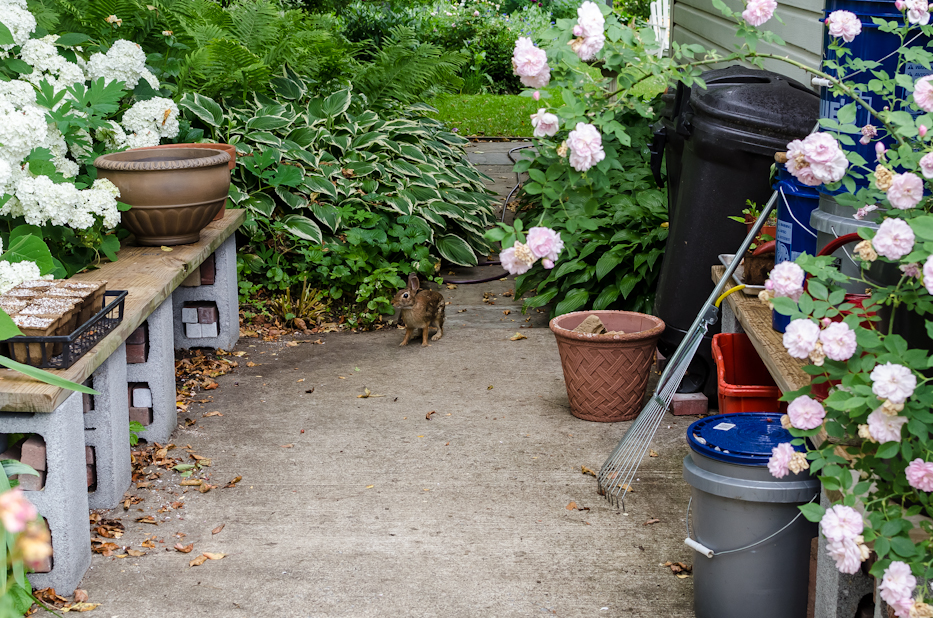 The old house: I don't think it gets much more "real" than this photo. Garbage cans/recycling bins, compost buckets, misc pots, and other not so pinterest-worthy nonsense. But wait, there's a really cute bunny! That pink rose waving hello is "Arcata Pink Globe", also one that was left behind. I did manage to get some rooted cuttings from it for the new garden.
There has been much going on over here in our neck of the woods, on a personal level, which has been keeping me busy. I don't talk much about that stuff, as you all know, but I can't help but say how excited I am that our daughter, who has been living in State College on her own since we left (attending PSU) has decided to transfer down here to Asheville. She was having a real rough go and it's been difficult for everyone. All you moms out there, I'm sure you can understand how relieved I am that she'll be nearby. So! The mister is back in our old neighborhood right now collecting her and it got me thinking about the old garden and how I'm long overdue for a blog post.  Combine those two thoughts and you've got a bit of a hodge-podge of stray photos that I'm pretty sure never got shared here. Hold onto your hats, folks, it's a lot!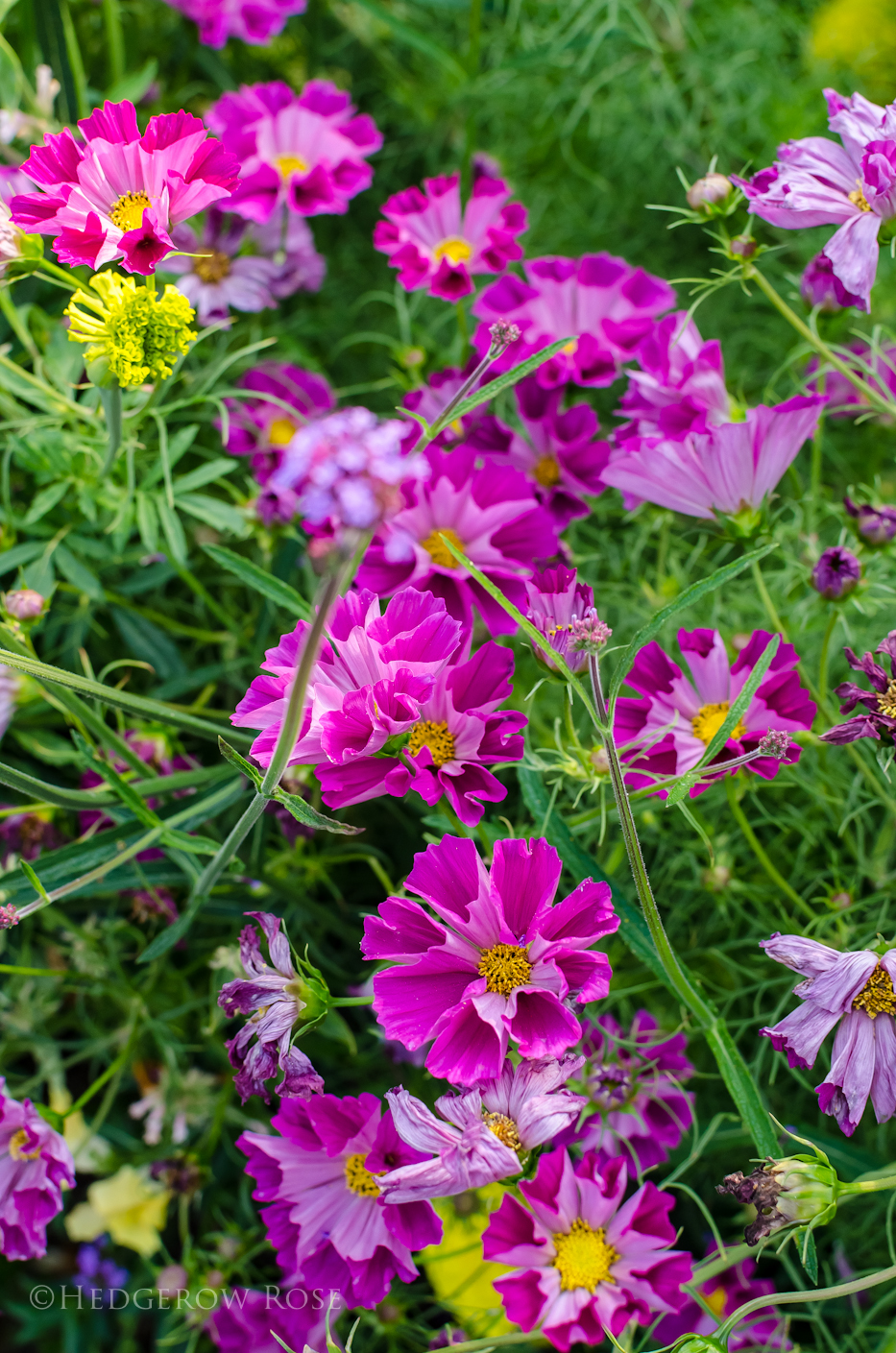 Let's start with some of the annuals that I grew in SC that did particularly well in 2014, like these seashell Cosmos. If you were one of the handful that got seeds from me, they may look like this….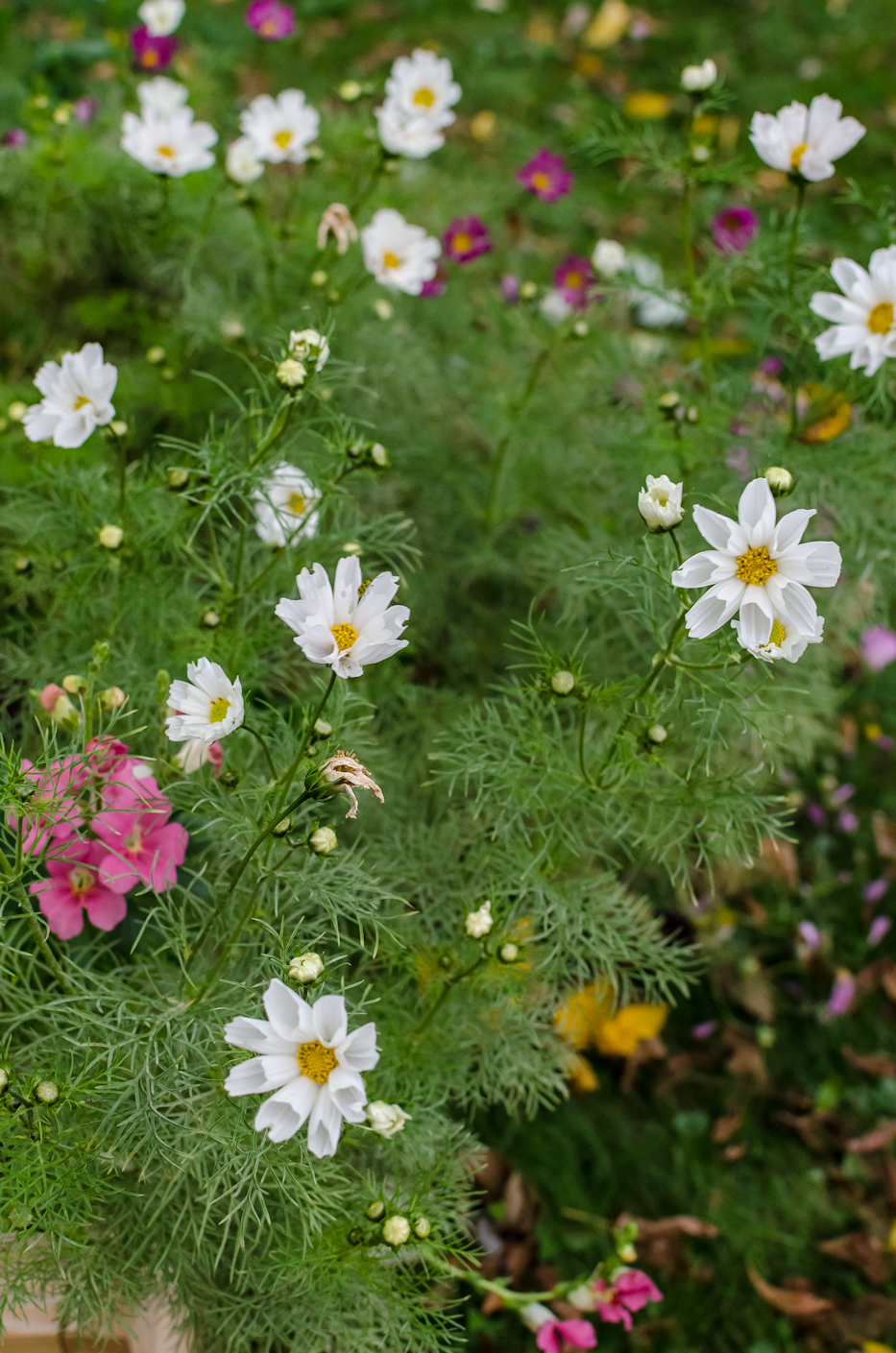 …or white, like this! Cosmos are such happy flowers, aren't they? Super easy to grow, just don't give them too rich of a soil or you'll get more foliage than flowers.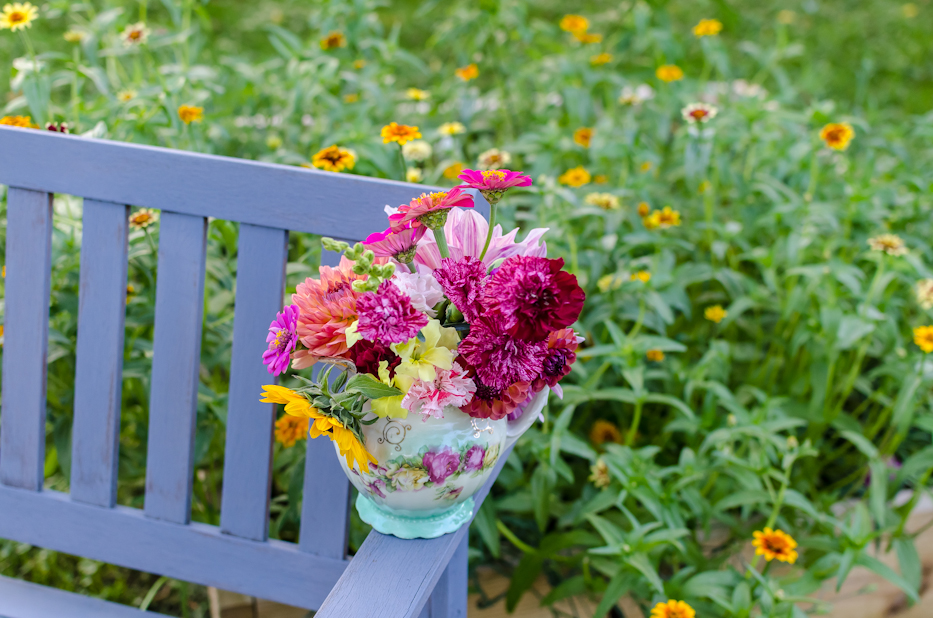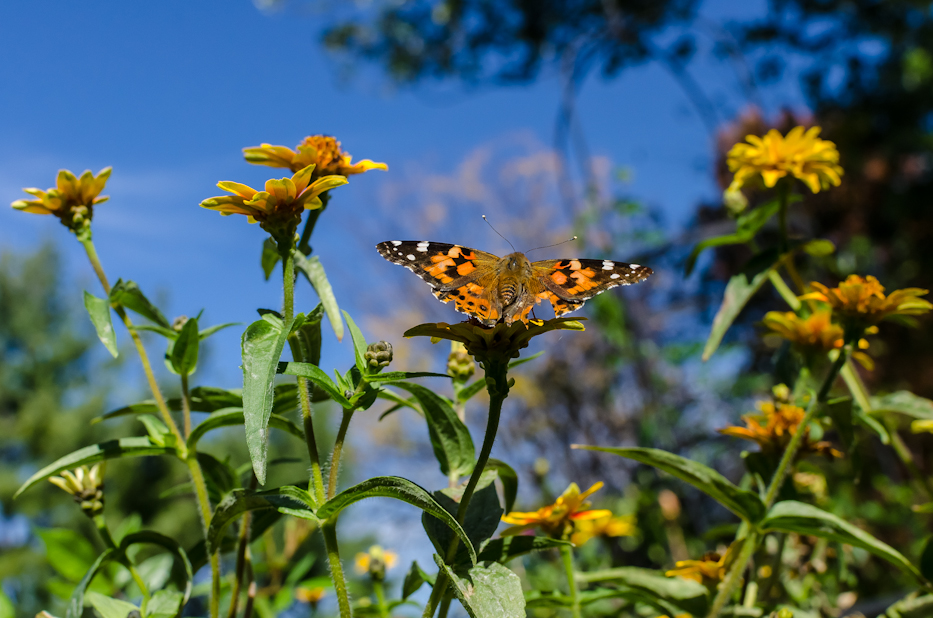 In a nearby bed were these Persian Carpet Zinnias. The butterflies went nutso over them and they bloomed right up to frost. I haven't purchased my zinnia seeds for this year, yet, but I certainly won't be doing the scabious kind again. (I'm still leaning towards these but haven't committed yet. This is serious stuff!) Have you decided which Zinnias you'll be growing this year?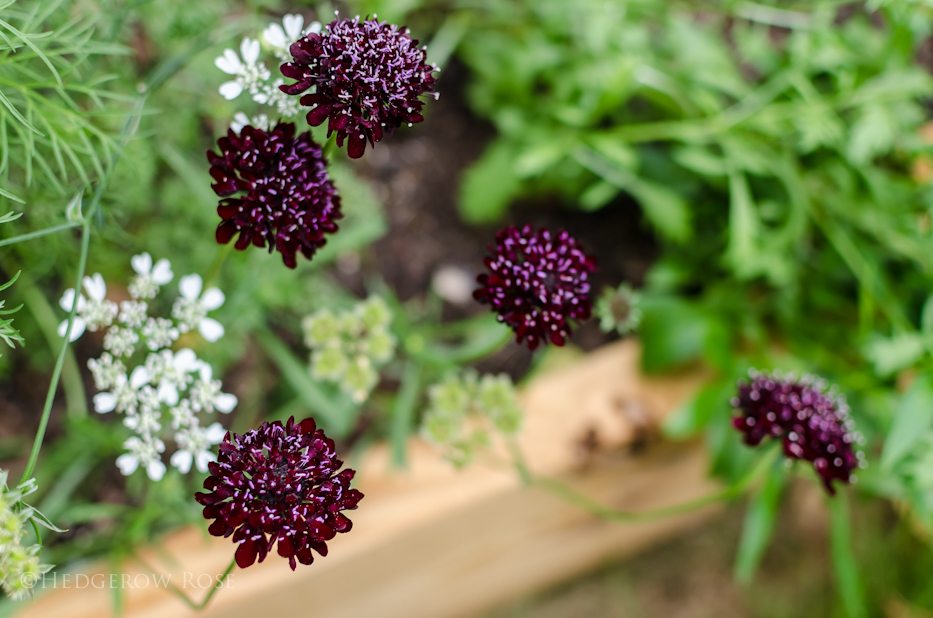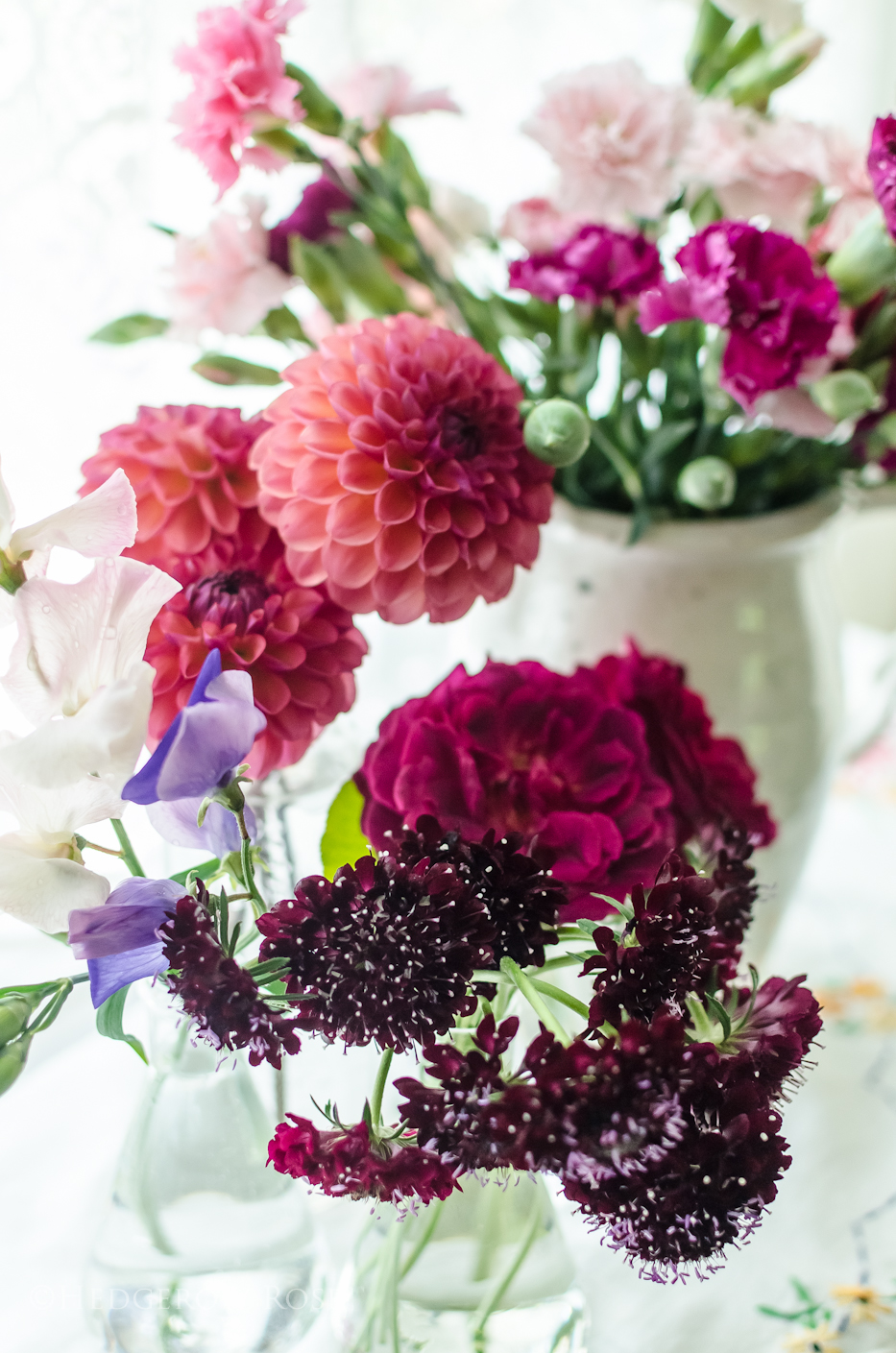 Speaking of Scabiosa, that summer I grew this delicious "chocolate" variety, aka 'Black Knight'. They would have grown straighter stems, I'm sure, had I planted them in a full sun location, but they still looked lovely in arrangements.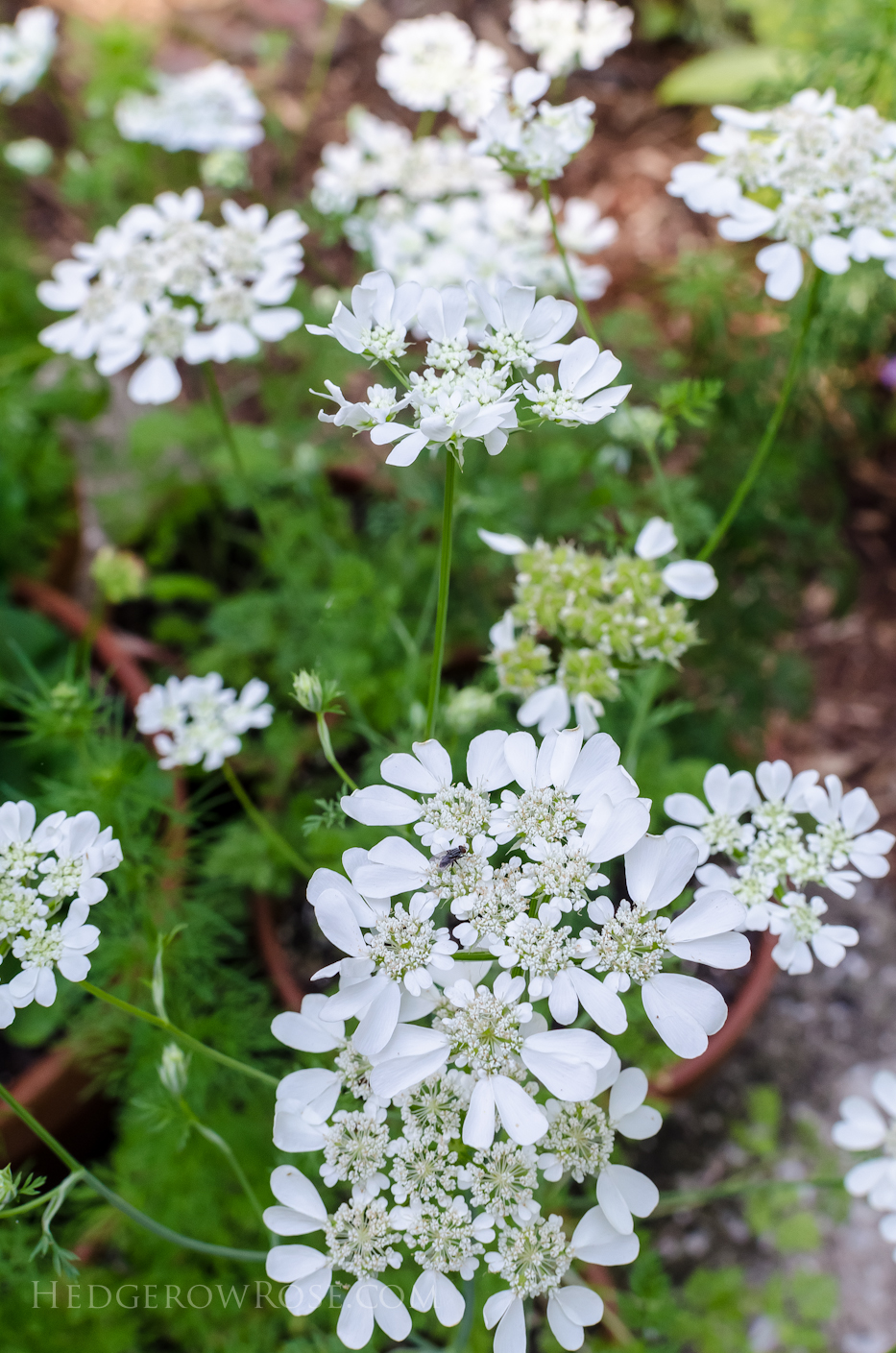 Recognize those little doily-like blossoms planted with the Scabiosa? Those, of course, are the Orlaya grandiflora flowers I've talked about. If you got some of those seeds from me, too, try growing them in containers. We had a little grouping on our porch last summer that looked so pretty!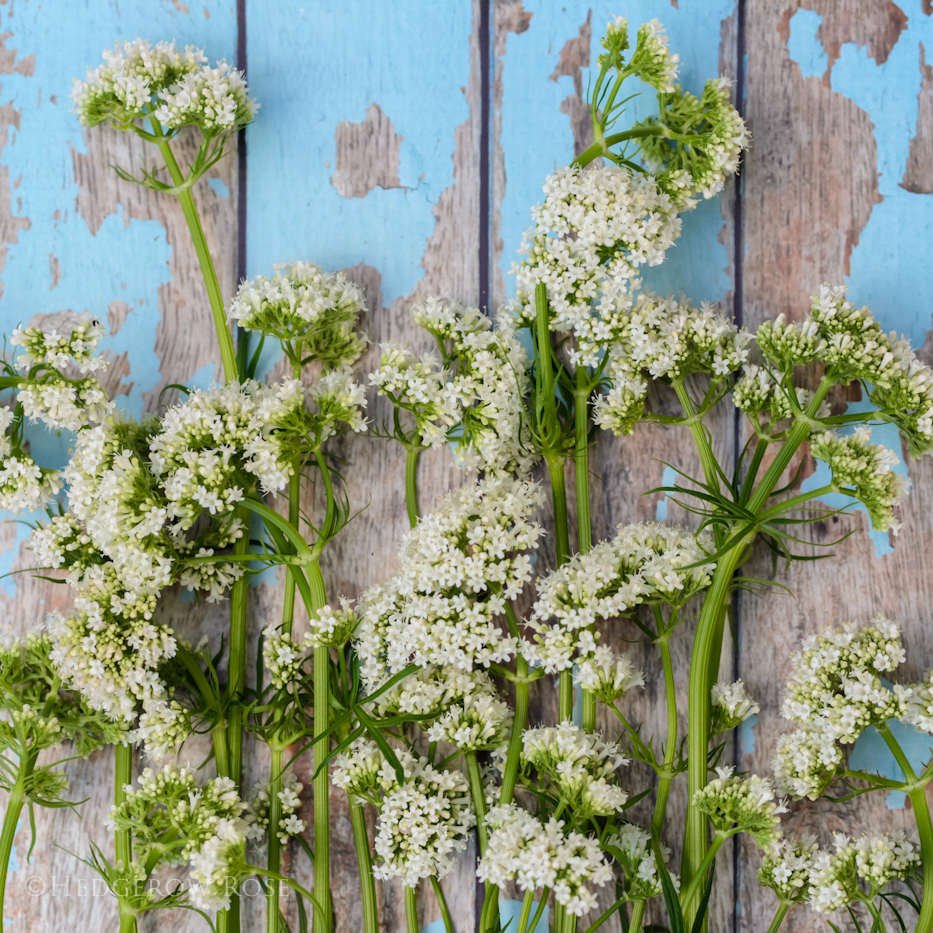 The fact is, I love white flowers in the garden, especially the delicate-looking types. One year I picked up some Valerian from a local garden club sale. I planted it by the old shed in a dappled sun location that got a bit more moisture and boy did it take off. When it bloomed, you could smell the fragrance from across the yard and the bees loved it. Valerian root is often used by herbalists, of course, but I just enjoyed the flowers. Wish I thought to bring some of this with me!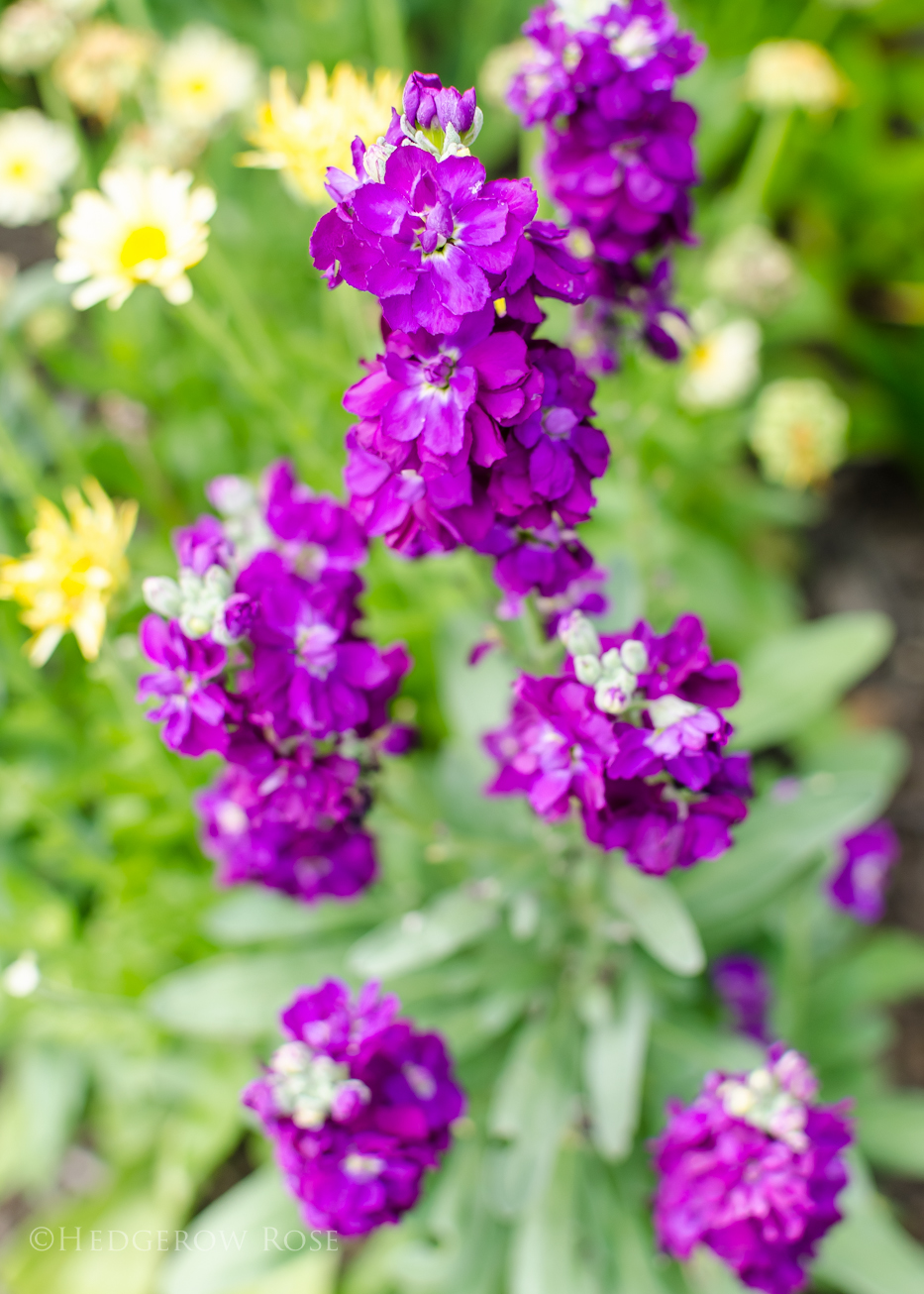 Scent in the garden is a must, and I've had a lot of success with fragrant stocks which I grow from seed. I've grown this mix for so many seasons now, that I'm kind of bored with them, though. I'd love some in shades of peach. Maybe these?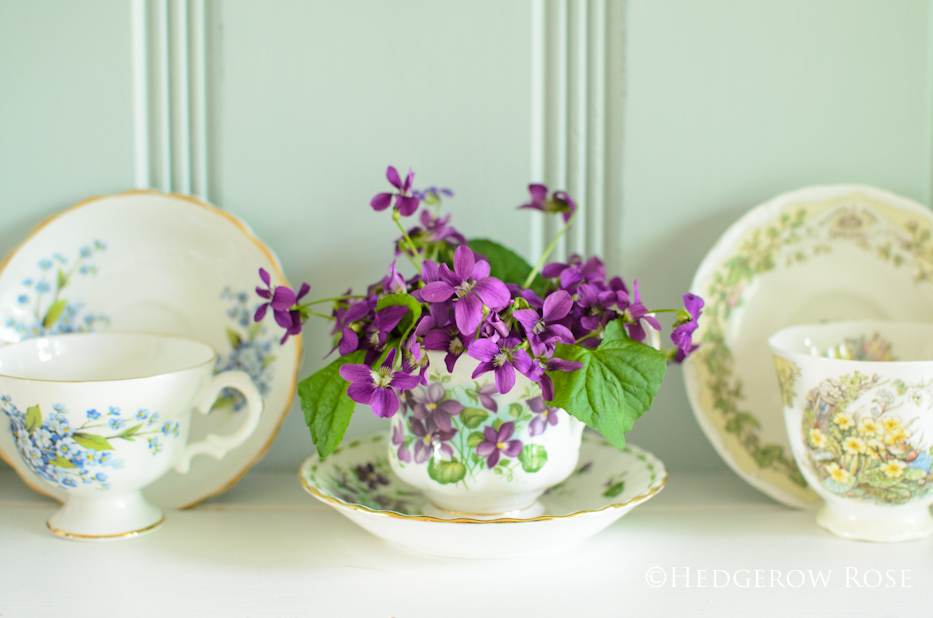 And while we're on the subject of purply/scented flowers, I found this old photo of the violets from our old garden. Did I show you this already? Gosh, this photo makes me miss spring. Here in our NC garden, we have violets, but they're the "Confederate Violets" and look quite different. I don't mind that they're spreading in a mossy section of our garden. In fact, I have some fun plans for that area…think primroses, fairytales, secret gardens.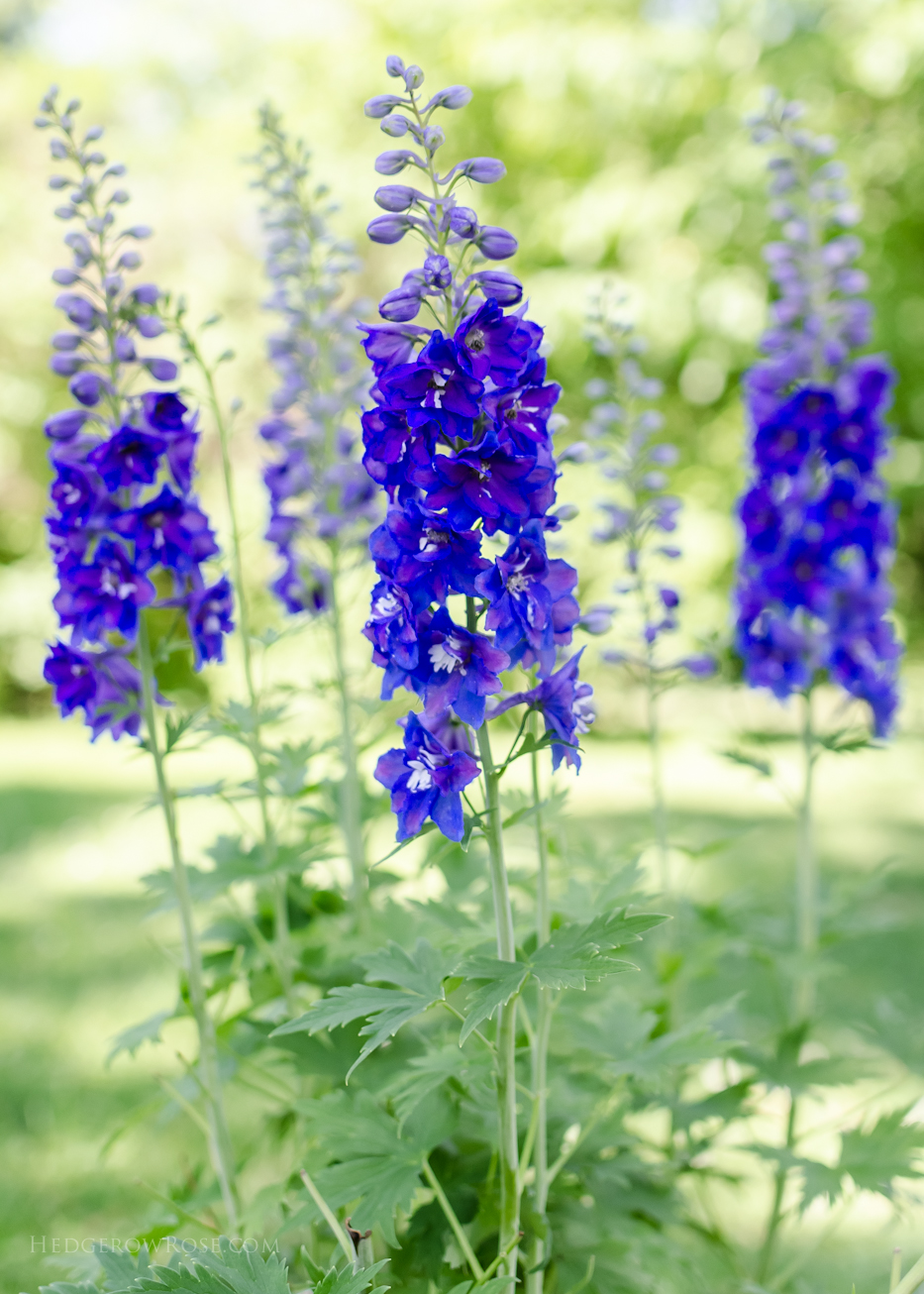 Here is another photo of the Delphiniums we planted in our old garden. I took this when we visited last June for our daughter's HS graduation. This little clump loved the raised bed/part sun area I planted them in. This year, I purchased some Delphinium seeds that I'm going to try growing–I've never done that before so wish me luck!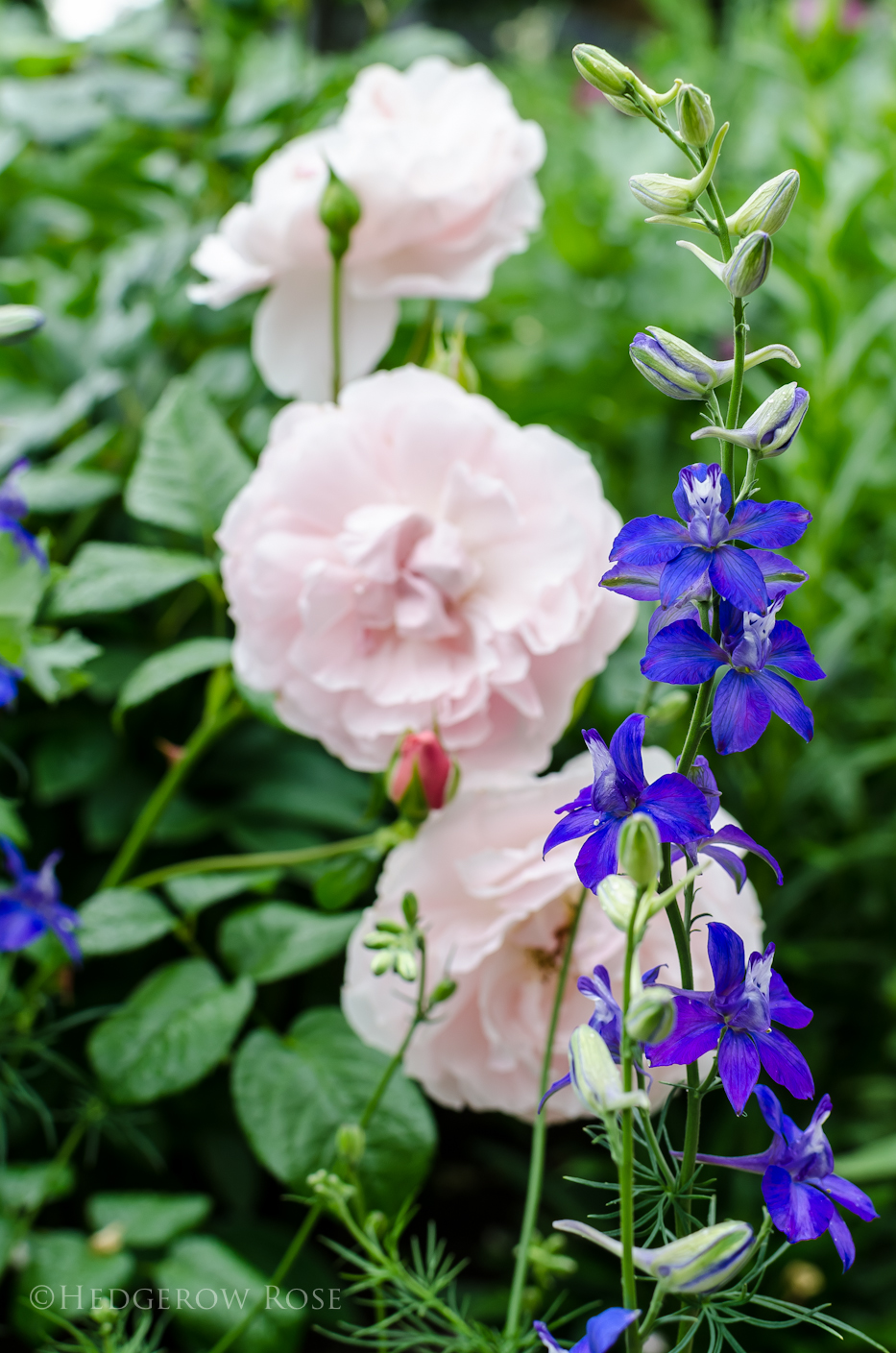 Some people call Larkspur "poor man's Delphinium" and I guess I can see their point, but I think Larkspur are a treat unto themselves. Sure, they're ridiculously easy to grow (scatter the seeds, that's basically it), but that shouldn't make them any less desirable. I love the blue kinds which we have a plethora of every year….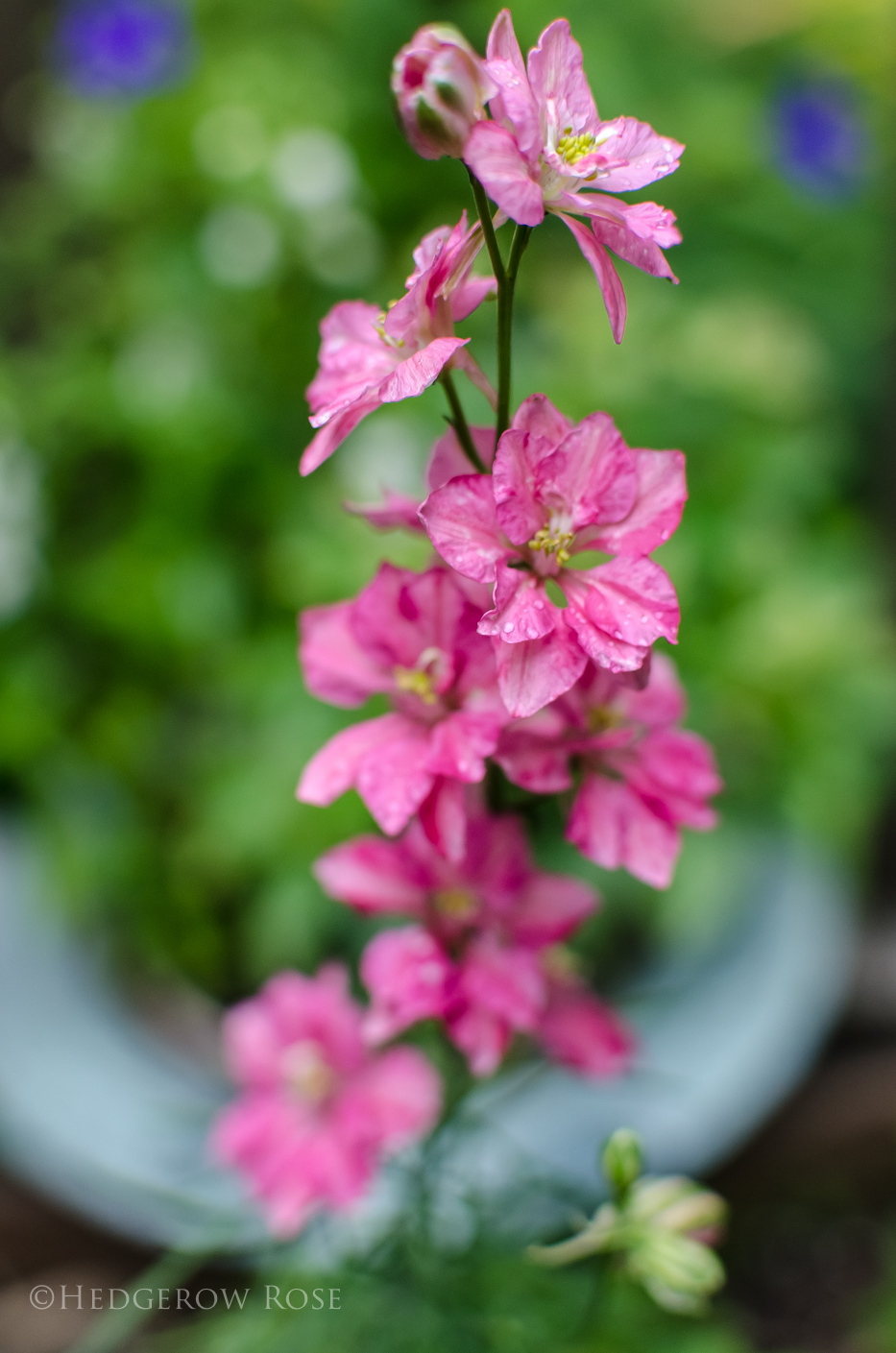 …but the pinks are extra special. 🙂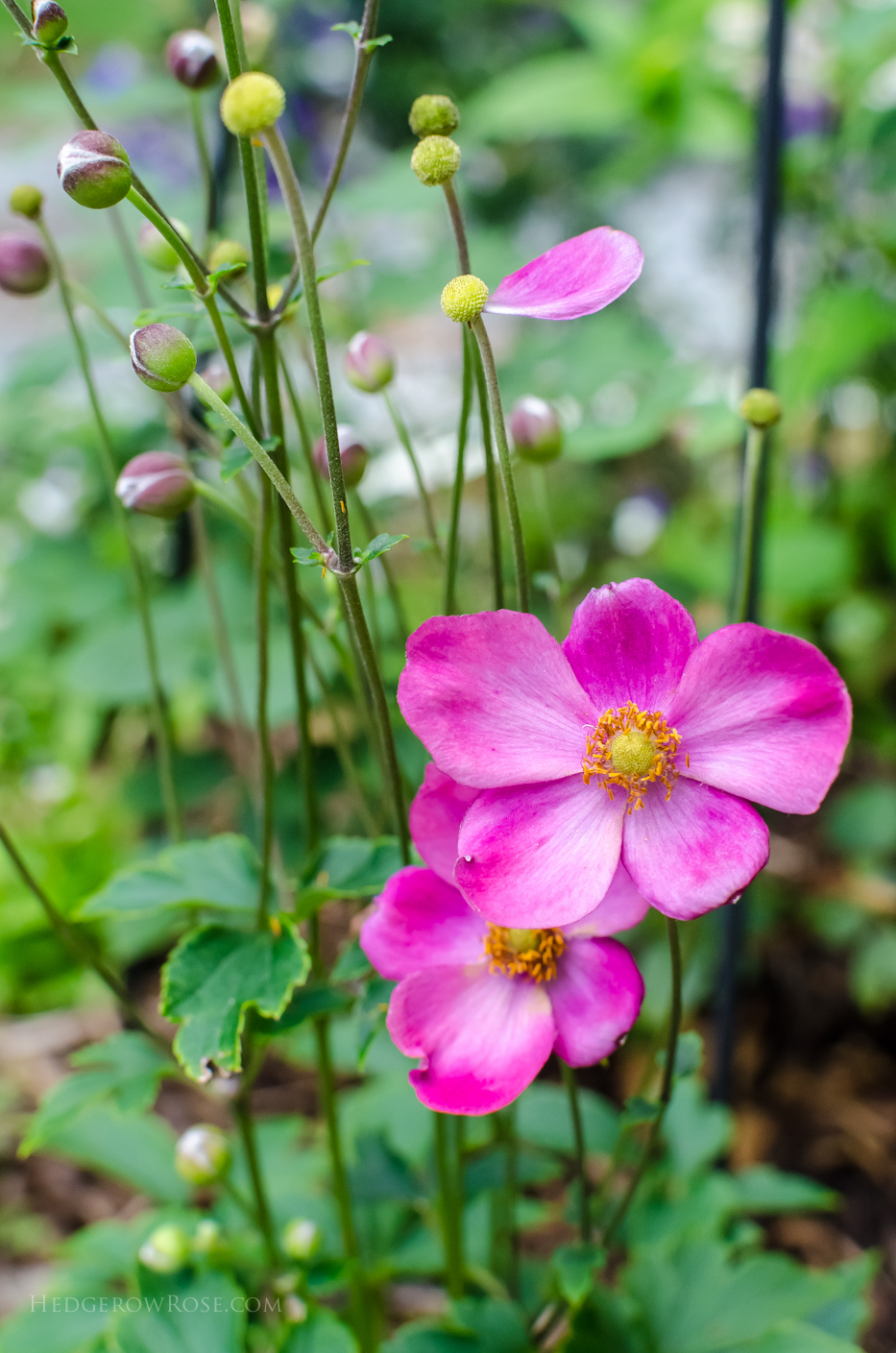 Can you really have enough pink flowers? I submit that you cannot. When it came time to add Anemones to our new garden, I picked up this charming 'Pretty Lady Diana' variety and it bloomed for months!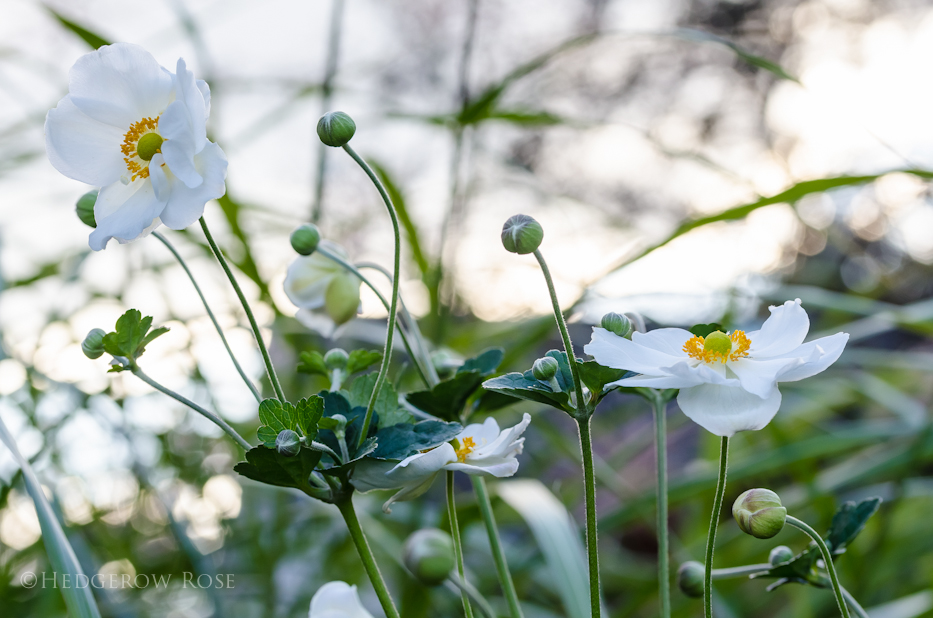 I do miss this one, 'Honorine Jobert' seen here in the old garden. Another one I'm kicking myself for not bringing.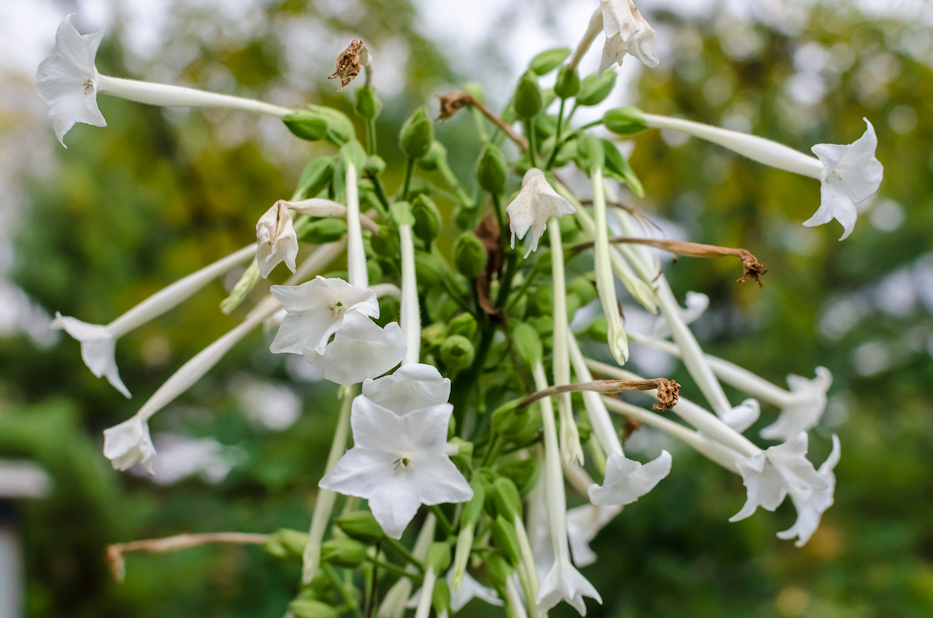 Oh, more white flowers! Here is a Nicotiana I grew from seed. Once you get them established in your garden, they'll pop up everywhere so beware. The candelabra-like blossoms were at the tip top of a very large plant, probably close to 5 feet or more. The scent is intoxicating at night. I like to grow this type of Nicotiana for the moths. They need all the help we can give them!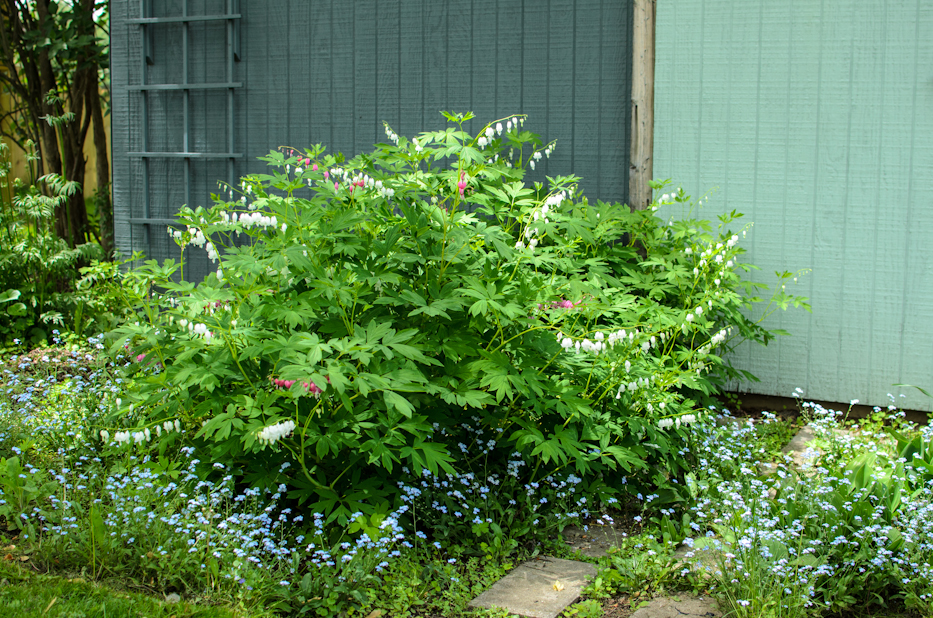 This white form of Dicentra in bloom was one of my favorite bits of spring. One year I dug up some roots and sent them to a Twitter follower. I wonder if it ever bloomed for her. I remember taking this photo after we had painted the old shed and now I look at it and think look at all those forget-me-nots! Heaven!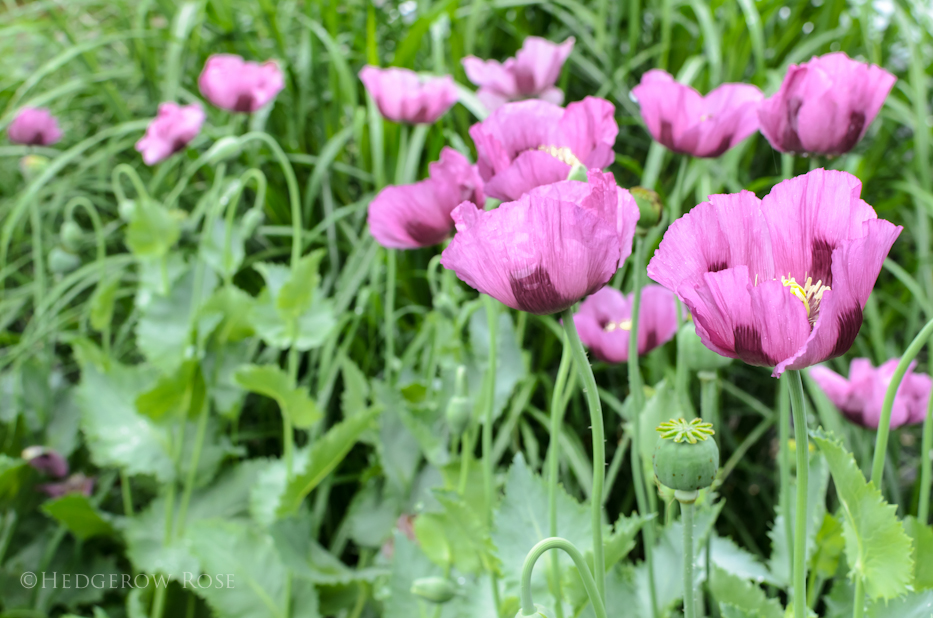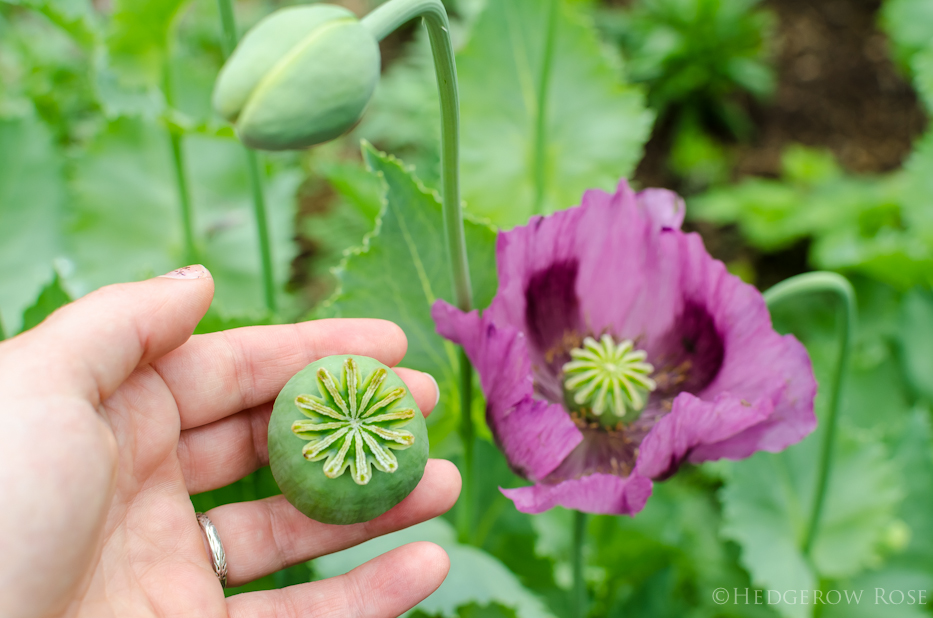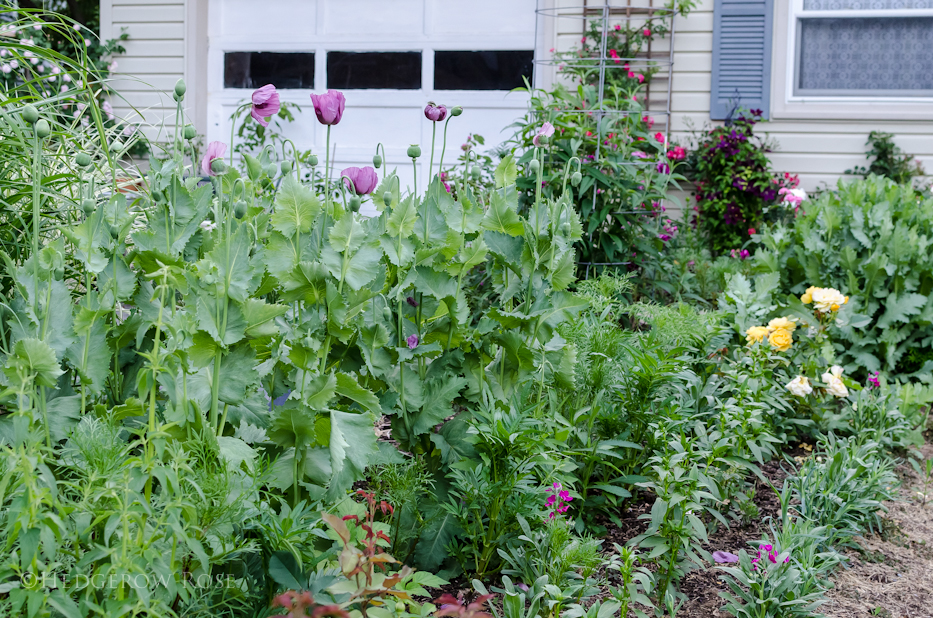 The poppies were the real showstoppers, though. When we were leaving, I had several neighbors tell me how much they enjoyed seeing them in bloom and how much they'll miss them. In fact, one time I looked out my window and some guy with a camera was standing in the middle of my garden taking photos. I was kinda like, OK this is weird but I totally understand. But anyways, I don't think I ever showed these photos of the 'Hungarian Blue' variety I grew. They were just as pretty as the Lauren's Grape, and the pods were ginormous!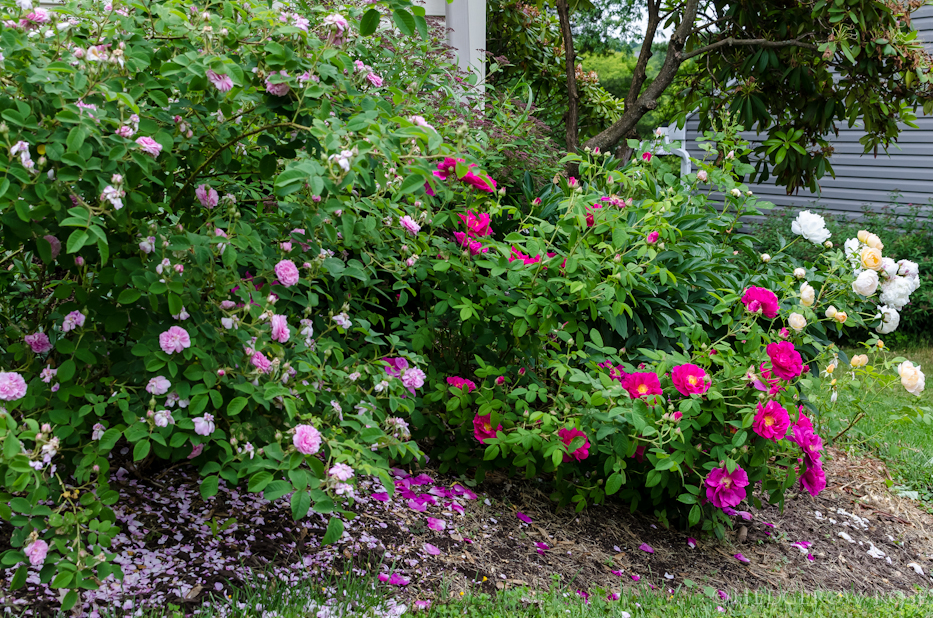 The old house: Petite Lisette, Apothecary's Rose, Comte de Champagne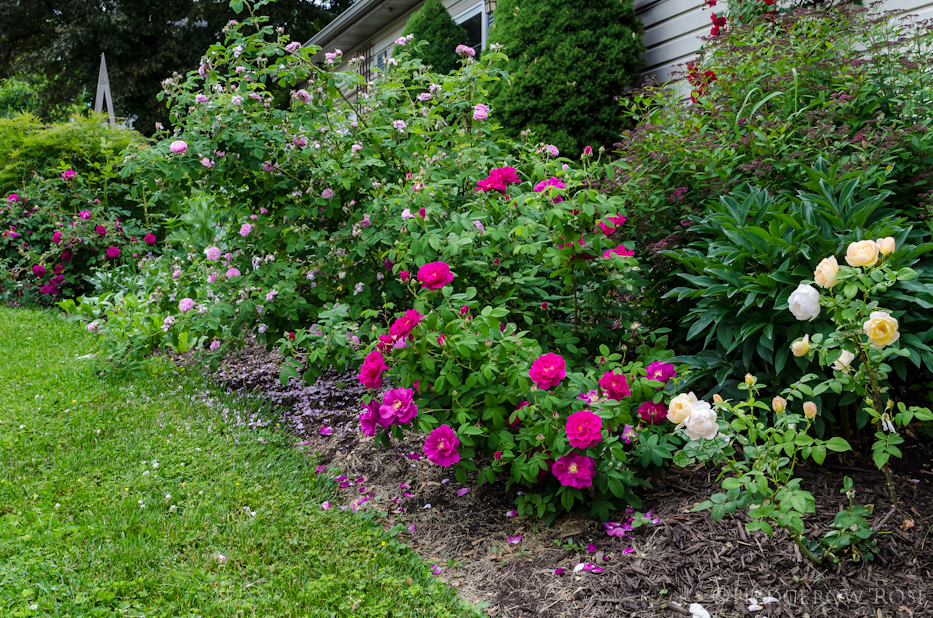 The old house: Comte de Champagne, Apothecary's Rose, Blaze, Petite Lisette, Henri Martin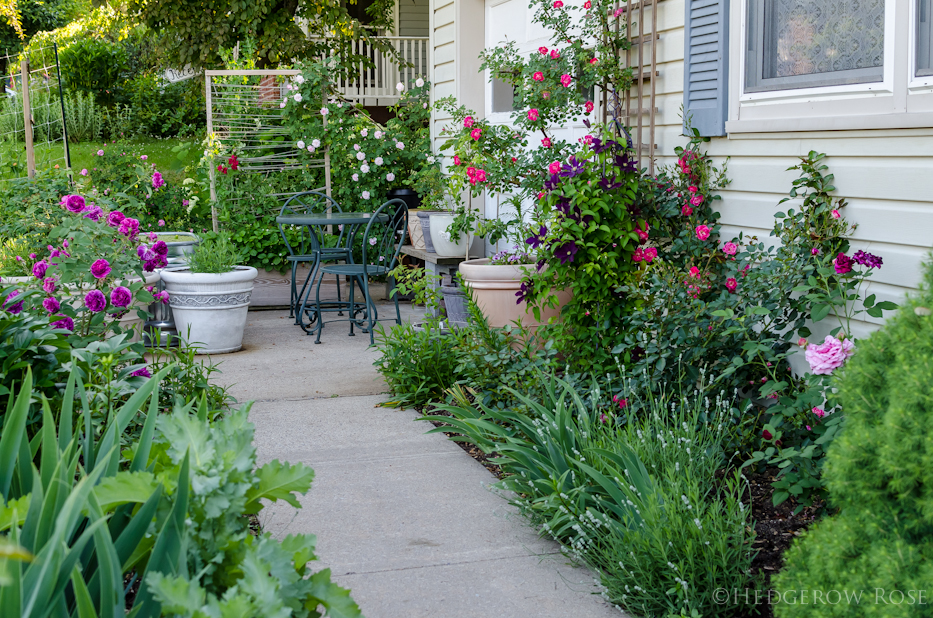 The old house: the front walk leading to the container garden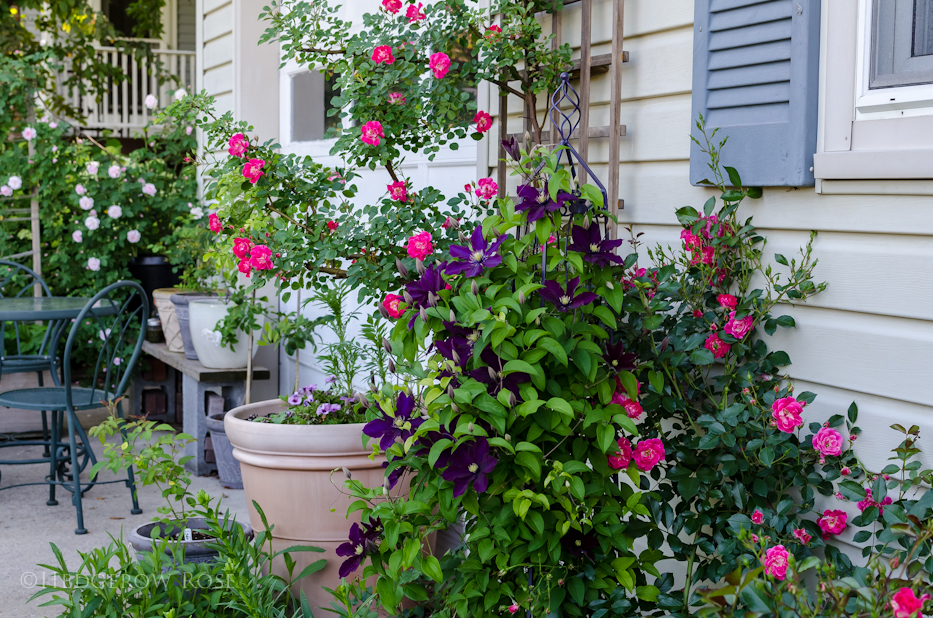 The old house: Clematis 'Niobe' and R. 'Flower Carpet Pink Supreme' "Arcata Pink Globe" in background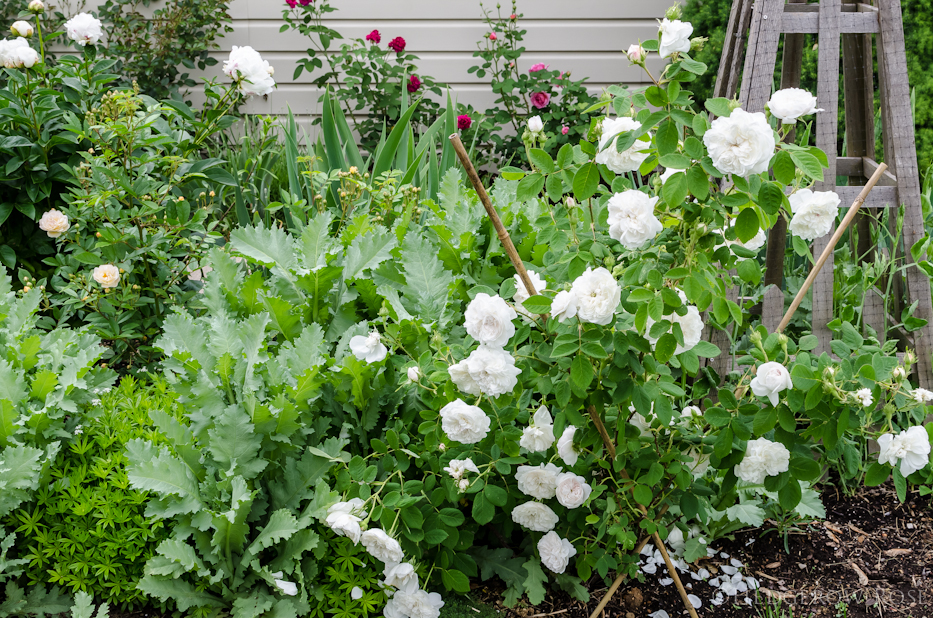 The old house: Mme Hardy in foreground, Darcey Bussell and Princess Alexandra of Kent in background. A little baby bunny was living in that cedar tuteur, by the way. Really, really adorable.
Looking at these photos and seeing our old rental in the background, gives me such mixed emotions! I miss the garden something fierce. Rumor also has it that much of the garden was recently destroyed but I can't even think about that it's too painful. I don't miss the house, though, even though I am grateful we had a roof over our heads during those years.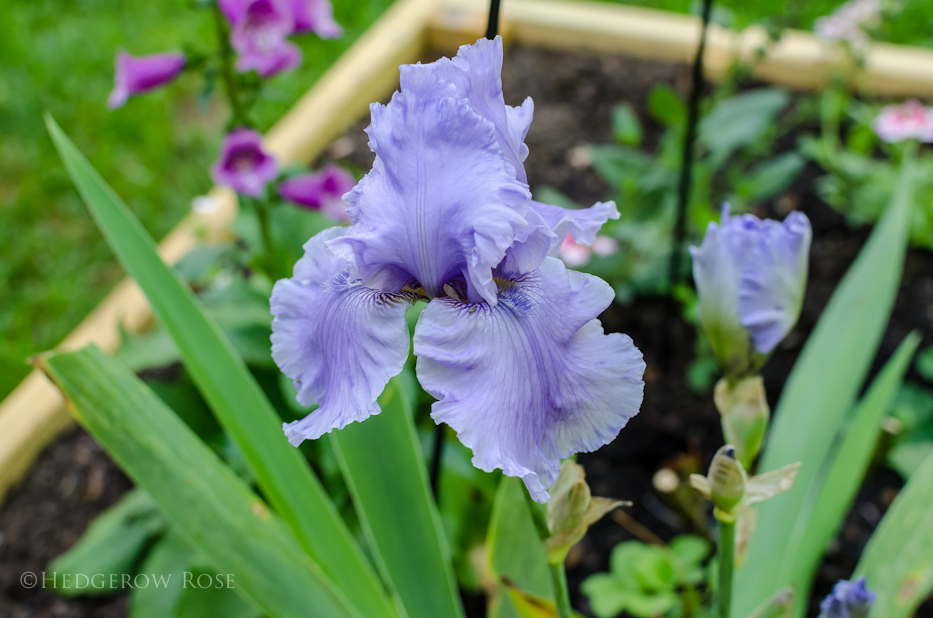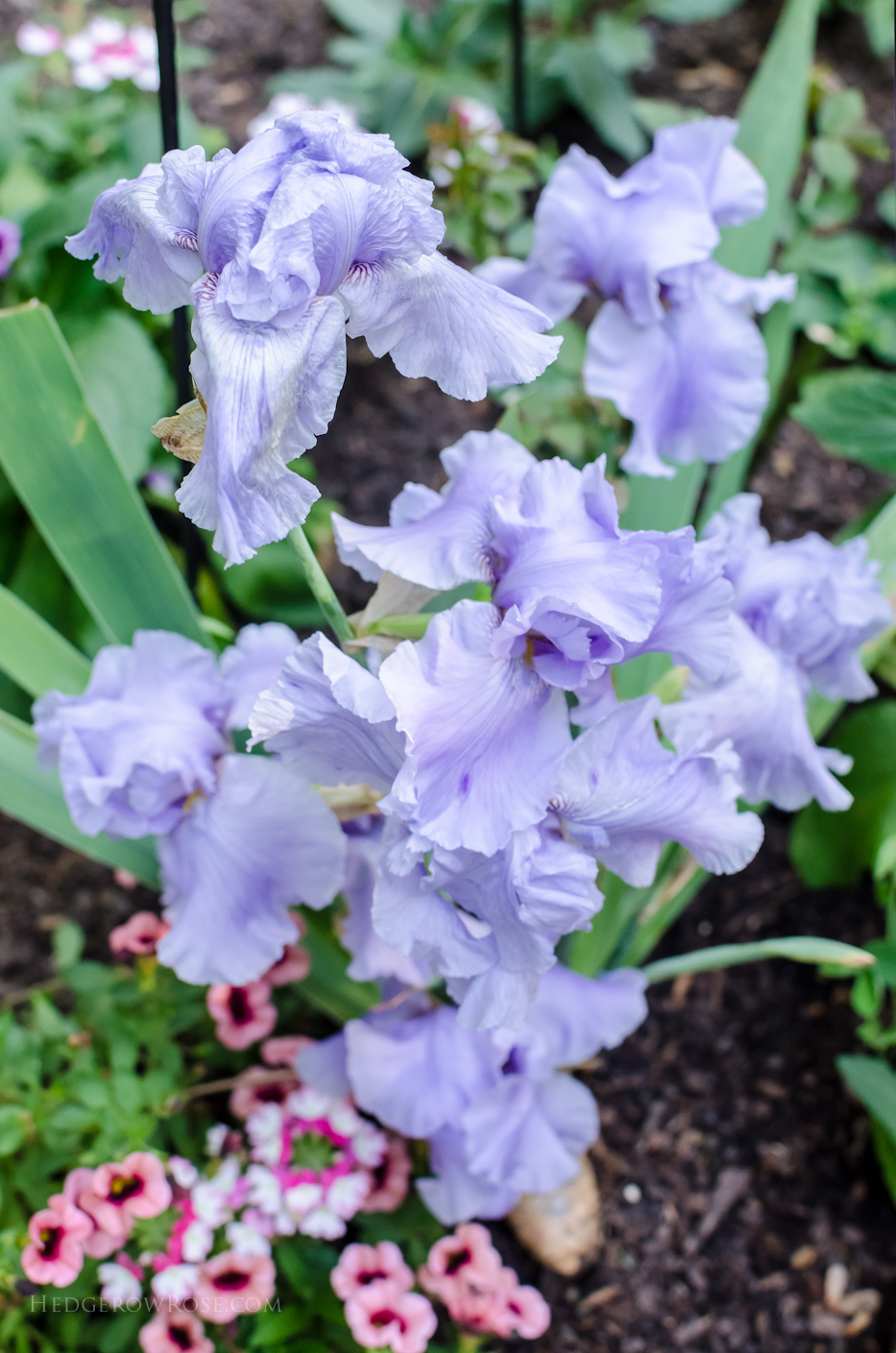 You might have noticed some bearded iris 'Best Bet' coming up in the photo above of the old house. I took just a tiny piece with me, but it's still establishing itself here in the new garden. That is a stellar Iris so I hope it works out here. I did pick up some new ones at the plant sale last spring including this one seen above called 'Rio Vista'.  (Those raised beds finally got painted!)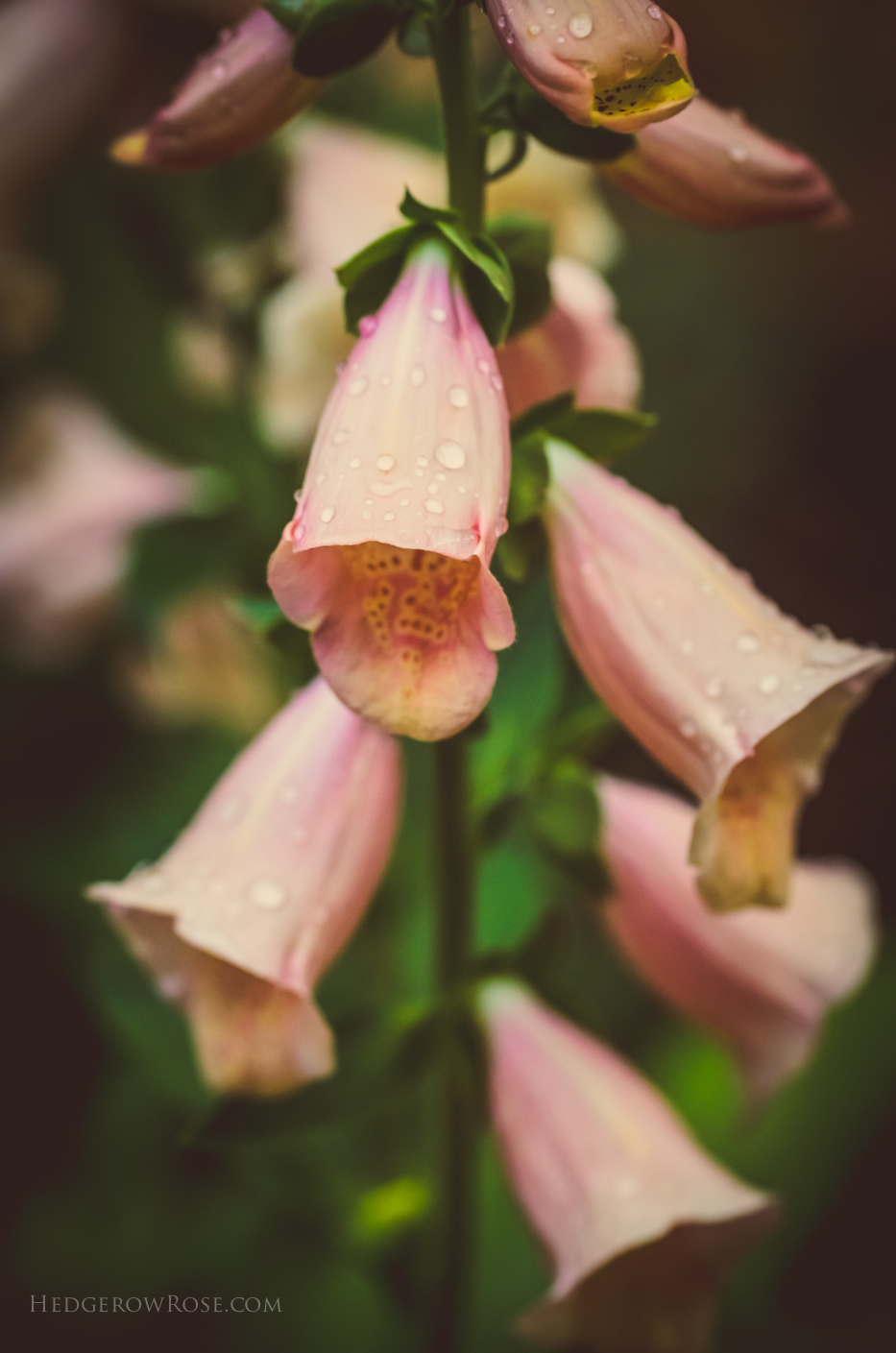 Well that's all she wrote! If you made it this far, thanks for sticking with me and I hope you enjoyed the flowers. Here's a pretty peach foxglove for you and I wish you a wonderful week!
♡