Way better than a stack of bills, this is the kind of mail I like to get: My delivery of fall bulbs from Colorblends.
Have you ordered your bulbs for fall planting yet? If not, here's your friendly reminder; You'll thank me next spring. This fall, we were going to forgo completely planting any bulbs as I went way overboard last spring purchasing roses for my trial garden, but then I came to my senses. I remembered how devoid of color parts of the garden looked last spring, which reminds me, if I haven't told you already, make sure you take pictures of your garden at various times of the year. A camera is one of your best gardening tools! But I digress. After what is sure to be a long winter (aren't they all?) I know we will be so grateful that we bit the bullet and bought these bulbs this autumn. On a budget, I narrowed my choices down to my top-five must-have bulbs for fall planting. It's important to note that we already have some crocus (you can never really have enough of these) and a copious supply of grape hyacinths, but if we didn't, then the title of this post would be, My Top 7 Must Have Bulbs for Spring. When it all came down to it, this really wasn't a difficult choice at all. Based on my photos, I knew I needed color for mid-late spring, and these 5 flowers I've been growing for years in my former garden and are some of my favorite flowers overall. If you're not sure what some of these look like, click on the picture of the bulb which will take you directly to the link at Colorblends, a bulb company I have been ordering from for over a decade and have always had great success with. What are your must-have bulbs for spring?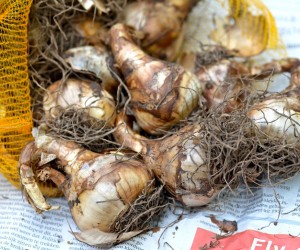 Actaea ~ Poet's Daffodils
White flowers with vibrant yellow and orange-red button eye. Sweetly scented and good for naturalizing.
Bloom time: Mid-Late Spring
Height: 16″
Zone: 3-7
Sun: Full
Tall stems with nodding bells in a dark, purplish-black on grey-green foliage.
Bloom time: Mid Spring
Height: 30″
Zone: 4-7
Sun: Full
Dark maroon-almost black-flowers, looks especially stunning with light pink tulips such as Angelique.
Bloom time: Late Spring
Height: 24″
Zone: 3-7
Sun: Full
Flowers are double, full, in shades of white to candy pink like apple blossoms. Looks particularly nice paired with Queen of the Night tulips.
Bloom time: Mid – Late Spring
Height: 15″
Zone: 3-7
Sun: Full
Bloom time: Early – Mid Spring
Height: 10″
Zone: 4-7
Sun: Part
Large, nodding , bell-shaped flowers with what appears to be hand-painted checkered pattern in dusky purples. Foliage is grass-like.