When you're visiting an antique store, take my advice and leave the puffy winter coat in the car. It was about halfway 'round the one room that had the myriad of precariously perched chinaware (you know the type) when I realized I had gotten myself into a tight corner and could barely squeeze my way out lest everything topple down. Feeling very stay puft marshmallow man, I somehow managed to inch my way to the door but it was tricky business, I tell you. Tricky business.
It was worth it though, because look at these treasures! Embroidered linen loveliness, most for a mere $1 a piece! My poor suffering husband trailed after me (eyes glued to his phone for the PSU score) while I dug through the bins exclaiming over the marvelous handwork. I also found another antique postcard, you know how much I love them, this one with swans and pink blossoms. I kind of have an obsession with swans, have I told you that? So of course, I fell in love with the card. And the hand written note on the back (from Mother Mary Moore) makes it even more delightful. There was one treasure that got away, though: A gorgeous print from 1903 drew me in with it's display of lush pink roses, but it was the caption, 'La France', that made me actually start hopping up and down. 'La France', I told Jesse while his eyes glazed over, was the first introduced Hybrid Tea! Oh, the significance of this rose! I must have this print! How much is it? Oh….$150 you say? (Glance over to husband who is shaking his head NO.) So, sadly, that one will remain in the store*, but I took a picture of it with my camera phone to remember it by.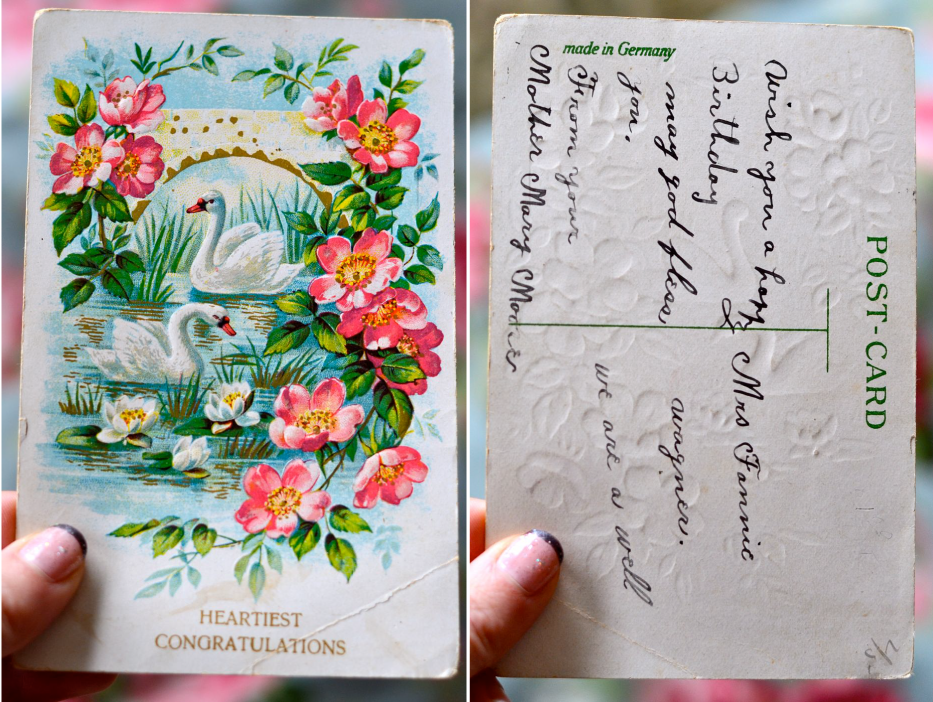 And by the way, yesterday my new pillowcase from rose hip arrived! What a wonderful day of treasures. Plus, I received the kindest note from Beata–she said she knew my blog! This tiny, eenie-weenie, insignificant blog and she'd already visited. That made my day. If you haven't visited her shop you must head over there now because you won't be disappointed or visit her blog HERE.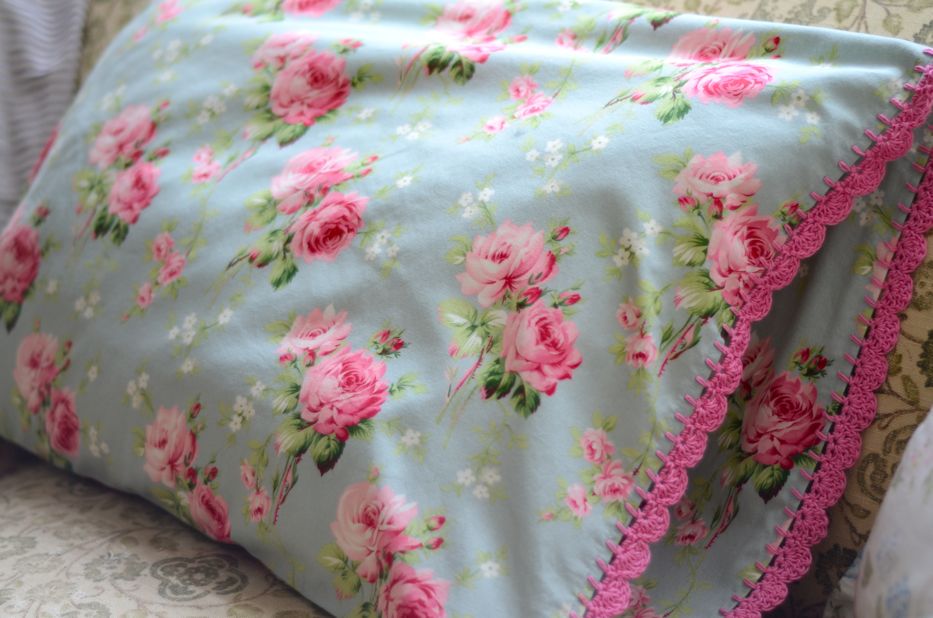 *PS, I think the 'La France' print was of the painting by the Victorian artist, Paul de Longpre, if you're interested!
PPS, Thank you for your birthday wishes! My actual b-day isn't until the 27th and I'm so looking forward to it because Jesse has a special day planned for me. I can't wait to tell you about it….