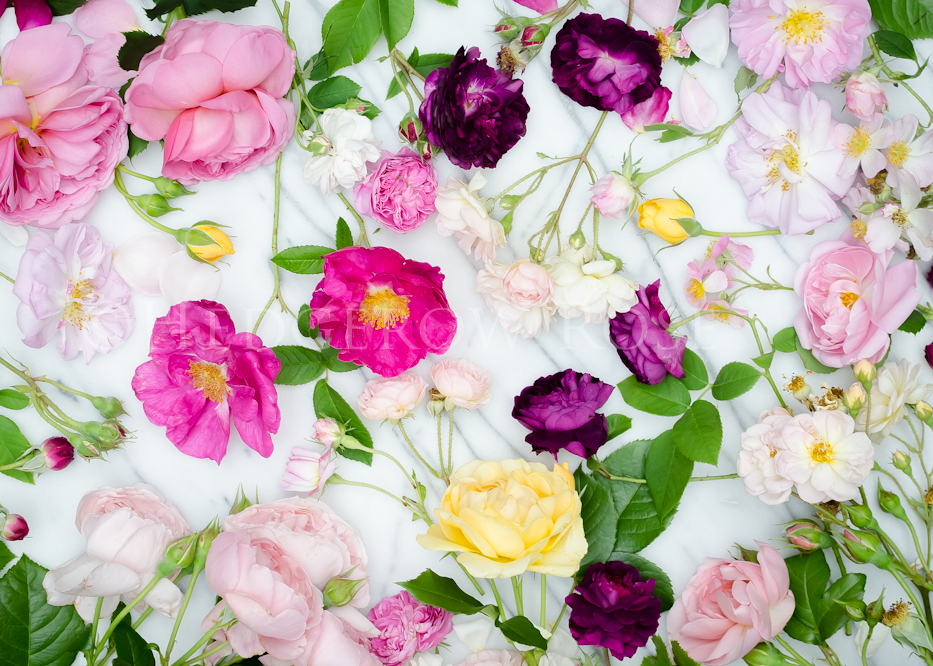 For those of you who don't know, I was recently in a car accident. I do not have any memory of the pickup truck crashing into me but I do remember waking in the hospital and the nurse telling me that my husband (who was in GA at the time) was contacted and on his way. I won't get into the icky details but I will say I was in very good hands. And on that note: If you or someone you know is either a first responder, police officer, nurse, doctor…the person who selflessly steps up and offers support when someone else has had a trauma and is in need…please give them a hug from me with my gratitude.
Forgive me for sharing this recent event–I often purposefully keep the "personal" stuff behind scenes if it doesn't have anything to do with gardening and/or my work. In this case, my accident actually does affect the new garden as I'll be recovering for a little while and won't be able to get into all the projects I had lined up. Drat!! However, there were some things that we accomplished in the past couple weeks and some things that we are hiring out to do, so here's an update on that and what's to come:
Recently we…
◆ Removed a ginormous patch of Japanese Knotweed. That, in of itself, is cause for rejoicing. If you are unfamiliar with this plant, it looks very much like Bamboo, but it is not. (My husband would say it is much more evil.) It spreads by underground stems and seeds and we were not only finding it popping up in clumps all over our yard but our neighbor's garden, too, which wasn't cool. It had to go.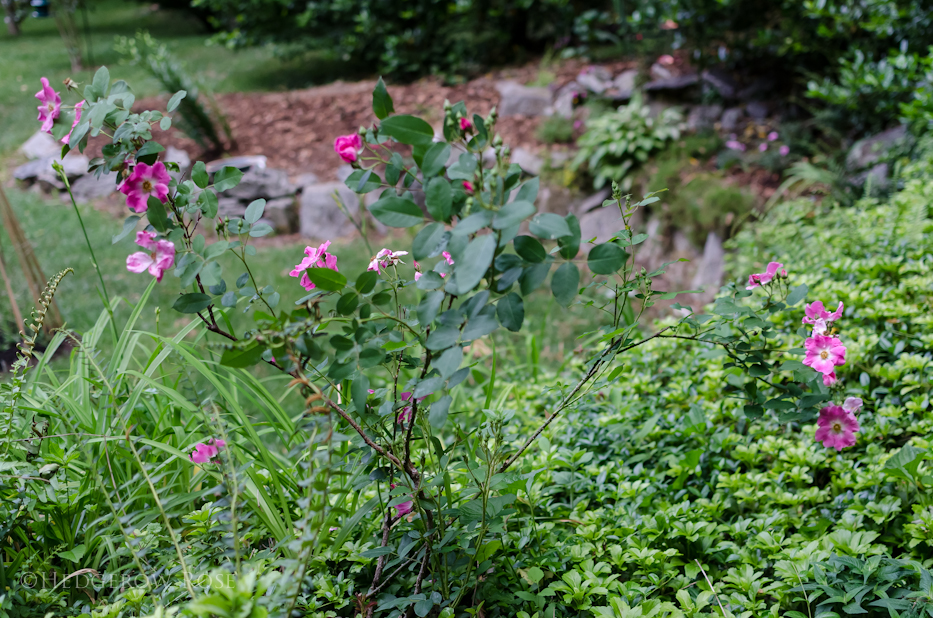 The former daylily bed in background and the pachysandra/vinca bed in foreground (soon to be removed and replanted)
◆ Removed those daylilies I was telling you about. We bagged them and curb-alerted them and they are in someone else's garden now. I love when things work out like that. Yay!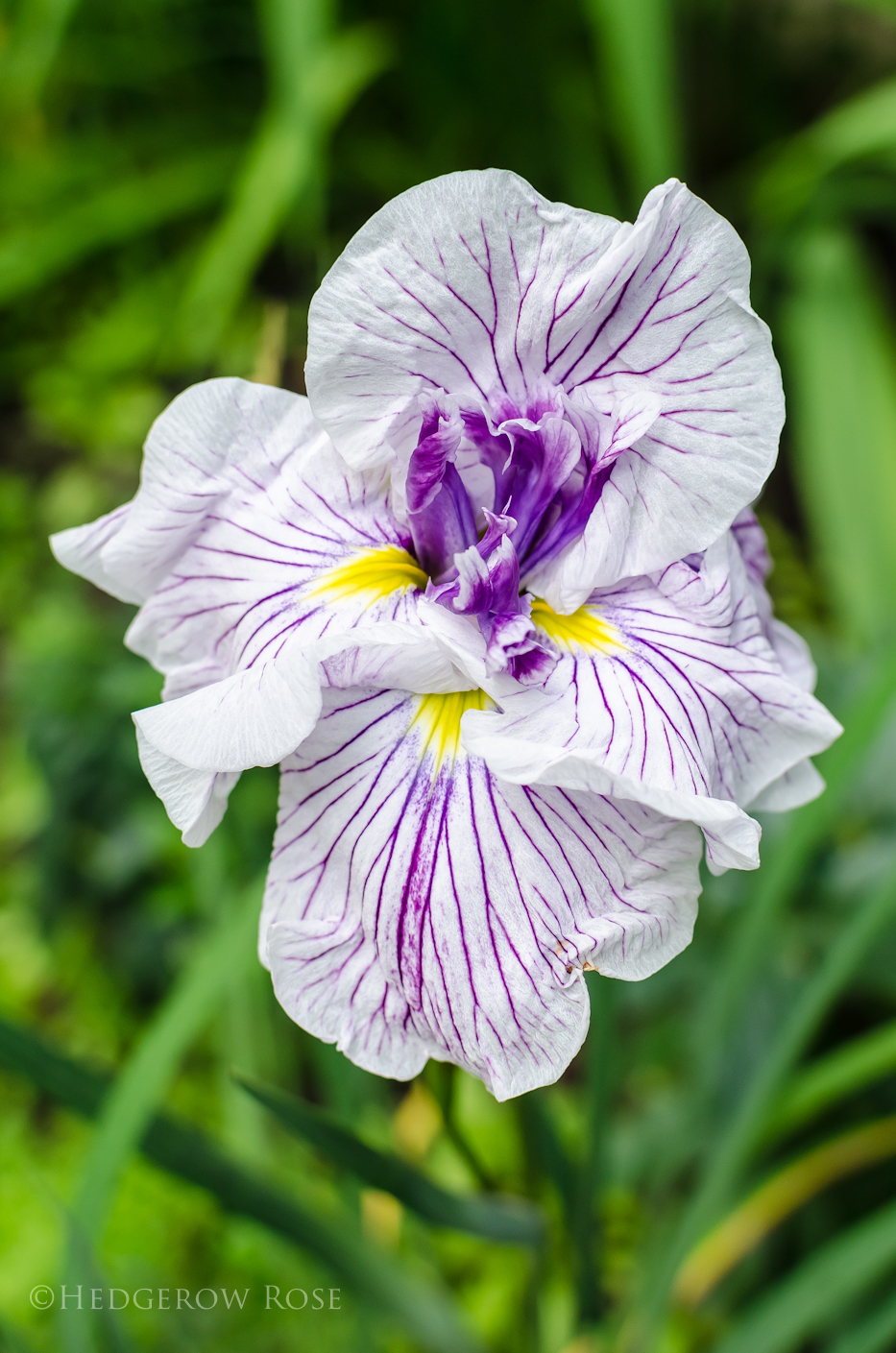 Iris ensata 'Geisha Gown' grows in one of the few areas where the soil is pretty decent
◆ Added another raised bed. We're up to 3 now which isn't much but, hey, it's a start. We have very, very poor soil here. I am seriously missing the awesome soil I built up over the years at the old house. Having good soil is like having a hefty savings account! Both take time to build up. Not surprisingly, the plants we put in the 3 raised beds are doing well, but the ones we put directly into the garden are struggling. I see more compost deliveries in my future!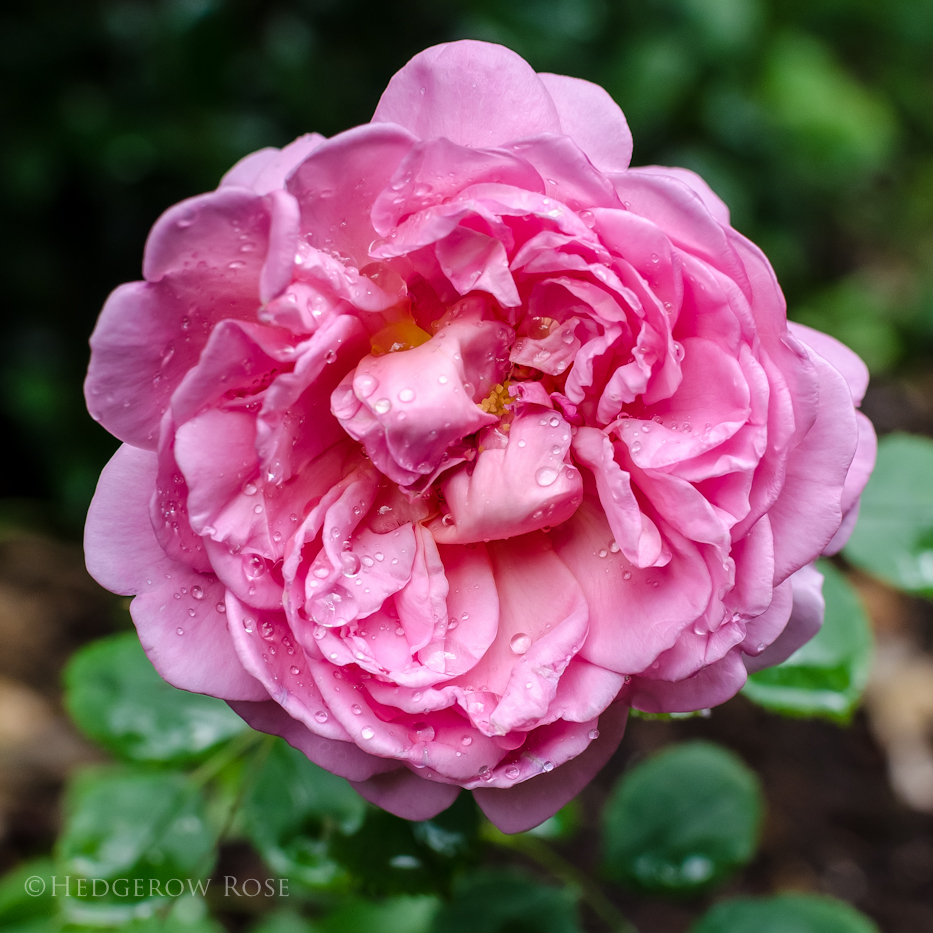 ◆ Planted a few more roses, Princess Alexandra of Kent to be precise, but none of our roses are thriving, yet. See soil reference above. Grr.
◆ Removed more lawn and added additional growing space. Did this trick for adding a new zinnia bed and I'm really looking forward to seeing them take off (they're the scabiosa kind!)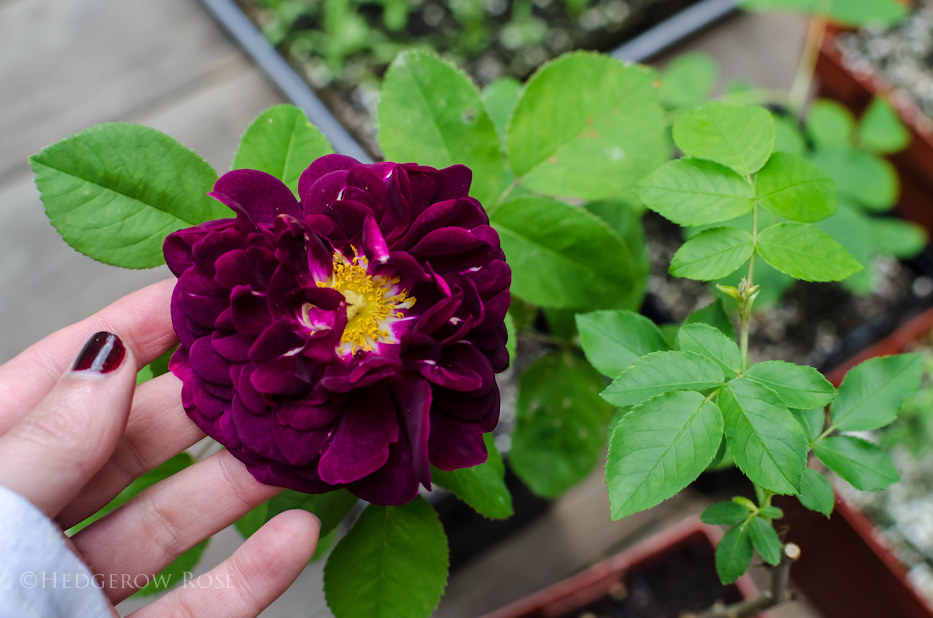 Tuscany Superb – a cutting that "took" and gave me a precious bloom
◆ Sent a bunch of rose cuttings collected on our recent visit to PA to gardening pals and started some for ourselves. Unfortunately, with the accident, I let ours dry out and we lost a bunch. I'm hoping to at least get a few to take; wouldn't that be nice?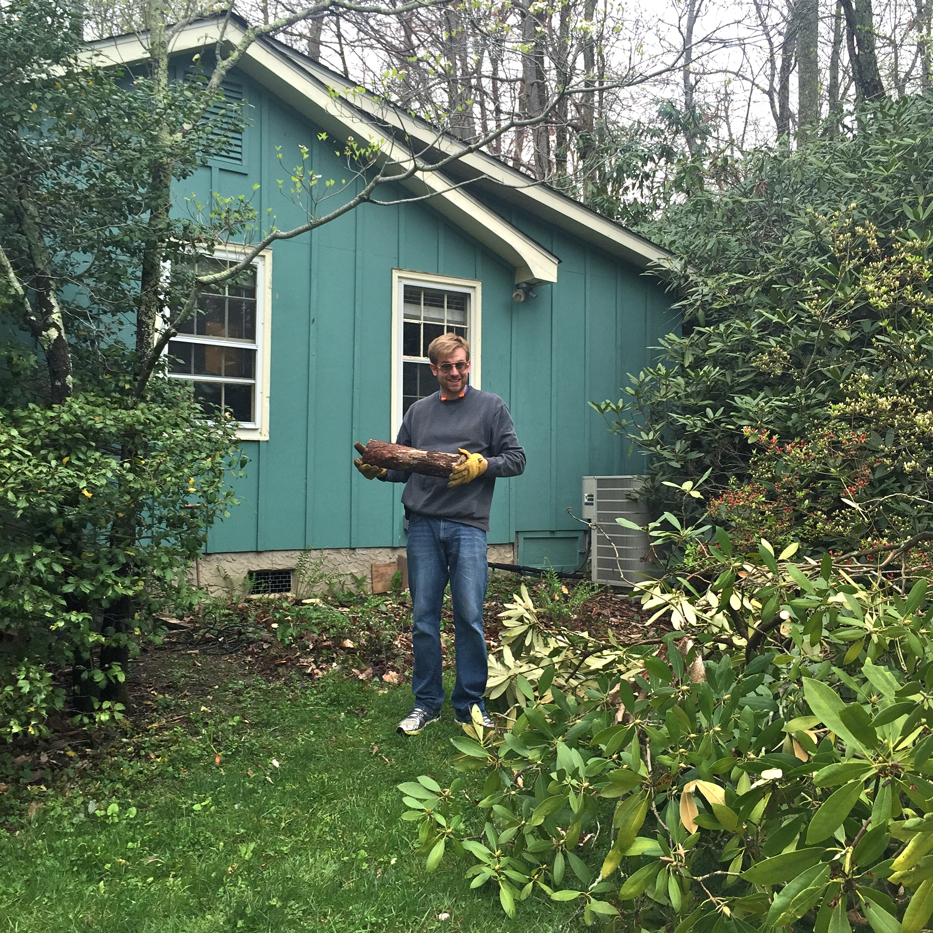 Jesse being silly. But this is pretty much how the entire house looks currently–being eaten by overgrown trees and shrubs. It's causing the paint to crack/mold and of course there isn't much sunlight coming in. We're working on it!
In progress…
◆ As I type this, there is an Arborist and his crew doing their magic with chain saws and trimmers. I'm so excited about this happening because we are on a very wooded piece of property that I'd love to see cared for by someone who knows what they're doing. Right now, it's mainly invasive shrubs and vines along with poison ivy and a lot of scrub trees. I have this crazy vision of creating paths and planting native shrubs and wildflowers while allowing the trees we actually want the space and sunlight to grow properly. I'll have some before and after shots soon!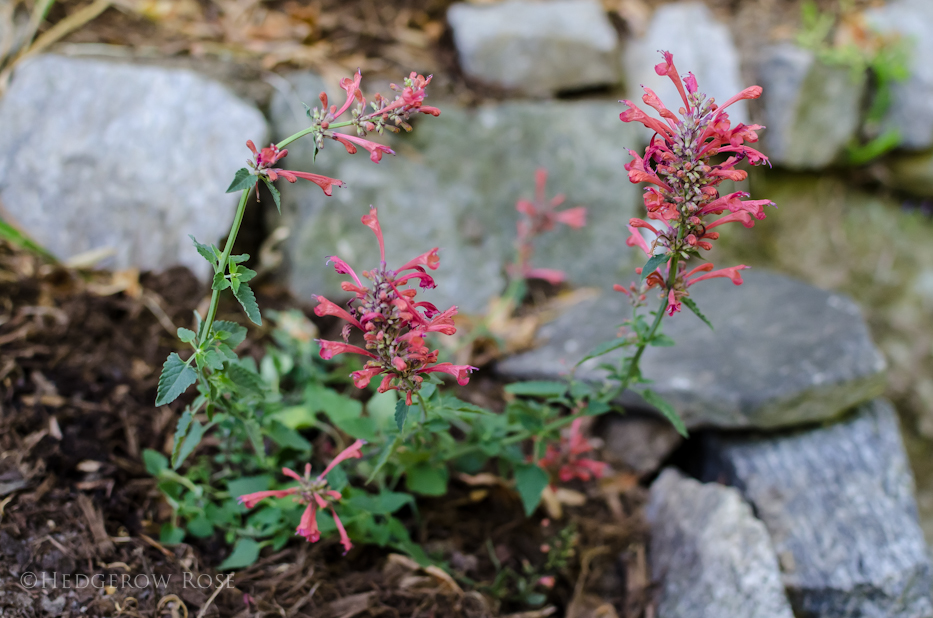 Agastache 'Kudos Coral' – pollinator friendly and easy-breezy!
◆ Removing the pachysandra and vinca that is currently sucking the life out of what would actually be a lovely feature in the garden: a dry rock wall. The goal is to remove all that nonsense, and then replant with pollinator-friendly flowers that can also take the heat.
◆ More beds and more lawn removal! I've been saving all the cardboard from our move to use to create new beds/remove lawn. It's such a timesaver to do the cardboard method.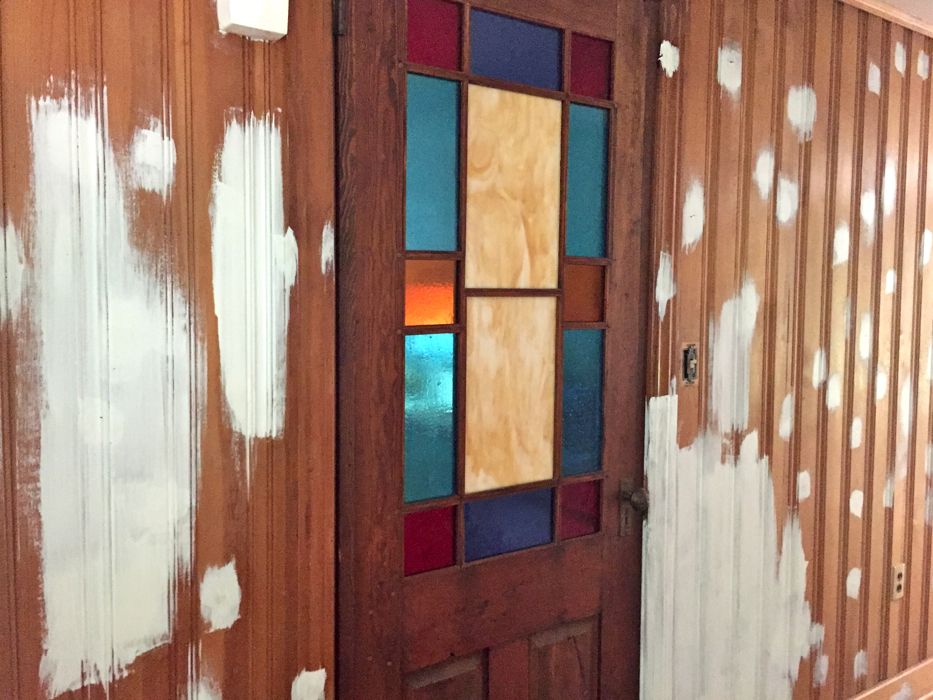 WIP!
◆ Inside the home, we have begun painting the knotty pine paneling that lines our walls, heaven help us. I knew getting into it that it would be an insane amount of work but even taking it one wall at a time is brightening up the house so much.
When I start getting more mobile again, I'll have some more photos of the garden and the work that's being done so I can share some before and afters. Hope you are all doing well and enjoying your summer!
PS: That's a new print in the shop! 🙂  > Garden Roses Stretched Canvas Print