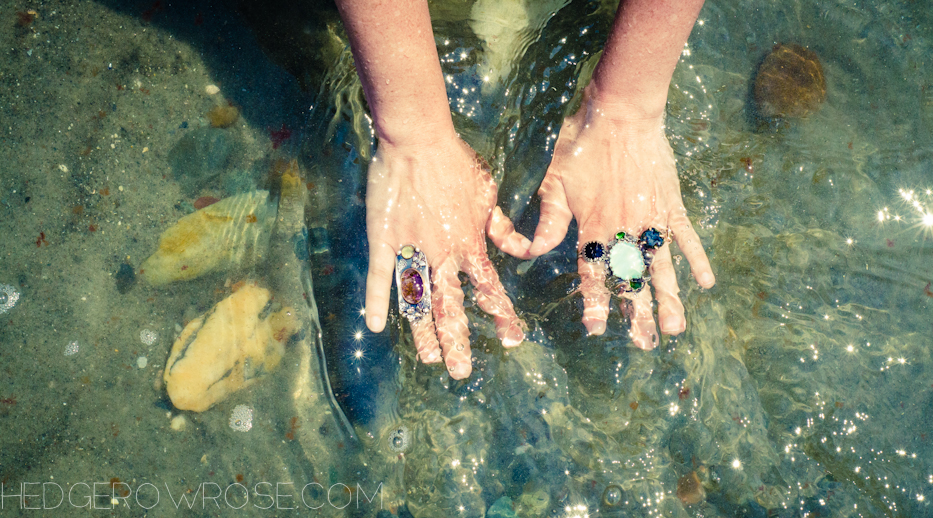 My earliest memory is of the sea. Well, that's a lie, it was also of my mother's tomato plant jungle in her garden, but I don't know which came first. We were living in Venice Beach, before it became hoity-toity. (I can only imagine what that house, if it's still standing, would fetch in the real estate market now as it was quite literally perched on the edge of the sand.) There was a chain-link fence that ran the length between our house and the beach–as though that could hold the sea back, ha! Around that fence, little seashells would pile up and it was my great joy to toddle over there and collect them.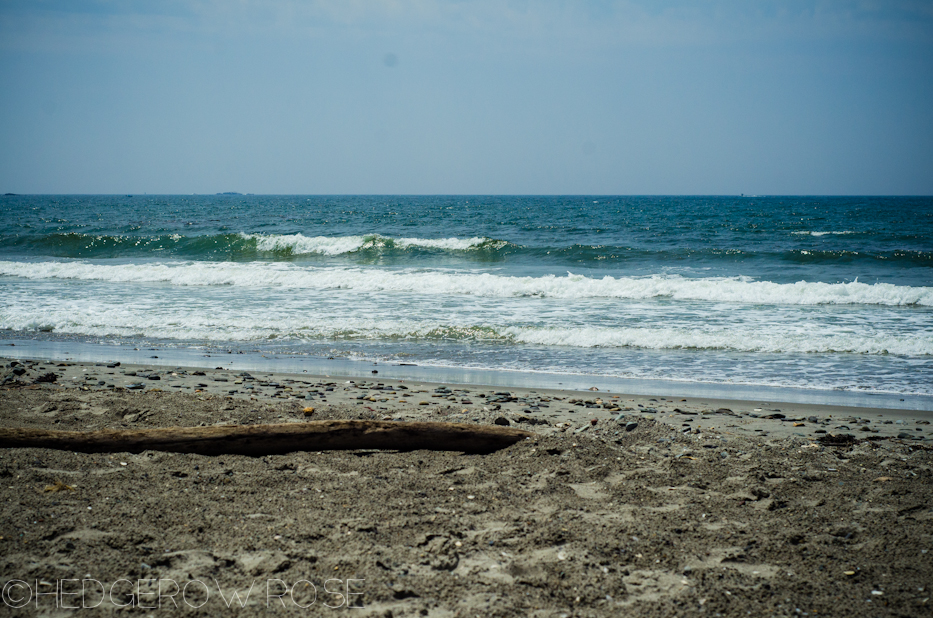 Growing up I was incredibly fortunate to spend my childhood on some of the most beautiful beaches in San Diego (my favorite was La Jolla cove-they had the best shells) and when I was 17 I left for college in northern California (actual northern–about 70 miles south of the Oregon border) and frolicked among redwoods and rocky shoreline. During that time, one of my dearest friends invited me to participate in a Marine Mammal Rescue squad which was one of the best experiences of my life, truly.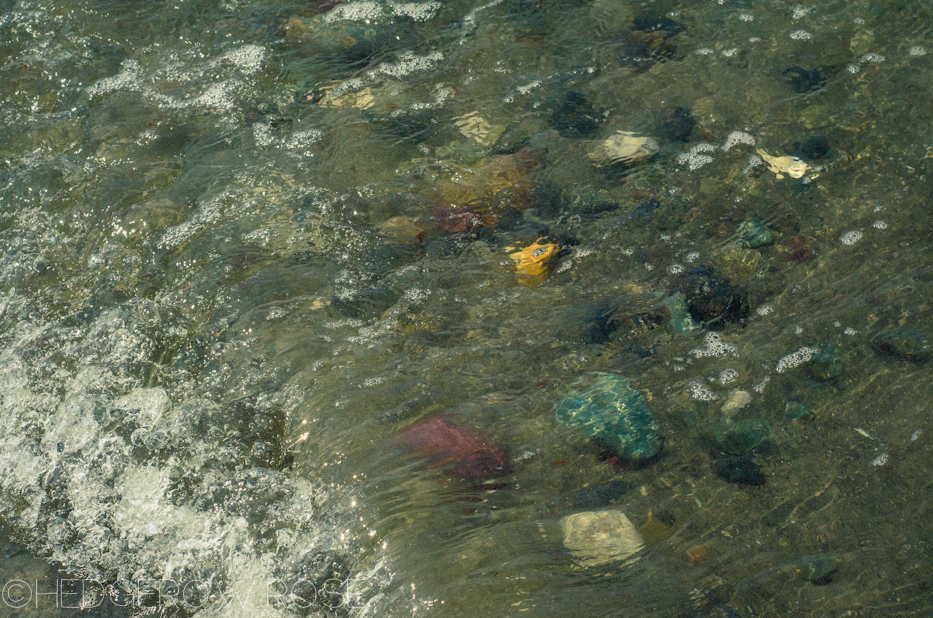 After college, I toyed with the idea of moving to Carmel by the Sea, so, feeling adventurous, I rented a car and drove up there (I was living in L.A. again at the time), and explored that ridiculously charming town. But Carmel wasn't to be and instead I took my brother's advice to move to Connecticut to stay with him. Shortly after I arrived, he took me to Misquamicut beach in Rhode Island and I recall how surreal that was to be walking on a beach 3000 miles from a coastline I was exploring only a week before.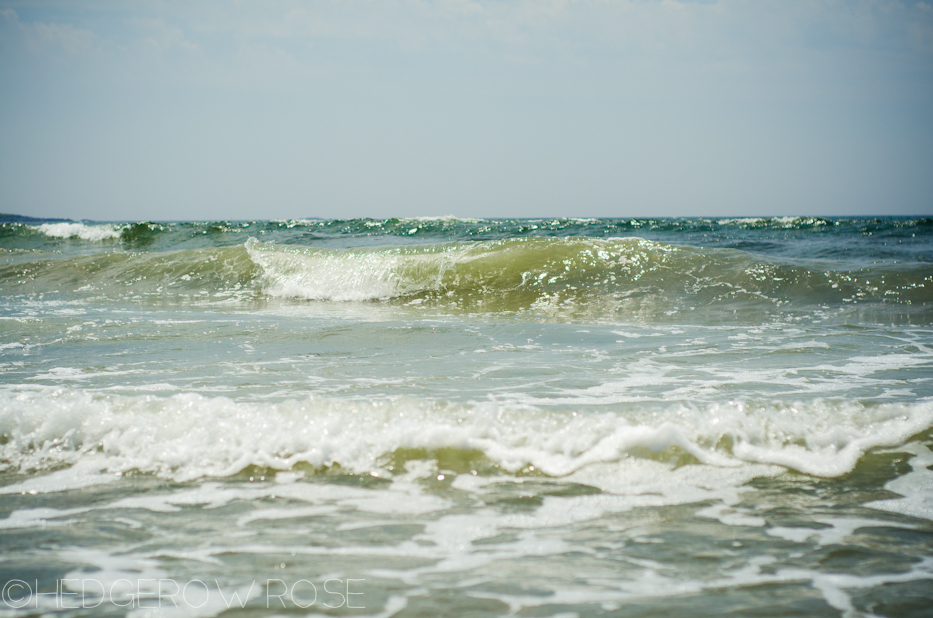 I wasn't in CT long, and back in San Diego living on Coronado Island and working for the Hotel Del Coronado, which was a dream of mine since I was a little girl. At night, I could hear the ships in the bay (from our roach-infested apartment) and in the afternoons, I spent my lunch breaks strolling the practically empty beaches–sometimes watching the Navy SEAL trainees get literally pounded by the unforgiving Pacific surf.

So why am I sharing all this? Because for the past 15 years I have been landlocked in Pennsylvania and have desperately, desperately missed the ocean. I could count on one hand how many times I have visited the shore since I moved back here and I say that singing a "First World Problems" song in my head–I realize how spoiled that sounds. But if you're an ocean gal, then I think you understand how utterly complete you feel to have your feet in the swirling surf and your eyes on that vast, unending blue.

Jesse and I spent our honeymoon 3 years ago in Maine. Oh, Maine! You beautiful, beautiful state. I would move there in a heartbeat if we could. Our anniversary was last week and even though we had no business spending the money, we took a trip to Newport, R.I. I think it's a testament to how much fun I was having that I hardly took any photos at all, well hardly for me, that is. Newport was an adjustment at first. The center of town had a decidedly Disneyland-like feel to it and I was shocked at how polluted and garbage-filled their beaches were when we arrived Sunday night. People, pick up your trash! But soon we found some of the nicer areas, like the beach at Narragansett which was beautiful. 2nd beach in Newport, the closer to the wildlife preserve as you can get, was also lovely. (Although I did find garbage and, I kid you not, a hypo needle on the beach there.) In spite of the downsides, I had the most marvelous time and tried to spend every waking moment in the surf. The last night we were there Jesse had to literally come get me out of the water–the sun had set and it was raining but I didn't want to leave. We've promised ourselves it won't be 3 more years before we get back to the ocean. I hope that's one we can keep.
In my next post, I will share some of the few photos I took of the historic section of Newport, which is a jewel, especially if you love colonial architecture. Thank you for reading and I hope you all have a great week!