'Sedona' Hybrid Tea Rose
It's time to restore sanity on this blog and post some pretty flower pictures and not another creepy-crawly, although mayhaps a happy looking caterpillar wouldn't fall in that category, but that spider? I still can't believe I found that right outside our back door. Between that, and this bug we found last year, it's like some straight-up Land of the Lost nonsense going on out there. As the growing season winds to a close (the next person to tell me they can't wait for fall, I'm going to bonk in the head with a pumpkin), I've got just a few more roses to share with you, and who would have ever thought that one would be a, gasp, Hybrid Tea? They are my least favorite class of roses, and I generally have strong opinions of them and why northern gardeners shouldn't bother growing them.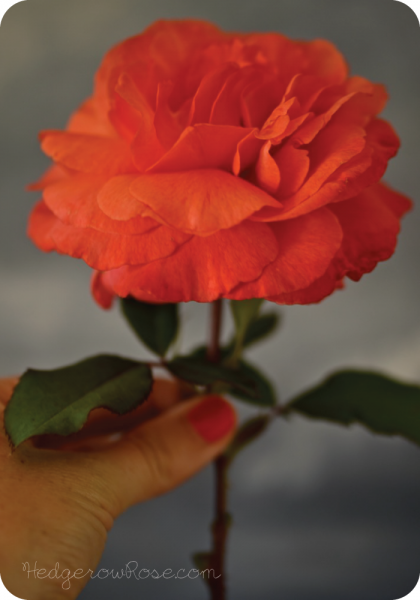 'Sedona' has large, full flowers borne on straight, sturdy stems.
Hybrid teas originated as a cross between hybrid perpetuals and tea roses and more recent Hybrid Teas (after the introduction of 'Peace' in 1946) are generally crosses of HT's with other HT's. It's widely recognized that the first hybrid tea was La France, which was introduced in 1867 (ironically, parentage for this rose is still uncertain) and that year marks the line that is drawn between Old Garden Roses (pre 1867) and Modern Roses (post 1867). Hybrid tea roses have specific qualities that make them appealing to many gardeners: their buds are high and pointed; stems are straight, long and sturdy; and of course there is consistent repeat-bloom. In creating what I think is your typical florist rose, many hybrid teas lost some of those other qualities that makes roses so appealing, such as fragrance.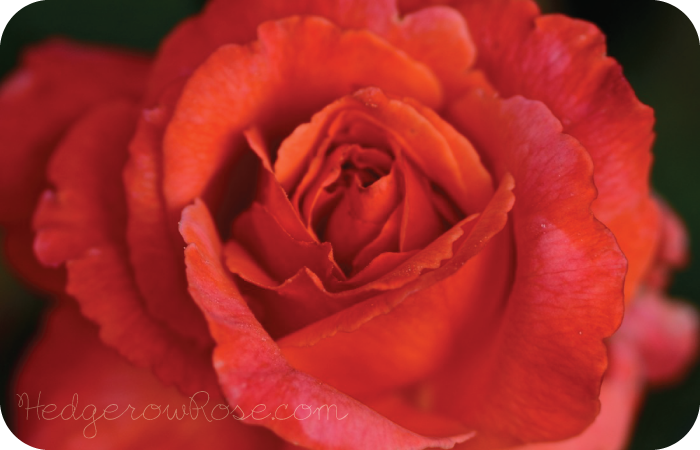 'Sedona' lacks scent but makes up for it with saturated color and good form
In my northern garden, hybrid tea roses are wimps when it comes to disease resistance and vigor. Even with ample winter protection, there is still significant dieback, and at the first sign of blackspot or mildew, they just give up on life completely (like my Peace rose which I'm kissing goodbye). However, I remember many a beautiful garden consisting primarily of  hybrid tea roses when growing up in San Diego. In fact, it was my mother's garden of hybrid teas (each planted in individual wine barrels before it became the thing) that fostered my love of roses in the first place. Western and southern gardeners in warmer/drier climates seem to experience much more success with these kinds of roses.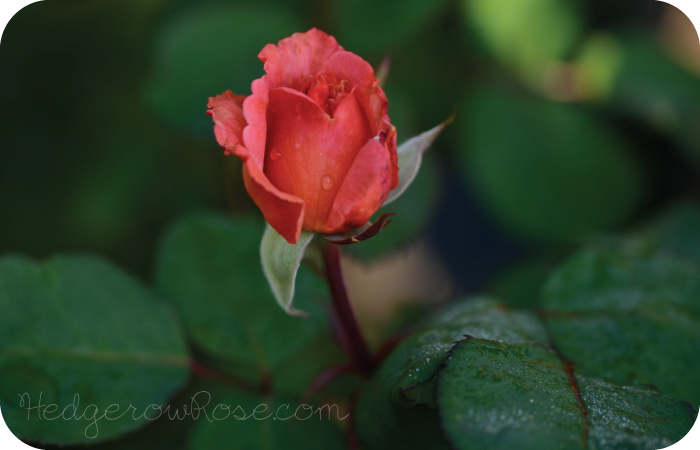 New growth emerges in burgundy and matures to a glossy dark green.
But there are always exceptions to the rule, are there not? Earlier this summer I succumbed to one of Jackson & Perkins' Rose Tag Sales and ended up with 4 bare root roses with names that called to mind warm, sunny places and tropical fun. I don't think I even knew what I was adding to my cart because often, when I buy roses, my eyes glaze over and I lose all sense of reason. (I actually had to promise my mailman I would not order any more roses this season. Guess what, I lied. I have 1 more coming to me.) When Sedona arrived among my other tag sale roses, I looked at the label and thought, "I ordered a hybrid tea?!?!"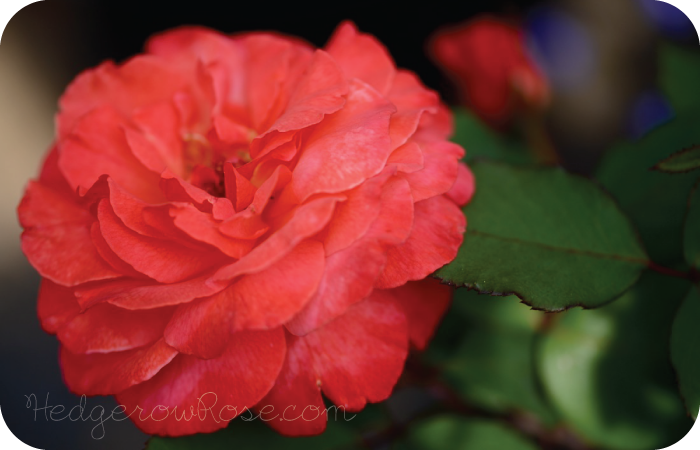 Sedona's blossoms can measure almost 6″ across!
But let me just get down to brass tacks and say that 'Sedona' is gorgeous. I'll say it again, she is GORGEOUS. The blossoms are huge and perfectly formed as though they are made of porcelain. In fact, when fully open, they remind me of a large camelia. The stems are long and straight, the foliage is deep green and shiny (burgundy when new growth is emerging), blooms consistently repeat throughout the season and the shrub itself is well-formed. There is hardly any scent to speak of, especially compared to other roses in our garden like Comte de Chambord, but she makes up for it in form and color, which is deep orange-red, lightening to salmon-pink.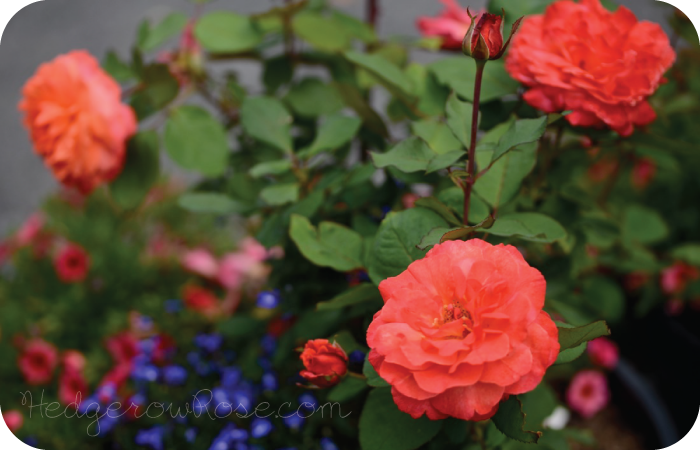 Sedona's smaller stature makes this rose ideally suited for a large container. 
I can't offer any information on winter hardiness yet, of course, but 'Sedona' will be one of the roses I bring into the garage this winter and that will be the extent of the protection I am willing to provide. As for disease resistance, Sedona initially was in great shape, but more recently is succumbing to blackspot on her lower leaves. This is not a surprise, as we've had so much wet weather recently and this is common as the nights get cooler anyways. I will say, though, that 'Sedona' is is better shape than some of my other roses.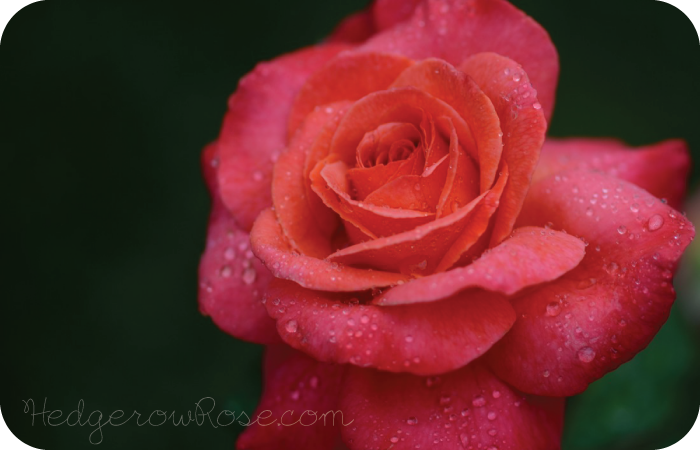 The recent rains and cooler temps have caused blackspot to flourish in our rose garden. Sedona has it's share, but is doing better than some of our other roses.
'Sedona' was only just recently introduced (in 2008 by Keith Zary for Jackson & Perkins), so the jury may still be out on her. After Peace goes to that great rose garden in the sky, she may be my one and only hybrid tea, or she may be my gateway drug to more of her kind. I think we will know more by the end of next season. If you grow Sedona, I'd love to hear how she is faring in your garden!