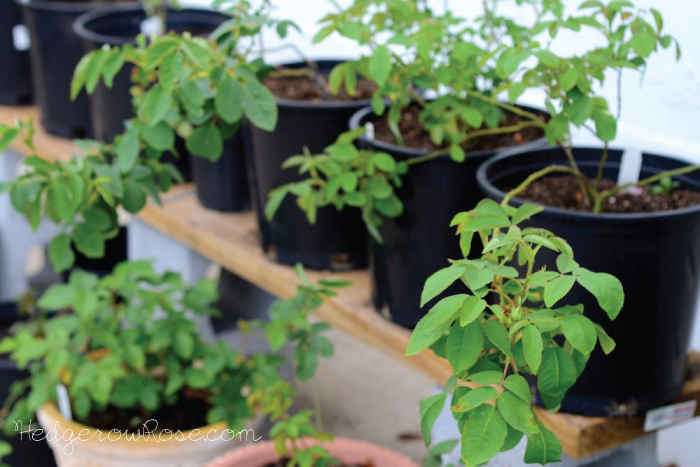 My method of gardening is the same way I cook meals: a lot of instinct and often thrown together willy-nilly. This is not because I am a culinary or landscaping genius, quite the contrary, a big emphasis on the "not." In fact, probably my biggest weakness as a gardener is that my gardens tend to lack an overall design because season after season I just plant things wherever. Along those lines, the same thing can be said about the way I've been potting up my container roses. My modus of operandi until now involved mixing a bunch of organics, planting a rose in it, and depending on the virtues of finished compost to see me through. But over last winter I got to thinking what if I actually took some time to do some research and perform some trial and error? I may end up getting even better results. My jumping off point was a recipe found in Right Rose, Right Place by Peter Schneider but that led to more research online and an overall desire to try to replace as many of the animal based ingredients with vegetarian alternatives as I could. In the end, this is what I've come up with and what I will be using for all of my new banded and bare root roses that will be planted in containers this spring. (Full disclosure: the pictures do not show the alfalfa meal and soybean meal as when these were taken those ingredients hadn't arrived in the mail yet.)
My Potting Soil Recipe for Roses Included:
(1) 40lb bag of Coast of Maine Lobster Compost (obviously not a vegetarian alternative, but I do love this stuff and this product is made from recycling the shells from seafood restaurants that would normally end up in the landfills.)
(1) 40lb bag of generic potting soil (no additives)
(1) 40lb bag of peat humus mix (not peat moss but actually a blend of composted wood fiber and sand)
(1) 40lb bag of mushroom compost
Dolomite Lime (buffers pH)
Kelp Meal (for potash and micro-nutrients)
Alfalfa Meal (for nitrogen and a vegetarian alternative to blood meal and roses love alfalfa anyways so it's a double win)
Soybean Meal (for nitrogen and a vegetarian alternative to blood meal)
Superphosphate 0-40-0 (for phosphorus and lots of blooms!)
Epsom Salts (for magnesium)
Mycorrhizal Fungi Powder (to help plants intake nutrients and water and a vegetarian alternative to bone meal)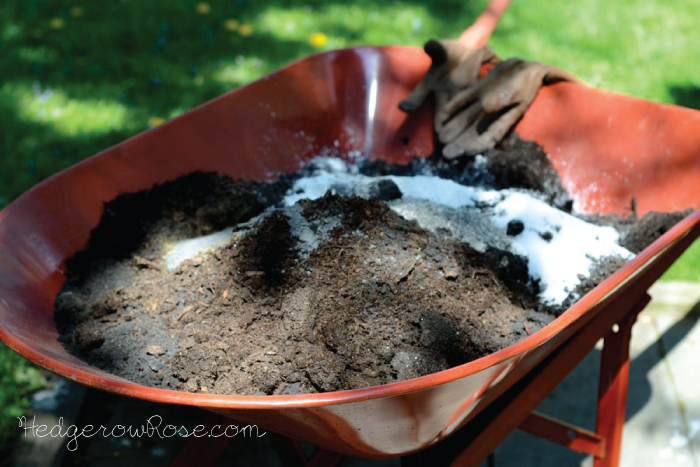 Directions:
I found it was easiest to divide my 4, 40lb bags into two parts to blend my container mix. In other words, using my wheelbarrow as a giant mixing bowl of sorts, I dumped in HALF of each of the lobster compost, potting soil, peat/humus and mushroom compost. To that, I added 1 cup each of the:  Dolomite Lime, Kelp Meal, Alfalfa Meal, Soybean Meal and Superphosphate 0-40-0. I then sprinkled about 1/4 cup each of the Mycorrhizal Fungi and the Epsom Salts. Wearing my elbow length rose gauntlets (gloves), I hand mixed everything until it was completely blended. This took a little while to make sure all the ingredients were intermingled, and if you do this you'll see why it's best to make this in 2 batches. Also, I recommend wearing some kind of respirator mask, especially if it's a dry, windy day when mixing your amendments into the soil mix.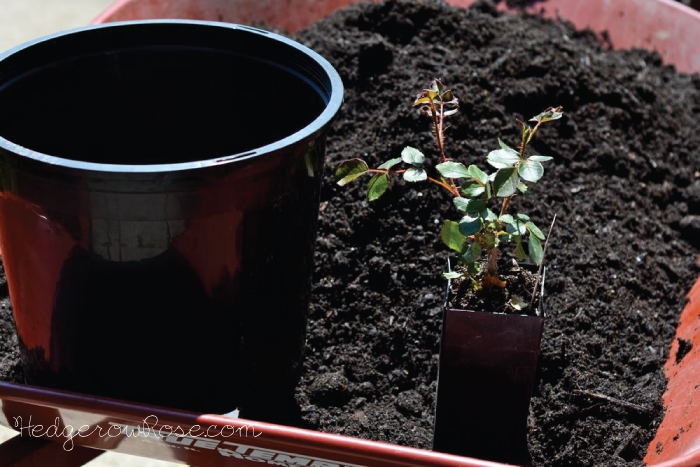 Plant your roses and water in well with compost or alfalfa tea.
Each "batch" (as described above) will make about 12-14 gallons of potting soil, so altogether you should have made enough for 24-28 gallons. I still have tons of the amendments left over that will make plenty more batches meaning all I would need to acquire would be more of those 4 bags of compost, peat/humus and soil. I know that there are really wonderful organic blends out there that have a similar blend of ingredients already included, but this way will save a little money, especially if you replace the lobster compost with your own finished compost. I make no silly claims that this is the best soil recipe for container grown roses–it's an experiment and of course I'm still learning. But I have a bunch of roses now planted out in the mix so I'm crossing my fingers and will hope for some fantastic growth and lots of blooms!