Did you recently make a purchase from the Hedgerow Rose shop and receive a packet of seeds with your order? Hooray! Following are some tips for sowing and growing these easy annuals.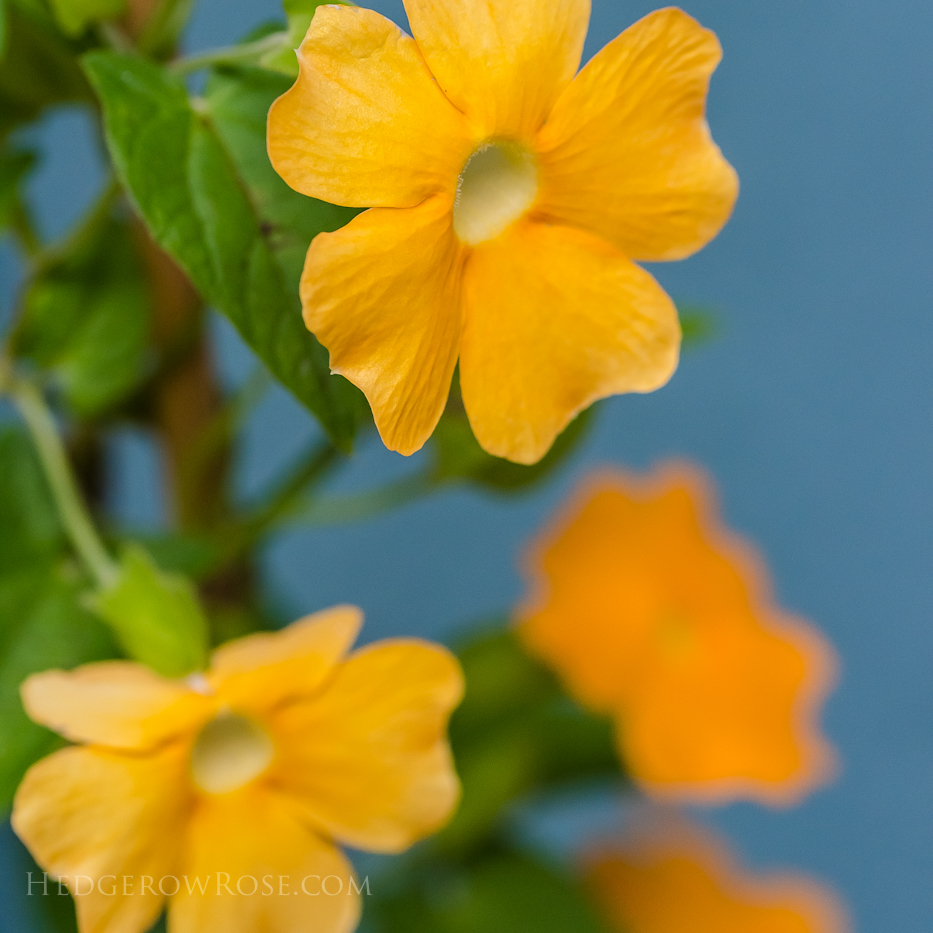 BLACK-EYED SUSAN VINE (Thunbergia): Perfect for hanging baskets or containers with a short trellis. Likes full sun. Sow seeds about 1/2″ deep in good soil when weather has warmed up, for example when nighttime temps are in the high 50's-low 60's. Keep soil moist and expect them to take several weeks before they really get going. These vines, if grown on a trellis, may reach heights of about 4′.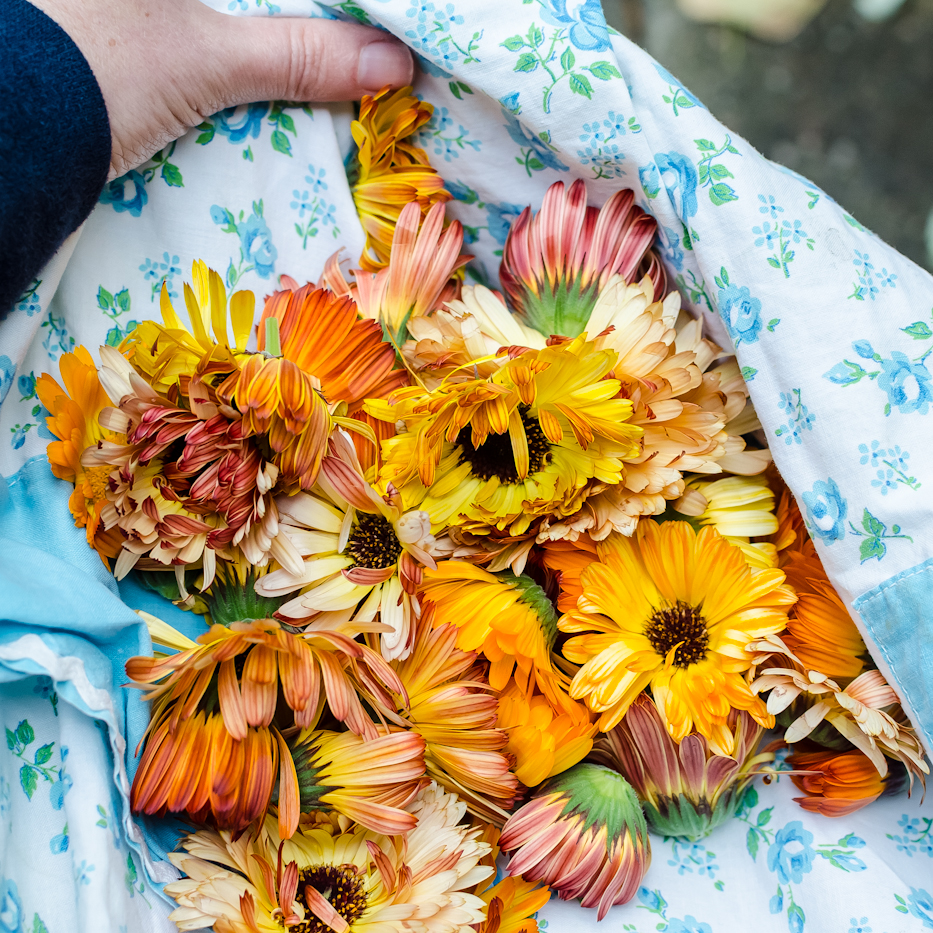 CALENDULA (Calendula officianalis): One of the easiest annuals to grow. Sow seeds directly into garden in the spring, pushing seed into soil about 1/2″ deep and about 8″ apart. Keep seed bed moist and they will germinate in about 2 weeks and once they get going will flower until frost. Calendula prefers full sun. Deadheading will continue the show but I like to let some flowers go to seed and then let them drop in the garden for next generations. Flower petals are excellent in salves. Will reach heights of about 12″-18″. Learn more about Calendula in this post.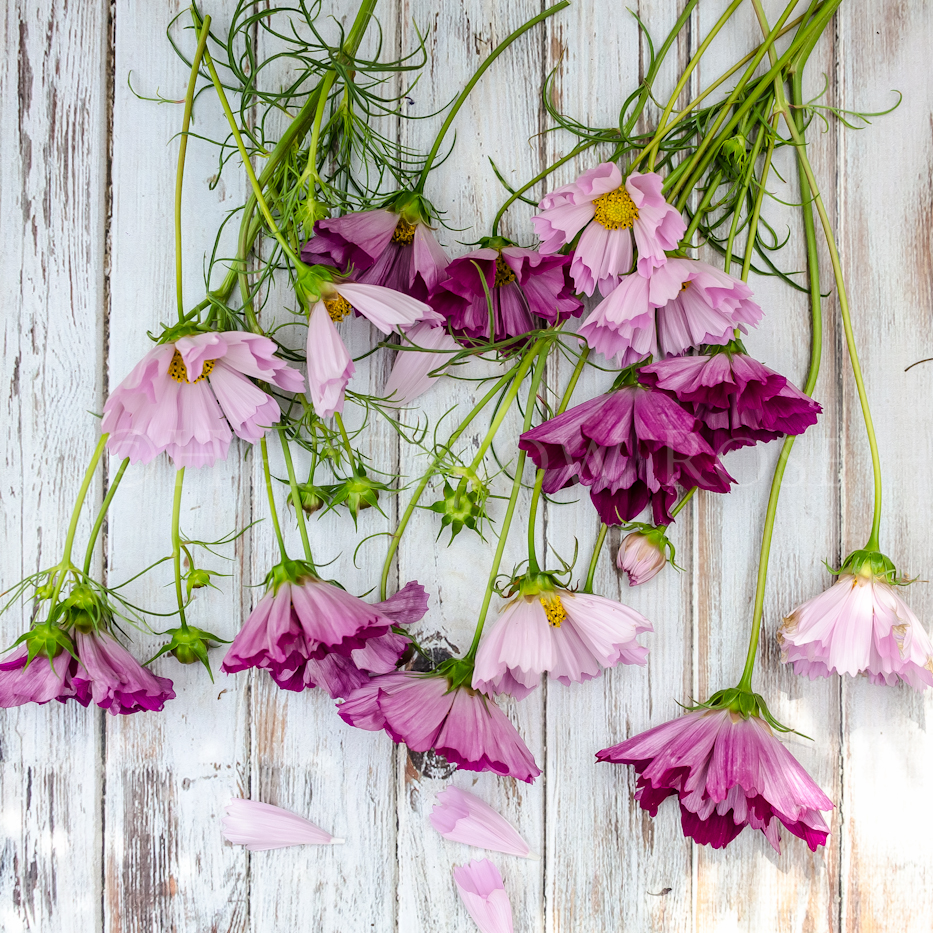 COSMOS (Cosmos bipinnatus): This butterfly-attracting annual doesn't ask for much, in fact will even flower better if the soil isn't too rich! Sow seeds 1/2″ deep once all danger of frost has passed, allow about a week to germinate, and thin plants to about 10″ apart. Loves full sun. Keep deadheading and flowering will continue until frost. Will reach heights of about 3′-4′. See more tips for growing Cosmos in this post.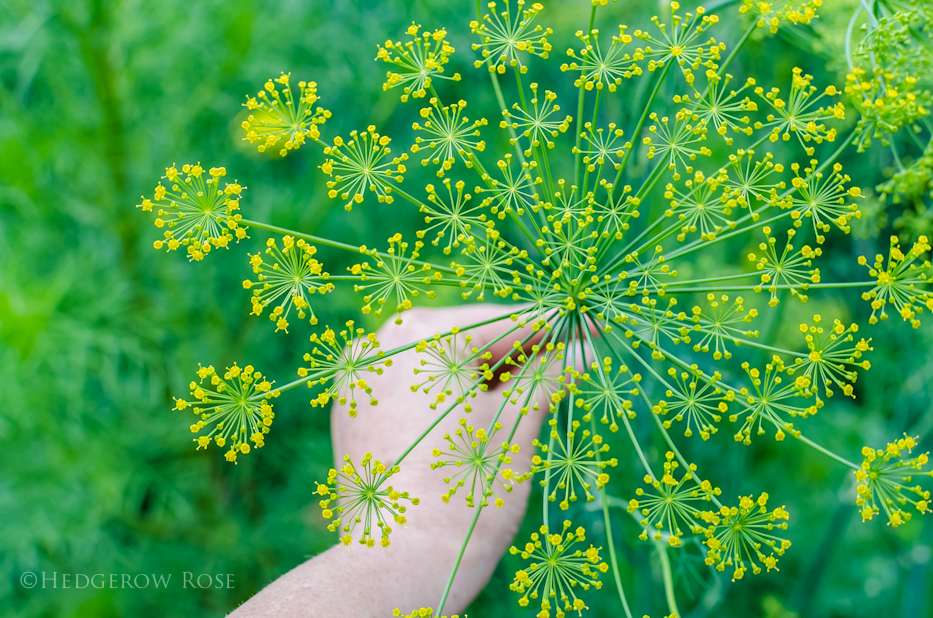 DILL (Anethum graveolins): Dill likes to be sown directly in the garden in spring about 1/4″ deep. They're so easy to sow that I even get lazy and just scatter a handful of seeds where I want them and then thin them out as needed. The seeds will take about 2 weeks to germinate. Dill prefers full sun but will tolerate poorer soils as long as there is good drainage. Don't crowd them too much because you want to the flowers/seeds as they can be used in cooking, like these dill pickles! Some gardeners like to sow successions of seeds every couple weeks or so to keep the flower-train rolling. Dill will attract swallowtail butterflies so be mindful of the butterfly larvae when harvesting. These Dill seeds will produce plants that reach heights of about 4′.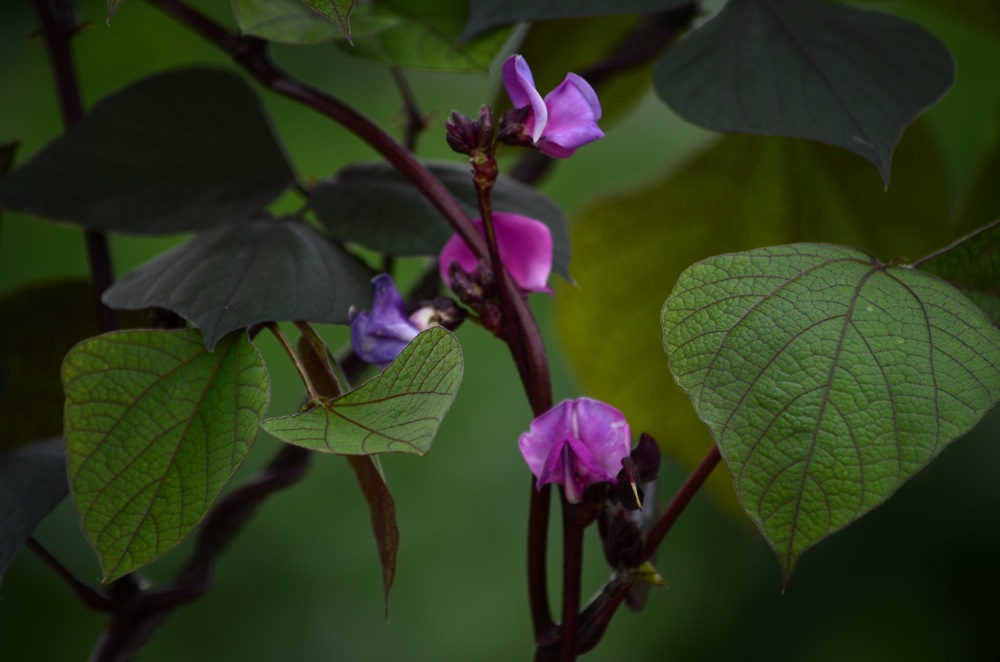 HYACINTH BEAN VINE (Dolichos lablab): Like Black-Eyed Susan Vine, Hyacinth Bean Vine prefers to be sowed when weather has warmed up with nighttime temps in the high 50's-low 60's. This vine isn't fussy about soil, but does prefer full sun. Sow seeds about 1″ deep and 8-10″ apart and allow about 1 week to germination. Make sure to provide strong supports for these vines as they can get as tall as 10′! The flowers are reminiscent of sweet peas and the seed pods are a vibrant purple.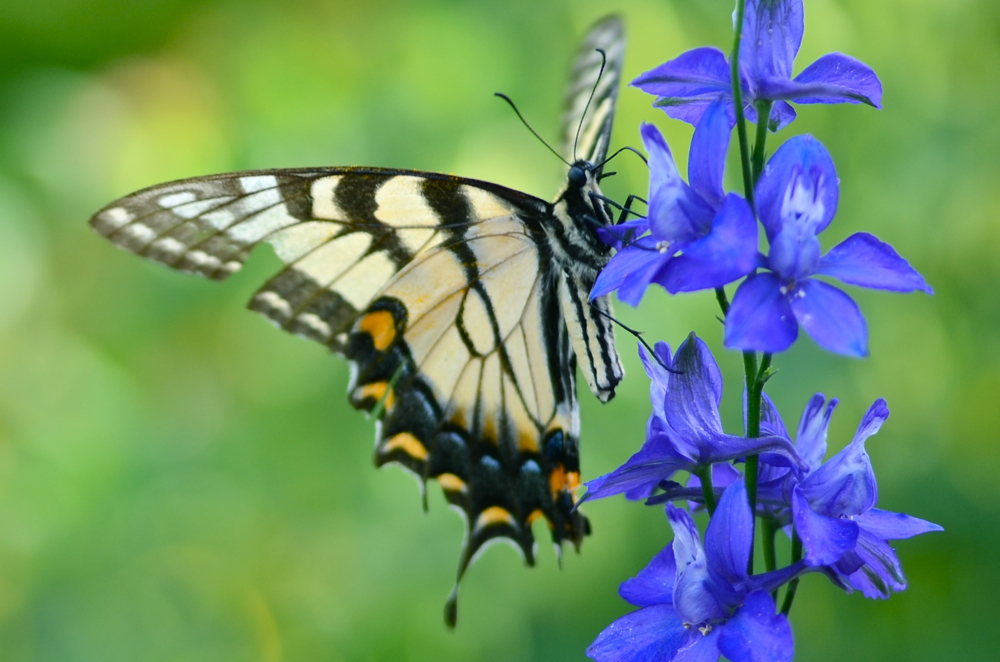 LARKSPUR (Consolida): I like to direct-sow my Larkspur in the garden in early spring, barely covering the seeds with soil (about 1/8″-1/4″), and keeping seed-bed moist until they germinate about 3 weeks later. When the seedlings are a couple inches tall, thin them out so they are spaced about 8″-12″ apart. Larkspur prefers full sun and will grow to about 2′-3′ in height. Flowers attract pollinators and will re-seed readily into your garden providing a lovely "Cottage Garden" effect.
MORNING GLORY (Ipomoea): These old favorites will quickly cover a lightpost, mailbox, trellis, etc. provided they have some kind of support to climb upon. Once all danger of frost has passed, soak seeds in water overnight before sowing about 6 inches apart in regular soil in full sun-part shade. Will germinate in about a week. Morning Glory seedlings do not like to be transplanted, so sow 'em where you're going to grow 'em. These vines will reach heights of up to 10′ and possibly more!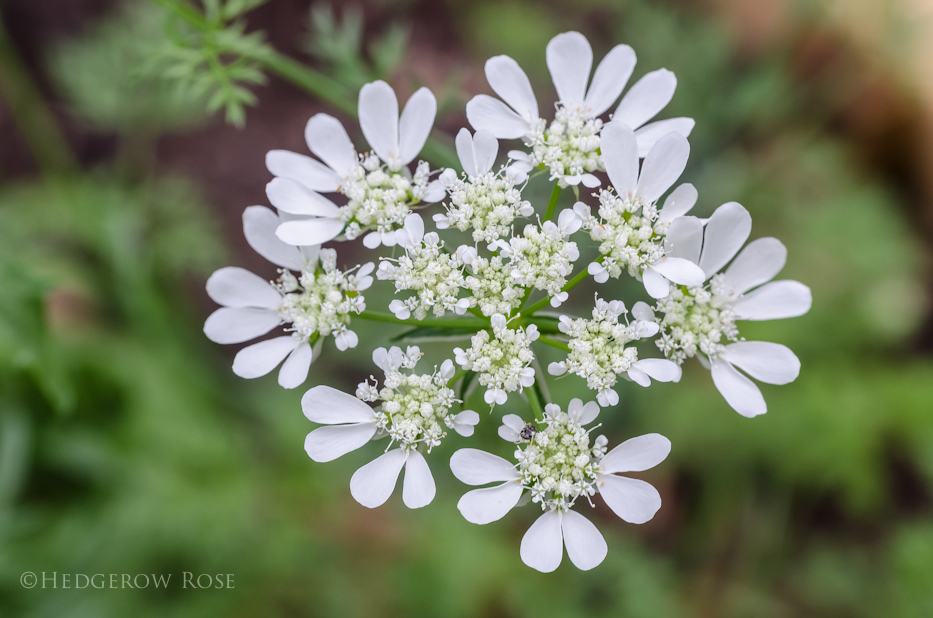 WHITE LACE FLOWER (Orlaya grandiflora): Orlaya looks very much like Ammi majus (False Queen Anne's Lace) but, in my humble opinion, makes a better garden plant. This annual is known to be a bit fussy about germinating, so I like to sow more than I think I'm going to need to make sure I get enough plants. Sow seeds in average soil, covering seeds just a tiny bit, once all risk of frost is past. Germination will take place in about 2 weeks. Thin seedlings to about 8″-12″ apart. Prefers full sun and is drought tolerant once established. Orlaya will reach heights of about 2′. (In milder climates, Orlaya grandiflora can also be sowed in autumn for spring flowering.) Learn more about Orlaya grandiflora in this post.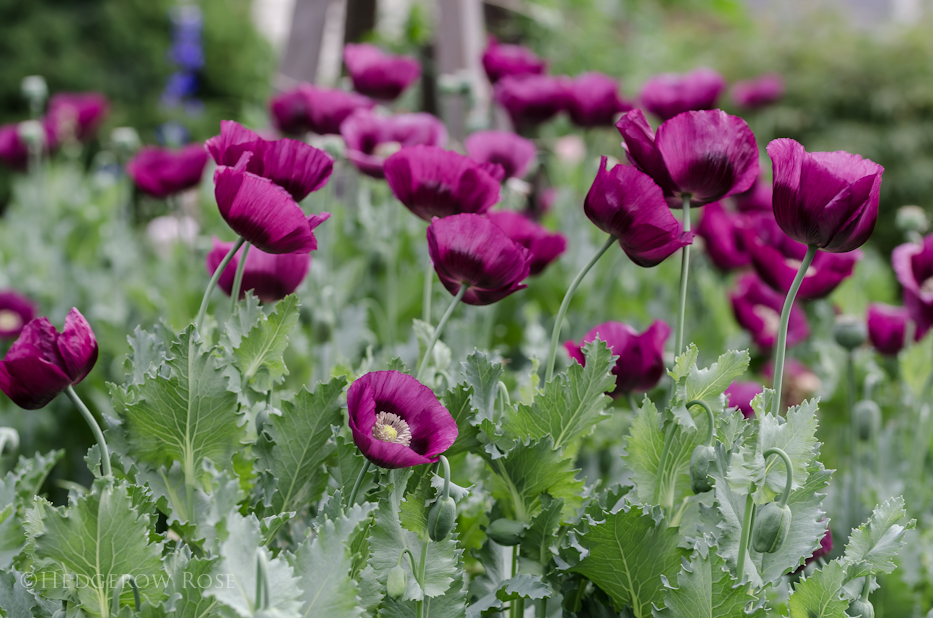 POPPY (Papaver somniferum 'Lauren's Grape'): In my experience, these poppies have been some of the most rewarding annuals to grow and will literally stop traffic! Sprinkle seeds directly on a prepared bed of rich, well-draining soil in full sun. To help with sowing, mix seeds with dry/spent coffee grounds to help with distribution and to keep them from clumping. These seeds need light to germinate, so it's important not to cover them up with additional soil or mulch. I have also found that the seeds like a cold period prior to germinating so I sprinkle them directly in the garden in late winter (sometimes right on top of the snow!) As they grow, thin them out so they're about 12″ apart and let them reseed in your garden for blooms year after year. Will reach heights of about 3′-4′ Learn more about these poppies in this post.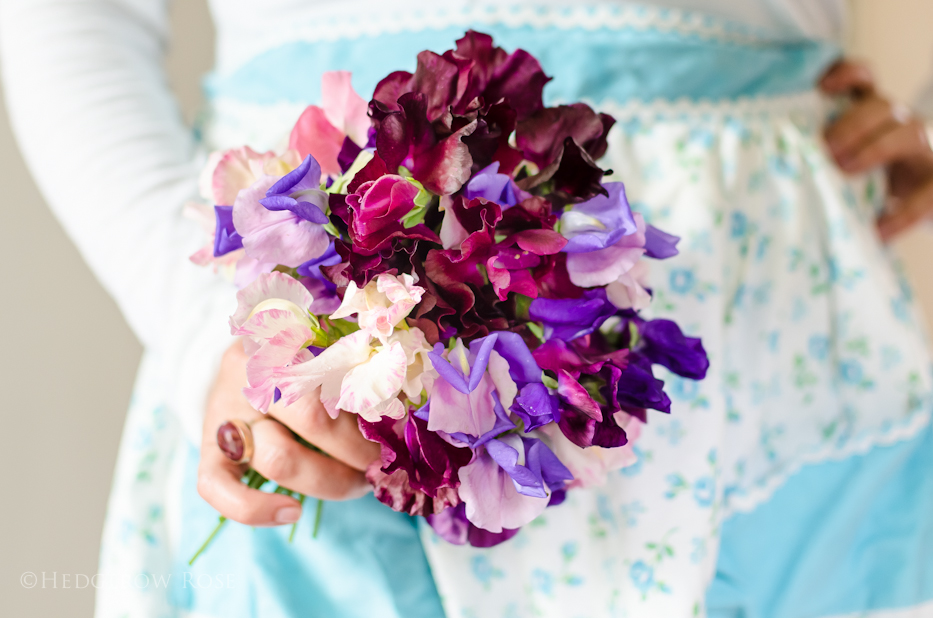 SWEET PEA (Lathyrus odoratus): For great big beautiful Sweet Pea plants, start your seeds early, in pots. Soak the seeds overnight and then sow them in "tree pots"–which is basically a longer pot to accommodate the sweet pea's long root system–with a good, organic seed-starting mix. To aid in germination, give your seeds some bottom heat using a germination warming pad or the top of your fridge, in a pinch. Once there is germination (about 10-15 days), move pots to a bright, sunny, cool location. As soon as soil can be worked, plant seedlings about 4″-6″ apart in a prepared bed (I like to mix in a lot of composted cow manure the previous fall and fertilize with a balanced organic fertilizer at planting time.) Make sure to provide a strong support system for the vines as they can grow up to 6′ or more. (I like to use netting stretched between metal posts.) During flowering season, cut flowers to promote more blooms and water plants with compost tea and/or comfrey tea. Sweet Peas will flower best in full sun in rich soil. They prefer cooler weather so starting them early is key. In areas where it gets hot quickly, they'll prefer some afternoon shade. Learn more about growing Sweet Peas in this post.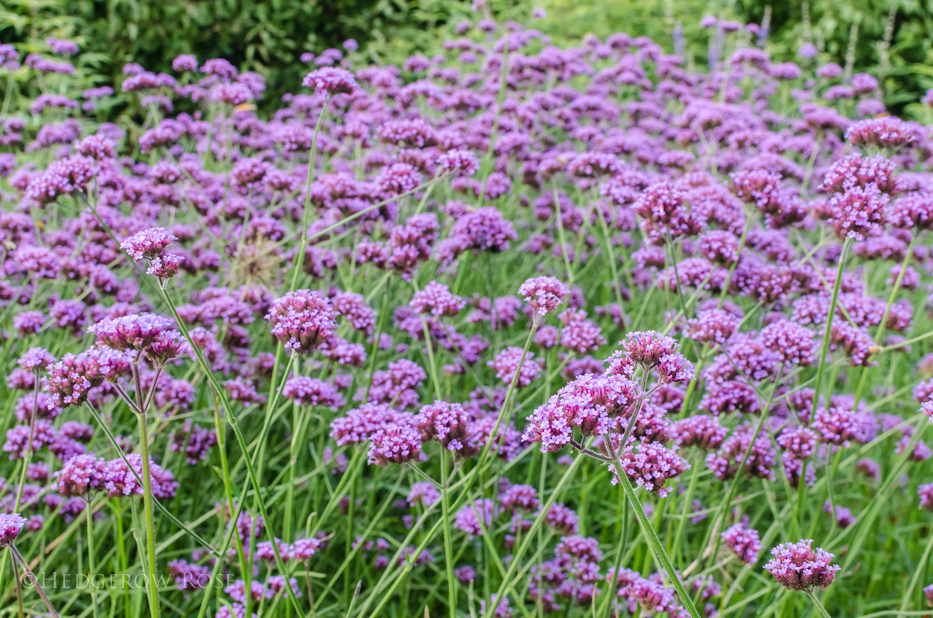 VERBENA (Verbena bonariensis): Verbena bonariensis is easy to get going in your garden and once it gets established will reseed itself quite readily for year after year of flowers. This is a "plant it and forget it" flower. As with poppies, I like to scatter the seeds in a prepared bed and then thin the seedlings out as needed, but some gardeners prefer to start them indoors in pots, first. Either way, seeds should only be lightly covered and don't like the soil to be too moist. They are slow to germinate, sometimes taking 3 weeks or more. They should be planted out (or sowed) when weather has settled and spaced about 1.5′ apart. Verbena prefers full sun but will tolerate dappled shade. It is drought tolerant once established and attracts many, many pollinators! Learn more about growing Verbena bonariensis in this post.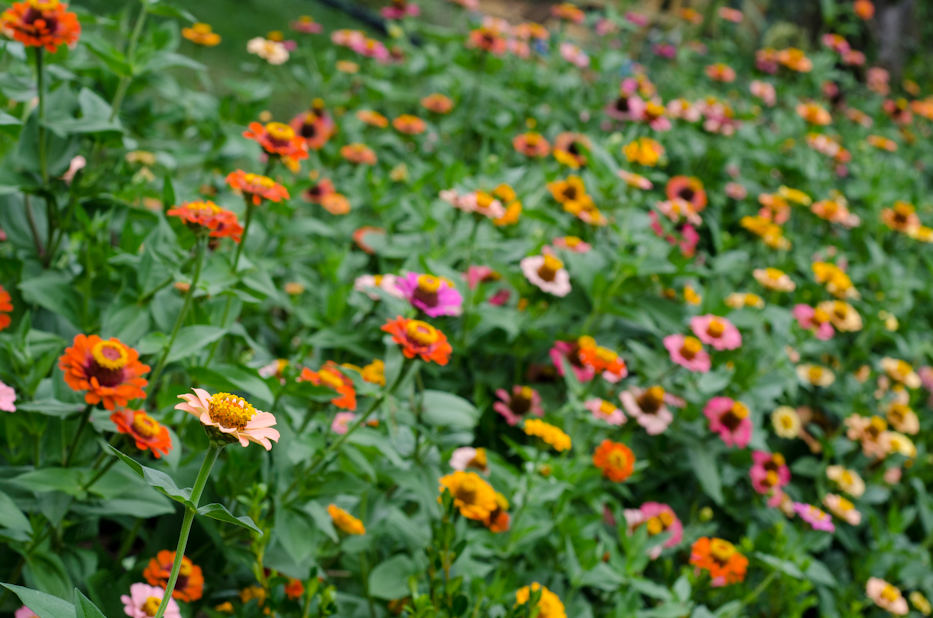 ZINNIA (Zinnia elegans): Zinnias can be started a few weeks before last frost in a greenhouse, but it's just as easy to get going by direct-sowing in the garden once weather warms up. I've done both ways and the only benefit to starting early is, of course, getting flowers a couple weeks ahead of schedule. The most important thing to remember is Zinnia won't like to be planted out or sowed if it's still too chilly out. They, like tomatoes and sunflowers, prefer warm weather–hot days, warm nights. I've found the easiest way to get a zinnia patch going is to prepare the bed and then scatter the seeds, covering lightly (about 1/4″ of soil) and keeping the bed moist until germination (about 1-2 weeks.) Thin seedlings to about 12″ apart and pinch growing tips initially to encourage bushy plants. Cut flowers throughout the season to encourage more blooms. Zinnias prefer full sun and can grow up to 5′ depending on the variety. Get tips for starting a quick and easy Zinnia border in this post.