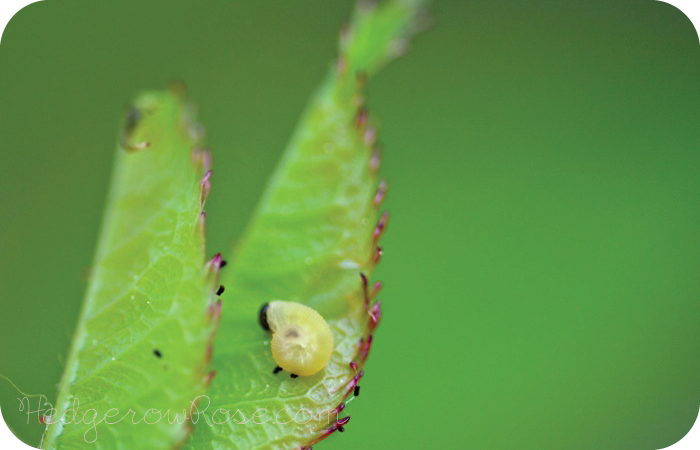 Sawfly larvae resemble a caterpillar but are actually the larvae of the sawfly, a wasp-like flying insect.
I always say that roses are like the chickens of the plant world: everything wants to prey on them. In my garden, there are three recurring pests that I have waged war on, and one of them is the sawfly larvae, or commonly known as "rose slugs." Appearing sometime in May, just as the roses are starting to look amazing, the sawfly larvae chews it's way through buds and tender leaves, and left unchecked can completely skeletonize it in just a matter of days. Sawfly larvae are so tiny that they you will see the damage they create before you actually see the culprit.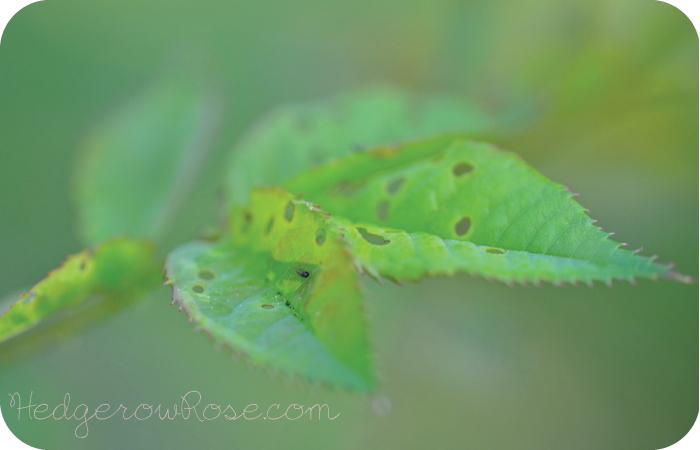 I've found that early identification is the best way to manage this pest. In mid to late spring, check your rose leaves and buds for tiny holes indicating that the larvae are present. Flip the leaves over where you are sure to find at least one chomping larvae, and gently pull back the calyces (the leaves protecting the bud) to find the larvae nestled within making breakfast from your rose petals. And then squish them! Spending just a few minutes a day on each rose bush checking and squishing is an effective and organic method of control.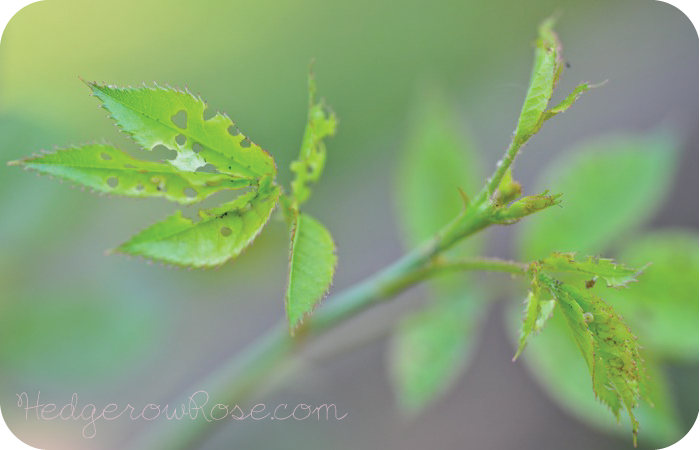 Sawfly larvae love the tender new leaves of a rose. If you look closely you can see some larvae still present on some of the leaves. This picture was taken pre-squish.
Severe infestations can be managed with chemical controls (like Sevin), but I don't recommend them. One, because I shy away from them myself and so how could I recommend something I don't use? And two, because certain pesticides will also eliminate beneficial insects (and birds) which, trust me, you want in your garden. I've recently begun using a very watered down Neem Oil (derived from the seeds of neem trees) on my roses to help control the fungal disease, black-spot. Neem oil is also effective against pests over time, but, because it is an horticulture oil, can suffocate beneficial insects as well. It is best applied in early morning so the leaves have time to dry before the beneficial insects begin working, and like anything should be used with caution and restraint. In other words, just because something says it's organic doesn't mean it's safe in all aspects. For more information on Neem, click here. EDIT: This summer I've stopped spraying my roses at all. Yup, not one bit–not even the organic horticultural oils to control black spot because I'm editing out roses that need coddling whatsoever. And as far as controlling sawfly larvae I still feel the best method is just to squish the ones you find and let the birds take care of the rest.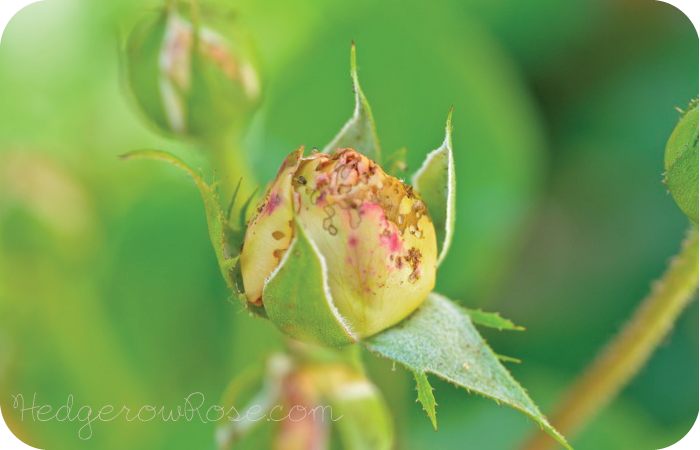 Sawfly larvae damage on a rose bud. Gently teasing back the calyces will reveal the larvae and allow you to give them a good squishing.
The next rule of thumb is true for any pest/disease management of roses: Keep the area around each plant clean and free of debris such as dropped leaves (especially if they're dropped because of a fungal disease) and provide good air circulation around each plant. Additionally, remove any damaged/diseased canes and leaves and dispose of them (not in your compost pile!) Roses will also manage better if they are not grouped together but planted among other perennials, annuals, herbs, etc which supply beneficial insects and birds with cover and food. And last but not least, a stressed rose is more susceptible to disease and infestations, so keep them healthy and happy to give them the strength they need to fend off the baddies.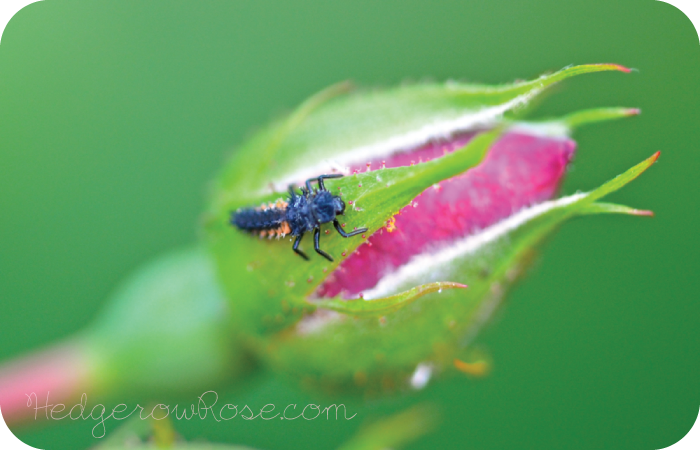 A ladybug larvae hard at work on a Dr Huey rosebud. Ladybug larvae, like adult ladybugs, eat damaging, soft bodied insects like aphids and sawfly larvae.
Early detection, handpicking and destroying the larvae, and encouraging beneficial insects are 3 great ways to protect your roses from sawfly larvae. If you have insects such as green lacewings and ladybugs already present in your garden consider yourself lucky and don't interfere with their work. Praying mantis are also great for pest control, but keep in mind they will eat anything, including each other, beneficial bugs, and even, I've heard, hummingbirds. (Yikes!) Encourage birds, yes chickens included, into your garden as they will also eat nasty pests. I'm going to write a post later on as to how to encourage songbirds into your garden, but the number one thing I've found is to provide a year-round fresh water supply. More on that later.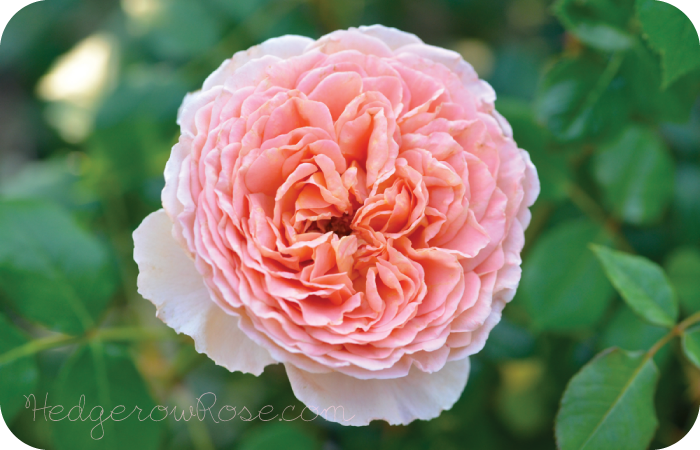 Abraham Darby
So there you have it! Spending a little extra time with your roses each day will help prevent this nasty pest and keep your plants healthy, happy, and looking their best!
EDIT: 7/10/11 In our garden, the roses that I pruned back weeks ago to encourage a second flush of blooms are covered in new growth, and, you guessed it, sawfly larvae. This is round 2, but I'm ready. Don't forget to periodically check your roses, paying special attention to the tender new leaves and buds. 🙂