Taking a slight detour from National Rose Month to talk about, what else, carrots!
I know I'm late to the party, but I've recently discovered how wonderful it is to grow your own vegetables. Last spring, we purchased a raised bed from Gardener's Supply, plopped it right in our driveway, and planted lettuces, carrots, squash and peppers just to get our feet wet. (I should mention that I've always grown tomatoes and peas, but that's about it in the veggie realm.) The carrots, an heirloom variety from Botanical Interests called Scarlet Nantes were the second crop to harvest (the lettuces being the first, of course). My husband and I stood in the garden, each taking turns taking bites from our first carrot, silly grins on our faces. Who would have thought a root vegetable could be so exciting?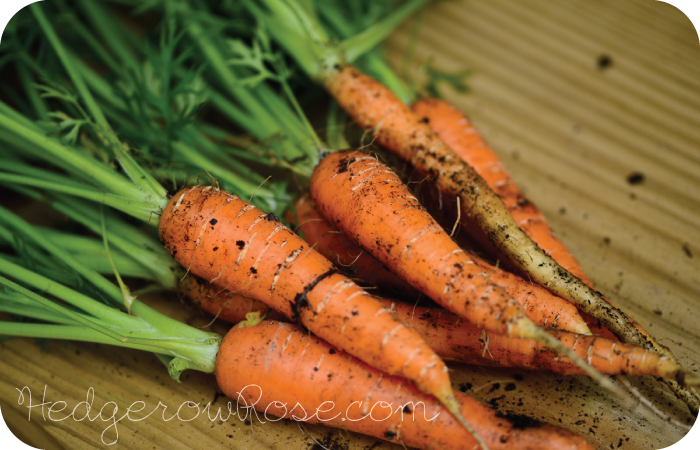 Who would have thought a root crop could be so exciting? These are Scarlet Nantes heirloom carrots from Botanical Interests.
Carrots are a cool-weather crop so should be planted in early spring or late summer, in a non-acidic, deep, loose, rich soil. After they are about 1″ tall, they should be thinned to about 3″ apart. I had the most difficult time with this; it just went against the grain to pull and discard perfectly good plants, but the carrots needed the room to grow. I think next time, I will try something like this seed distributor to help evenly spread the seeds which will mean less thinning.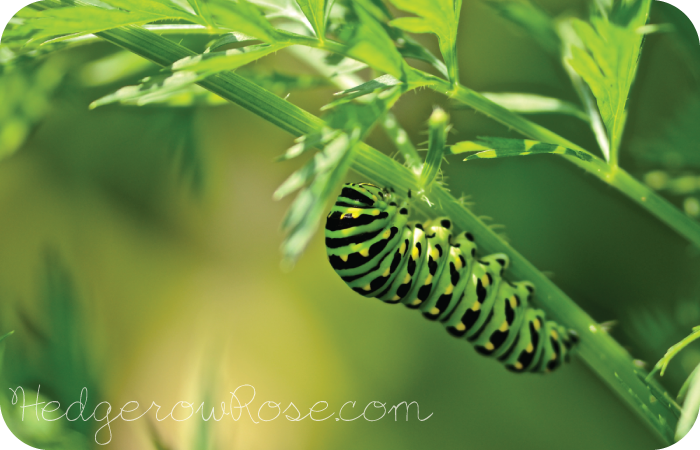 A black swallowtail caterpillar munches on some carrot leaves.
The biggest surprise of all was when we spotted a number of black swallowtail caterpillars on our carrot leaves last week. Carrot leaves are a host plant for this type of butterfly and we didn't mind that they were noshing on the leaves; plus it was really fun to watch them get fatter and fatter. They grow so quickly! Pretty soon, they'll look like this and since we have two ginormous butterfly bushes right next to the carrot patch, I'm sure they will be quite content. Now that we've gotten our feet wet with veggie gardening, my husband wants to build 4 more raised beds in the backyard. He may not understand my passion for roses and other ornamentals, but he can get on board with the more practical end of gardening. Do you grow carrots? Do you have any growing tips for me?