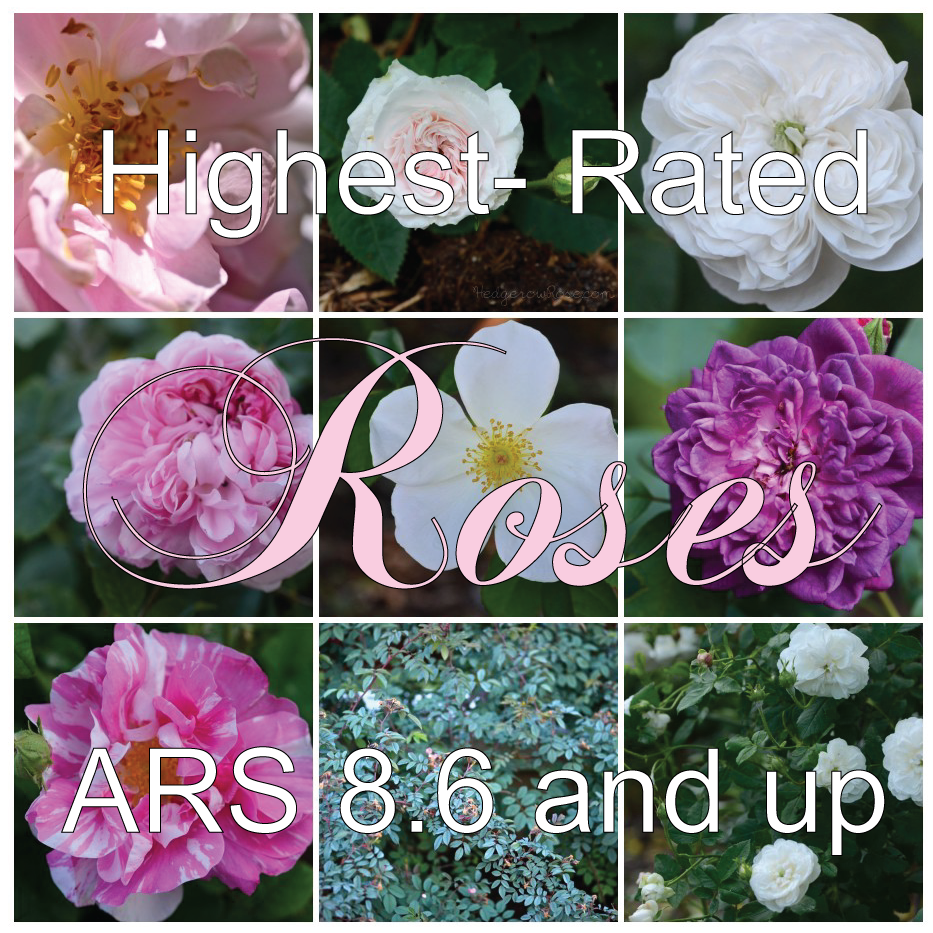 Because my nerdiness knows no bounds, one afternoon I sat down with the ARS handbook and wrote down every rose that had a rating of 8.6 or greater. Of course we know there are a bunch of other factors involved when it comes to having success with growing individual cultivars, (I'm not necessarily endorsing these by providing this list & if you cross reference with HMF you'll find some disparities) some roses are still being assessed and some aren't even in the handbook. I just thought it might be helpful to others, too, as we all add roses to our gardens. TIP: I've taken the time to add hyperlinks to HMF for each rose. Yay! DATA COLLECTED FROM 2013 AMERICAN ROSE SOCIETY HANDBOOK DERIVED FROM ROSES IN REVIEW SURVEY. Not a member of the ARS? You can join HERE. {EDIT: I think I've since added the roses that were overlooked the first time this posted. Hopefully. But if you see any that I've missed, please do let me know.}
———————————————————-
To refresh your memory: 
8.3-8.7 / A very good to excellent rose. One recommended without hesitation
8.8-9.2 / An outstanding rose. One with major positive features and only minor negatives. The top 1%.
9.3-10 / One of the best roses ever. Scores in this range should be awarded sparingly.  

———————————————————-
For a run-down of what these different types mean, see my Types of Roses page.
ALBA
Alba Maxima – 8.6
Alba semi-plena – 8.9
Félicité Parmentier – 8.6
Great Maiden's Blush – 8.9
Königin von Dänemark – 8.6
Madame Plantier – 8.9
BOURBON
Souvenir de la Malmaison – 8.7
CHINA
Cramoisi Supérieur – 8.7
Louis-Philippe – 8.8
Mutabilis – 8.9
Old Blush – 8.7
Pink Pet – 8.7
Modern and Large-Flowered CLIMBING
Casa Blanca – 9.1
Clair Matin – 8.7
Demokracie – 8.9
Royal Sunset – 8.9
Sombreuil – 8.7
DAMASK
Celsiana – 8.6
Ispahan – 8.7
Madame Hardy – 8.8
Madame Zöetmans – 8.7
FLORIBUNDA
Hannah Gordon – 8.7
Lavaglut – 8.6
Poulsen's Pearl – 8.7
Sexy Rexy – 8.6
Stadt den Helder – 8.6
Travemünde – 8.6
Hybrid GALLICA
Alain Blanchard – 8.6
Alika – 9.0
Complicata – 8.8
Climbing HYBRID PERPETUAL
Ards Rover – 8.6
HYBRID PERPETUAL
Marchesa Boccella (Jacques Cartier) – 8.8
HYBRID TEA
Irish Elegance – 8.9
Touch of Class – 8.7
Hybrid KORDESII
Dortmund – 9.0
Heidelberg – 8.6
John Cabot – 8.8
John Davis – 8.7
William Baffin – 8.9
Climbing MINIATURE
Jeanne Lajoie – 9.0
MINIATURE
Giggles – 8.7
Gourmet Popcorn – 8.6
Irresistible – 8.8
Jean Kenneally – 8.9
Minnie Pearl – 8.8
Pierrine – 8.8
Rainbow's End – 8.6
Whiteout – 9.0
MINI-FLORA
Robin Redbreast – 8.7
MOSS
Césonie – 8.6
Crested Moss (actually a Centifolia) – 8.6
Old Red Moss – 9.1
Hybrid MOYESII
Eddie's Crimson – 9.1
Nevada – 8.8
Hybrid MULTIFLORA
Tausendschön – 8.7
Hybrid MUSK
Ballerina – 8.6
Belinda – 8.6
Cornelia – 8.6
Francis E. Lester – 8.7
Penelope – 8.7
Prosperity – 8.6
NOISETTE
Lamarque – 8.7
Madame Alfred Carriére – 8.9
Nastarana – 8.6
Rêve d'Or – 9.2
POLYANTHA
La Marne – 8.6
Lullaby – 8.8
Marie Pavié – 8.8
Mrs. R.M. Finch – 8.8
Orange Morsdag – 8.7
The Fairy – 8.7
Verdun – 8.6
White Pet – 8.6
PORTLAND
Rose de Rescht – 8.7
Hybrid RUGOSA
Henry Hudson – 8.8
Jens Munk – 8.6
Magnifica – 8.8
Roseraie de l'Haÿ – 8.7
Sniffer – 9.5
SHRUB
Carefree Beauty – 8.6
Elveshörn – 8.9
Gartendirektor Otto Linne – 8.7
Golden Wings – 8.7
Immensee – 8.9
Lyda Rose – 8.9
Morgenrot – 8.7
Pearl Meidiland – 8.7
Pink Meidiland – 8.6
Robbie Burns – 8.8
Robusta – 8.8
Sally Holmes – 8.9
Surrey – 9.0
SPECIES
R. banksiae banksiae – 9.2
R. banksiae lutea – 9.1
R. gallica – 9.0
R. gallica officinalis – 8.7
R. gallica versicolor – 9.0
R. hugonis – 8.7
Kiftsgate – 8.8
R. laevigata – 8.7
R. moschata – 8.8
R. roxburghii – 8.7
R. rubrifolia – 8.8
R. rugosa – 9.1
R. rugosa alba – 9.2
R. setigera – 9.0
R. virginiana – 8.6
TEA
Mrs. B.R. Cant – 8.9
Hybrid WICHURANA
Newport Fairy – 8.6