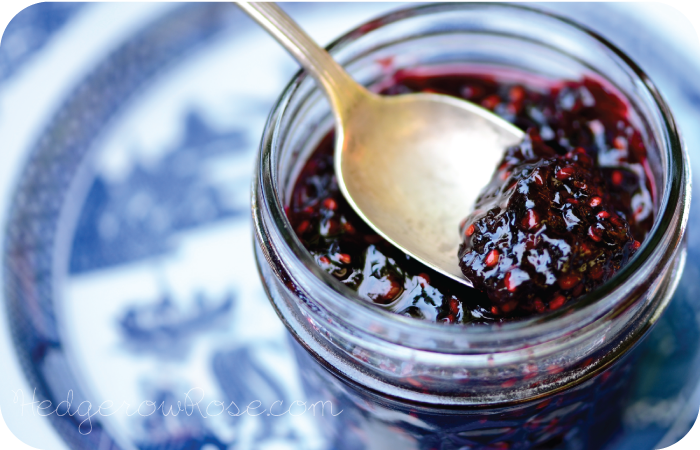 Blackberry jam infused with thyme and lemon
There is a small grouping of blackberry bushes at the edge of our yard, hidden among some very old lilacs and Rosa multiflora shrubs. This summer, they were especially plentiful so I thought I'd try my hand at canning for the second time. This blackberry, thyme and lemon jam came out so delicious that I thought why not share the recipe?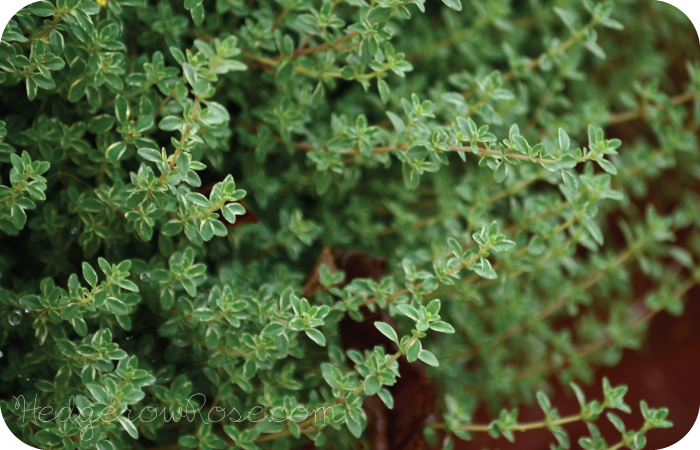 A couple sprigs of thyme adds an extra, subtle dimension to this jam
I'm going to assume that those of you reading this post already have a handle on preserving techniques. I'm completely new to it, so I had to remind myself how to sterilize the jars, processing times, what a gel-like consistency is, etc. If you're like me and unsure, Ball makes a great canning book. Actually, this recipe is a mash-up of Ball's standard fruit preserves recipe with this one I found here. I like to use raw sugar when I bake so I decided to try it here, too. Supposedly you're to increase the sugar quantity by 20% if you use raw sugar in place of cane sugar, but I actually decreased it because I don't like things too sweet. Also, since I love lemon anything, I increased the amount of lemon zest and juice. My jam is very thick, which may be because of all the lemon, or maybe I cooked it too long. Any canning experts out there have an opinion on this? Please share! 🙂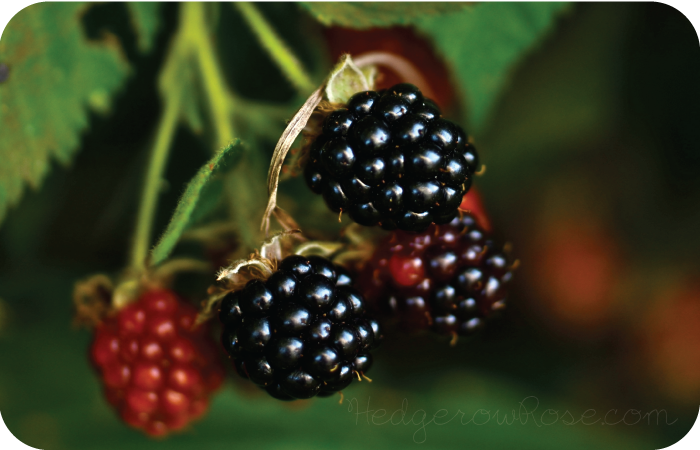 Blackberries almost ready for harvest
Here's what I used (makes 5 4oz jars):
5 Cups Blackberries
2 Cups Raw Sugar
Juice of 1 Large Lemon
2 Tablespoons Lemon Zest
5 Short Sprigs of Thyme
I used my food processor to finely chop the lemon zest to which I then added all of the ingredients with the exception of the thyme and pulsed a few times just to mush everything down. I suppose if you're not crazy about seeds in your jam, you could use a food mill. They don't bother me. The berry mixture was added to my large saucepot along with the sprigs of thyme and brought to a boil. It took about 20 minutes on a full boil (frequent stirring) for my berry mixture to reach gel consistency, after which I removed and discarded the thyme sprigs. After adding the mixture to sterilized 4oz canning jars, I processed them for 15 minutes in their boiling hot water bath. We've already almost devoured our first jar of jam!
{EDIT: So yesterday my daughter starts complaining to me that we didn't have any blackberry jam for her sandwich and my response was something like an indignant "Are you crazy? We have jars and jars of this stuff!" To which she replied that my jam was too thick or rather, in her words, "like a rock" but I promise you she was being dramatic. It's thick, but completely spreadable.*sigh* Teenagers. So there you have it, folks. You might want to reduce the amount of lemon juice if you try this recipe at home!}