A collection of Centaurea cyanus waits for a vase
Today I harvested the cornflowers, also known as bachelor buttons, bluebottles, or officially: Centaurea cyanus. I had every intention to leave them where they stood so the goldfinches could pluck out the thistle-like seeds for a little snack, but our kitty decided it would be great fun to make a bed of them and they were completely squished.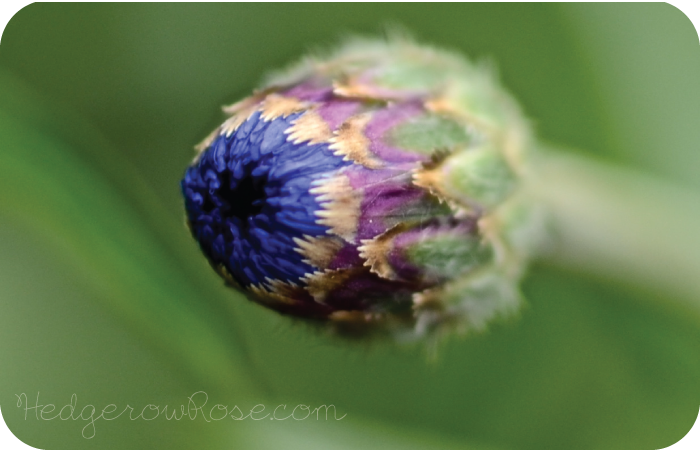 Lore associates the bachelor button with the centaur Chiron
Centaurea cyanus is a member of the Asteraceae family sharing this distinction with, oh, just about 23,000 other plant species (including sunflowers, daisies, and asters, of course). Their flowers are such a pretty hue, they have even defined a color known as "cornflower blue." According to fable, Chiron the centaur cured himself from a poisoned arrow using this plant and herbalists might tell you that the flowers make a good anti-inflammatory. Myself, I just like to look at them and maybe pick a few for arrangements; preferring  to leave the cures for poisoned arrows to the pros.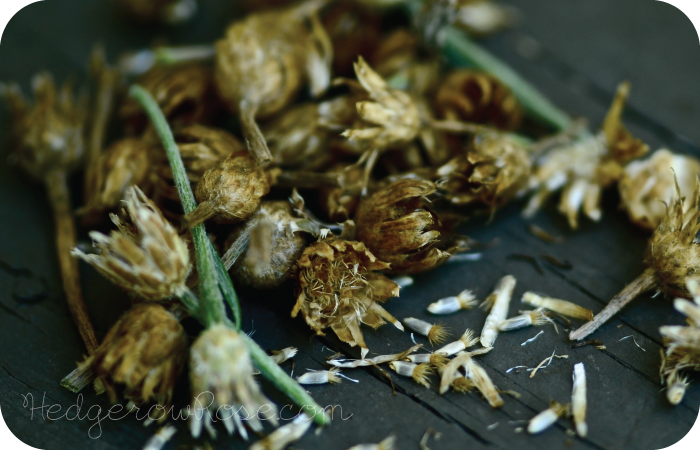 Cornflowers are usually grown as annuals. Seeds can be collected in mid to late summer to sow the following spring.
Cornflowers are super easy to grow. In the spring, I just scatter the seeds onto some good soil in a bed that receives all-day sun, scratching them in or covering with a fine layer of soil, and keep them well watered until they emerge. They're quite drought resistant once established. In our garden, they begin blooming in June and keep going well into summer. If our kitty hadn't squished them into oblivion they would still be growing and blooming now, but towards the end if this annual's growth cycle, they may start to look a little ragged. If you leave the plants standing, you might have them re-seed themselves for the following spring. This method has never worked for me so I prefer to harvest the seeds myself and store them until spring. I've never had a pest or disease issue with my cornflowers, and the pollinators love the blossoms. EDIT: Well, color me surprised because I had a clump of bachelor buttons pop up this spring, so I guess they did reseed!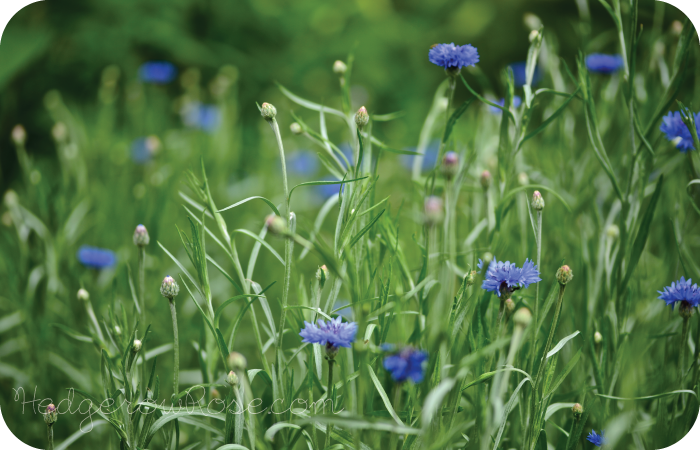 Centaurea cyanis in bloom looks splendid in a cottage-style garden
Centaurea cyanus
 are also available in pink, and a deep maroonish-black color which I may need to try next spring. Lately, I've been pretty lazy about planning out my flower beds, but in the past I would sow my blue cornflowers along with bright red poppies and the combination was stunning. Whatever you do, plan to enjoy yours at dusk when our eyes register blue tones most vividly and with the silvery grey-green foliage, this would make a perfect addition to a moon garden.
Excerpt from "Cornflowers"
While bright but scentless azure stars
Be-gem the golden corn,
And spangle with their skyey tint
The furrows not yet shorn;
While still the pure white tufts of May
Ape each a snowy ball,–
Away, ye merry maids, and haste
To gather ere they fall!
-Victor Hugo