When my delivery from David Austin came in last April, there was a mistake in my order and instead of receiving 'Alnwick Castle', there was a 'Gertrude Jekyll' in the box instead. The company quickly corrected the mistake, and allowed me to keep the Jekyll rose, too, which showed outstanding customer service for one thing, but also made my day because I grew the 'Gertrude Jekyll' rose in my old garden and was pleased to have her back. 🙂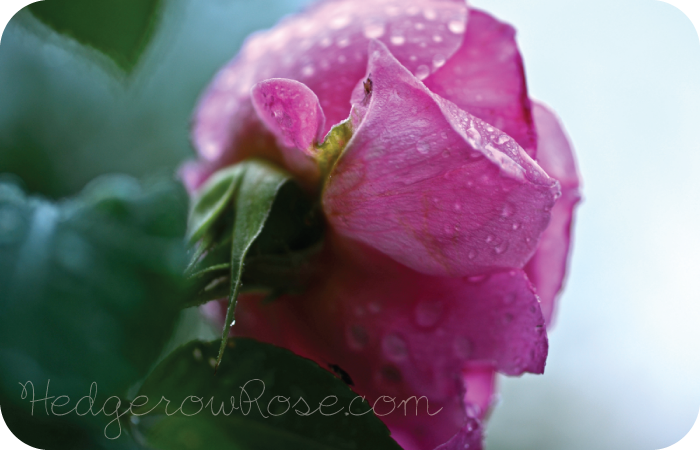 'Gertrude Jekyll' shows great disease resistance in my garden, but other gardeners complain of black spot. I have yet to see this.
Introduced by David Austin in 1986 this rose is named for the famous author, writer, artist, and influential garden designer Gertrude Jekyll. Arguably one of Austin's finer creations, it boasts the classic English rose shape and scent with repeat bloom to boot. Growing to heights of about 5′ (taller if trained as a climber), 'Gertrude Jekyll' is listed as being hardy in zones 5-10. A good candidate for a large container, this rose's size can be kept in check with judicial pruning. Ours just completed it's first flush of blooms and is already sending out new growth for a repeat performance.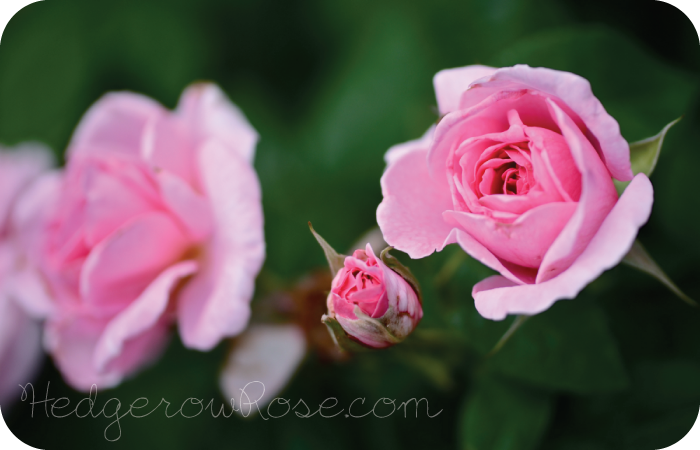 'Gertrude Jekyll', like it's parent 'Comte de Chambord', has a very strong, damask rose scent.
'Gertrude Jekyll' has very thorny canes and can be tricky to maneuver around when pruning: wear thick gloves! Since it blooms on new wood, prune early and deadhead to increase flowering, but make sure to stop deadheading and feeding your roses several weeks before autumn to prepare them for winter dormancy. Each blossom has an incredibly fragrant, old-rose scent, and measures approximately 4″ across. The bright pink blossoms are fully double, quartered, and are sometimes born singly and sometimes in clusters of 2-3.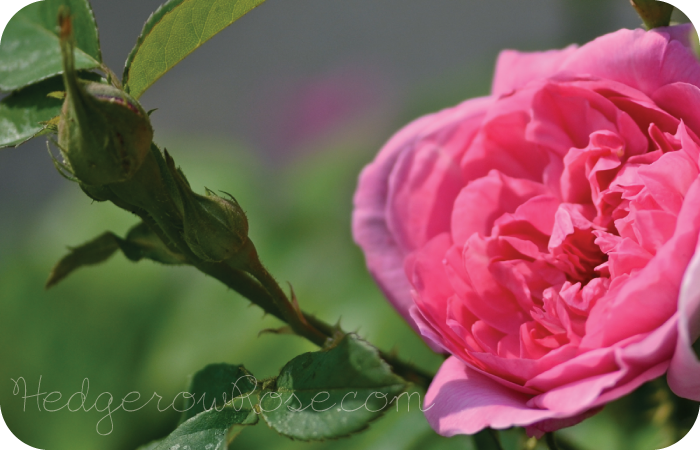 'Gertrude Jekyll' is a good candidate for a large container and can be trained as a rounded shrub or a climber.
I found that in our garden, 'Gertrude Jekyll' has shown very good disease resistance. Some of my other roses are fighting off black spot, but this one hasn't show a single blemish. However, I've read reports that isn't the case for other gardeners who have had to shovel prune their 'Gertrude Jekyll' rose due to fungal disease. (EDIT: Add me to the list of gardeners who had to get rid of this rose for fungal problems! Such a shame to see her go but I was fighting a losing battle with the black spot.)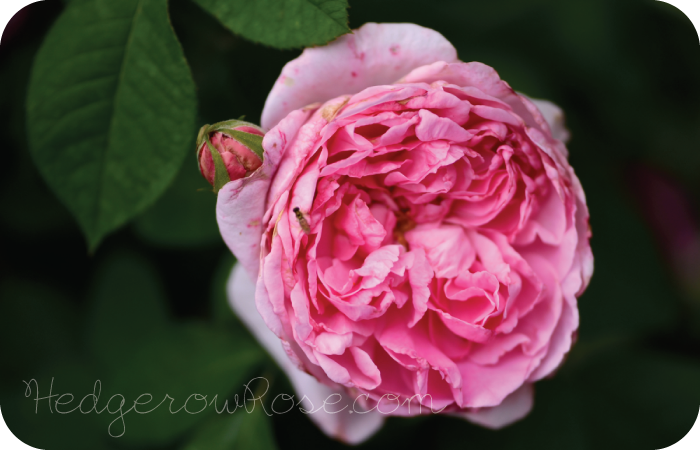 'Gertrude Jekyll' is arguably one of David Austin's finer creations.
Studying Gertrude Jekyll's form and scent, her traits are certainly similar to that of her parent rose, the portland damask 'Comte de Chambord' from 1858 which also has a strong fragrance and full, pink blossoms. However, Gertrude Jekyll's roses tend to have a deeper pink center rather than a uniform pink coloring. Still, if you're interested in growing Old Garden Roses, 'Comte de Chambord' is a beauty.
'Gertrude Jekyll' is a winner of the 2002 James Mason Award from the Royal National Rose Society and received a scoring of a "solid to very good rose" from the American Rose Society. You can reserve your plants for next spring by clicking HERE.