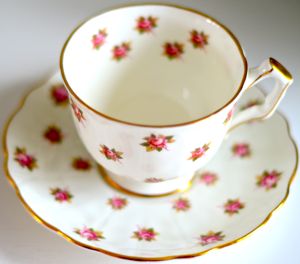 It's Friday night, ending another difficult week but I am happy to say things are improving. The excitement of the evening is that as soon as Jesse finishes his schoolwork we're going to get in bed with homemade chocolate chip cookies and season 3 of The West Wing. (We really know how to party, don't we?) Outside the temperatures are hovering in the single digits, the moon is full and surrounded by a frosty halo–the watery light making the landscape sparkle like the clouds dropped glitter instead of snow today. I yearn to be puttering around in my rose garden but since that's not possible, instead I like to do a little rose inspired treasure hunting. Examples: I recently found this rosebud teacup on Etsy, my favorite place to shop vintage. Isn't it sweet? And because evidently I don't have enough teacups I also found this Cath Kidston teaset for a little girl (umm, that's me) for just $10.

And here are some other Rosy Finds:
◆Feast your eyes on this gorgeous rose-covered cottage in Cape Cod that you can rent for a beach getaway.
◆How about a red rose printed cashmere cardigan at $39.99 down from $159? (Yes, I couldn't resist one for myself.)
◆Finally! R. alba semi-plena is available to U.S. gardeners. Add one of these "White Rose of York" roses to your garden and grow a little piece of history.
◆This Roses and Dots Wallpaper by Brian Yates is so pretty and looks like it could be vintage.
◆Want an entire library of Redouté's rose illustrations at your fingertips?
I'll leave you with this photo of the Hybrid Perpetual 'La Reine' (top photo is of  'Mme Ernest Calvat' — both of which I found this week while organizing last summer's photos.) Have a lovely weekend and stay cozy wherever you are!