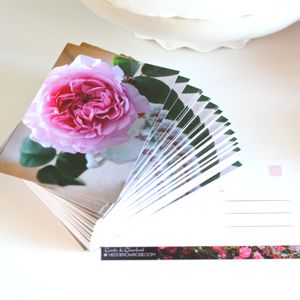 It's true, I'll be the first to admit it, I probably spend way too much time daydreaming about roses. But I think it's safe to say I'm not the only one; who's with me on this? With it being so bleak and cold out, I felt it was high time to add a new rosy postcard set to the shop and 'Comte de Chambord', so pink and so romantic, seemed like the perfect choice–especially with Valentine's Day coming up!
Sets of 5 are available in the shop now. Click HERE to take you to the link. SOLD OUT
So let me ask you, which of our roses would you like to see next on future cards? 'Rose de Rescht'? 'Jude the Obscure'? 'Fantin Latour'? I'd love your suggestions!