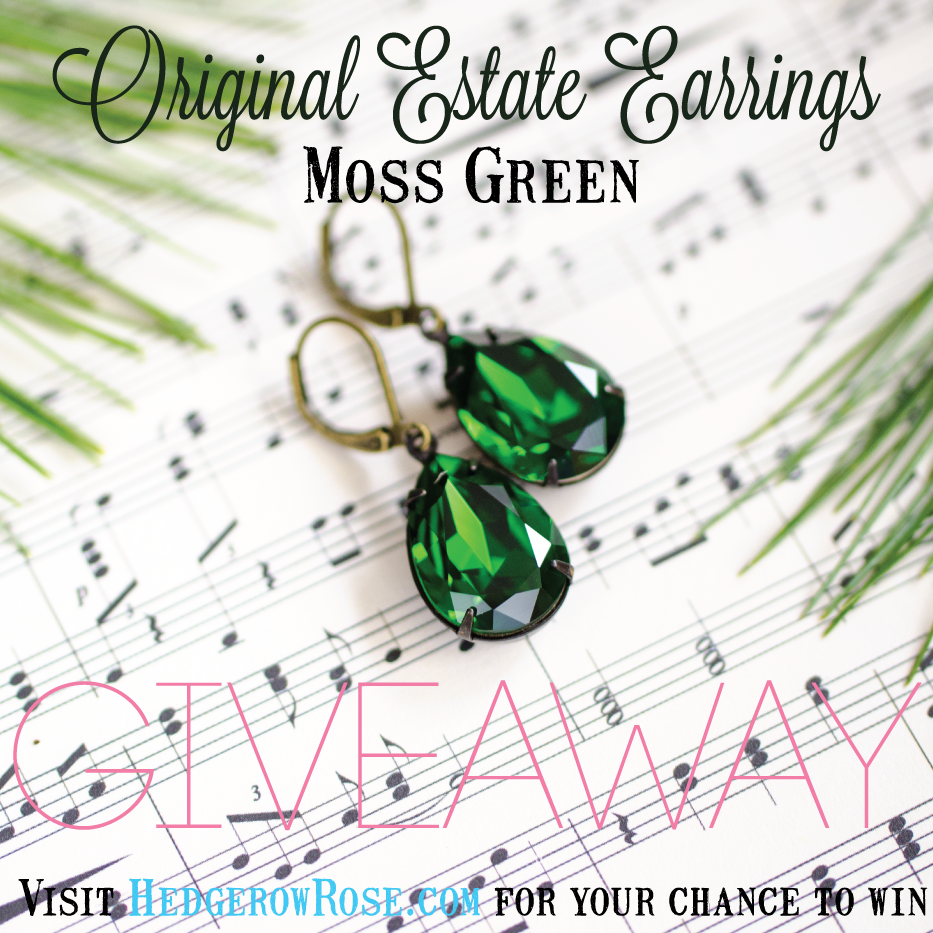 3 Winners have been selected! THANK YOU to all who participated and for leaving me such delightful comments. I read and treasured each and every one and really enjoyed reading about your gardens. I wish I had a pair of these to give to each of you! 
Using Random.org the following winners were selected: Samantha,  Kimmy and Heather L.! I will be contacting all of you soon for your mailing address. 🙂
Thank you again and Happy Holidays!!
———————————————————————————————————————————-
I just received a box of the Swarovski Crystal Elements® color introduction for Fall/Winter 2013-14: Moss Green. These crystals are gorgeous. Gorgeous! And dare I say, perfect for the holidays? (Although I wish I had this color when I was getting married–it would have matched our shade of green perfectly.) I thought it would be lovely to give away 3 pairs of my original "Estate Earrings" using these new crystals to 3 lucky readers. Interested?
HOW TO ENTER:
♥ This contest is open to everyone. Simply leave me a comment here on this post to let me know you stopped by. Tell me what your favorite piece of jewelry is in my shop (past or present), or what roses you are growing in your garden, or just say Hi! It doesn't matter–just leave some kind of blurb so I can include you in the giveaway.
♥ Increase your chances of winning by sharing: Are you on Facebook, Instagram, Twitter or Pinterest? Share this giveaway and receive an extra chance to win! PLEASE LEAVE AN INDIVIDUAL COMMENT HERE for each of these shares. So example, if you shared on Instagram and Facebook leave me 2 more additional comments to let me know where you re-posted the giveaway. Get it? That way your name will be included those additional times when I randomly select 3 individual winners and it will increase your odds of winning. I'll leave the contest open until December. Good Luck!