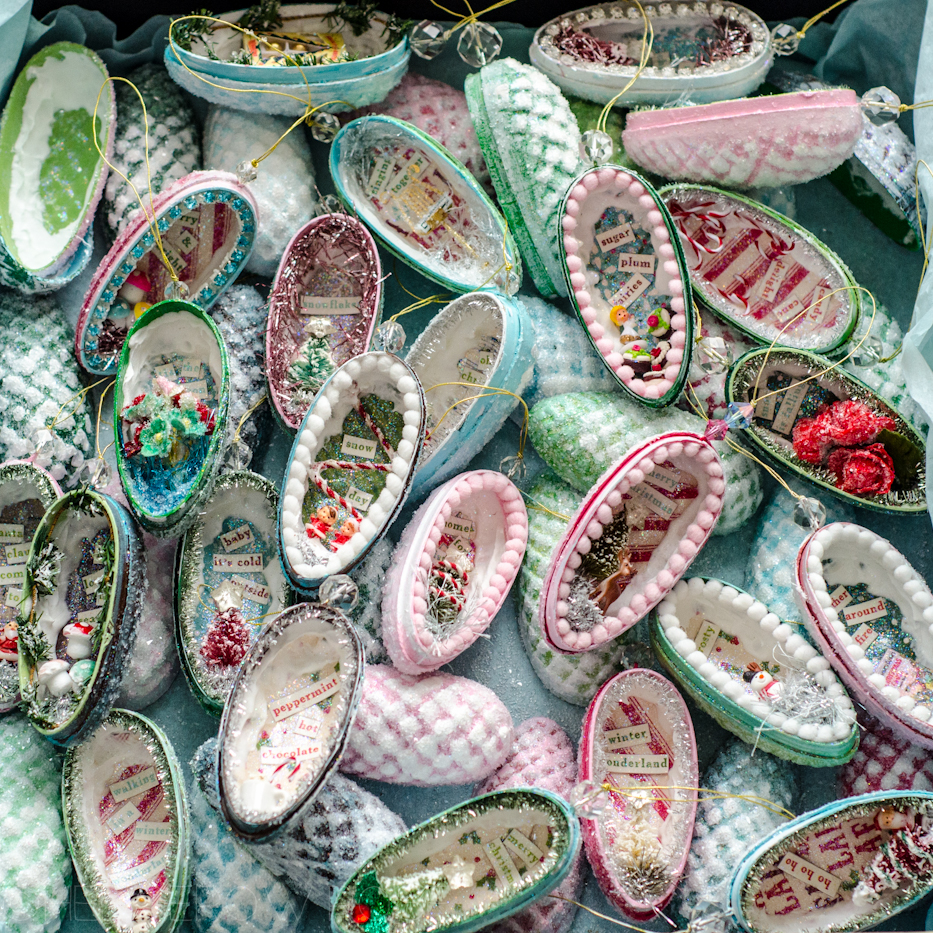 Happy December! I'd thought I'd share with you a project I was working on for pretty much most of October and November and finally finished: a handmade Advent Calendar. Every Christmas, one of the joys of the season for me is to sit down in front of a favorite movie and craft. As a person who makes a living (well, tries to at least) from my art I can't begin to tell you how refreshing it is to make something without the worry and other nonsense that goes into it like, "Will anyone want this? Will it sell?" Blah. Crafting just because? So fun!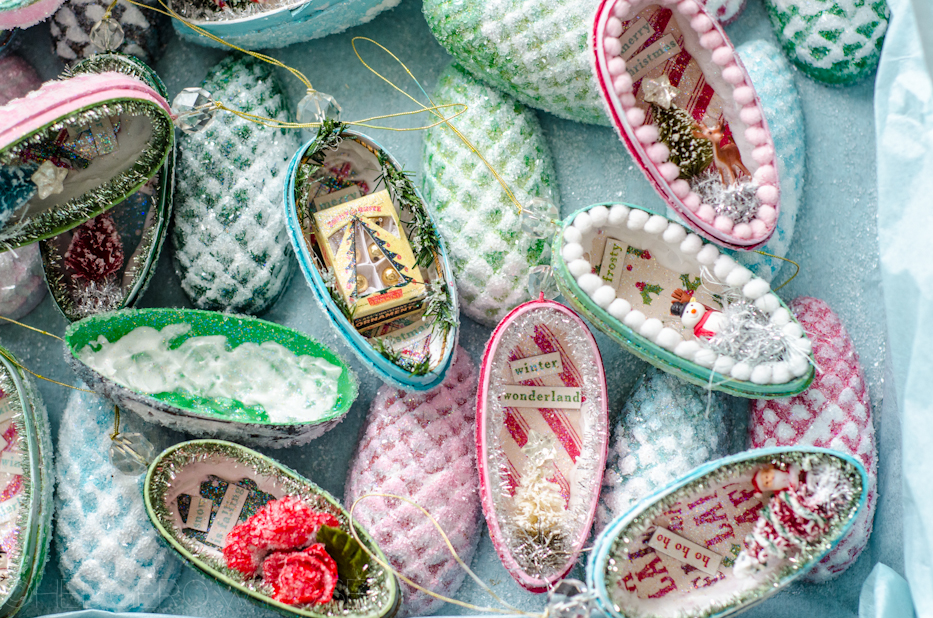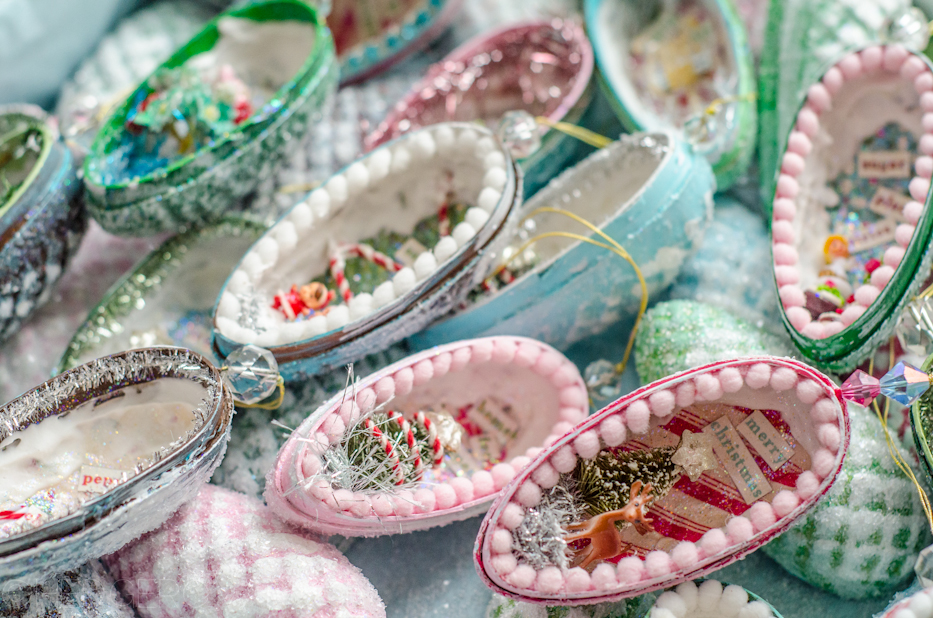 I've wanted to make an Advent Calendar for several years now but finally got down to business last autumn. It required some very important research, hee hee: shopping for vintage goodies, miniatures, and Christmas-y doodads that I could embellish with. No hardship there! What fun it was to peruse the vintage "aisles" of Etsy, sort through the antique dollhouse collectibles in shops, browse German Christmas ephemera as well as finding miniatures on Ebay. Those hours spent preparing and gathering were little escapes into that magical feeling that Christmas has always brought to me and I think influenced the final design scheme: tiny Christmas and Wintry scenes in German paper maché pinecone boxes. Ta da!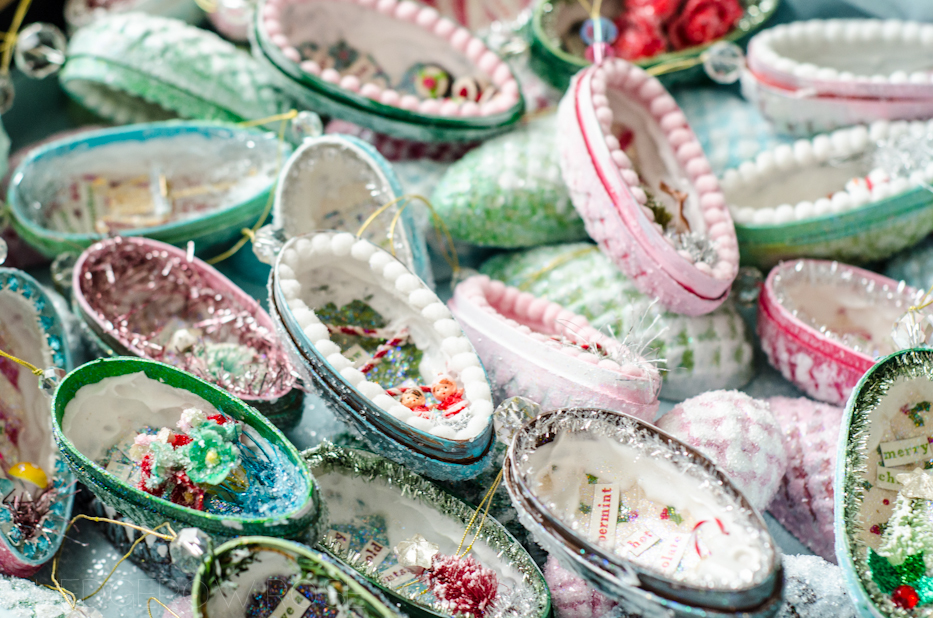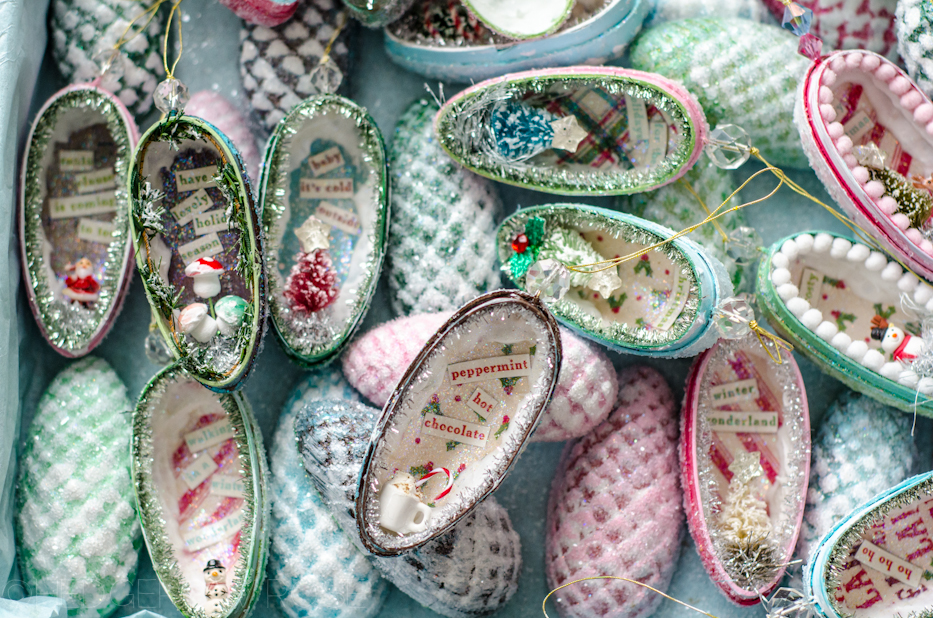 In case you'd like to try something like this yourself–these would also make fine individual ornaments–here are some of the things I used:
German Pine Cone Paper Maché Boxes
Acrylic Craft Paint/Paintbrushes
Aleen's Glitter Snow
Mod Podge Extreme Glitter Decoupage Glue
Various Winter and Christmas Miniatures, Paper Ephemera, Trims
Crystal Beads
Clear German Glass Glitter
Hot Glue
Scissors/Tiny Tweezers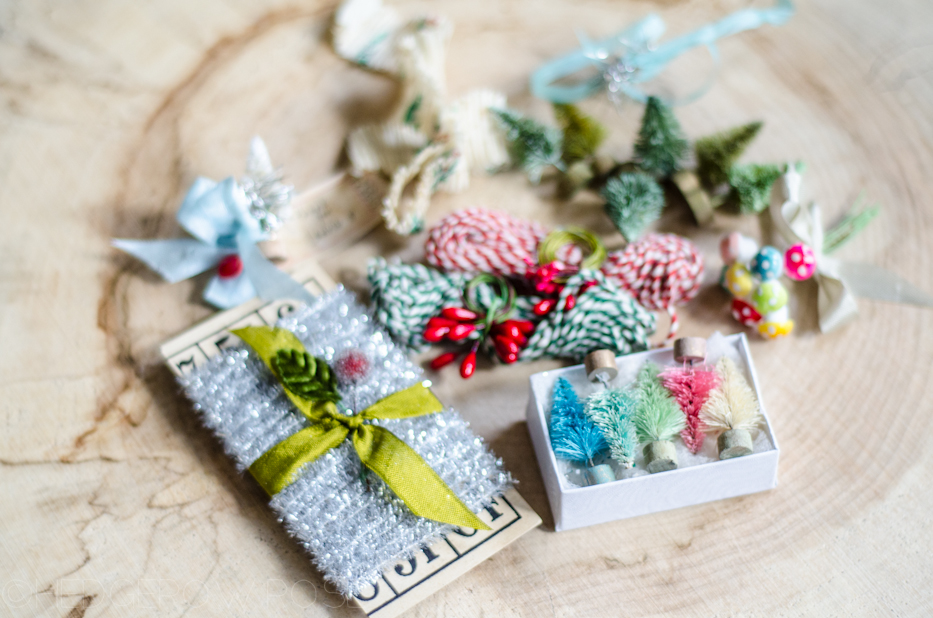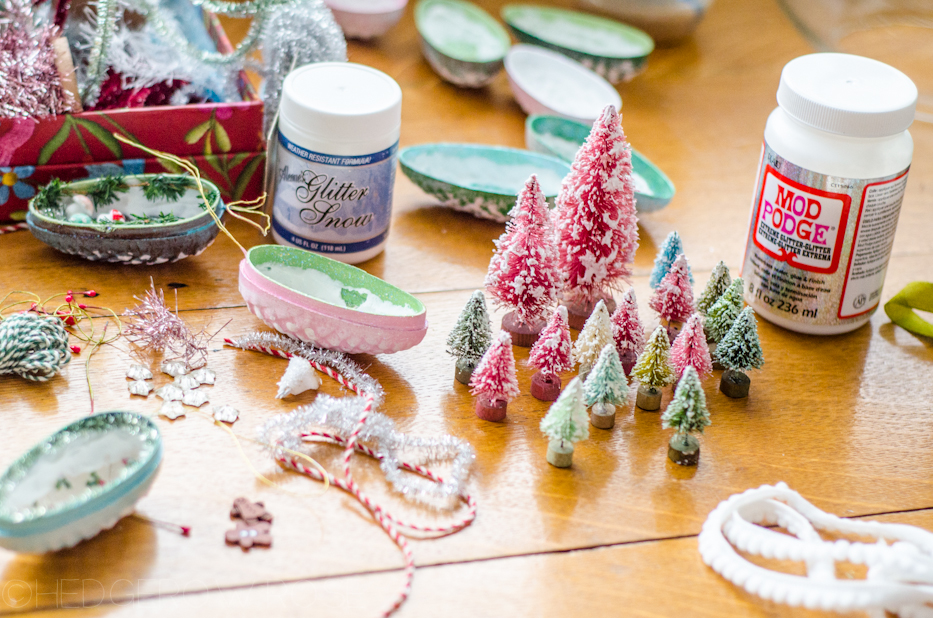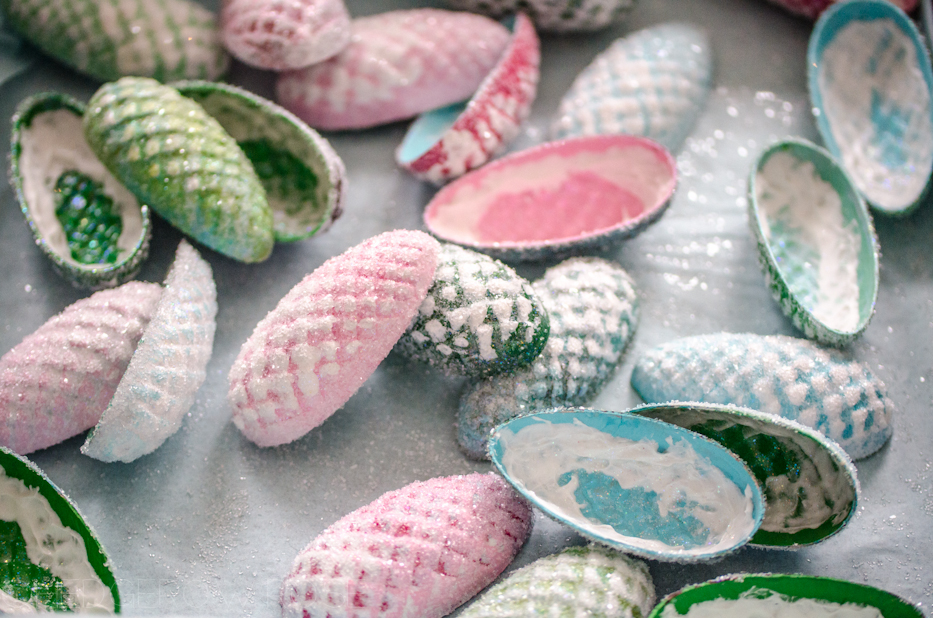 Some of my favorite bits were discovering artists like Lauren Delaney George who made tiny versions of real Christmas things that I love: like a Shiny Brite ornaments box  and a tiny A Christmas Carol book. My package of Christmas doodads from Julie Collings was wrapped with such care it looked like it was shipped direct from the North Pole and those teeny-tiny vintage reindeer from Debbi Does Vintage–so darling–still in their packaging from Mangelson's of Omaha, NE. I treasure the vintage glass star buttons from The Gingham Girl for the bottlebrush trees.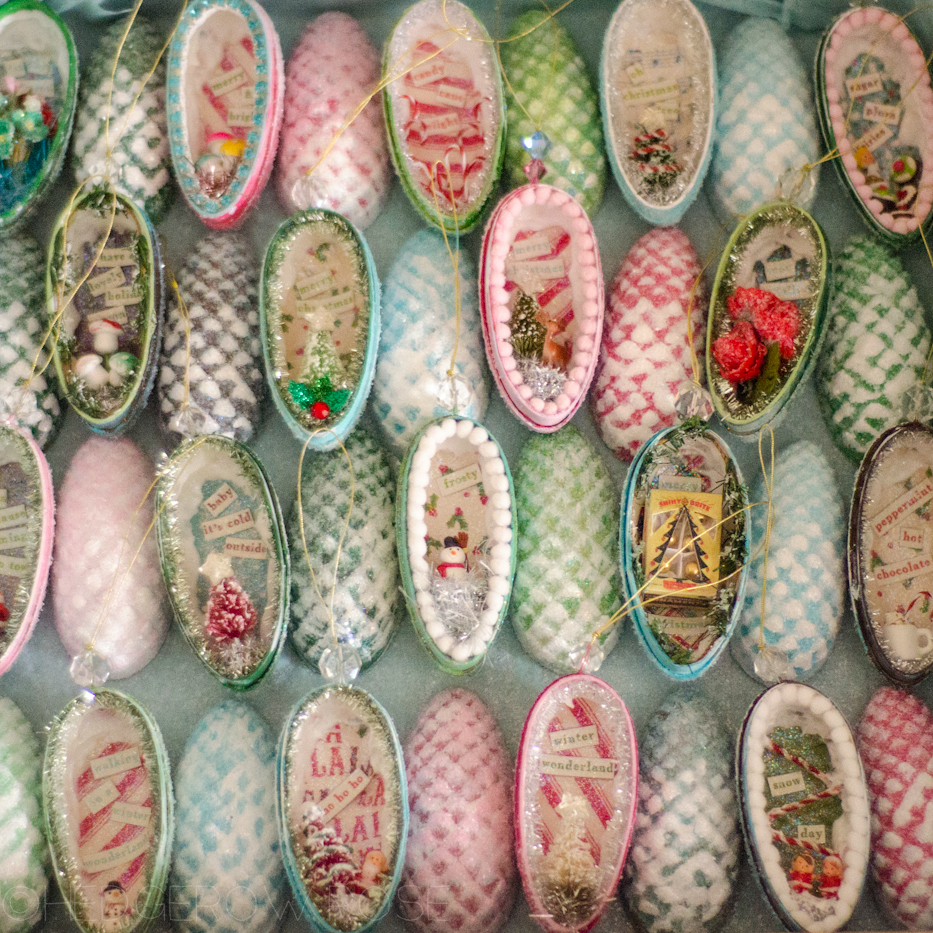 As for displaying, I found a pair of old shutters I've kept over the years, cleaned them up, and hooked each pine cone to the slats. (Initially I had planned on hanging them on our feather tree but they were too heavy and it kept tipping over!) I wish this was a better photo but this room is very dark, especially this time of year, and trust me when I tell you it looks prettier in person. 😉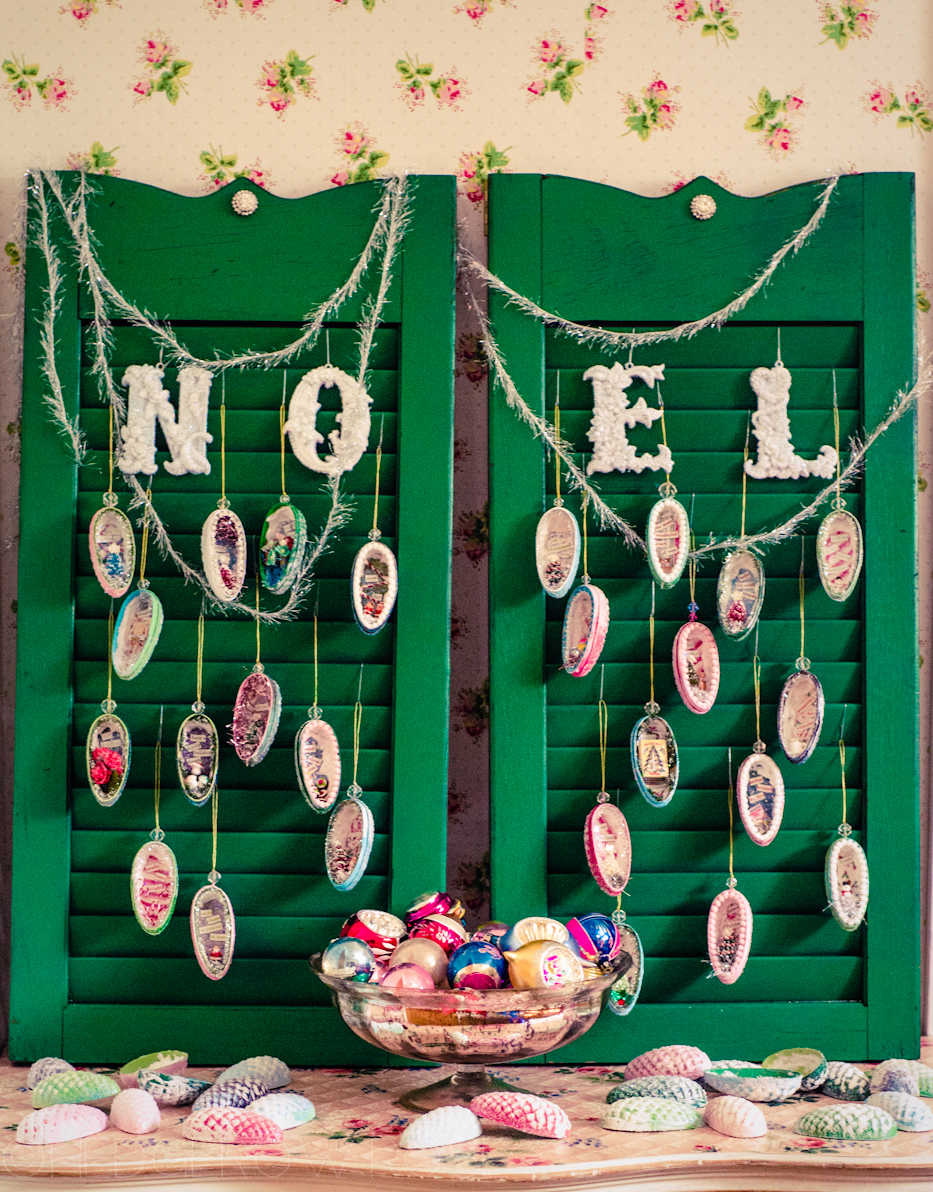 Now that's done I think I'm crafted out and ready to just sit back and enjoy the season. How about you? Are you making anything special this year?