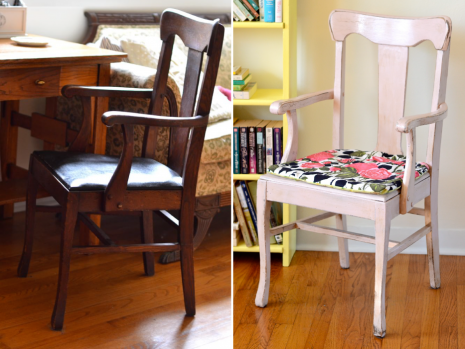 I recently tried Annie Sloan Chalk Paint after having heard over and over from bloggers and other creative types how great this stuff is. My curiosity was piqued! I thought I'd share my first experience with it in case you've been wondering, too, if it's the right paint for your project(s). First of all, if you're in the states, you might be having a dickens of a time finding Annie Sloan paints, because in the U.S. they are only supplied by specialty stores. But! I located a supplier who shipped it to me lickety-split and if you click HERE, it will take you to their website. For my first project, I decided on painting this old chair in "Antoinette" (a pale rose-pink with a dusty brown undertone which dials back the girlieness.) The chair was a freebie so I figured I couldn't lose. If you're a purist who doesn't believe in painting wood furniture, avert your eyes and pretend this never happened.
Oh PS: Please ignore the shoddy seat cover–I still need to replace it. Add it to my list of a billion projects!
My Notes:
◆ The paint glides on very smoothly and has excellent coverage
◆ Practically no scent at all
◆ Water clean-up
◆ As can be expected, it is a chalk paint after all, the paint dries quickly to a matte (chalky) finish
◆ Paint can be diluted to more of a wash or thickened like an impasto (I used mine straight out of the container)
◆ The burning question: can it really be used right over a surface that has not been sanded and primed? I tried that, which totally went against my very beliefs, and found that yes it did cover, but then the paint started to crack when it dried. I'm thinking that is because this chair is an antique and had many layers of old varnish which didn't react well to the chalk paint? My husband thought I crackled on purpose, and with the sanding and aging that I gave the chair it does look that way, but it was not intended. Interestingly, Annie Sloan's website describes a technique you can use to get that effect.
◆ Don't try sealing this paint with a poly because it will yellow. Use the recommended Soft Wax to finish
◆ One 4 oz. sample size jar of paint was just enough to cover this chair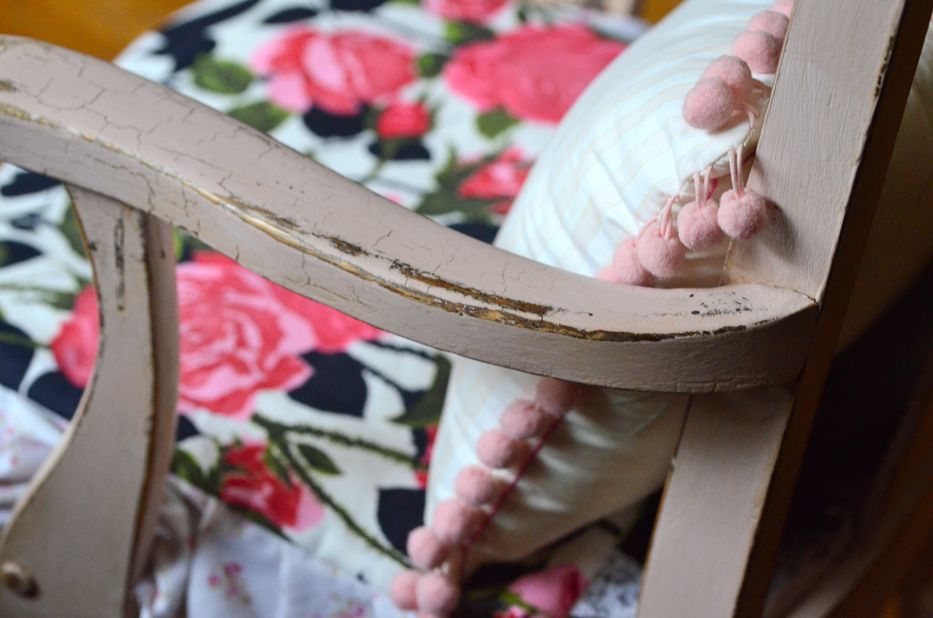 I have a few more sample colors I am looking forward to trying on some more of these random bits of furniture we have laying about but I'm not in love with this paint yet, although I do like it. I think if you're looking for a muted, antique-looking selection of paint colors then you would really like these because they all have that look and apparently mix well with one another to create really interesting effects. A great tutorial can be found HERE. Have you tried Annie Sloan paints? What did you think?