Every January I get seed mania but I blame Erin of Floret Flower Farm for raising this year's seed lust to fever pitch with her wonderfully informative series on growing sweet peas. Have you seen it? Stop what you're doing and go check it out, I promise you won't be disappointed.
Welcome back. Now you understand why I am going to start taking my yearly sweet pea cultivation more seriously! (I've already placed orders for 11 new-to-me varieties and asked the mister to help me set up the greenhouses several weeks earlier than usual.) One sweet pea which is sure to make a return appearance is this species type–Lathyrus sativus azureus–from Renee's Garden. What a beauty!! Tiny, bright blue blossoms nestled among grass-like foliage on a mounding or low-growing vining plant flowering profusely for weeks. You might be surprised to learn that these sweet peas were unscented–or at least a scent I couldn't detect–their charm lies in their vivid coloring and easy grace. They looked so beautiful paired with the champagne and apricot hues of 'Ghislaine de Féligonde', didn't they?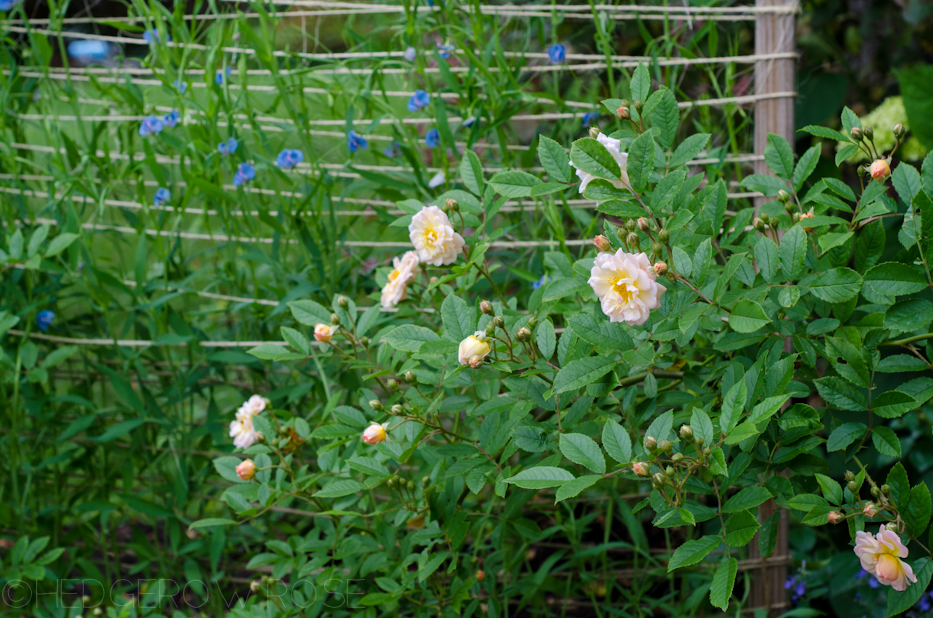 These sweet peas were a piece of cake to grow. I soaked them in water first as I usually do (some people nick the outer seed coat of sweet peas first but I just give them a good soak) and sowed in early spring in a container which is around 12 inches deep and filled with really good potting mix. (Click here for growing instructions.) They also got a dousing of compost tea just as the roses did since they all share growing space. "A little for you, and a little for you, and some for you, and here's a bit for you…." They seemed to like it.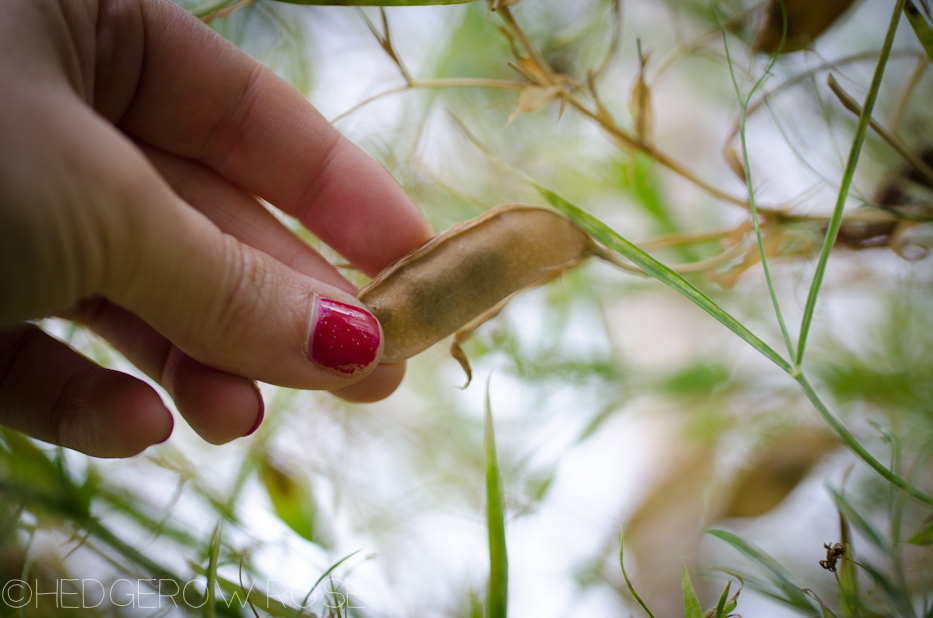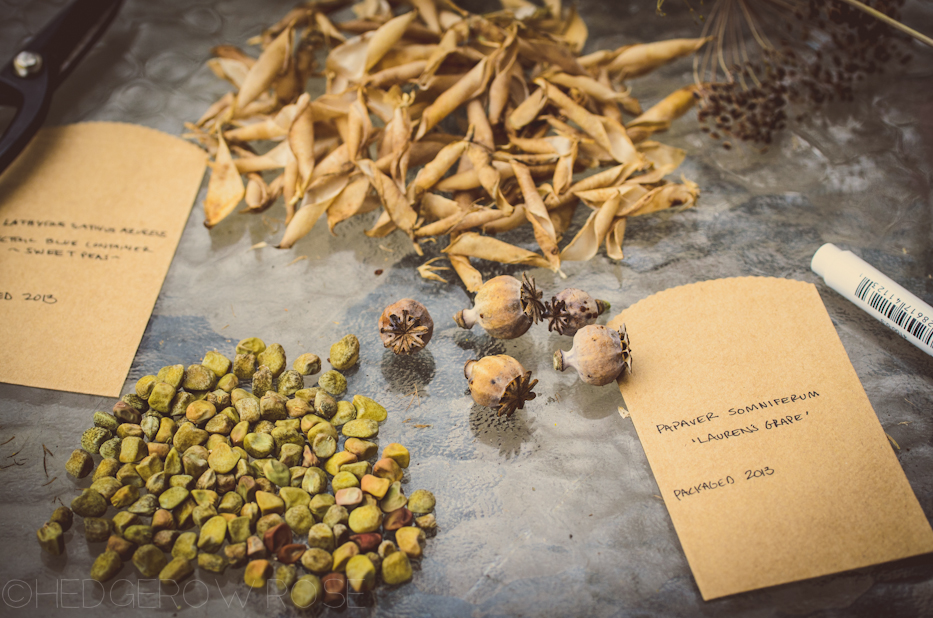 And now, a quick giveaway: In autumn, I collected as many of the mature seeds as I could and I have 3 little packets here to send to anyone who wants one. Just let me know if you'd like a packet in the comments section and I'll get in touch with you for your address. (So sorry–but this has to be for U.S. residents only.) EDIT: The extra seeds have all been claimed! Thank you everyone! 🙂
Although these photos show these sweet peas growing up a simple twine trellis, I think they would also be lovely cascading from a hanging basket. If you grow them in spring, let me know how you like them!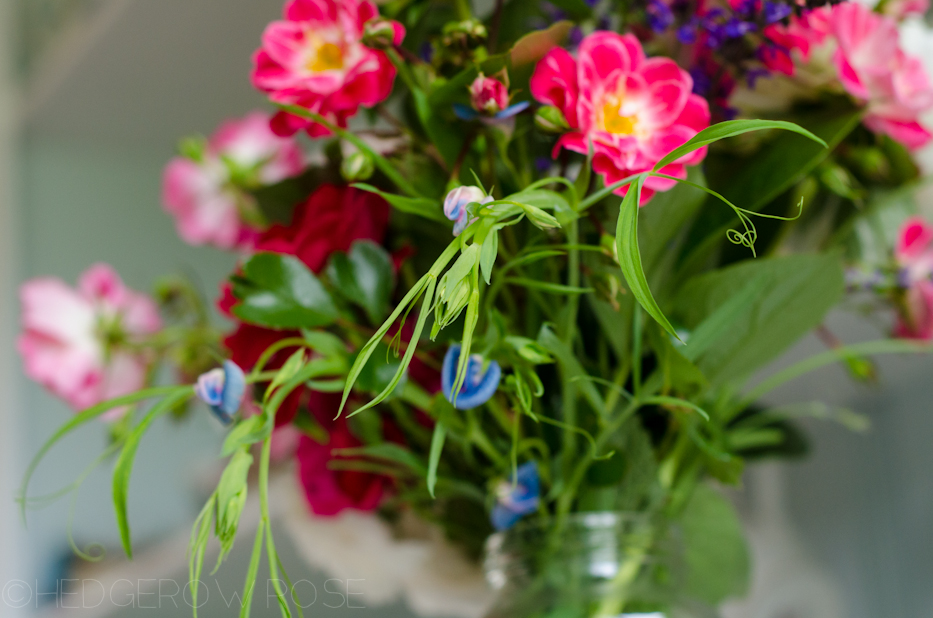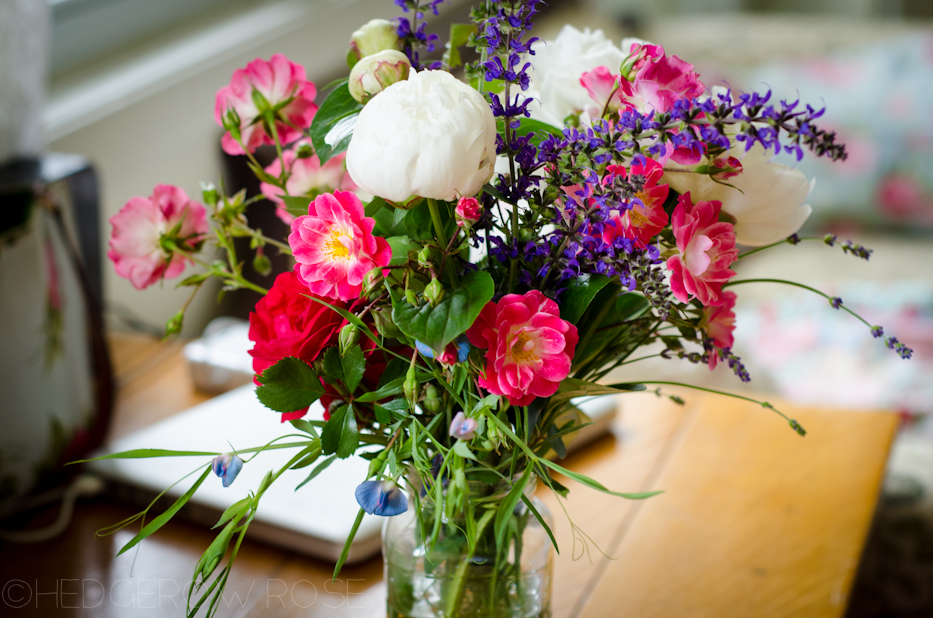 PS: I forgot to mention how nice these sweet peas look in arrangements. 🙂