With a long spring bloom, the flowers of Brunnera macrophylla 'Jack Frost' are reminiscent of forget-me-nots.
I was not at all surprised to learn that Brunnera macrophylla 'Jack Frost' was selected as Perennial of the Year for 2012 as ours are only in their 2nd season in our garden and are already some of our favorite plants; I couldn't imagine my shade garden without them. Introduced in 2000 by Walters Gardens in Zeeland, Michigan, Brunnera is also commonly known as Siberian bugloss. It is an herbaceous perennial (meaning foliage dies back in winter and plant returns in spring) with flowers like forget-me-nots that float on slender stems above silvery, variegated foliage.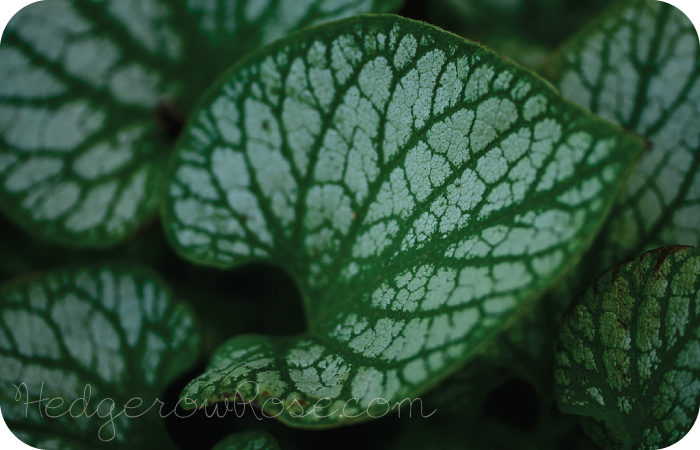 Heart-shapes leaves with silvery variegation make this perennial a standout in the garden even when it is not in bloom.
Brunnera macrophylla 'Jack Frost' grows in well-rounded clumps of about 1-1/12 feet and prefers well-drained, rich soil with consistent moisture and shade. In my garden, I've noticed that any direct sunlight at all will cause the leaves to burn and coloring to fade so I've planted them in the shade along with hostas, ferns, bleeding heart, lungwort, and coral bells. 'Jack Frost' is listed as being deer-resistant, (but anyone with a deer concern will tell you that no plant is fool proof against hungry deer.) Placed in the correct location and growing medium, these tough perennials require little to no care whatsoever. Isn't that nice?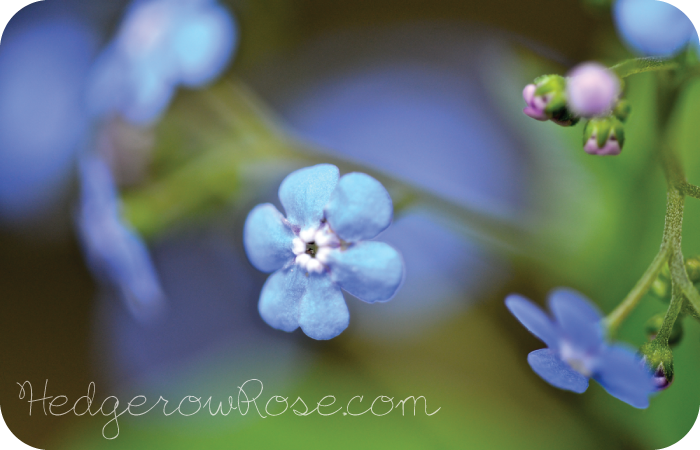 Brunnera macrophylla 'Jack Frost' Perennial of the Year for 2012
In spring, Brunnera macrophylla 'Jack Frost' bears beautiful clusters of bright blue flowers that seem to float above the foliage on slender stems. They look very much like forget-me-nots, but unlike true forget-me-nots, the foliage stays gorgeous the rest of the season, and the plants "stay put" returning year after year exactly where you left them. As 'Jack Frost' is now Perennial of the Year, chances are good they will be readily available (ours was purchased at a local grower), but you can also reserve your spring plants HERE.