It's time for our final year in review! This time, I'm focusing on the side yard and our front entryway which needed sooo much work. Have you ever watched the show Rehab Addict? Jesse and I were binge watching for a while there but finally had to call it quits when it started to mimic our lives too closely and was adding to our general anxiety. I've hinted pretty strongly that this house (built in the 1930's) has been a bit tricksy with us and one of the "fun" surprises was the side of the house, where it abuts the neighbor's property via a pretty steep slope.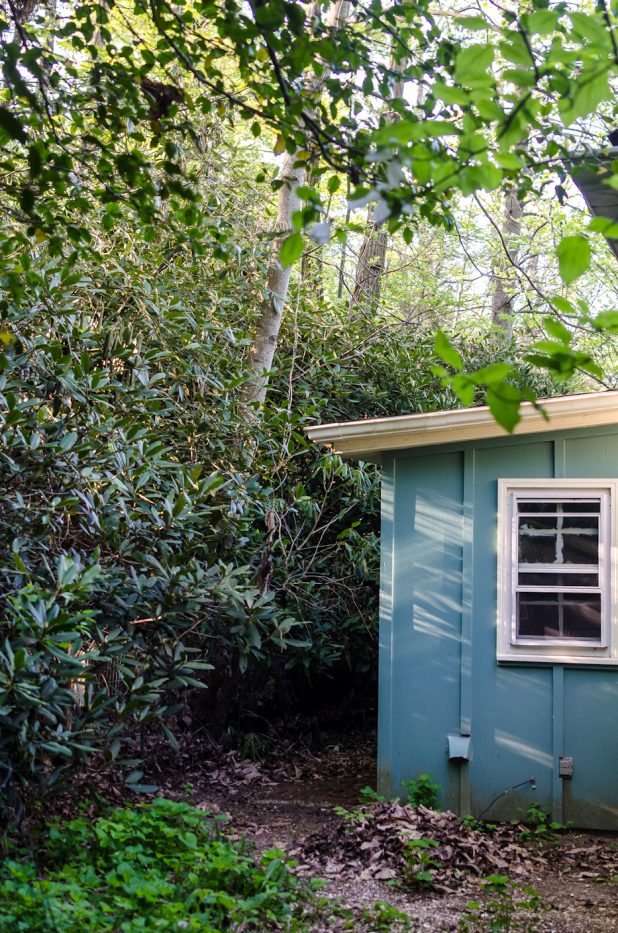 The inspection noted that the retaining wall, and I use that term loosely for what can only be described as a tumble of rotten logs and beams holding back the earth on a wish and a prayer, was in disrepair. We should have used that as a bargaining chip and/or demanded it get repaired but hindsight is 20:20. In addition to the rotten wall, the native rhododendrons and scrub trees had completely engulfed this side of the house causing mold and rot to the wood exterior, not to mention it was just gross and you could barely walk back there. To add insult to injury, the tenant who was living here had a (very cute) dog who used this area as her bathroom and her mess, along with years worth of leaves, was left for us to cleanup. There were also piles of concrete–assuming that someone had left bags out there to harden–which we had to break up and discard. So much fun!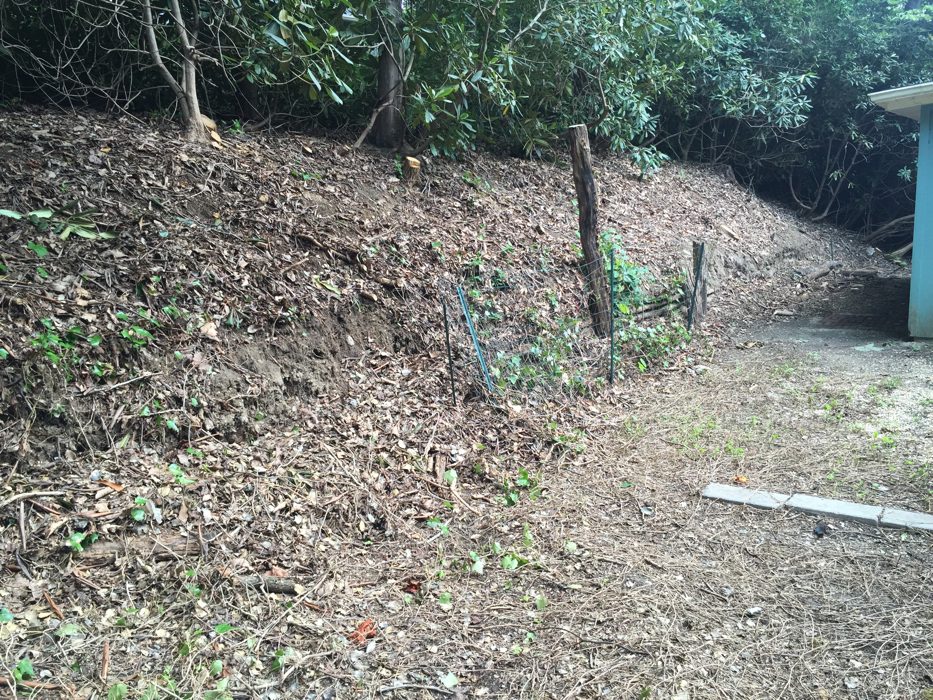 The first order of business was to cleanup up the leaves and dog poop as much as possible so the tree guys could get in here and cut back the trees and rhodies. As we went, we also found garbage and the remains of the old invisible fence which we pulled up. Once the tree guys came through, it made it a lot easier to begin work on the wall. We got several quotes from contractors and they were in the range of $7,000-$10,000! I about fell over when the bids started coming in (and this was for various materials we could use from railroad ties, to concrete blocks, to stone.) As much as we both hated the idea, we decided to construct something ourselves.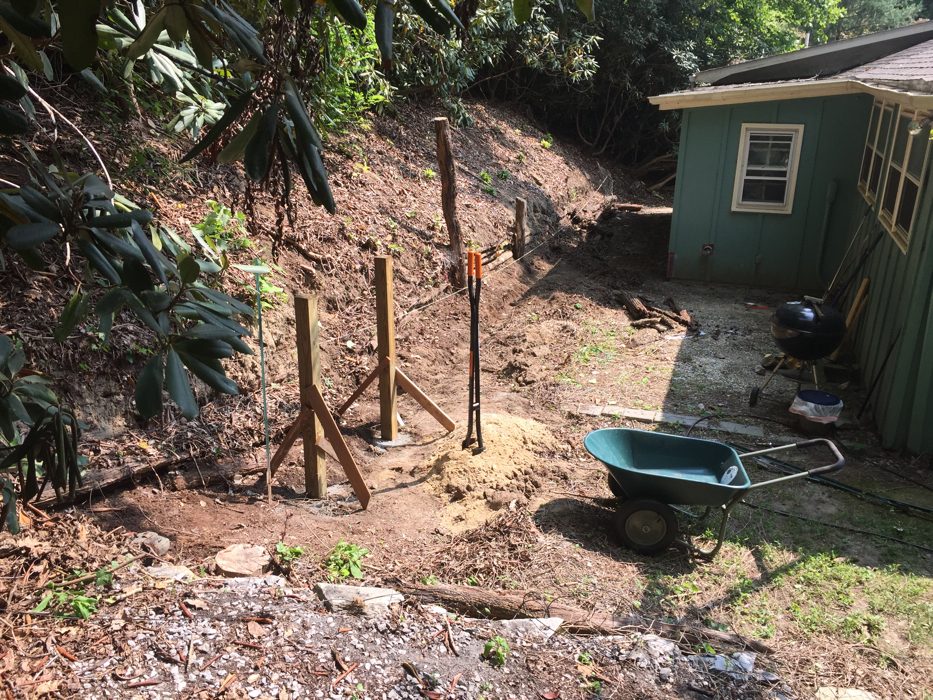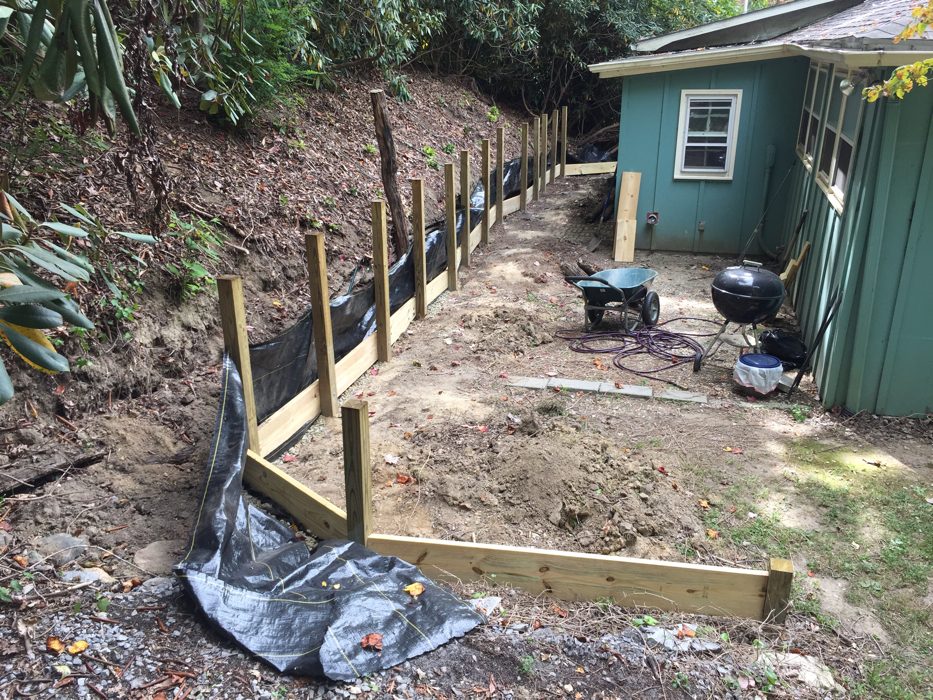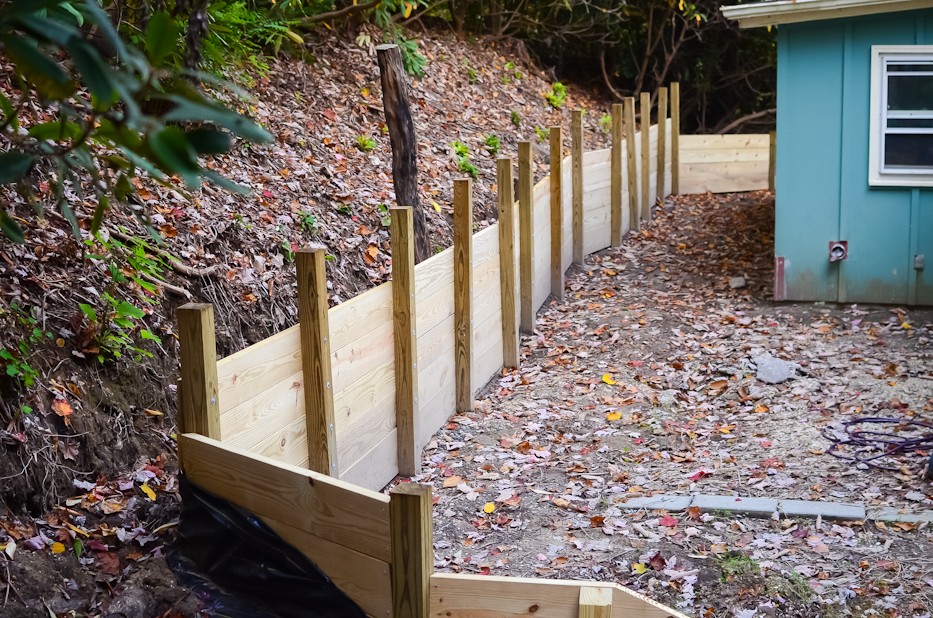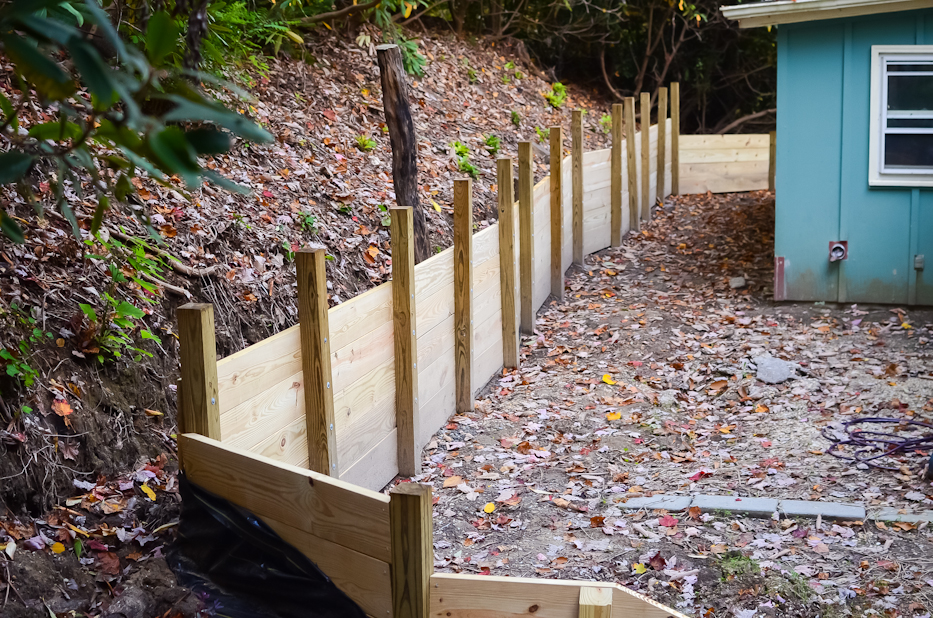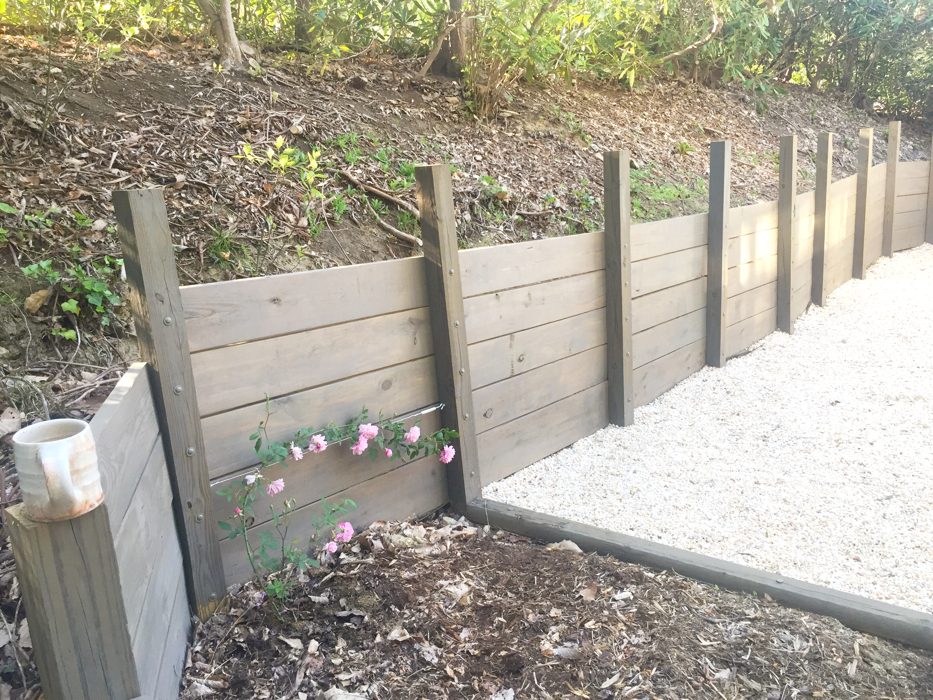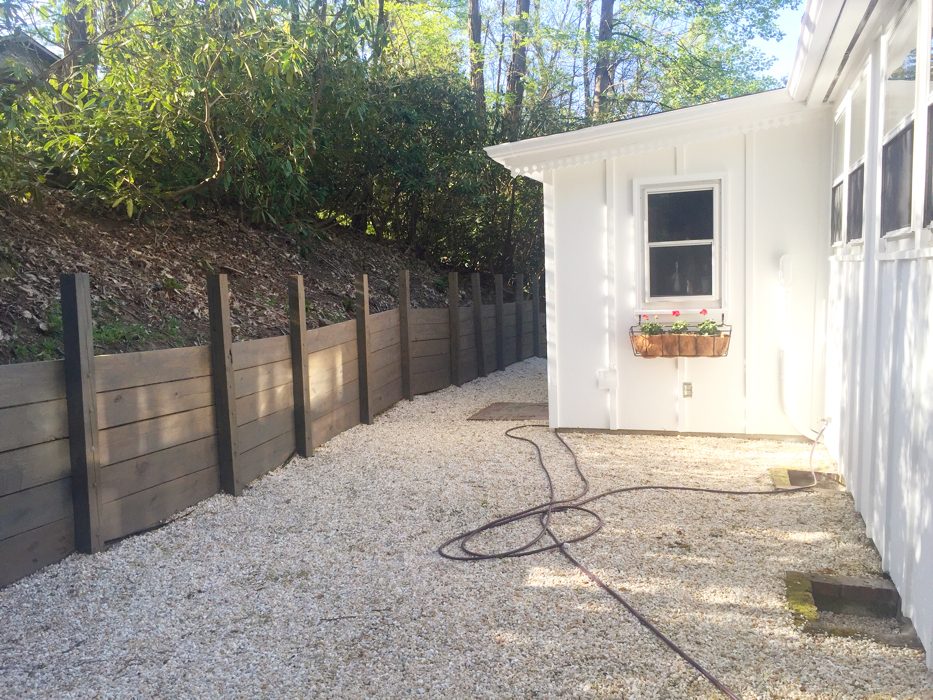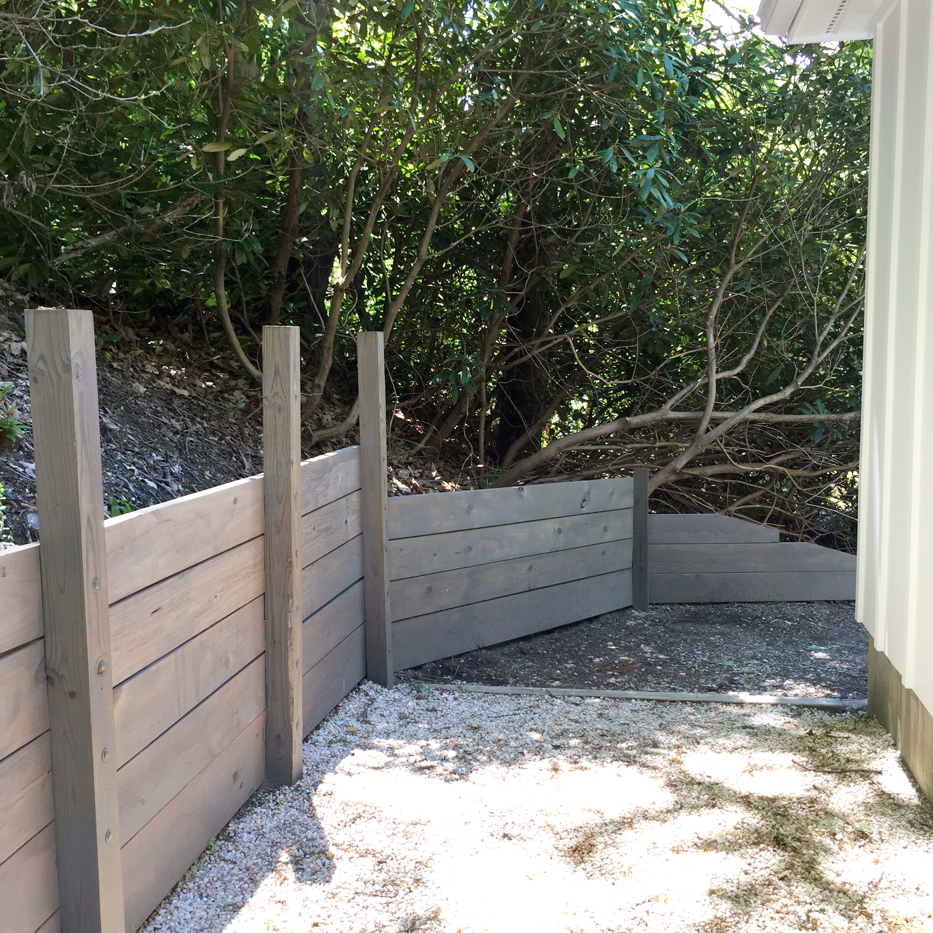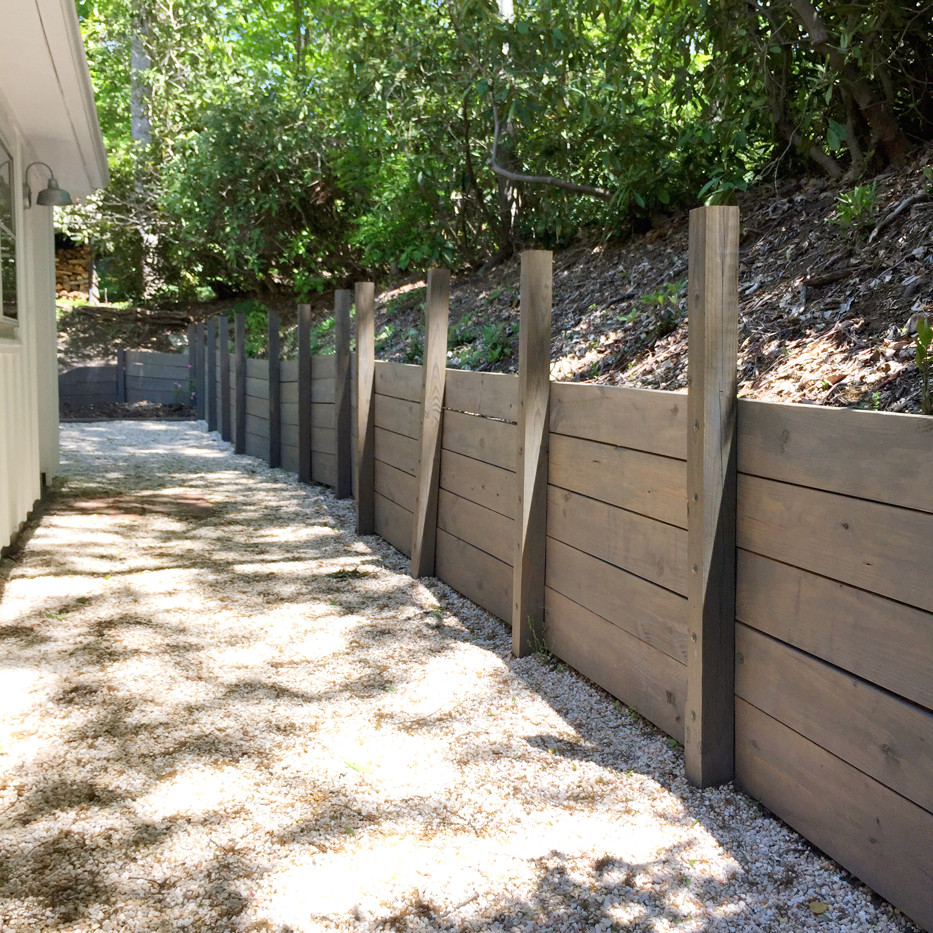 It was a challenge, to say the least, to get the posts in whilst zig-zagging around all the tree roots and some posts got a bit wonky; our version of the retaining wall may not be perfect but it cost a lot less than 10k and it's doing the trick! We still need to construct some sort of trellis to top it off but that has been moved down the priority list.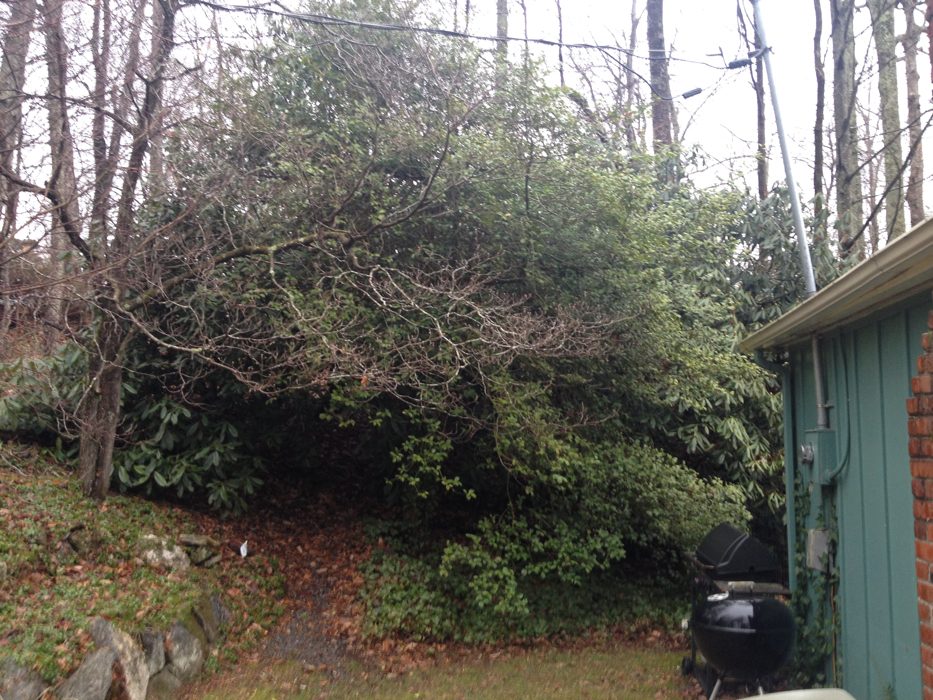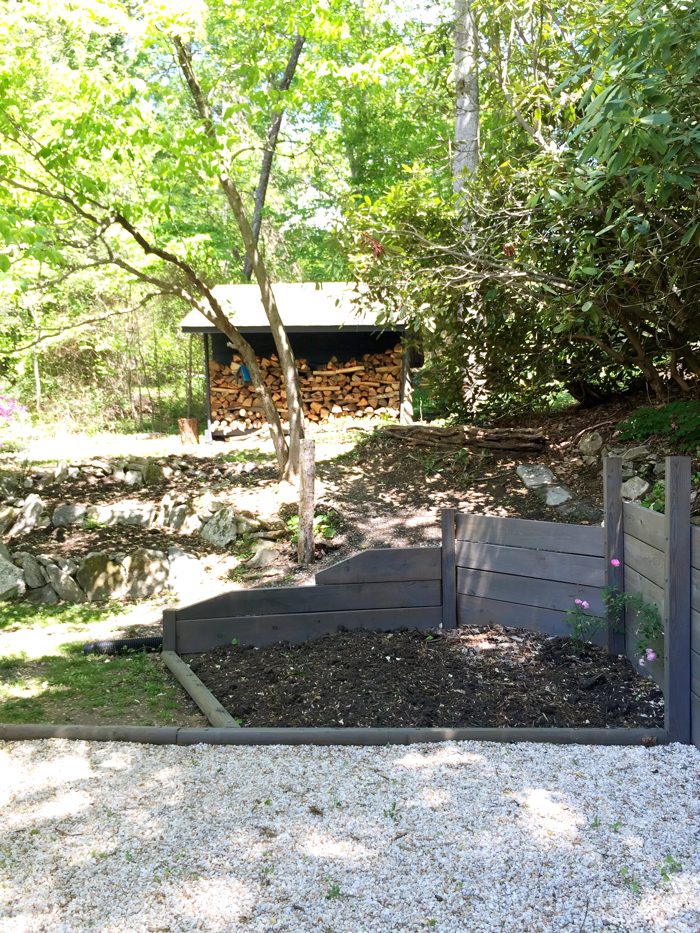 This area leading up to the shed was also completely overgrown. Although it is not yet completed, we cut back the vegetation and widened the path, at least, so we could actually walk up and down the steep, gravely slope without tumbling to our doom.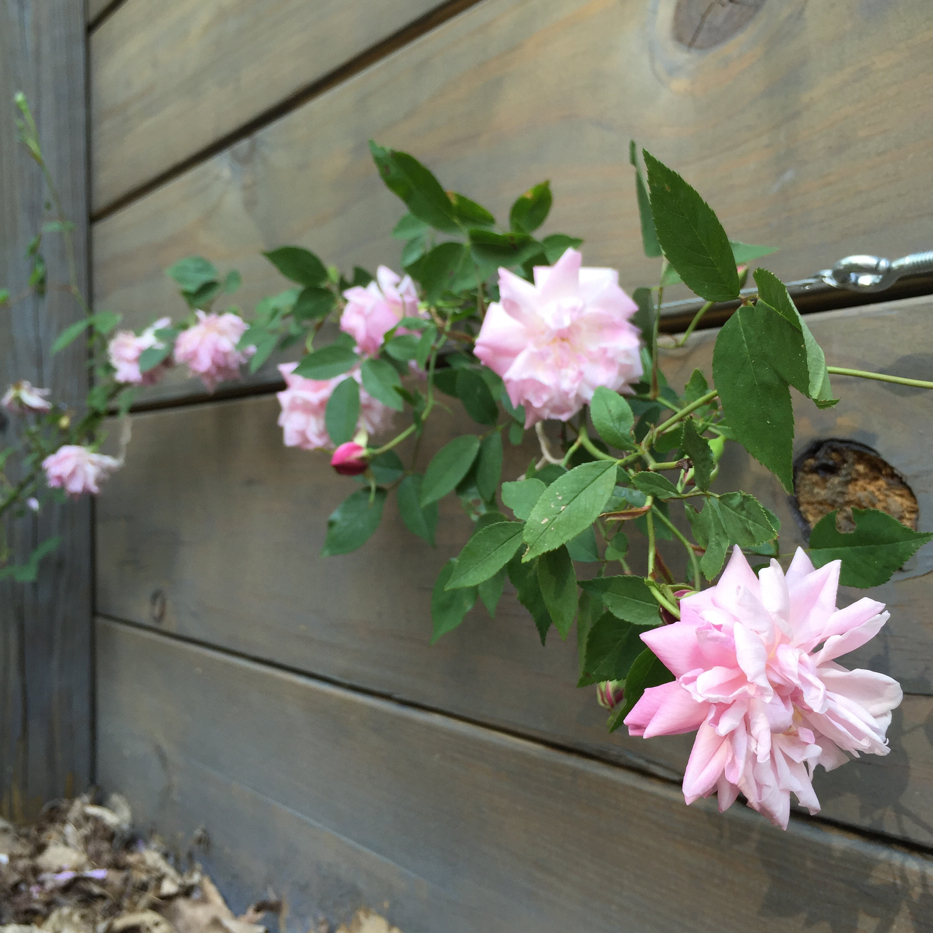 The exterior of the house had areas that had rotted, which is no surprise given how much moisture was hanging out here from all the plants. We had those areas to patch and repair, including a dog door which we wouldn't be using. The last order of business to this side area, besides the house paint, was to bring some more gravel in and while we were at it, we tucked in a small bed where we are training an cl. 'Old Blush' and I'll probably plant out some box to line the edge. Jesse also wants to someday build an enclosure for the garbage and recycling. This is the "business end" of the house but that doesn't mean it has to look terrible!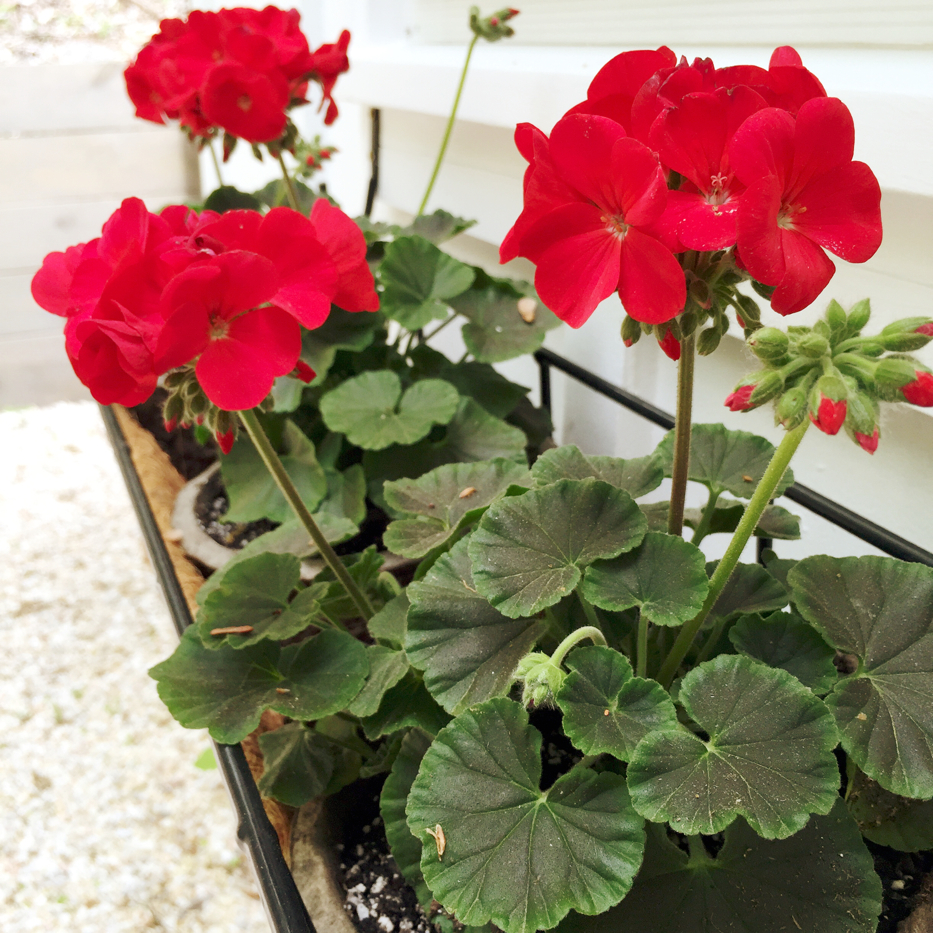 A window box with cheerful Pelargoniums and it looks much better back here, don't you think?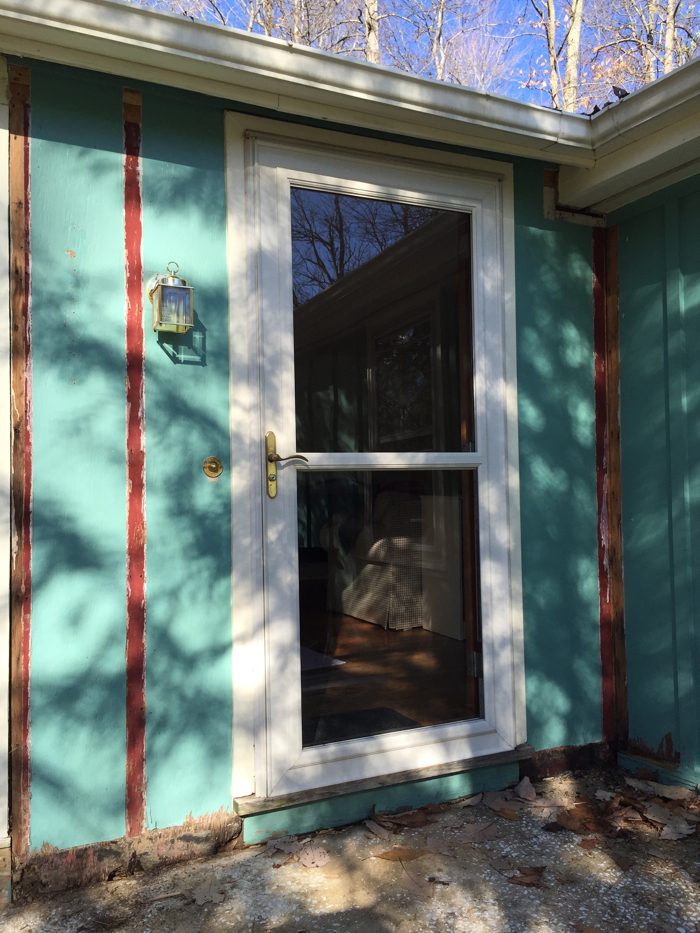 Next up, I thought I'd spend a little time talking about how we fixed up the entryway. Remember I talked about wood rot on the side of the house? Well, we had a lot of that going on here, too. We also had a termite explosion come out of this one area the first week we moved in. If I can impress one thing on all of you, it's get a termite inspection when you go to buy a home. Geez, you guys probably all know that already and are wondering why we were such dumb-dumb heads. I'm wondering that, too. I'll spare you a close-up of that rotting wood that Jesse removed where the wood exterior met the porch. He replaced it with PVC trim, backed with flashing to prevent moisture from seeping in, all along the bottom edge and around the door. You can see that at one point this house was painted barn red.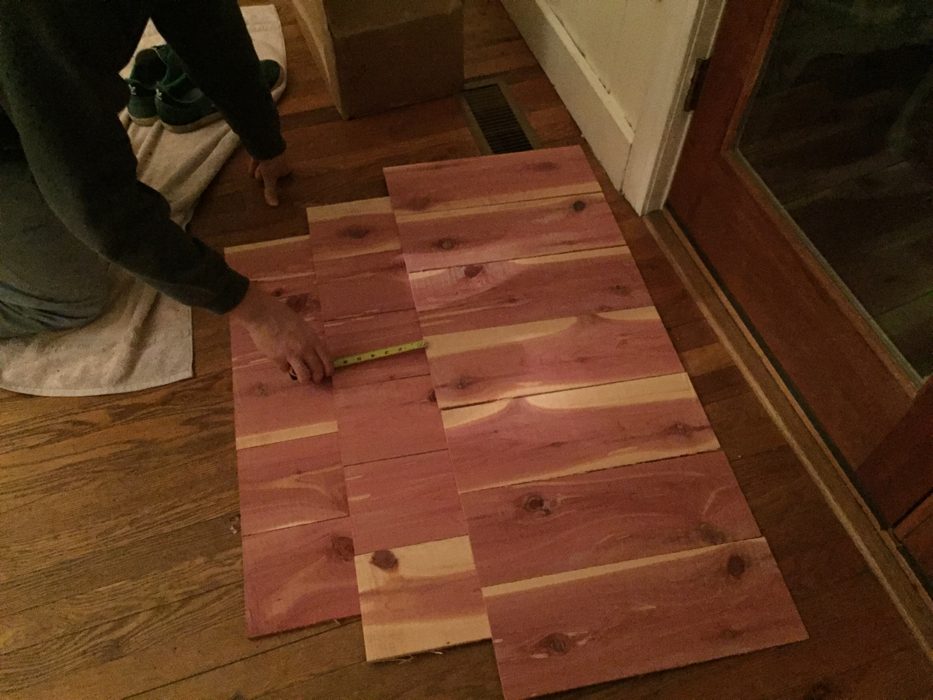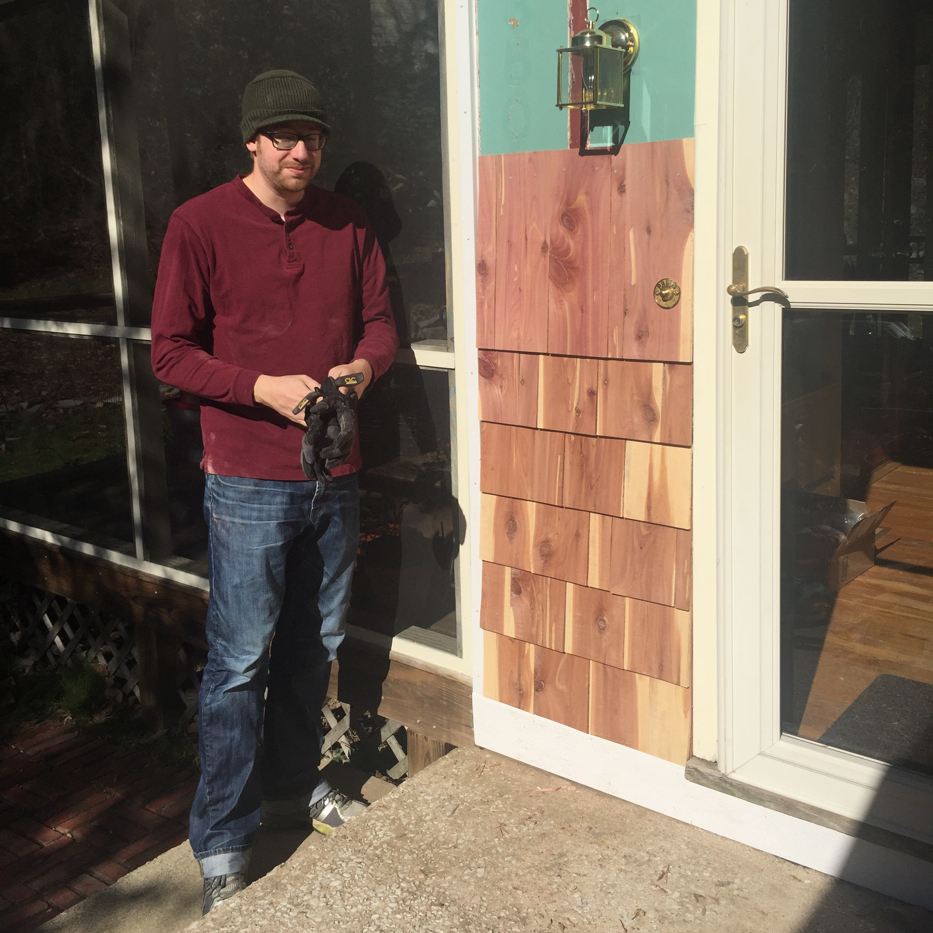 It was at this stage, around autumn of last year, that we talked about how we wanted to renovate our home's exterior and we seriously considered doing cedar shake for it's entirety. (When my daughter was just a baby, we took a trip to Nantucket & Martha's Vineyard and I fell in love with everything there, especially the rose-covered cedar shake saltbox cottages.) As we would be doing all the work ourselves, we thought the best way to try it out, so to speak, was by doing the small portion around the front door. Turns out, while the technique itself was not particularly difficult, it took 3x's as many shingles as we thought we would need and to do the whole house would be too expensive! (Jesse, if you're reading this, sorry I posted a picture of you with your eyes closed.)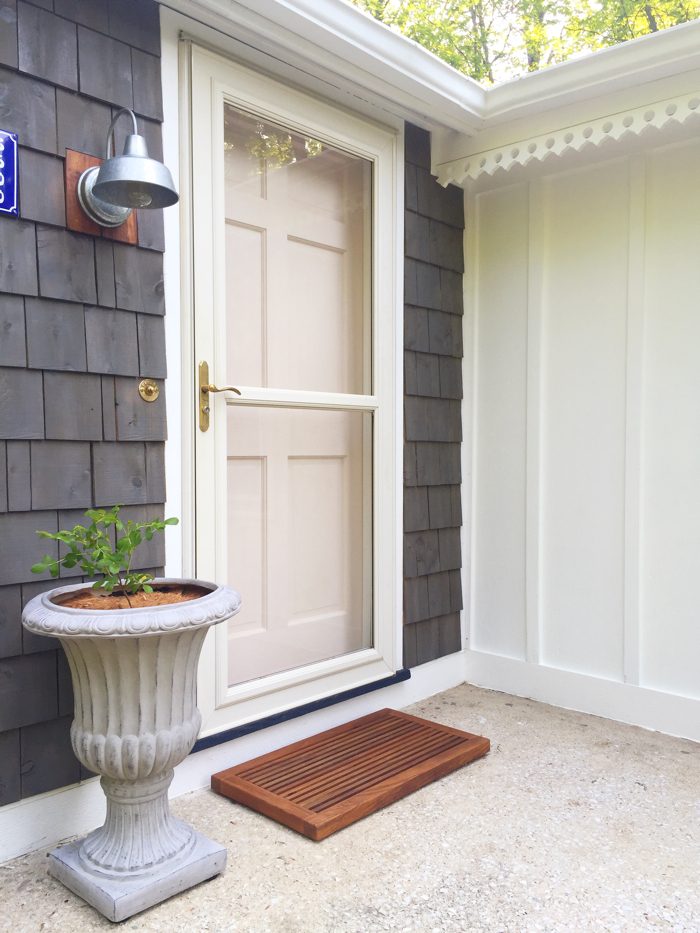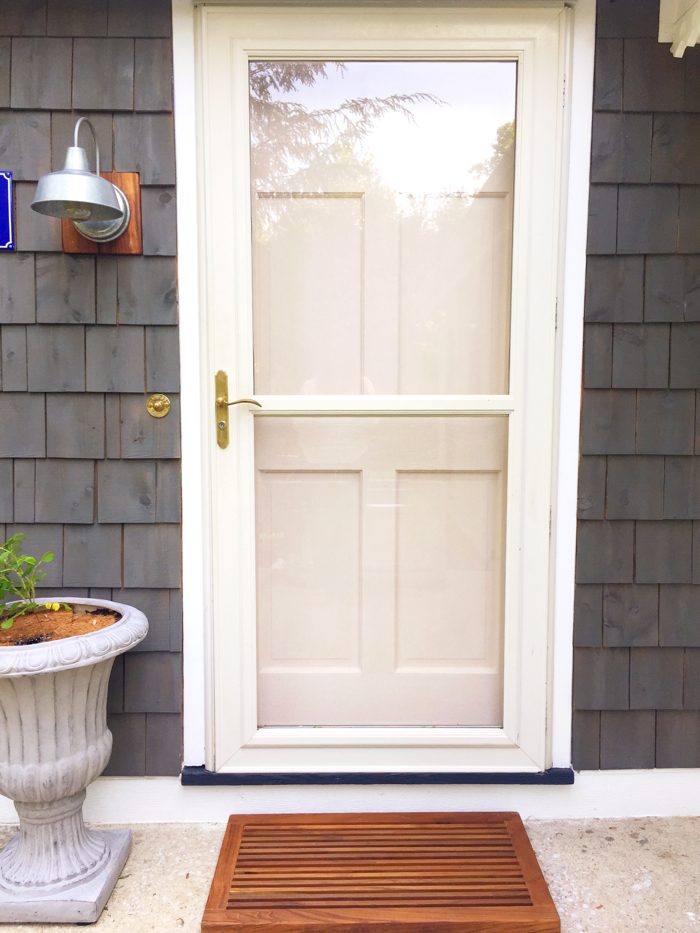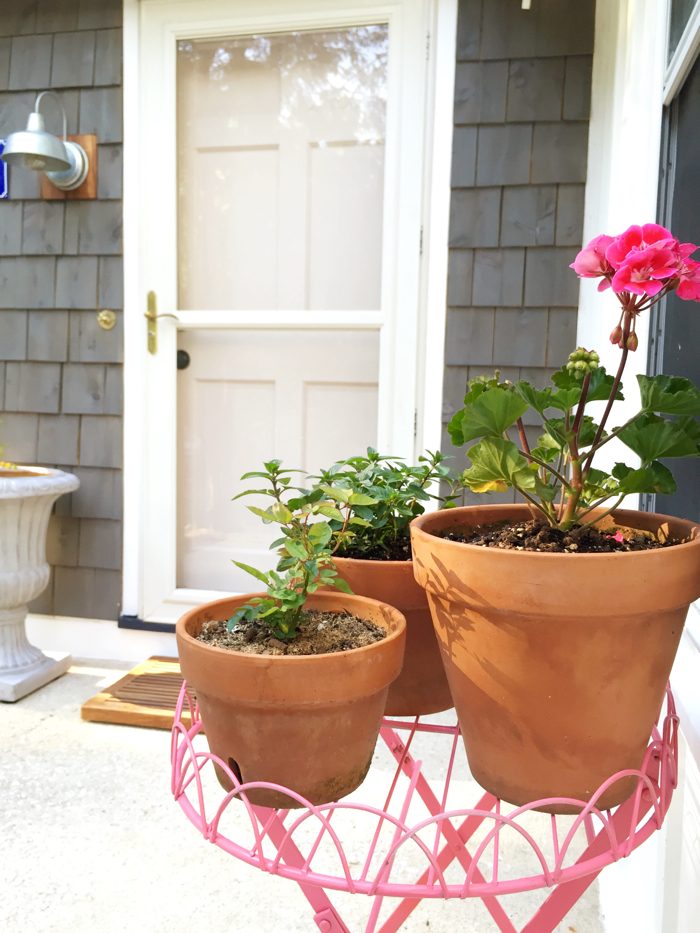 Like any new homeowner, Jesse and I are pretty much obsessed with reclaimed lumber. 😉 Admittedly, we got so weird about it, that my daughter took a candid snapchat of us each with our lumber in hand with the caption, "why do they love wood so much?" Haha! ANYWAYS. We were thrilled to find Asheville Hardware where, among other things, you can purchase small pieces of reclaimed lumber for a song, like this gorgeous walnut we cut and sanded and used as a back for the porch lamp from Lowes. The enameled number plate was made by a company in France and sent over, but I can't find their website anymore–sorry! The doorbell is from House of Antique Hardware. The urn is from Overstock and it's planted with a young 'Belle Poitevine' which we'll let bloom there for the summer and plant in the garden this fall. The teak mat is also from Overstock. The paint on the front door is Farrow & Ball 'Pink Ground' (this whole door and frame needs to be replaced which is how I got away with painting our door pink for the time being.)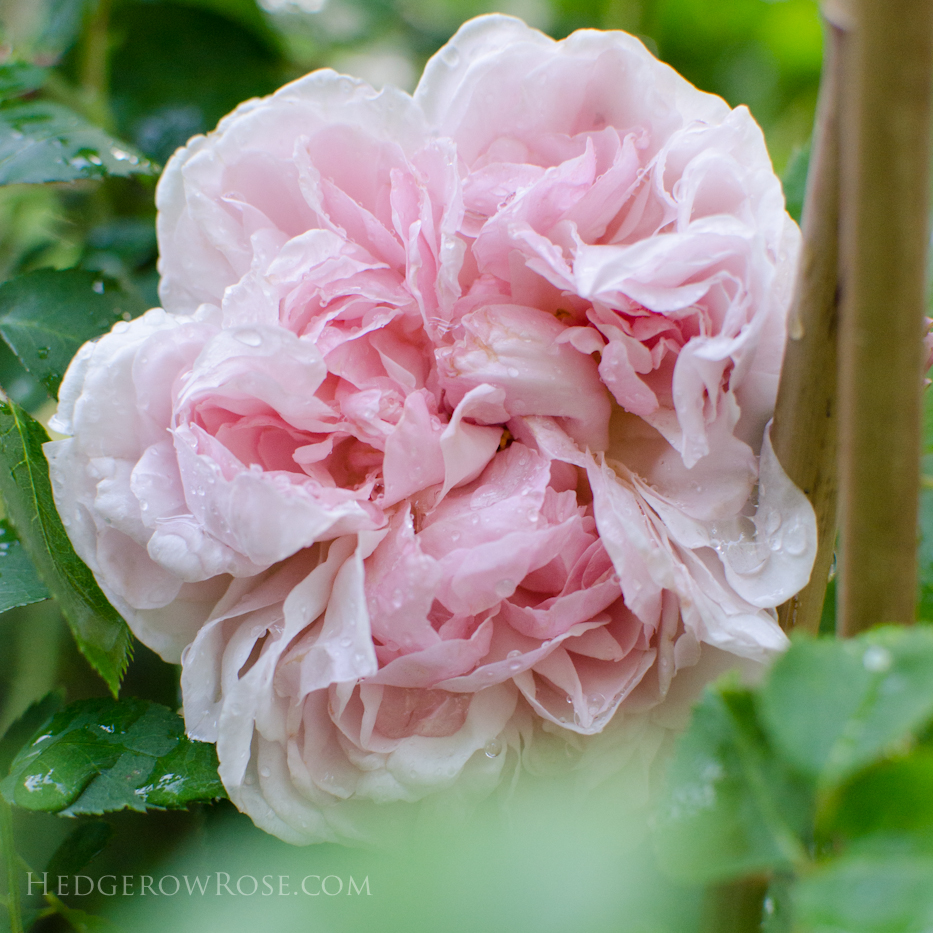 In other news, the roses are blooming and I'm putting together a post which will be up in just a day or so. I've had some time to think about the realities of creating a brand new garden–one that's also in a wooded area–and I'll be sharing my thoughts on that. Be back soon!