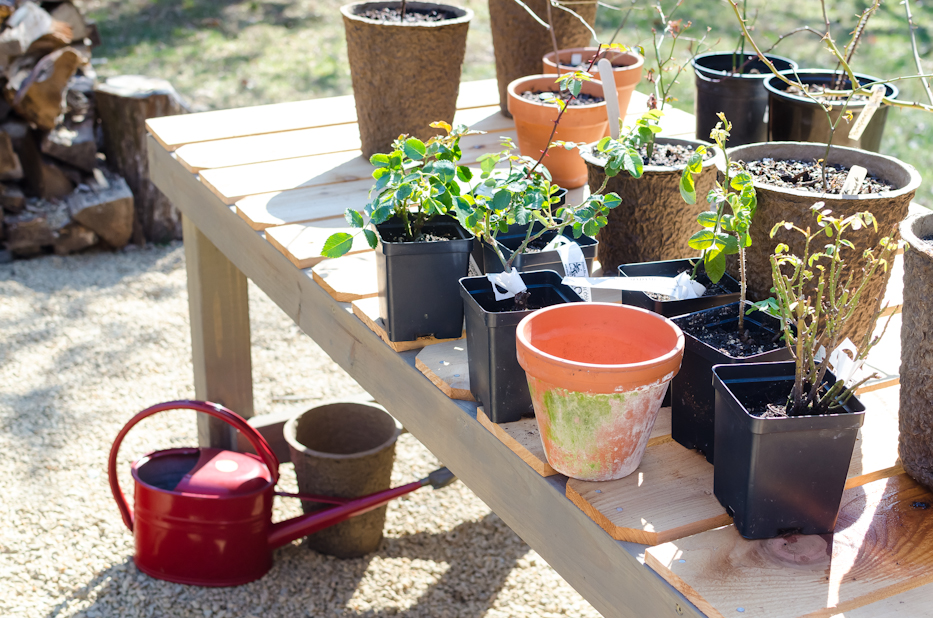 Goodness gracious, I think I'm overdue for a post! Sorry for the radio silence, everyone. It's not like we haven't been up to our eyeballs in projects, it's more that none have them, while necessary, have seemed that interesting to blog about! Here's an update on our front garden, though, as we recently expanded it even further and built an area for my rose nursery.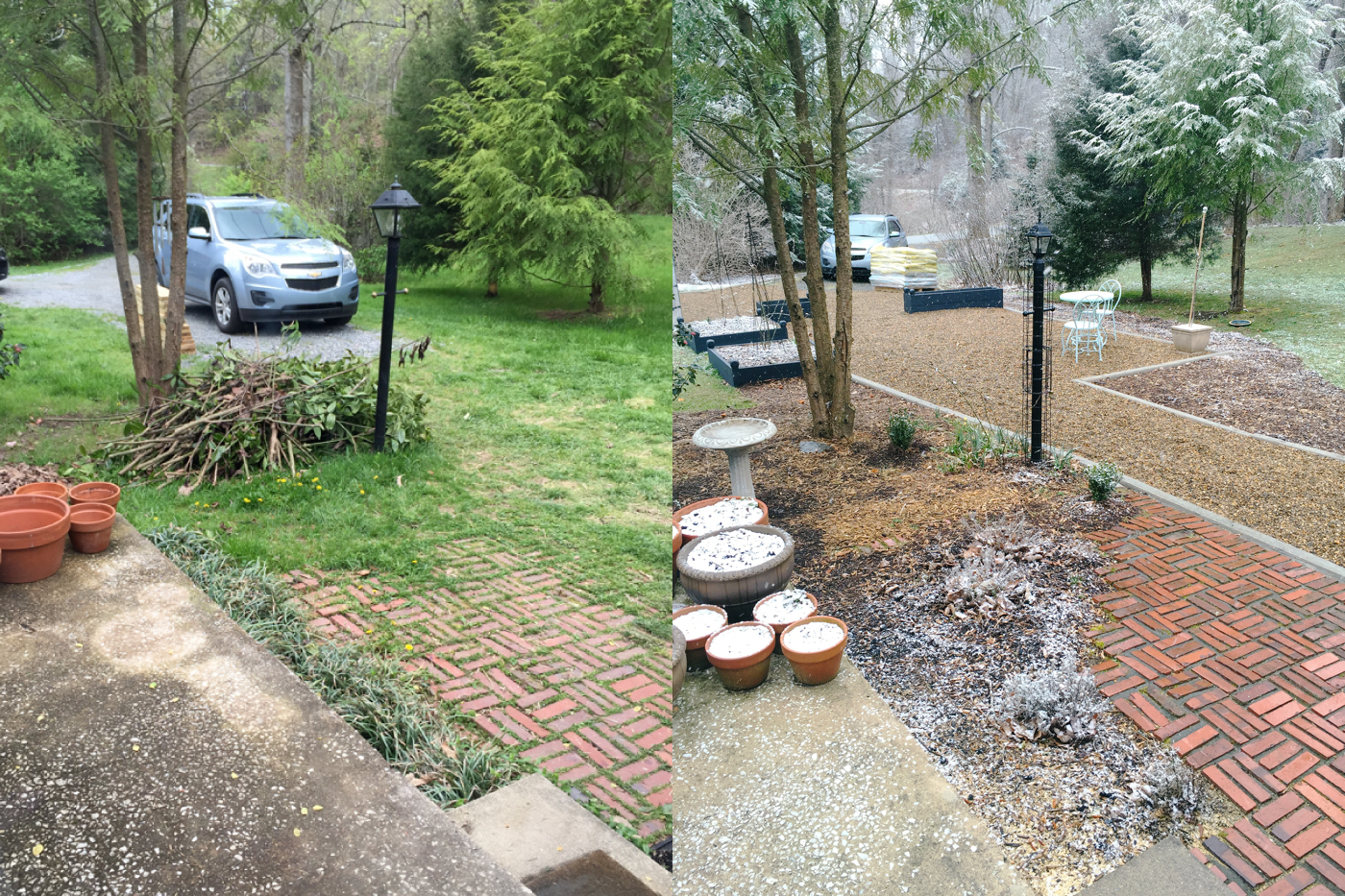 When we first saw what is now our new home, it never occurred to me then that the garden would primarily end up being in what is essentially the driveway, but after observing which areas get the most sun, that's just the way the cards landed and we are doing what we can to make the best of it.  I think I've shown you this photo above before? The one on the left was taken about a month after we moved in and the one on the right was taken just yesterday. But this illustrates my point about the driveway….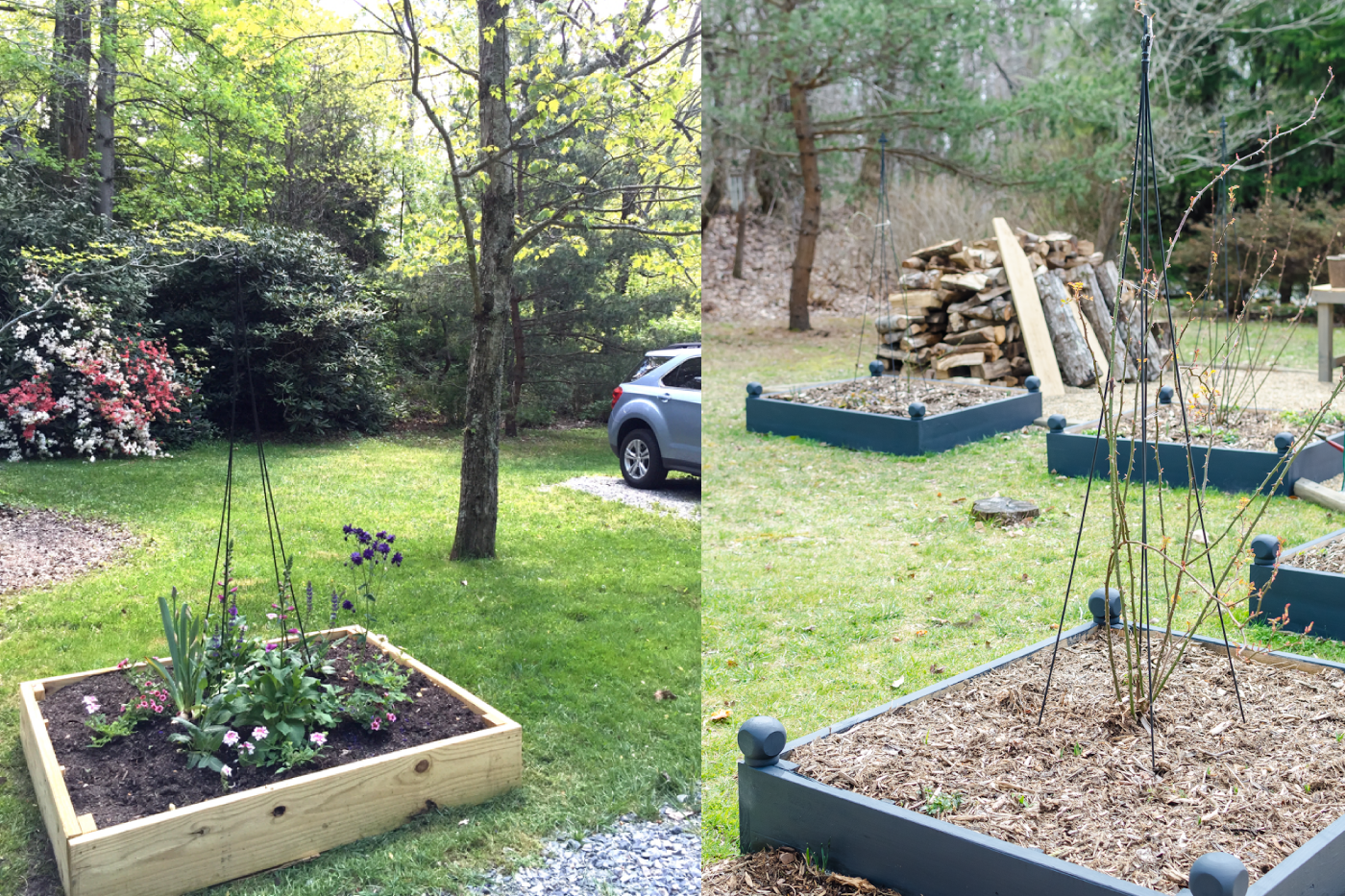 …as does this. What we've decided to do is use this L-shaped gravel drive as part of the garden, instead, as it has sun pretty much all day long whereas the rest of our yard is dappled. (And someday we're going to reposition the driveway altogether so you don't see cars from the garden area at all.) We went back and forth as to whether to add more raised beds to this part of the garden and decided against it. We'll be grinding the tree stump down and leaving this area around the beds as lawn. The woodpile will be relocated to the shed once it gets painted.

Our home is a humble one, a small mountain cottage originally built in the 1930's as a retreat and a teaching center (or so we were told.) With that in mind, we chose materials that were rustic, simple and budget friendly. It also gave me the excuse to incorporate a lot of pea gravel into the layout which made me happy. I'm pretty sure that no one here will think it too weird, since you're all gardeners, too, when I say I love gravel. It just makes everything look so tidy don't you think? Surrounding the raised beds, which solved our poor soil problems in a flash, are gravel paths and patio. The photo above shows the new planter boxes Jesse built the other day which flanks the entrance. The lady in the photo on the left is our realtor showing us the house for the first time…a year ago today! She was wonderful. You'll notice the front door now has cedar shake surrounding it. That was another one of our winter projects, and probably a separate post!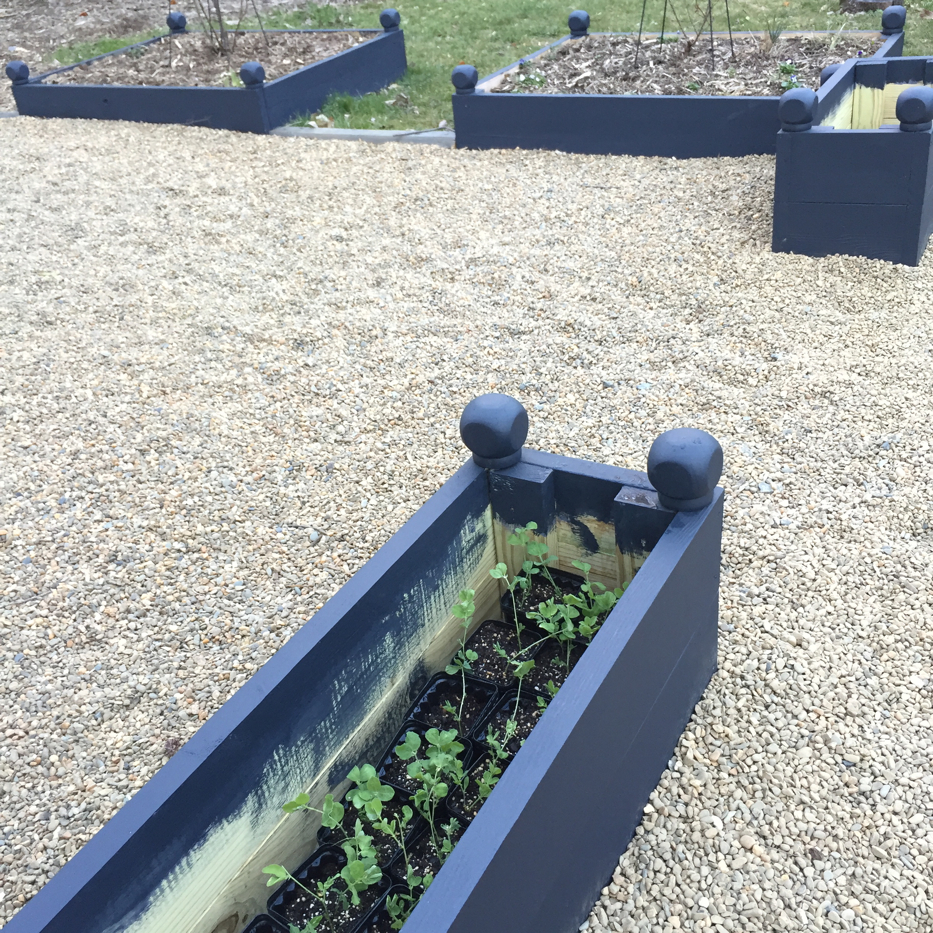 Here's a view of those planter boxes. Those are some of my sweet pea seedlings which will get planted out soon if the weather cooperates. All the beds recently got a coat of paint: Farrow & Ball "Railings" which in person is a deep graphite hue with just the teensiest hint of blue. In some of these photos, strangely, they're reading as more blue but they aren't like that in person.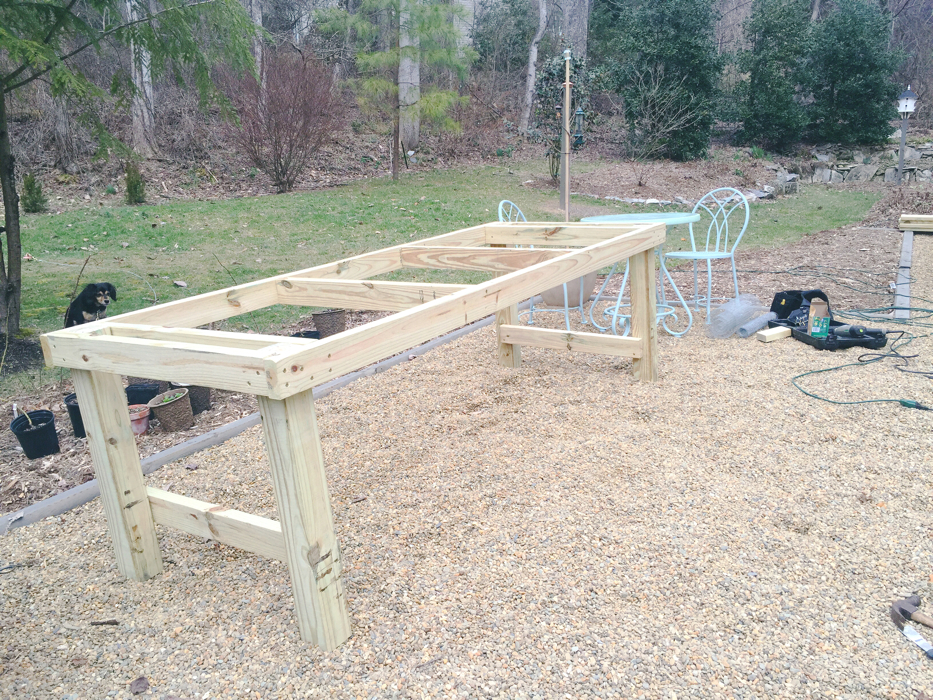 Here's my new table in progress. So exciting! The bistro set behind it also got a new coat of paint, Rustoleum "Robin's Egg Blue."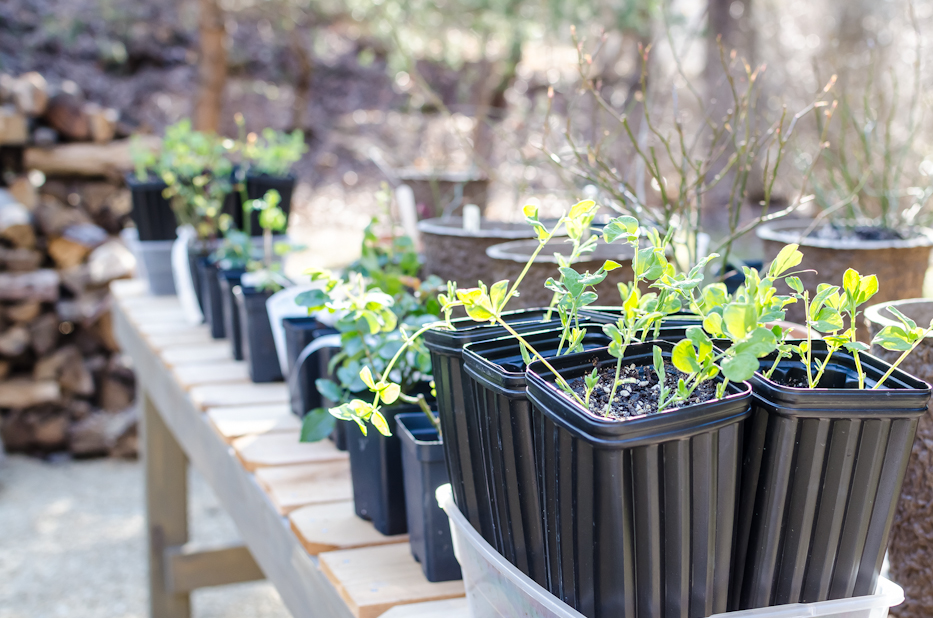 And here it is completed. We used cedar fence planks as the topper. I think this table is going to see a lot of action this summer!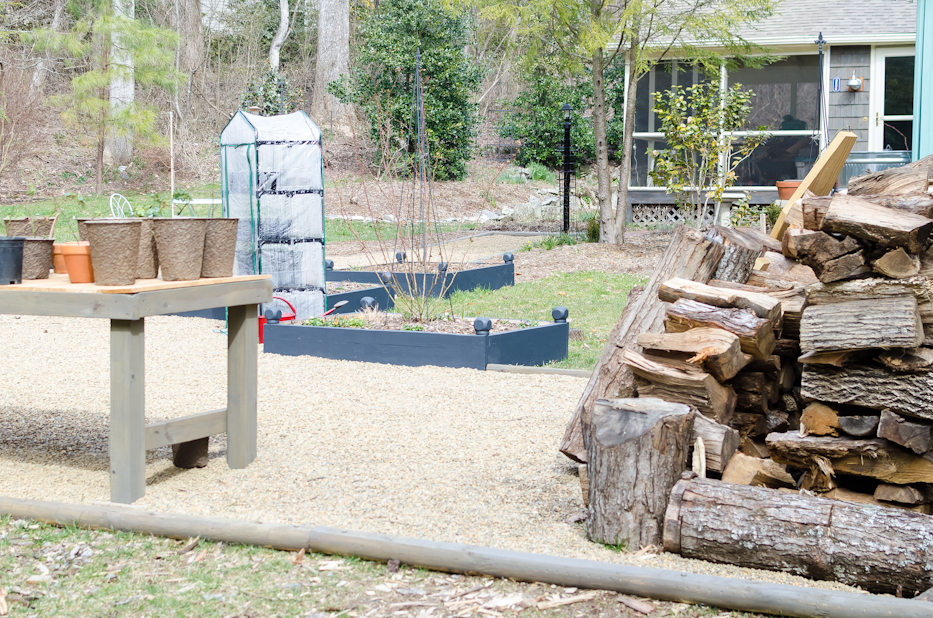 The section of garden where I will growing the baby roses and other seedlings I jokingly dubbed my "propagation station" months ago but the name stuck. It's pretty much a dream come true to be able to finally have a designated area to do this as in the past I stuck the young plants wherever I could find the room.  Nearby, is the not-attractive-but-it-gets-the-job-done plastic greenhouse. Hopefully, by this time next year, I'll be showing you a more permanent structure. Gardens are always a work in progress, aren't they?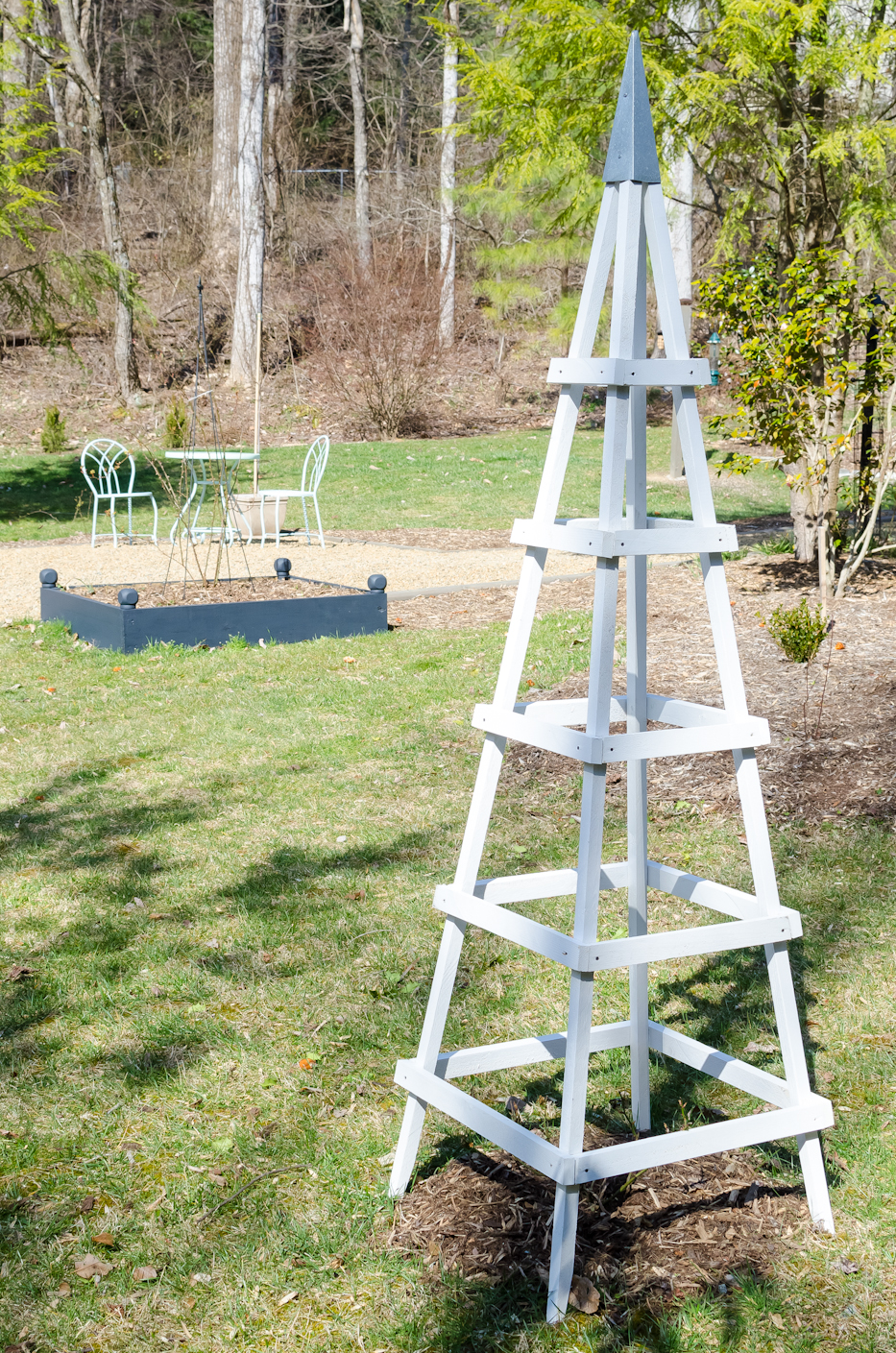 I do love this new tuteur we recently installed. I can see it from my bedroom window and it looks so pretty! There is a wee 'Sally Holmes' planted with it and, of course, the area around it will be expanded/grass removed.
Here's a view of the front garden looking back the other way. The mulched area in the front will be brought outwards this summer and planted out. It's hard to tell since it's March and everything looks blah right now, but there is a line of roses that flanks the gravel "patio" in the foreground. We also have 72 boxwood babies arriving soon which will line the beds.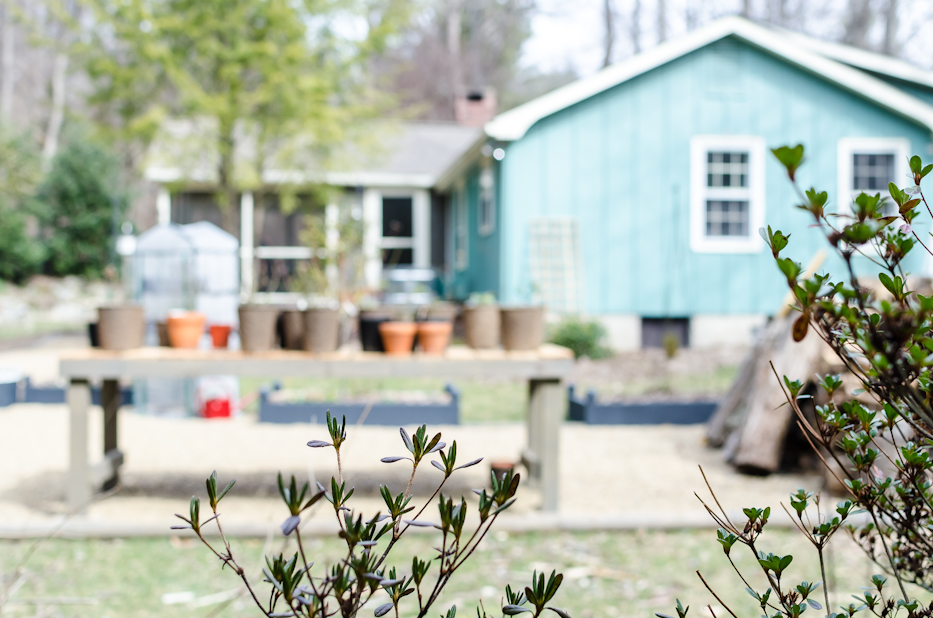 Last, an update on the house color. We think we finally found a painter who will do the work for us at a very reasonable price so, cross fingers, the color of the house will be different next time you see it! No more turquoise! 😀