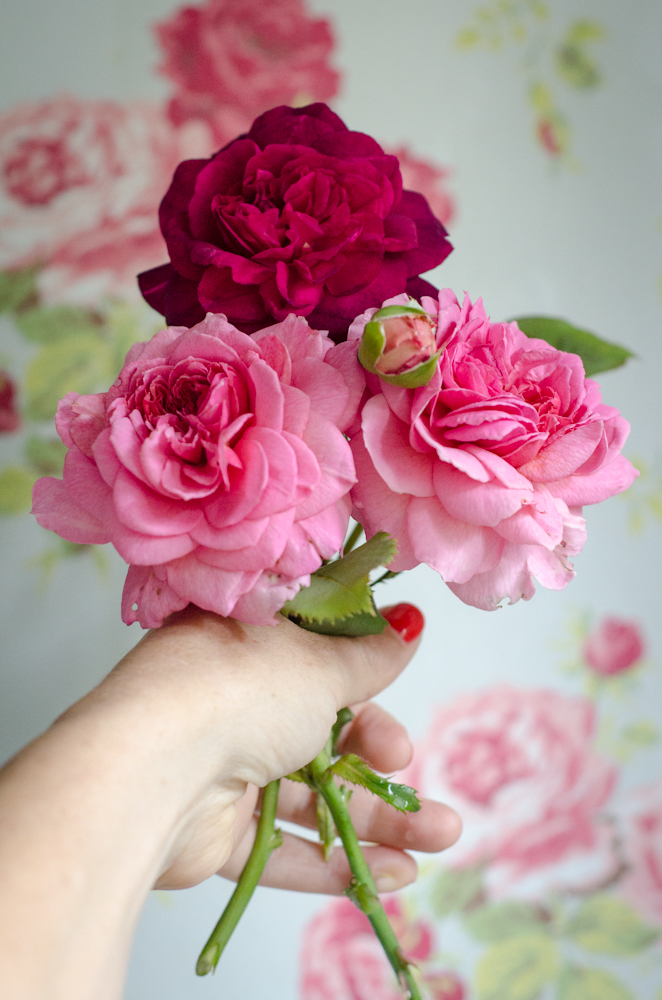 Cath Kidston wallpaper w/ Princess Alexandra of Kent and Munstead Wood roses.
When we were in the process of buying our home, we were both laboring under the misapprehension that the kind of "remodeling" that would need to be done to the interiors was some paint and the tearing up some old carpeting. We've watched/read enough home improvement shows/blogs that we should have known better.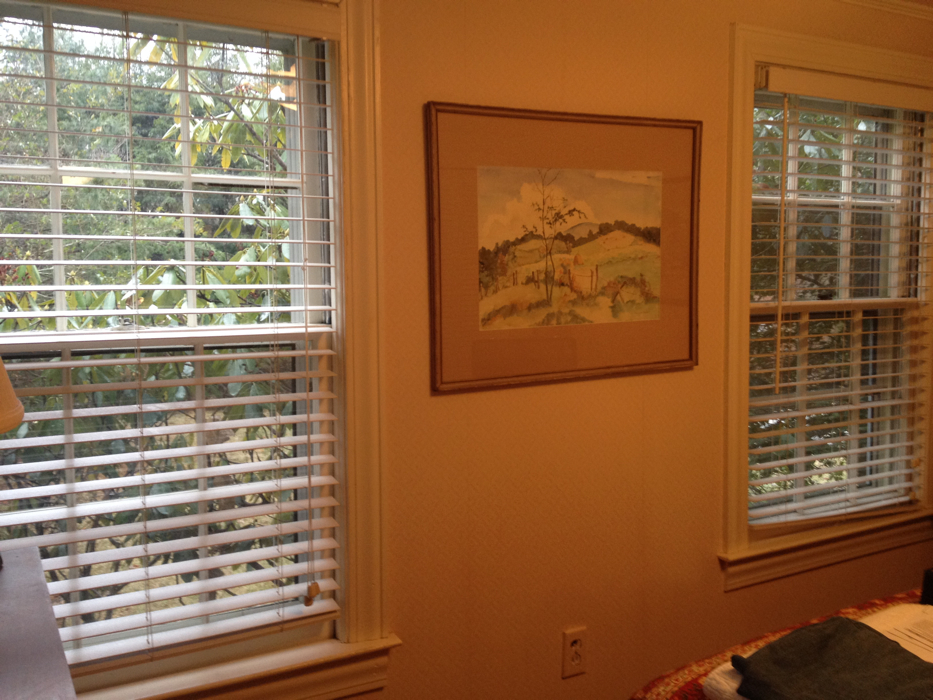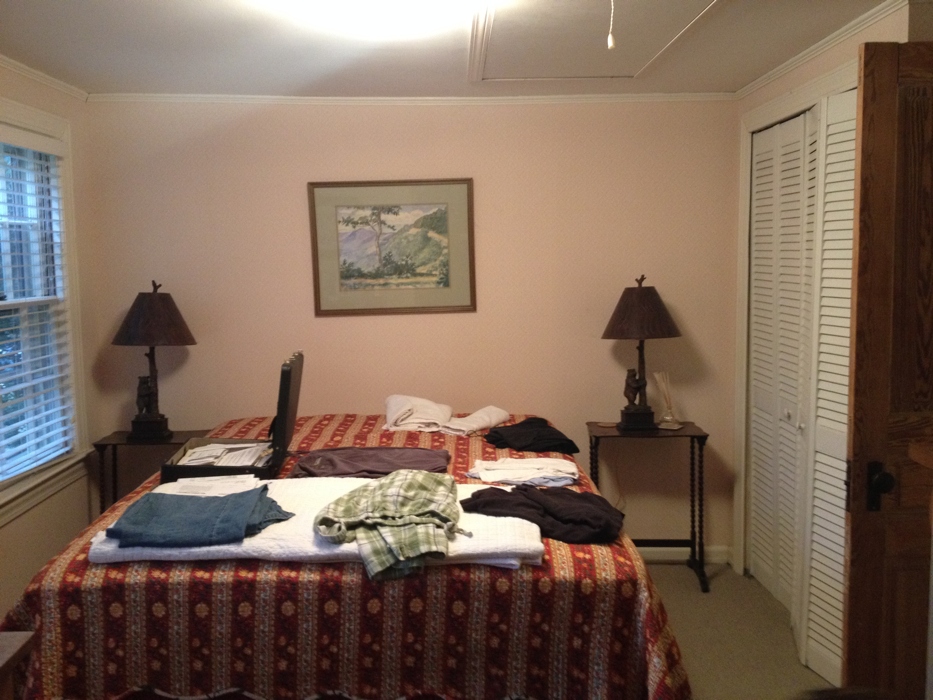 This is what the bedroom looked like on the day of our walk-thru back in March. These are the furnishings of the previous tenant. She was gracious enough to allow us to take photos back with us since we lived 6 states away and this was our only time to see the house. She also had a pet pooch named "Madison" which is our daughter's name, so we took that as a good sign this house was meant for us!
Anyways, bla, bla, bla, insert long story here about our big wake up call, and let's get to the bedroom reno, which is really still a WIP. Really, the whole house needs work but we started with the bedroom because it filled me with the most terror. This is due to the fact that there was a giant hole in the ceiling leading to the attic which we dubbed "the murder door" and, no joke, often had spiders crawling out of it and landing on our bed. Have I completely creeped you out yet? When I say that I used to sleep with the covers pulled completely over my head, that's no exaggeration. The walls were wallpapered (there is so much more to this story about the wallpaper in this home but I'll save that for another post), and the floors had this old, disgustingly dirty low-pile indoor/outdoor (?) type carpet that our cats made worse by puking on it. It's like they hated it, too, but of course that wasn't helping.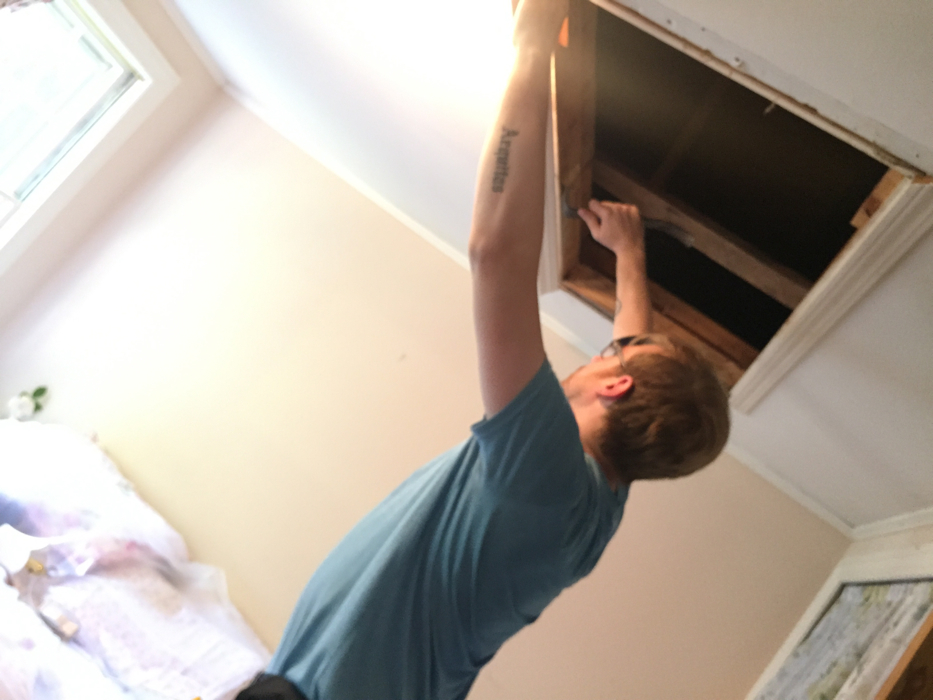 First up was removing/re-drywalling the murder door–terrible photos, sorry–and then we ripped up the carpet, which was so much fun, har har, but felt liberating to see it get the heck out of there.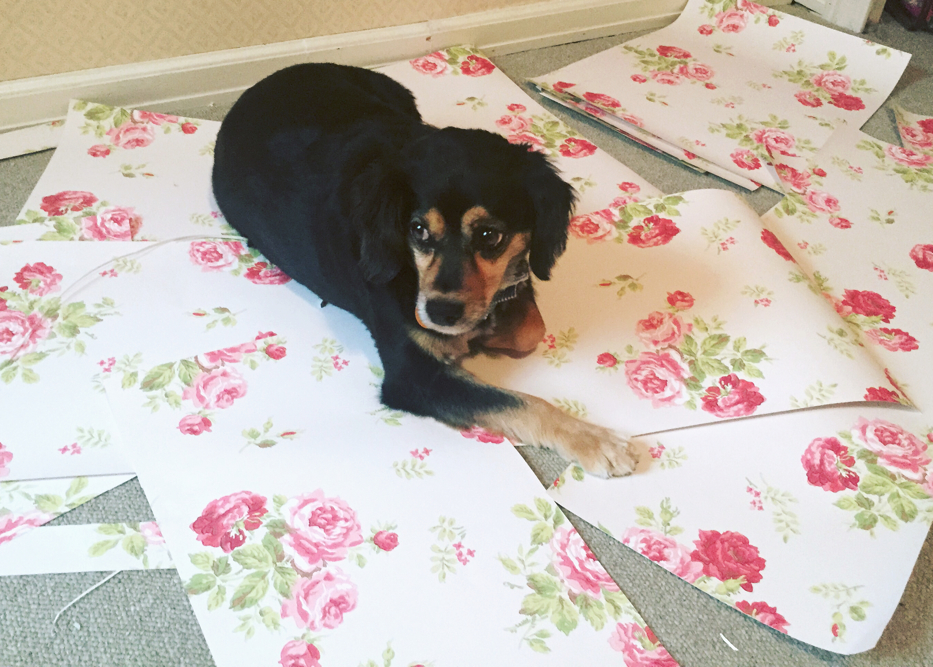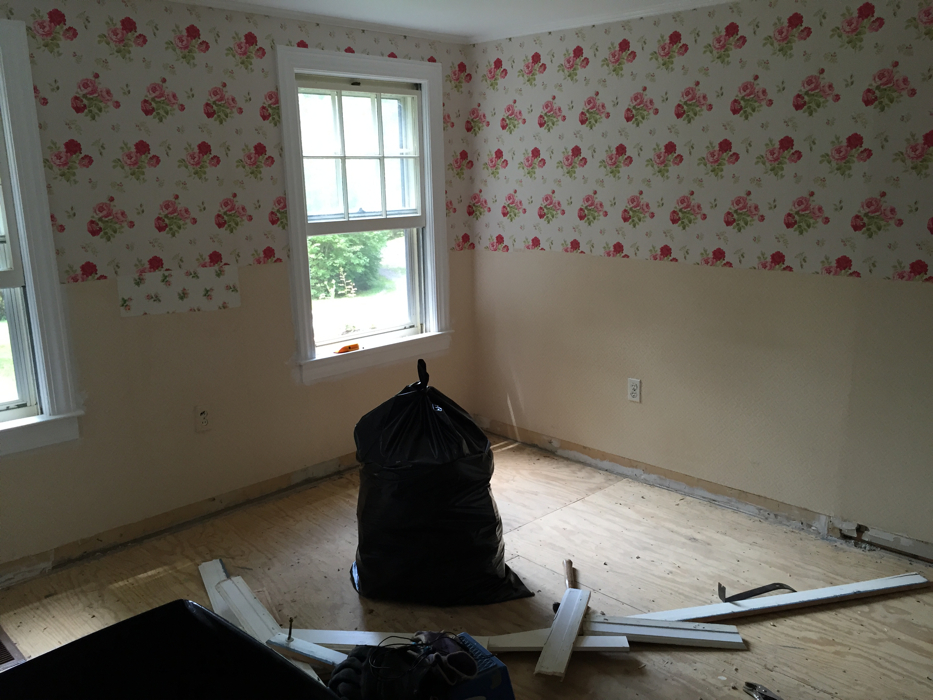 Next was the wallpaper. We hemmed and hawed over this one but decided to re-wallaper the top half of the walls and use wainscoting on the bottom. Since I loved the Cath wallpaper we used in our old bathroom (see photo at top), and the price was right, we went with the same pattern in the ivory. Initially, I was going to use the Cath rosebud pattern, but we changed our minds and that's why you see a little piece sticking out the bottom!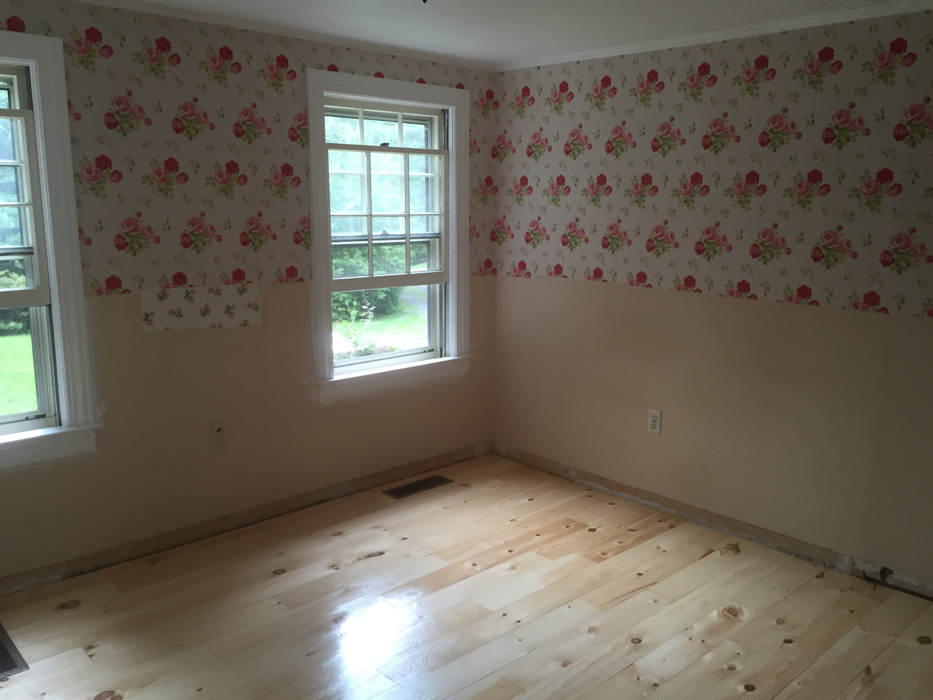 The flooring went in next. This was another one of those should we or shouldn't we decisions in that of course we wanted more of a hardwood, like oak, but in the end we realized our budget wouldn't allow it. Since this bedroom is only 144 square feet, and most of it was going to be taken up with the bed and hardly walked on, we went with a softer and less expensive white pine plank flooring. I would never use soft pine in a room that gets a lot of foot traffic, but we got away with it here and it was a good flooring to go with for our very first install. I'm pretty proud of us with this one!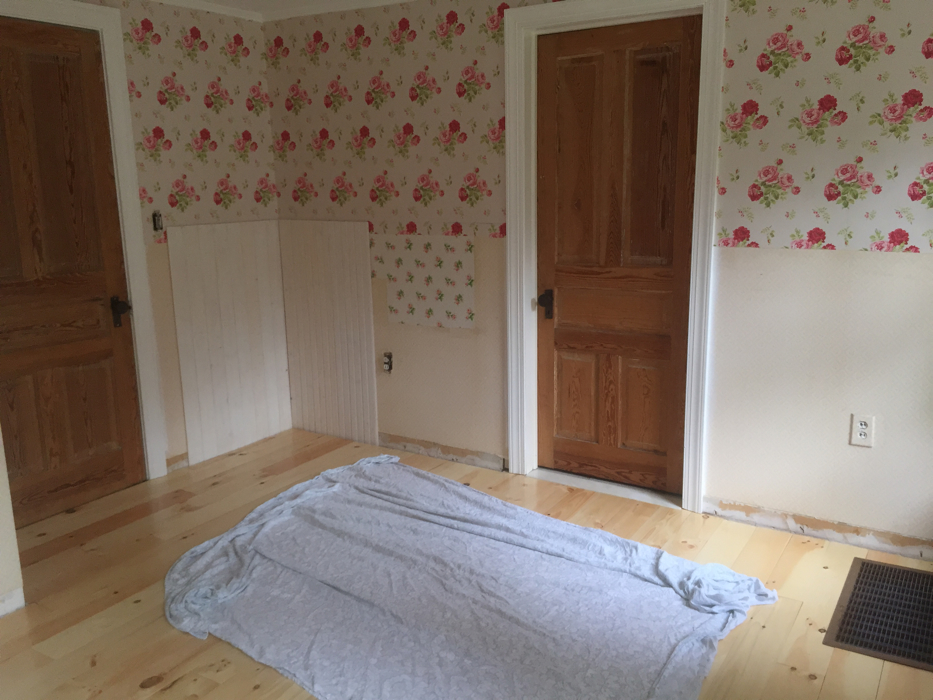 Finally, the wainscoting. Towards the end, we were playing a game to see how quickly we could install the boards because it can get tedious. I used the nail gun for the first time in my life and oh, the power! Haha! The white paint is actually just the primer, which I haven't gotten around to painting over yet. It kind of looks whitewashed, like a beach cottage, so it doesn't really bother me.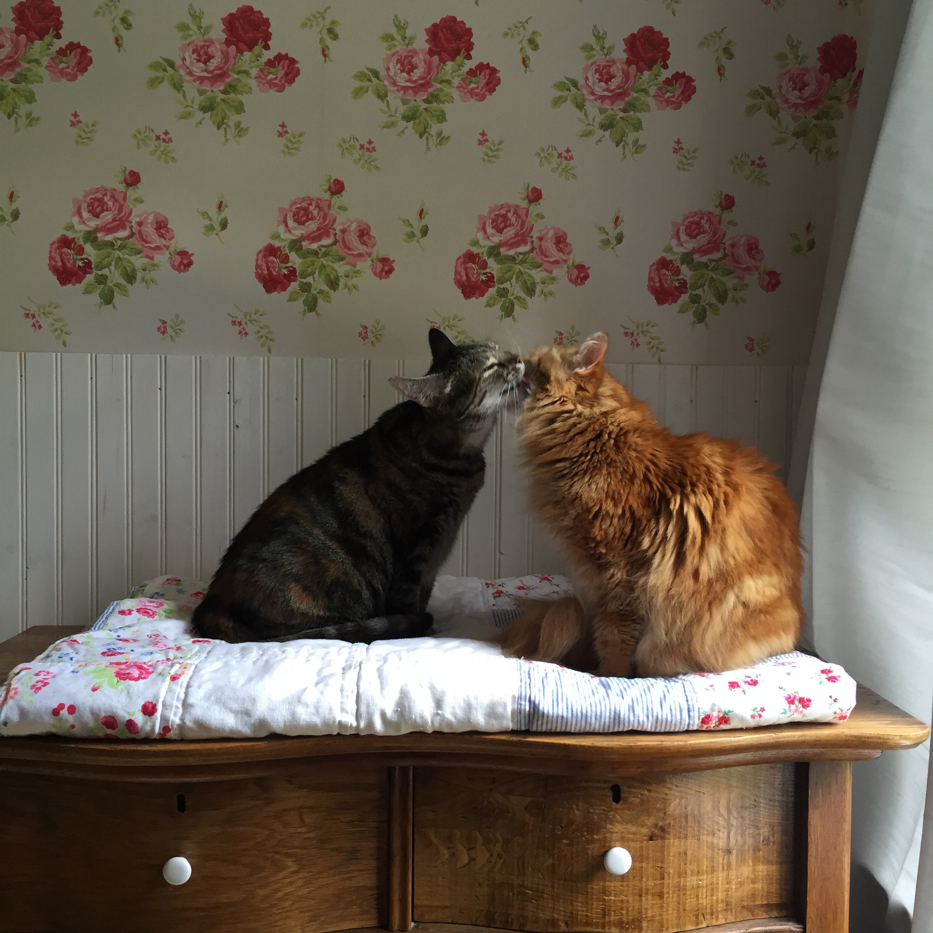 Here's our room in how it looks now. The ceiling is almost complete-just needs another coat of paint-and as you can see, we purchased and installed a new light fixture as well as installing new outlets. The curtains were hung, and yes, I know I'm breaking the rules for curtain-hanging in that they're too close to the molding, but the walls are right on the other side so that's as far as we could stretch the rods and I needed the hem to be above the floor because we have cats and a dog! (Anyone who has pets understands what I'm talking about.) The molding isn't finished, of course, we still need the corner pieces, the chair rail, and some baseboard…and we are still on the hunt for a nice headboard and bedside lamps. Honestly, with all the stuff that needs to get done in the other rooms this will probably be how it looks for a while. What do you think? Better than spiders and creepy carpet?