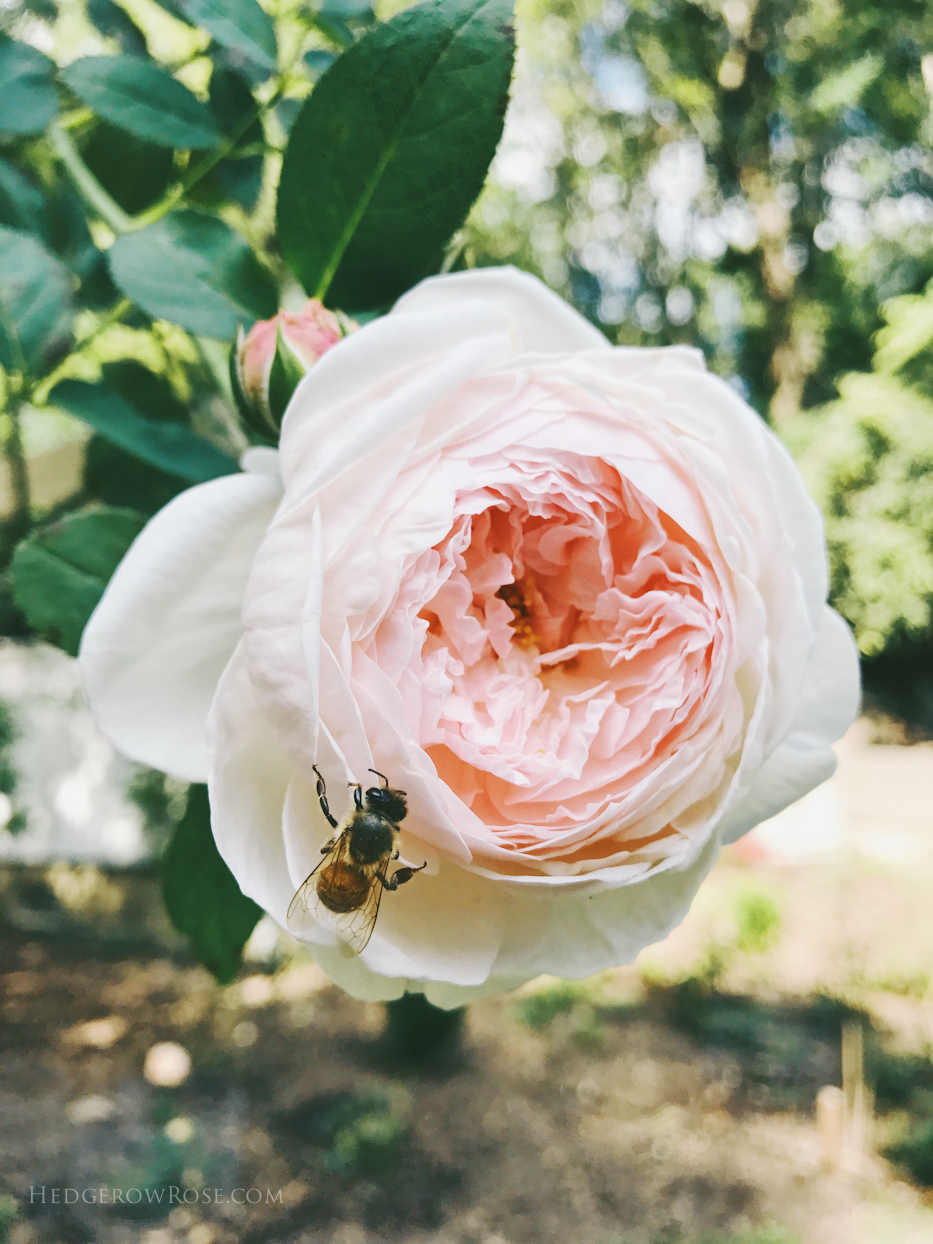 It is not lost on me, for even a moment, how luxurious it is to have roses in bloom in our garden. Back in the rose midge days, we were lucky if just a few made it to bloom stage (the impetus for the #simplebeautyroseseries) and of course now, with a new garden, most of the plants are still too immature to give much more than a blossom here and there. Nonetheless! We have some roses flowering right now, with others looking like they might squeeze in a few buds by autumn. I'd love to share them with you and offer some thoughts on each in case any catch your fancy. Here they are in ABC order: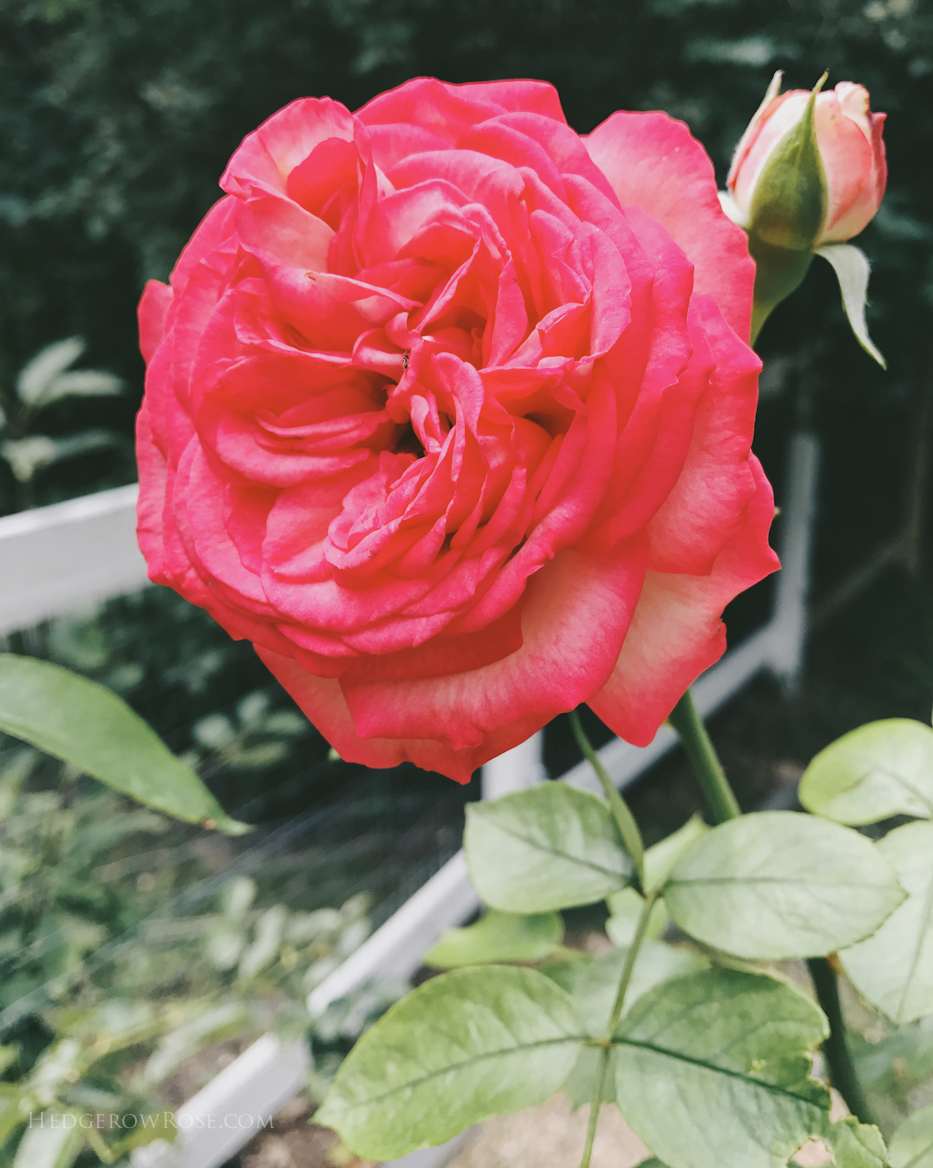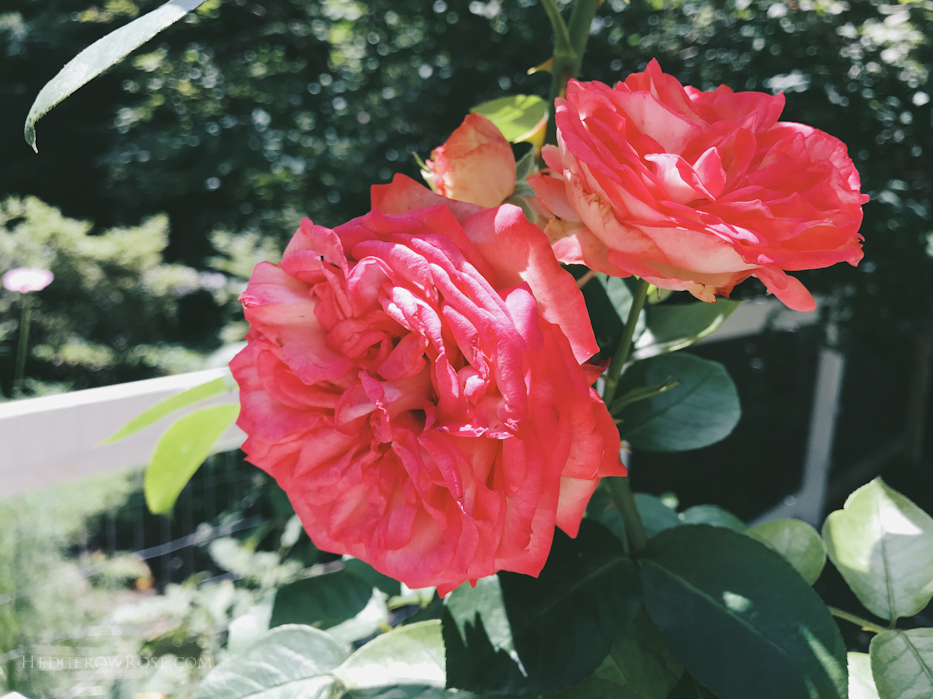 Antike 89™: These photos are not doing this rose any favors; I wish you could all just see it in person. The mister and I love it and I think we planted it in the perfect spot next to the garden gate in a warm, sunny location with a pea gravel mulch. I am seeing disease on the older leaves but it is growing through it and the new canes look healthy. (Growing roses with gravel mulch makes cleanup of dropped leaves so easy, btw.) Antike 89 has formidable prickles on stiff canes that can be a bit tricky to train. Leaves are large and leathery with newer foliage glossy aging to matte. Flowers are vibrant, cherry pink with a paler reverse. The color is kind of like a garish Hybrid Tea but for some reason it's working for me. Perhaps it's the romantic looking flower? Ours is being grown own-root.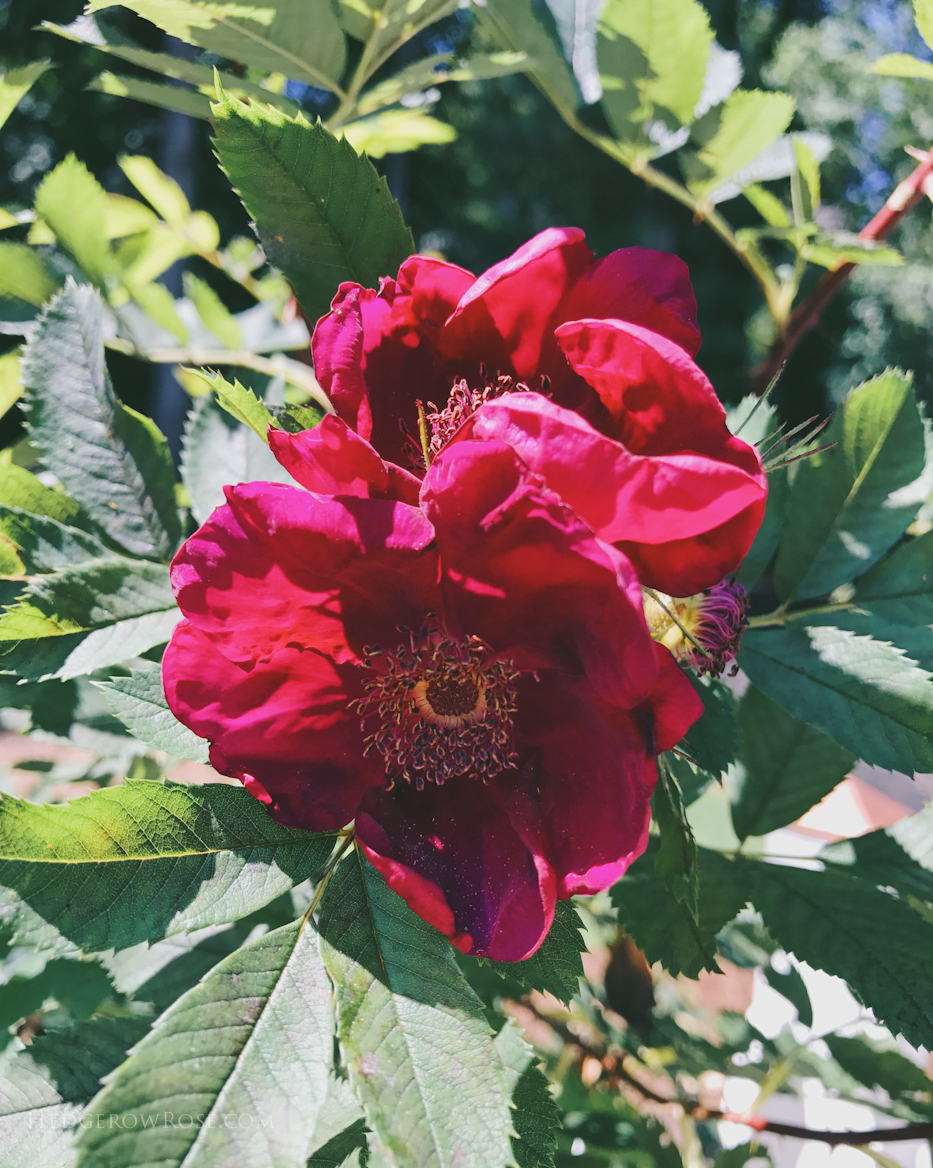 Basye's Purple: I am currently writing a post about my love of rugosa roses and here's one I will be talking about. Is this color amazing, or what? I love dark red to burgundy hued roses and this one does not disappoint. It has been blooming in steady flushes since spring. The leaves can sometimes look chlorotic, a weird trait with many a rugosa, but then they grow out of it. The canes are luminous red, as well, so plant this one where they and the flowers can be backlit by the setting sun. Sadly, it does not seem to produce hips. That's the only "flaw" I can think of. I guess I don't need to tell you that it is a bee magnet!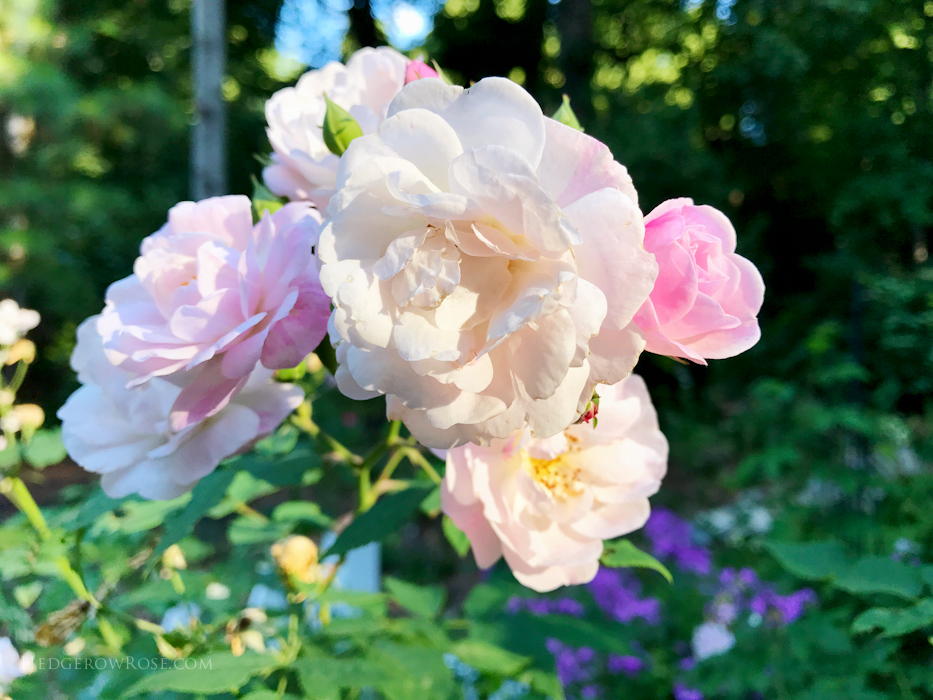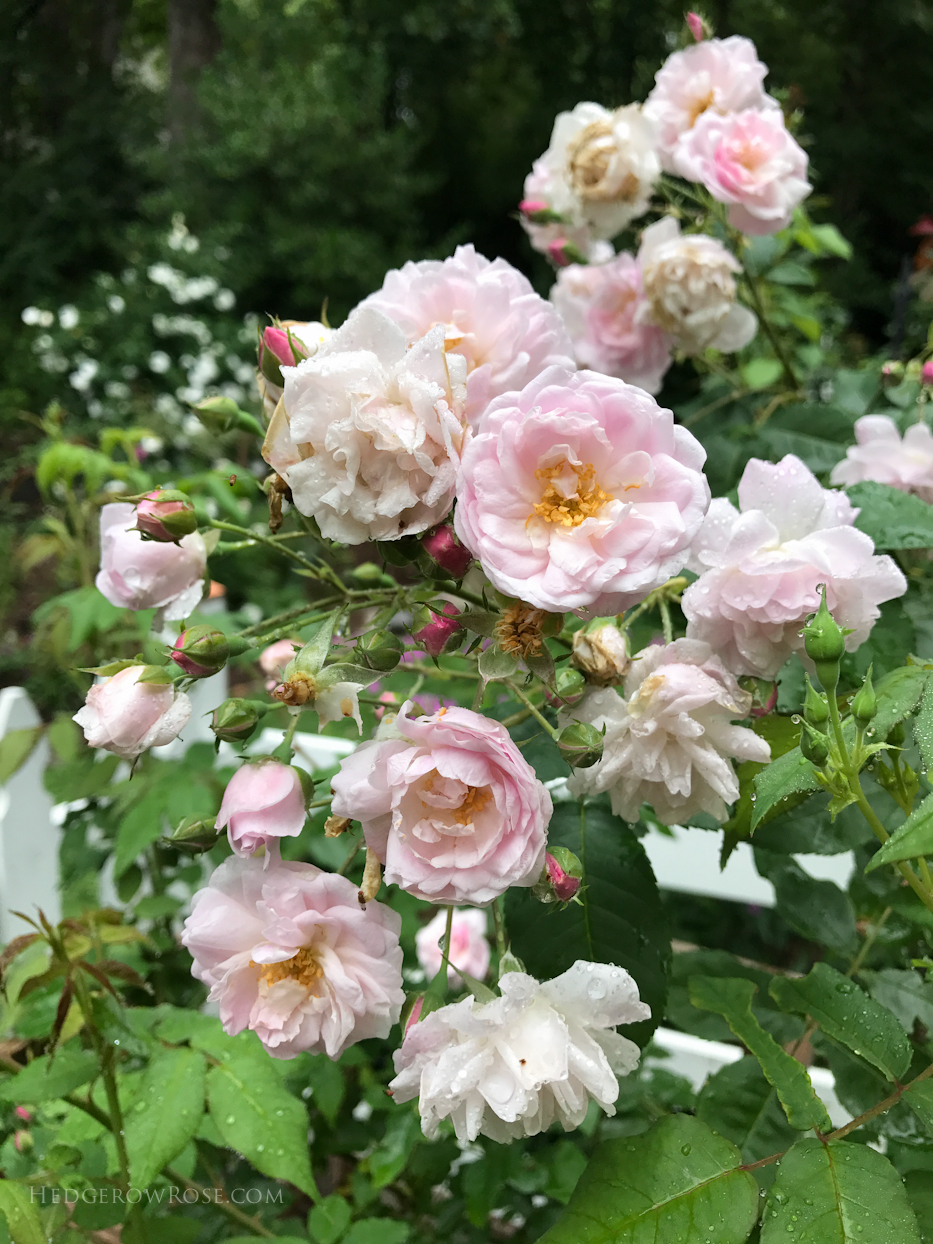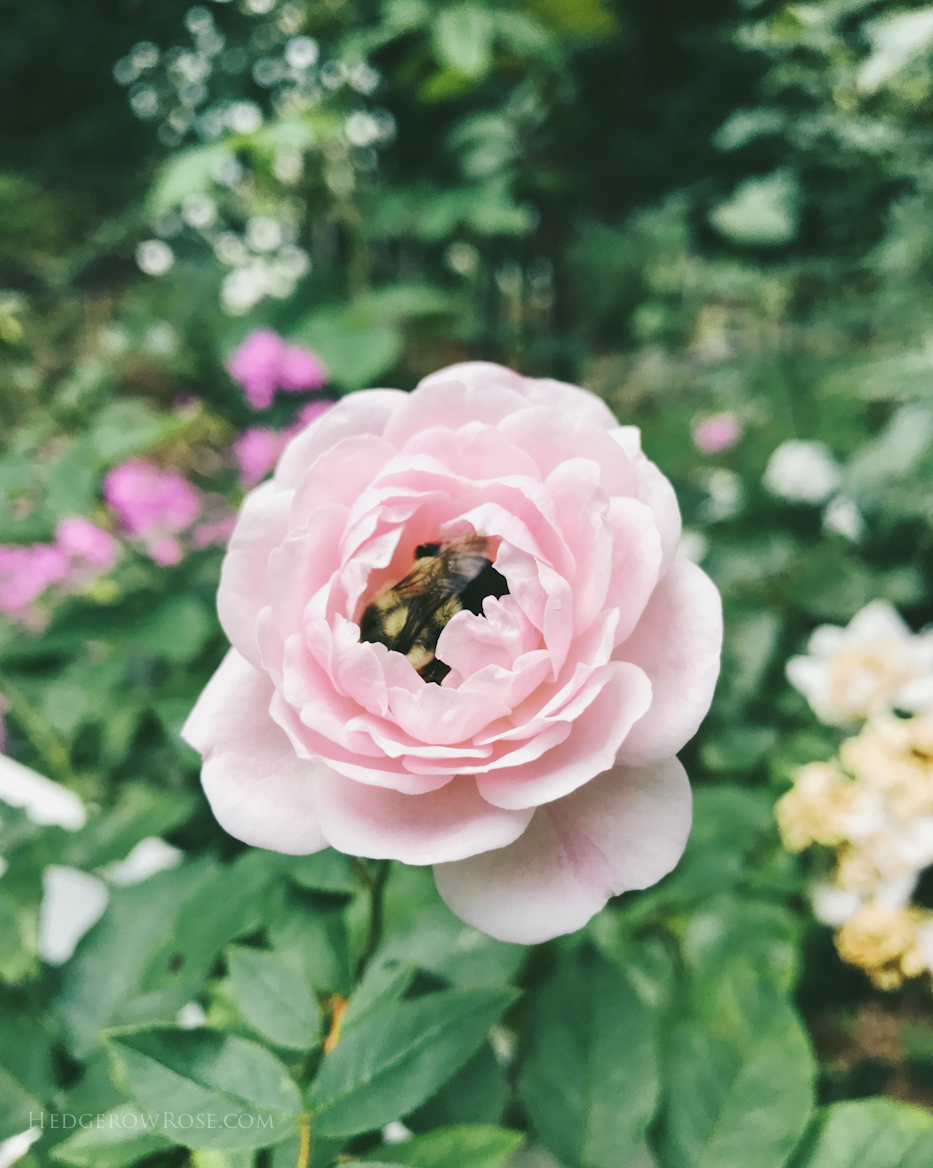 Blush Noisette: I may regret planting this right by the door as BN can get quite large but for now it looks great. The friendly-looking flowers and sweet fragrance is so delightful to greet you as you come home. The only thing I don't love about this rose is the petals don't drop very cleanly, otherwise it's just perfect. A classic.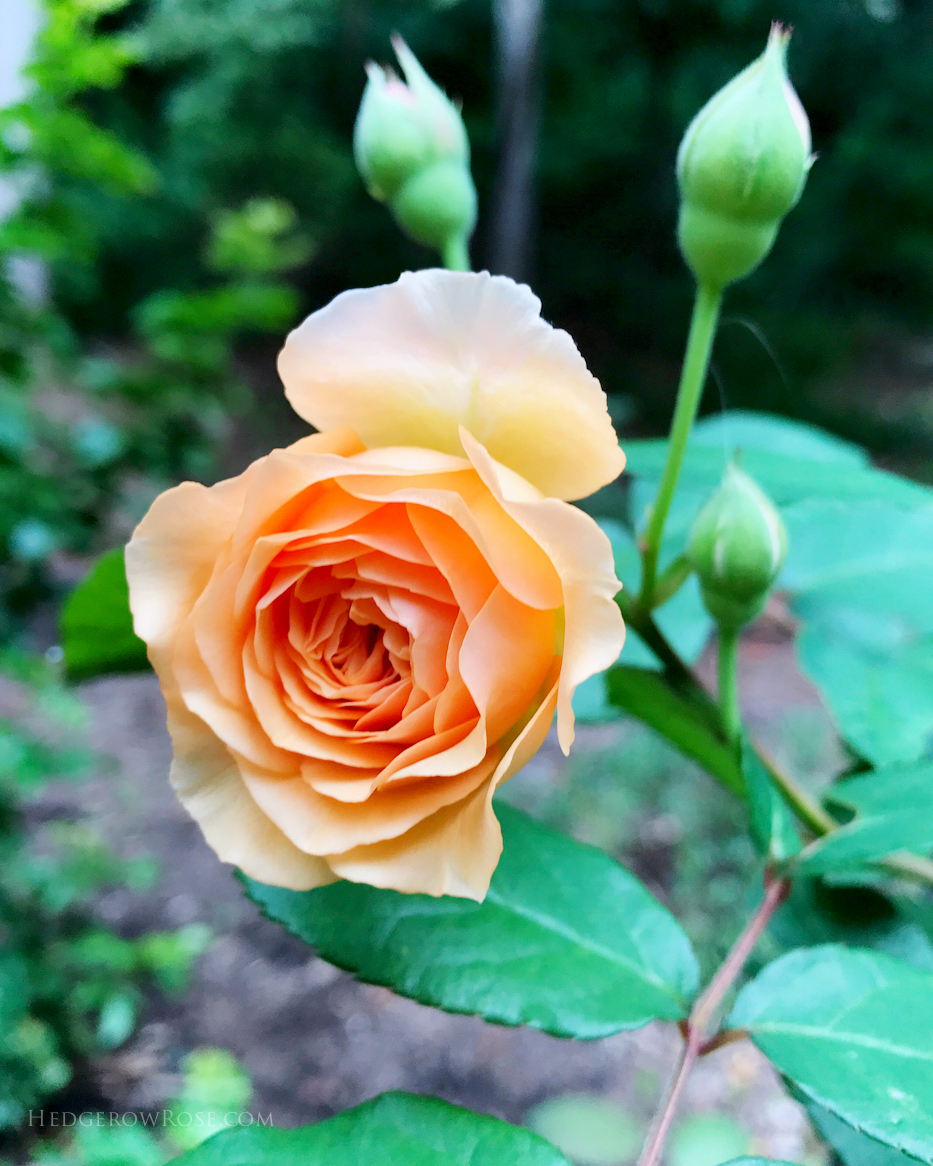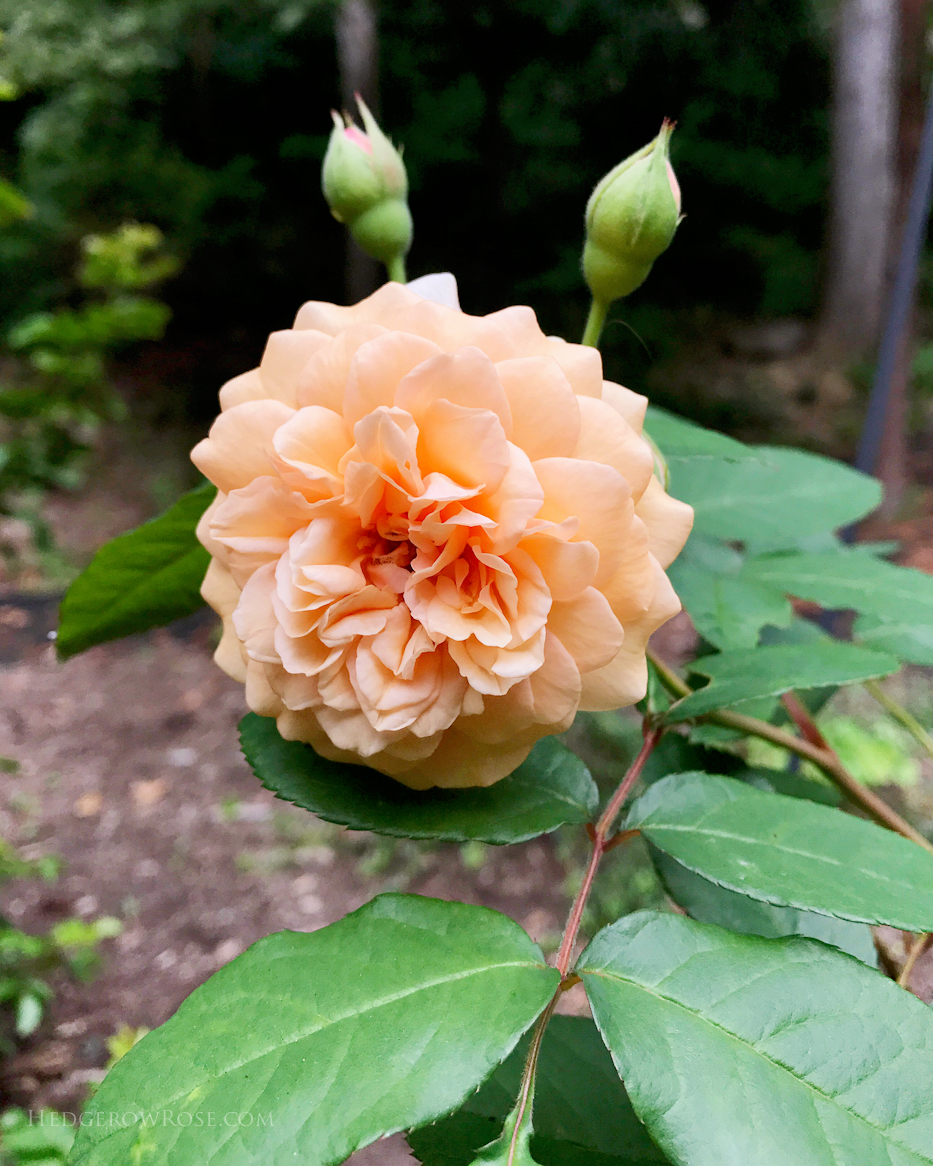 Buff Beauty: I wanted to show the stages of these flowers so you can see how the color transforms from a rich apricot to a more buff-toned hue. When the plant has blooms in various stages, the effect is very lovely. Although it can be pruned to control the size, you really need the space to see this rose at it's best. Like the other hybrid musks in our garden (exception: Cornelia), it get's blackspot on it's lower leaves no matter how fantastic the cultivation, a reason why HM's will probably never be my most favorite class even though I enjoy the flower so very much! And, like our other HM's I've been waiting for our BB to produce some basal breaks but it has not yet. I'm hoping 3rd year in our garden, 2018, it will leap.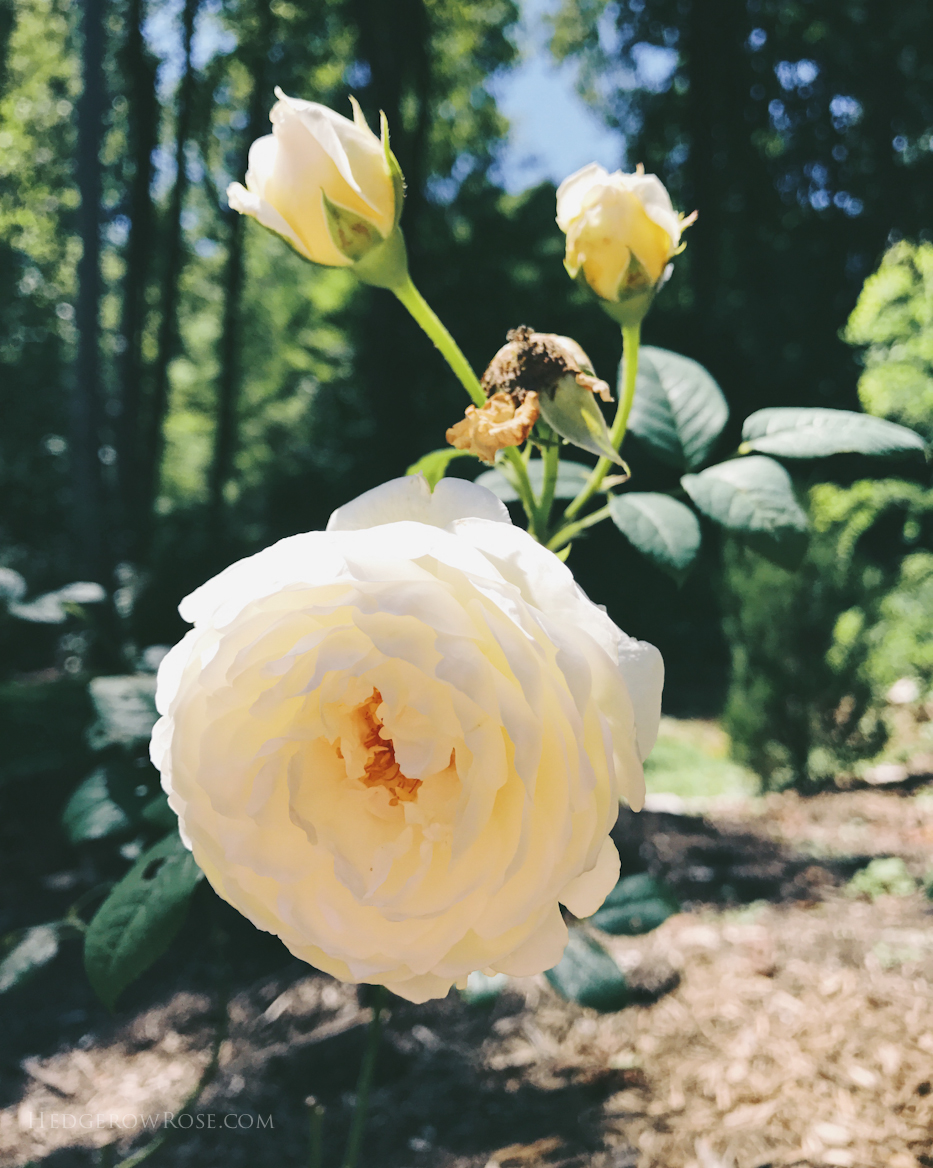 Claire Austin: I've been getting asked by several people how this rose does for me. I think we rosarians are often on the hunt for a great white rose. I will say that R. rugosa 'Alba' is still my best white but Claire is not too shabby. Ever since I relocated her to a spot that gets afternoon shade she has perked up quite a bit. The flowers do take on an ivory-yellow cast as so many white roses do. Leaves are thick and leathery and fragrance is lovely!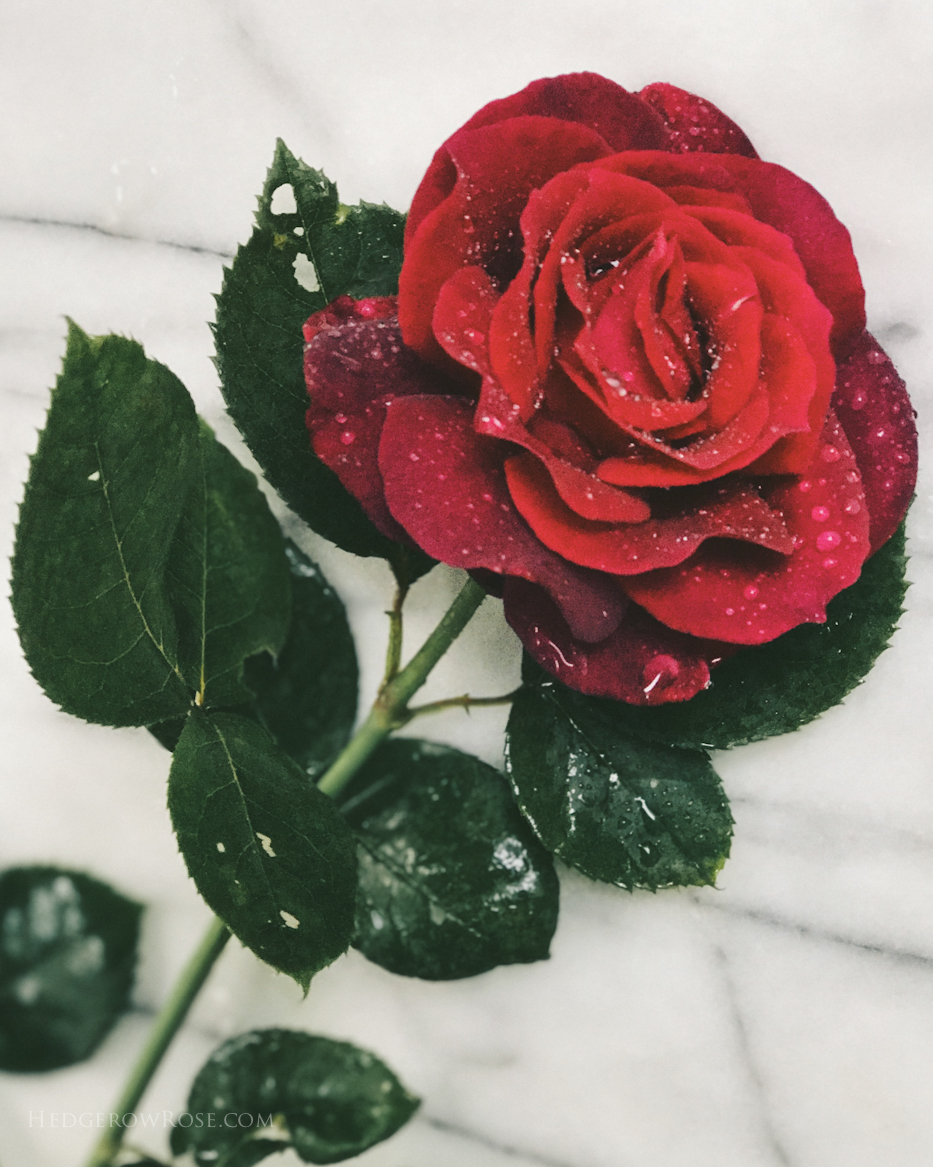 Dark Desire: I feel a bit foolish because I think I recently stated that this rose typically only produces a few nice flowers per flush on an average-sized plant. Well, that's not entirely true. I deeply pruned this rose earlier this summer and true to hybrid tea form it branched out into several long, flowering canes. Maybe 7-8 on last flush? Still has a bit of an awkward growing habit so a hard prune might be the best plan of attack for this rose. Outside of that, I still just love it. The flowers positively glow on the plant and have such a fantastic scent.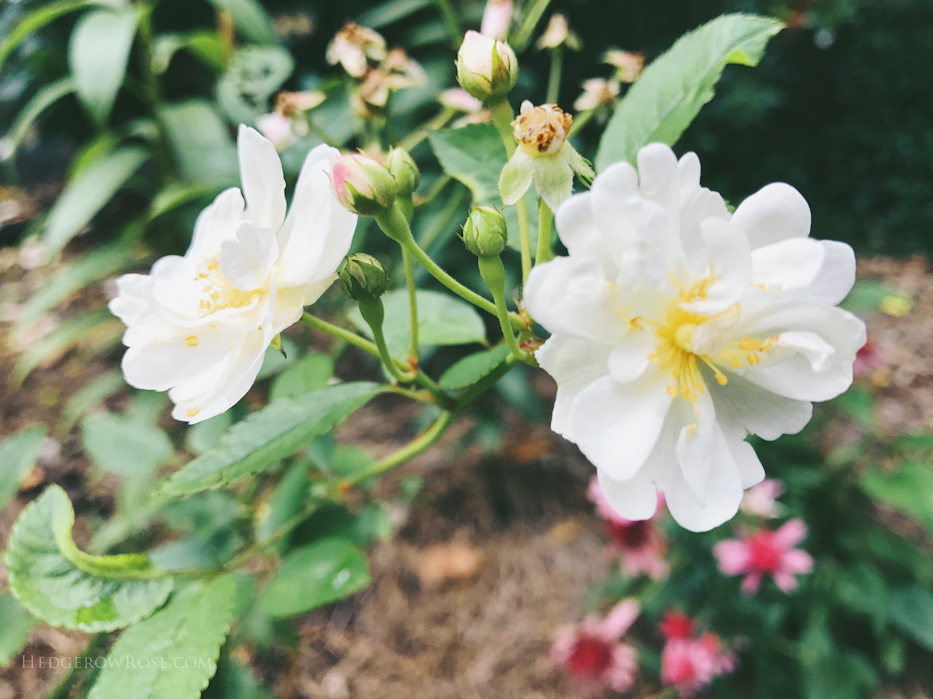 Gourmet Popcorn: I don't think I could give this rose away to anyone in the south as the flowers remind folk too much of R. multiflora which grows rampant around here. The similarity ends there, though, as GP keeps itself in a tidy, small shrub with excellent manners. No disease, great repeat, produces hips, nice fragrance. I'm always adding plants with white flowers to my borders because white helps to provide a cohesion in design–a helpful trait as I tend to buy plants emotionally and without the white to balance things out my flower borders might appear very Jackson Pollock. If you like Darlow's Enigma but are not keen on having your house eaten by a rose, try Gourmet Popcorn. The flowers are almost identical, just on a smaller scale.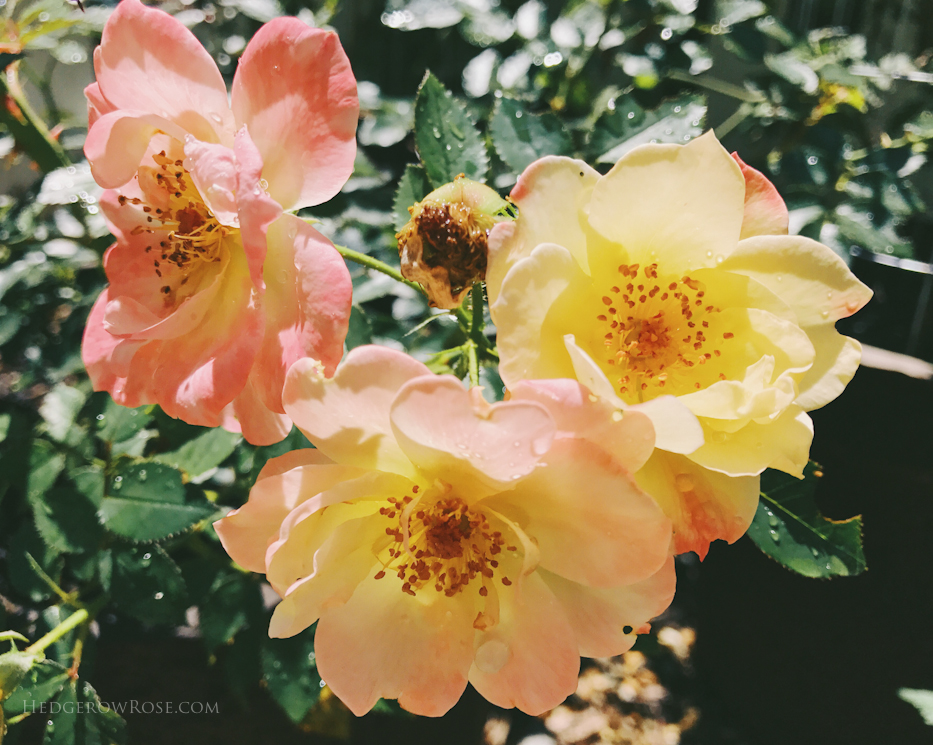 Oso Easy Italian Ice®: Another rose generously gifted to me by Proven Winners® to try out in our garden and between you and me, I like it even more than At Last®. The flower form looks very hybrid musk-y to me, but the foliage is clean as a whistle. Shiny, healthy leaves and quick repeat on this one, too. Blossoms are in various shades of lemon yellow to warm pink. Produces hips! We currently have ours in a large container but I will be adding it into the garden as a permanent resident this autumn.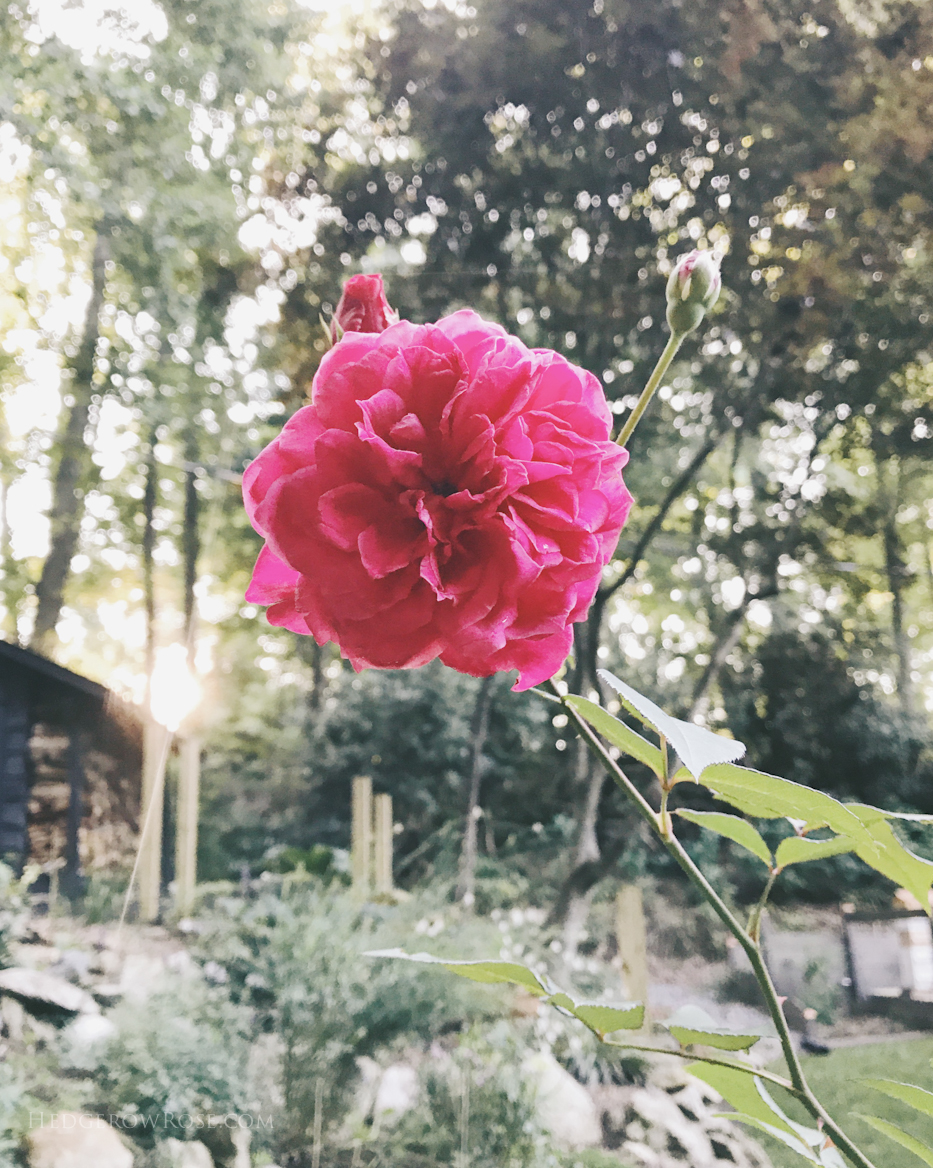 Ivor's Rose: You might better know this one as Flamenco or Flamenco Rosita. Ivor's Rose is the exhibition name so I've been referring to it as such. It's a bit of a plain name for a rose that is anything but. Deep pink, very full flowers, sometimes perfectly quartered, are borne on arching canes with glossy, disease free leaves. Ours has been in bloom consistently since spring. The fragrance is very nice, too. Our IR's are being grown own-root and are only in their second year in our garden. I've seen them trained to be more shrublike if that's your preference, but because I don't like to prune hard unless I have to, the canes have reached the top of the dovecote pole mingling in with Cornelia. I guess my point is this is a vigorous, healthy grower and will fit in any garden style.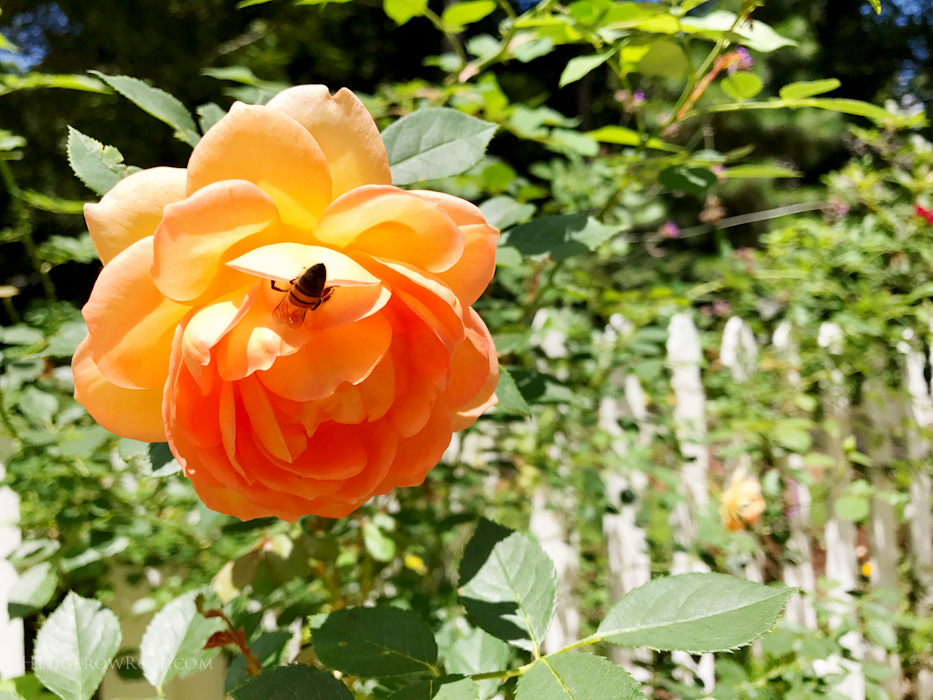 Lady of Shalott: Our LoS has not looked as nice as our old one, which was grafted. This is own-root and until just recently seemed a bit weak and spindly. I've been growing it in a container until now and think it's finally ready to graduate to the garden. I'm not typically drawn to orange flowers but LoS is an exception. Some might mind that she fades to apricot as the flowers mature but I don't. I think that's when it looks it's best!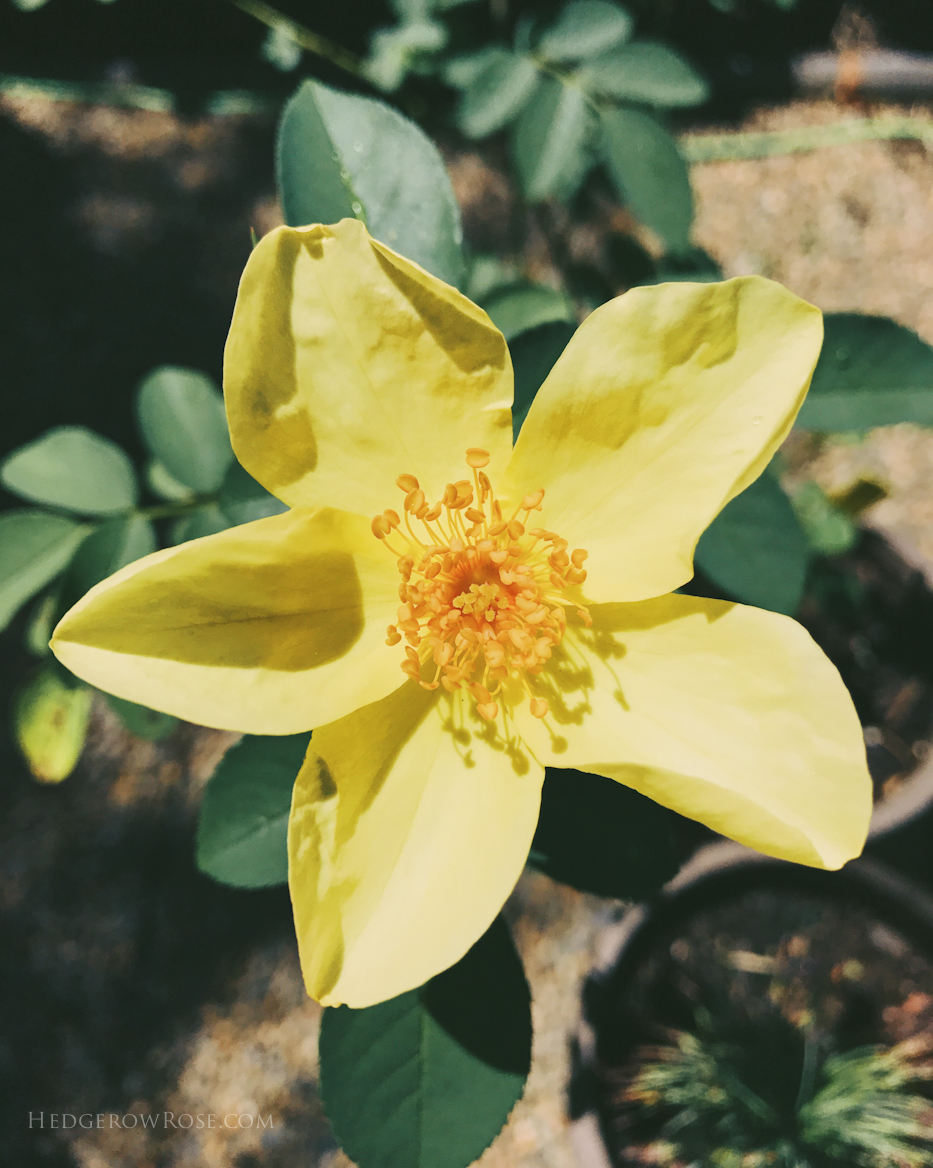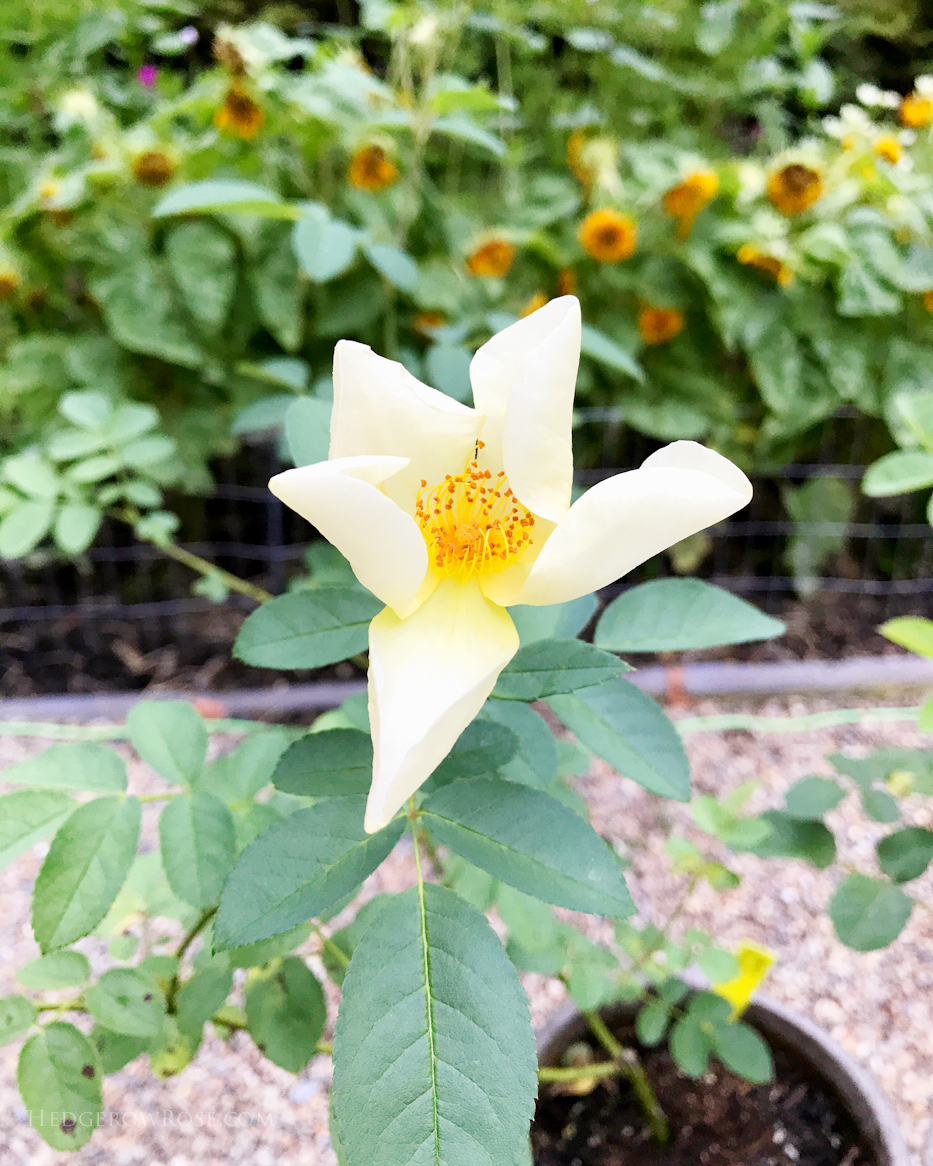 Lemon Zen: New to our garden this year and still in a 1 gallon container. You can see some blackspot on the lower leaves. Ah, blackspot, the bane of yellow roses. A rosarian pal from our society encouraged me to give this one some time when I was getting frustrated with it earlier this spring. Now that I see it in flower, I am glad I took his advice. It has a wonderful fragrance which is not surprising, considering it's lineage of 'Graham Thomas' and R. moschata. I'm really hoping this young 'Lemon Zen' gets it's act together as it matures because I simply cannot get enough of single-petaled roses and this one is a beaut!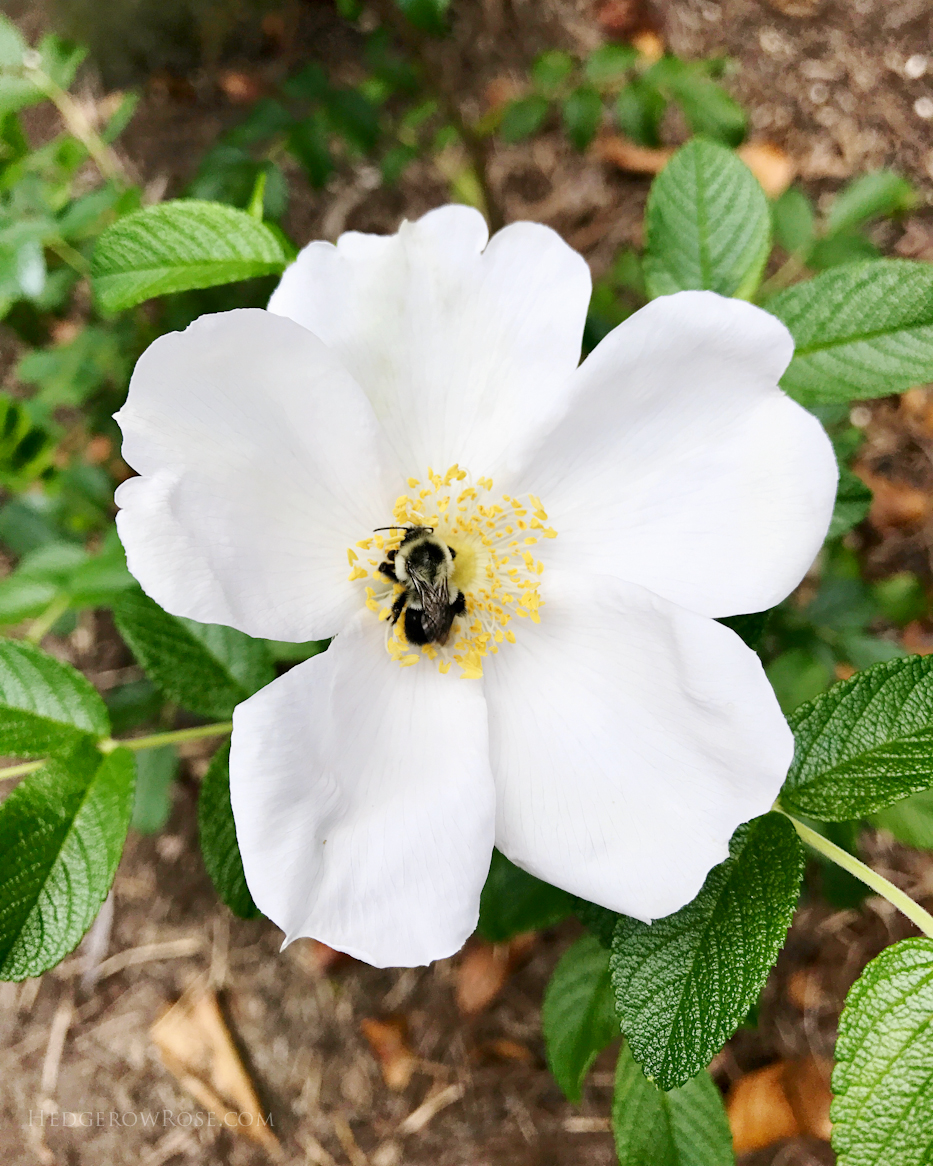 R. rugosa 'Alba': Speaking of singles, here is the lovely species R. rugosa 'Alba' I mentioned earlier. If you're looking for a pure white, this is it as other than a blush pink tinge to the buds, it opens to pure, gardenia-white and does not yellow. Mine have repeated reliably throughout the season followed by bright orange hips and the fragrance is magic!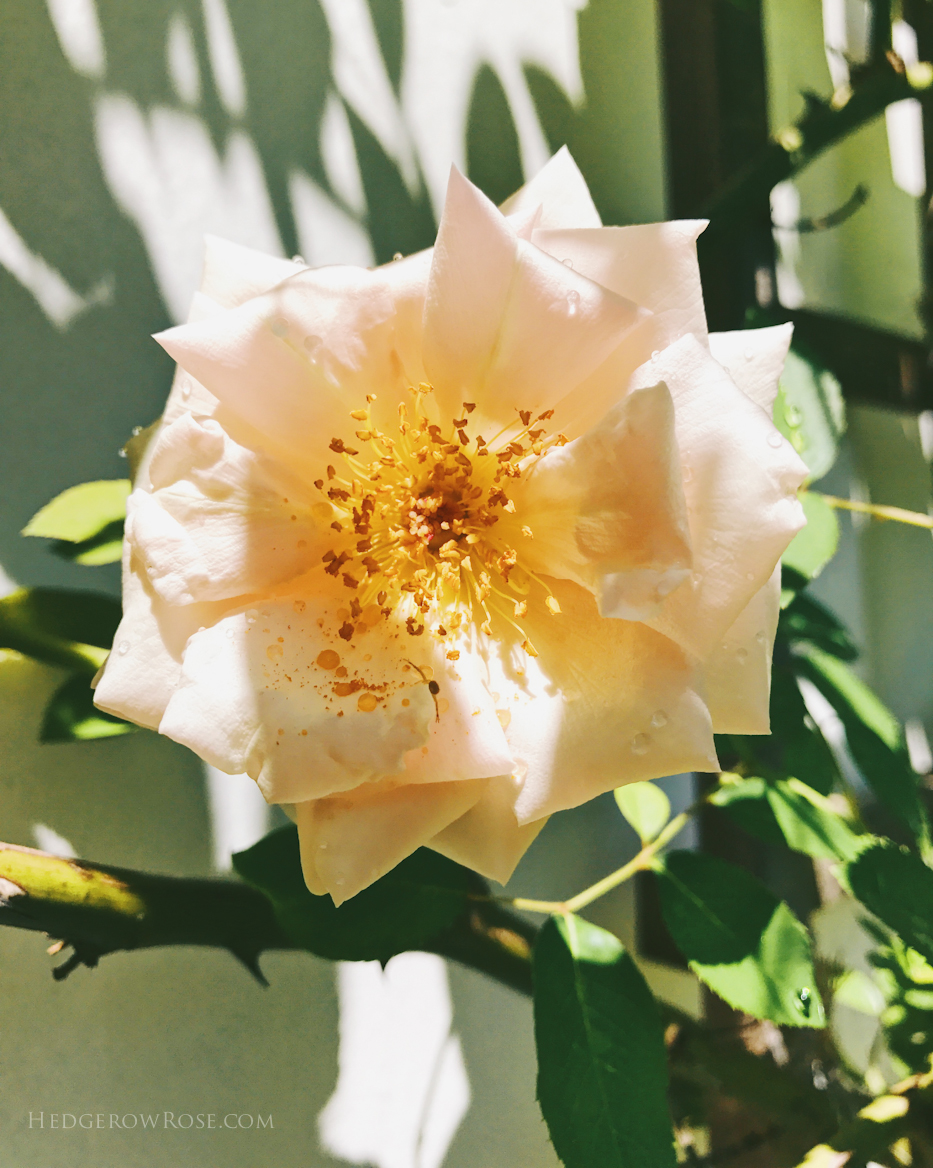 Rêve d'Or: We have tried this rose in various locations and found it loves the hot, south-facing spot we moved it to. It has exploded in growth since it was planted a couple years ago. Unfortunately, it was very damaged by the late, deep frost we had last spring so Jesse and I had to get in there and prune it quite severely. It's bouncing back now and starting a flush of blooms I imagine will go well into autumn. A beautiful rose that is highly rated for a reason!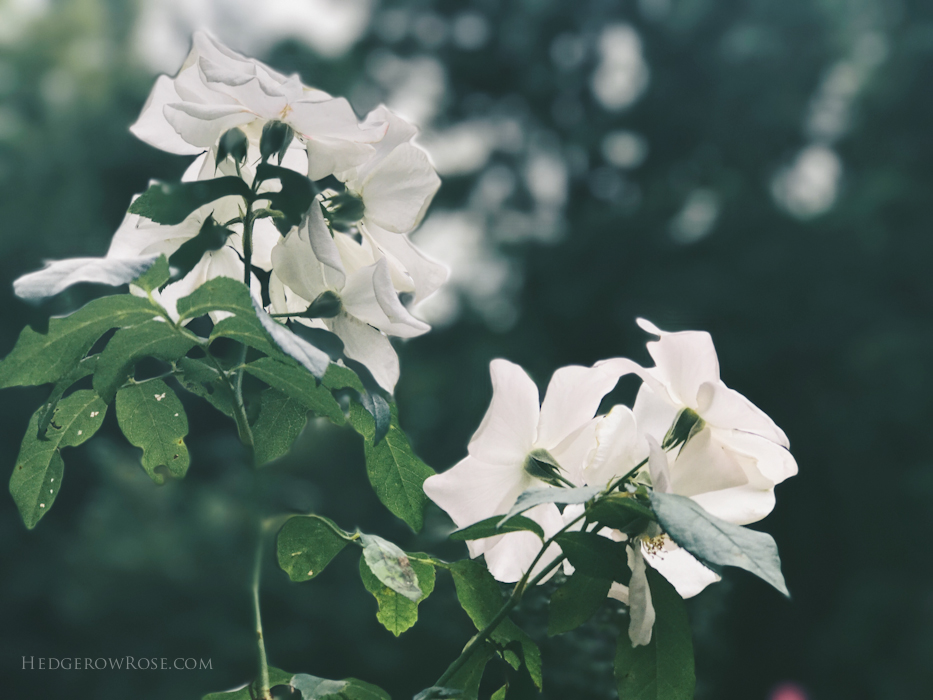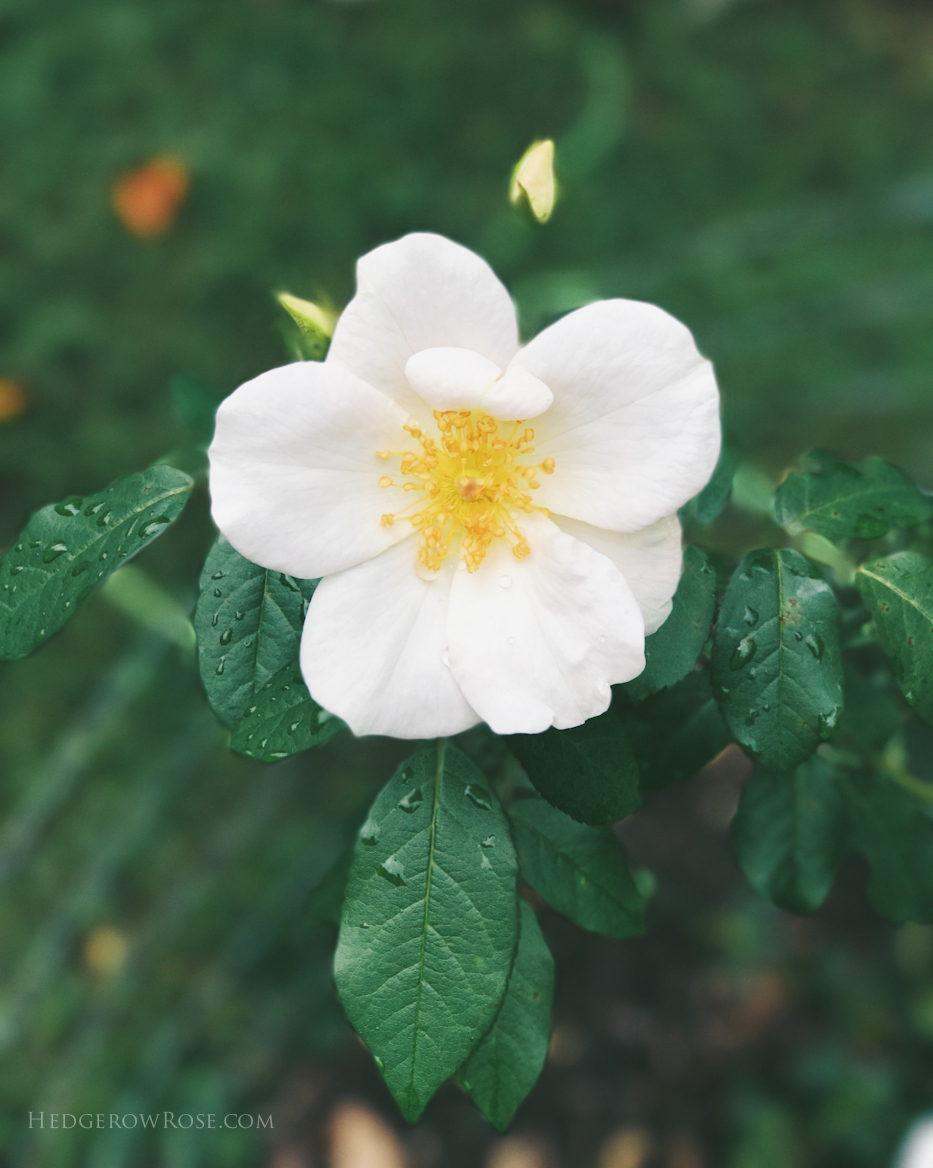 Sally Holmes: Another hybrid musk, very popular with many gardeners. Chances are good that you already grow this one! Ours is doing only so-so. Even though SH can tolerate a bit of shade, I think I need to give it more sun. Or maybe it's too close to some tree roots but not much I can do about that since that's just how it is on this property. Our SH is blooming nicely but still no basals (even with generous amounts of compost and alfalfa.) I do love those large flowers, though, and when they're all open it looks like a tribe of white butterflies have alighted on the leaves.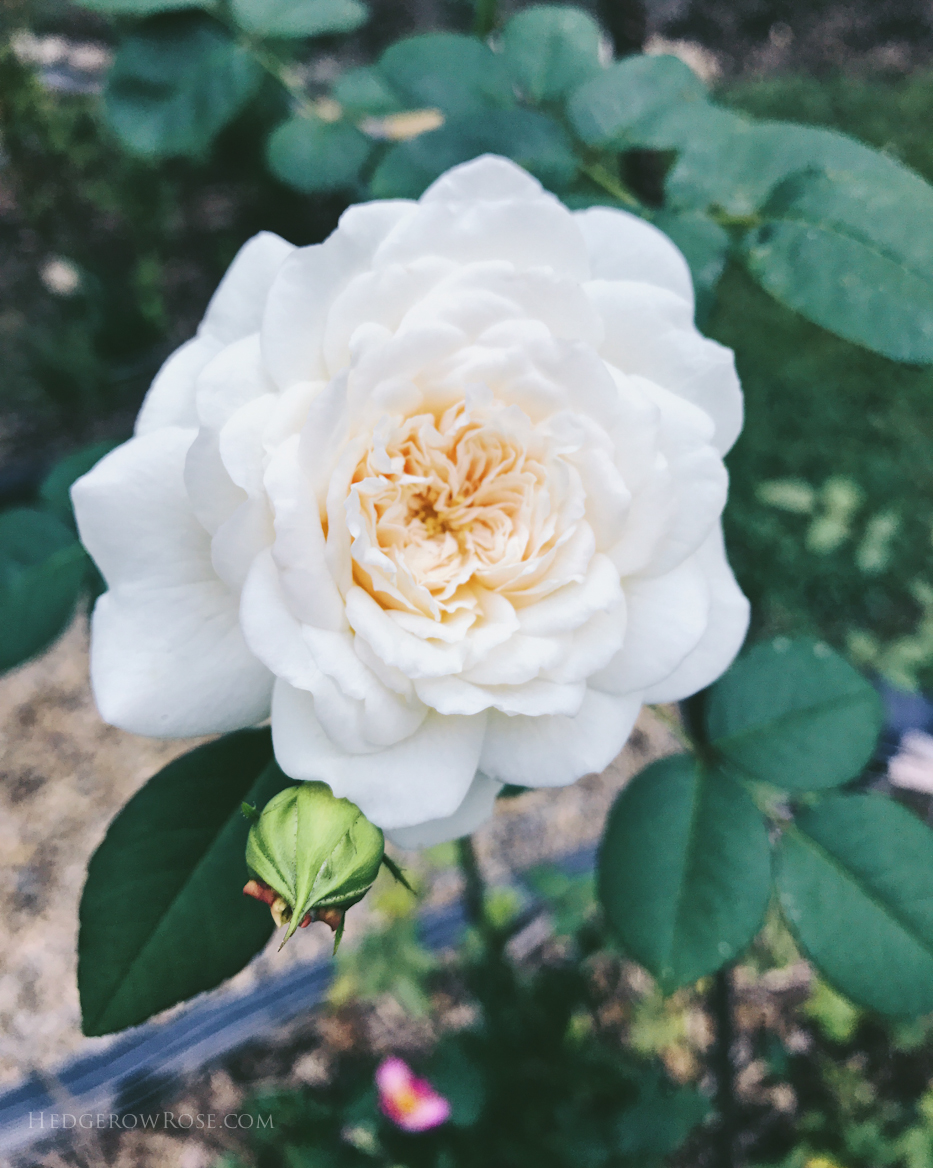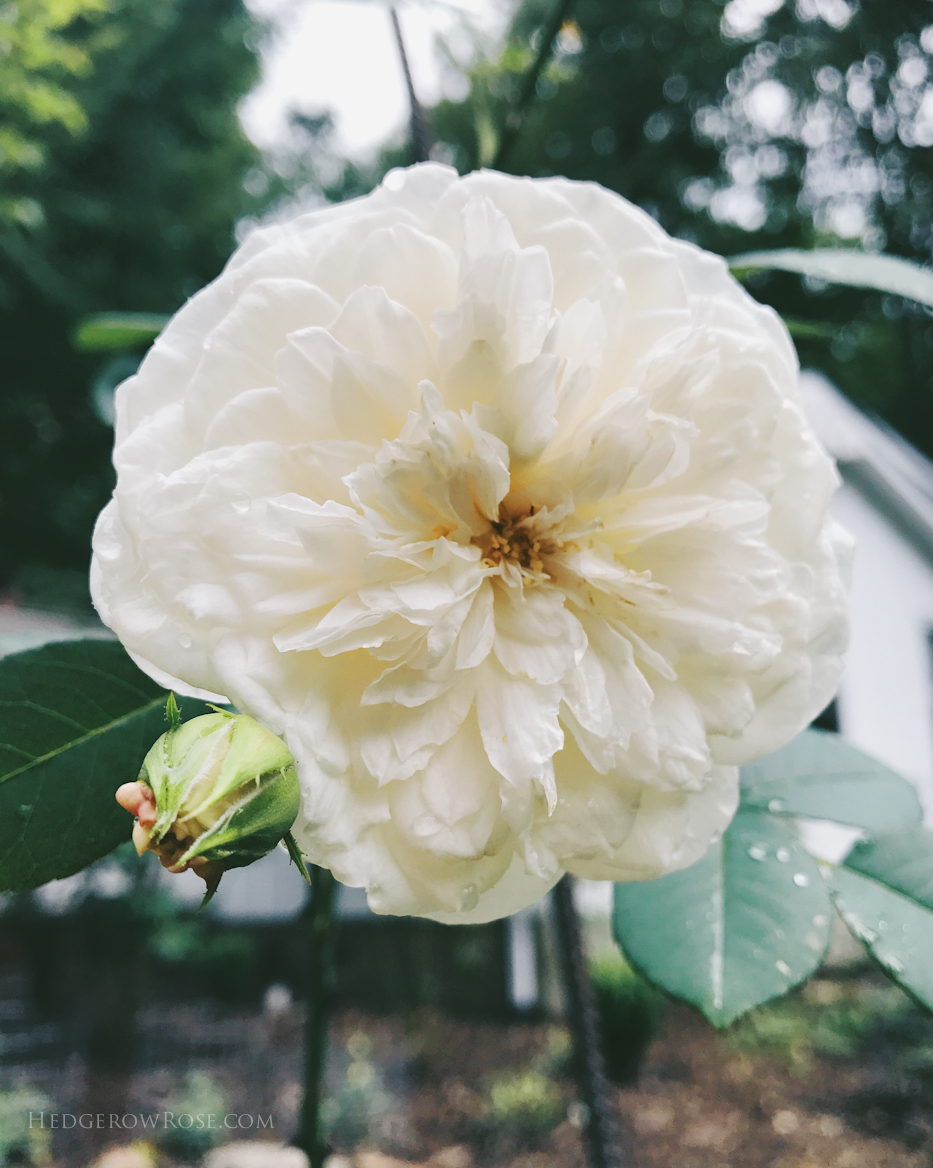 Sombreuil: The classic Sombreuil has been slow-growing in our garden and unfortunately is a thrip magnet. Thankfully, I haven't seen as many thrips this year as last when they all but ruined every single blossom. (Could be the rain? Or could be we're building our green lacewing larvae populations?) The flowers on Sombreuil have just a tinge of ivory-yellow but mostly are pure white, flattened, packed with petals but it's the foliage that really gets me, with it's lovely blue-green shading.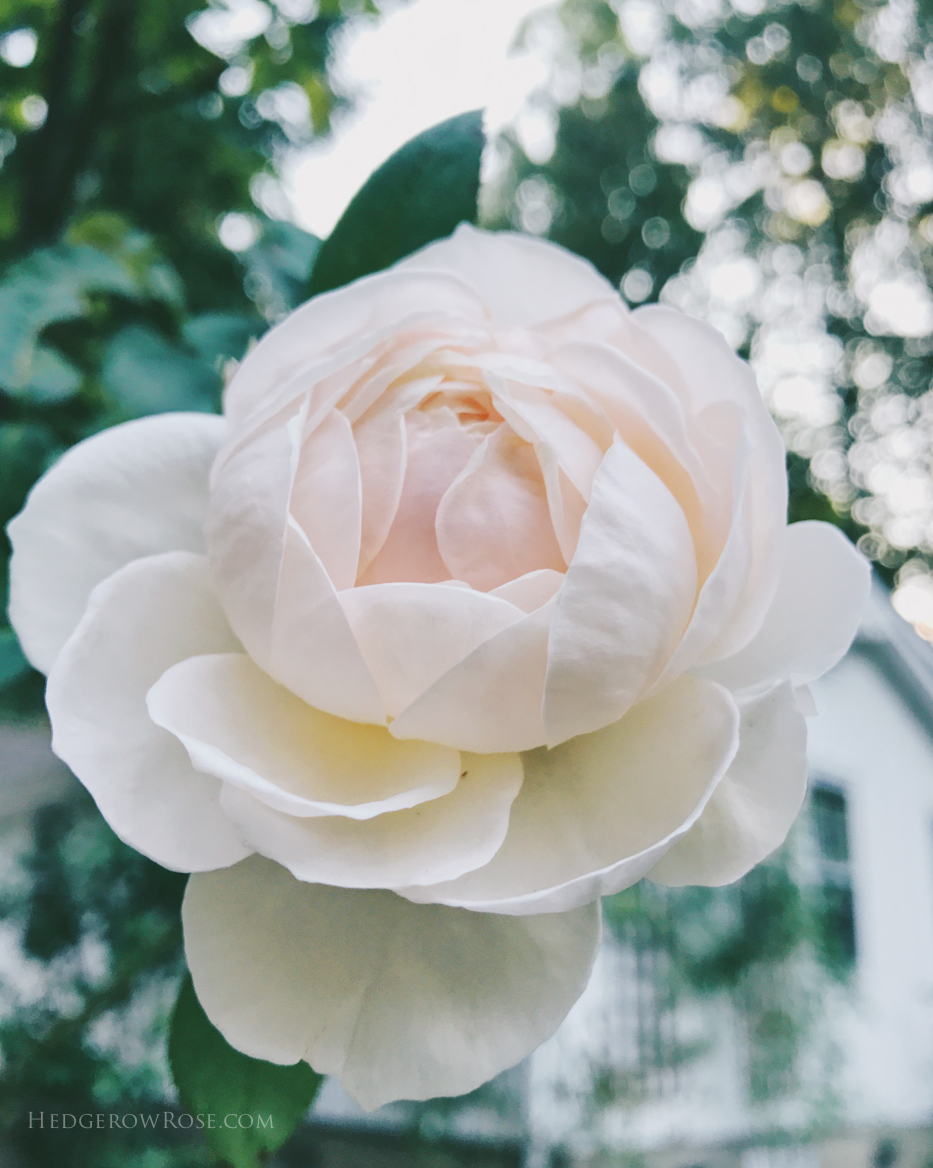 St Swithun: A casualty of that late freeze was St Swithun. We had to prune all the laterals to a couple of buds above the leaders and also remove some leaders that were in rough shape. A very hard prune on a climber is not a fun task. I refer to it as "Taking it all the way back to the studs." But just like a dramatic home reno, it has to look worse before it looks better and now we're seeing such fresh new growth and flowers. This is kind of a sidebar, but I'm really over how popular 'Pierre de Ronsard' (aka 'Eden') is because it's not a great rose, IMHO. I blame Pinterest. St Swithun has a similar look when in full flush, albeit a paler pink, and is a good alternative.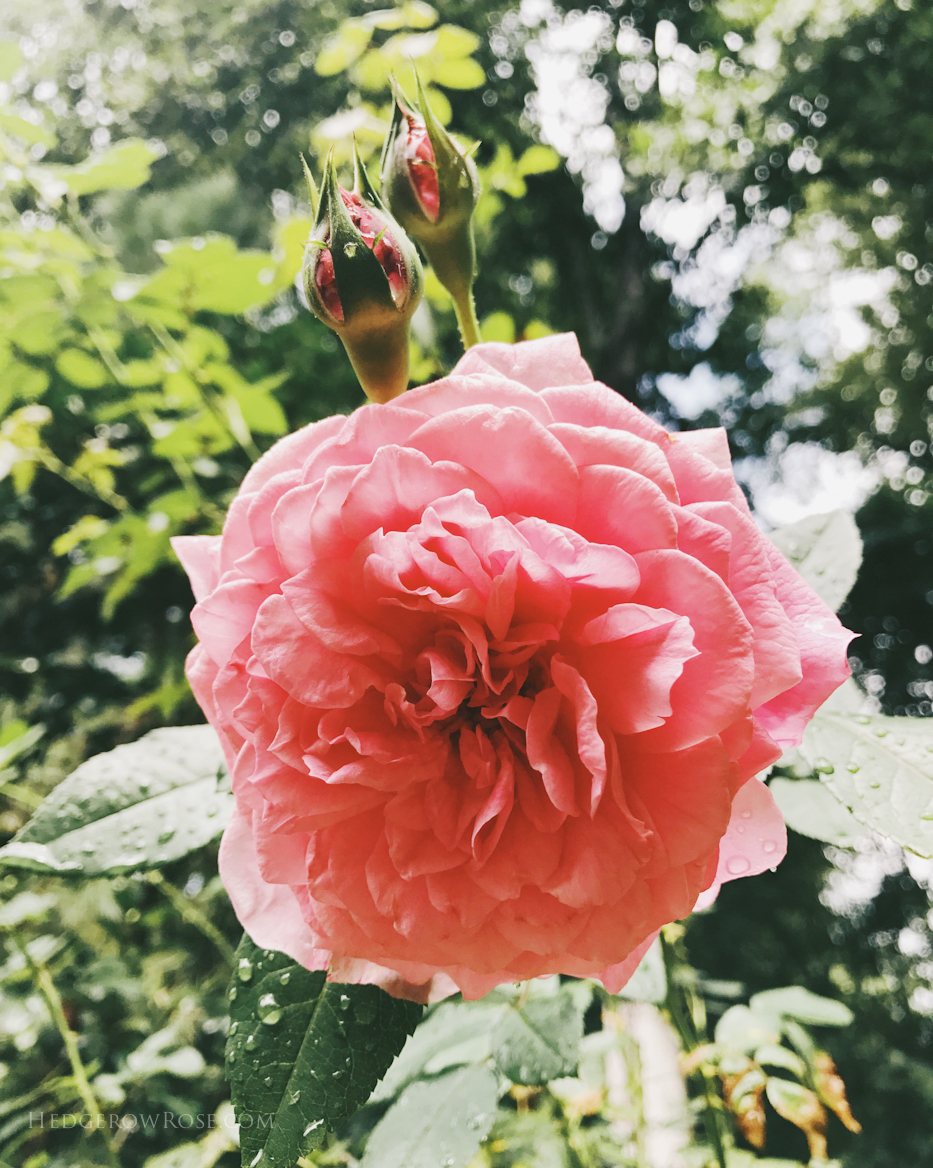 Zaide: A Kordes beauty. Some blackspot on the lower canes but the new growth is wonderfully healthy and glossy. A very good repeater, too, with several flushes a season. This rose, for us, gets very tall and topheavy, so we have hammered in some rebar beside it to use as a support. Flowers are fragrant and such a gorgeous shade of pink that really pops in the border especially with chartreuse-hued companions.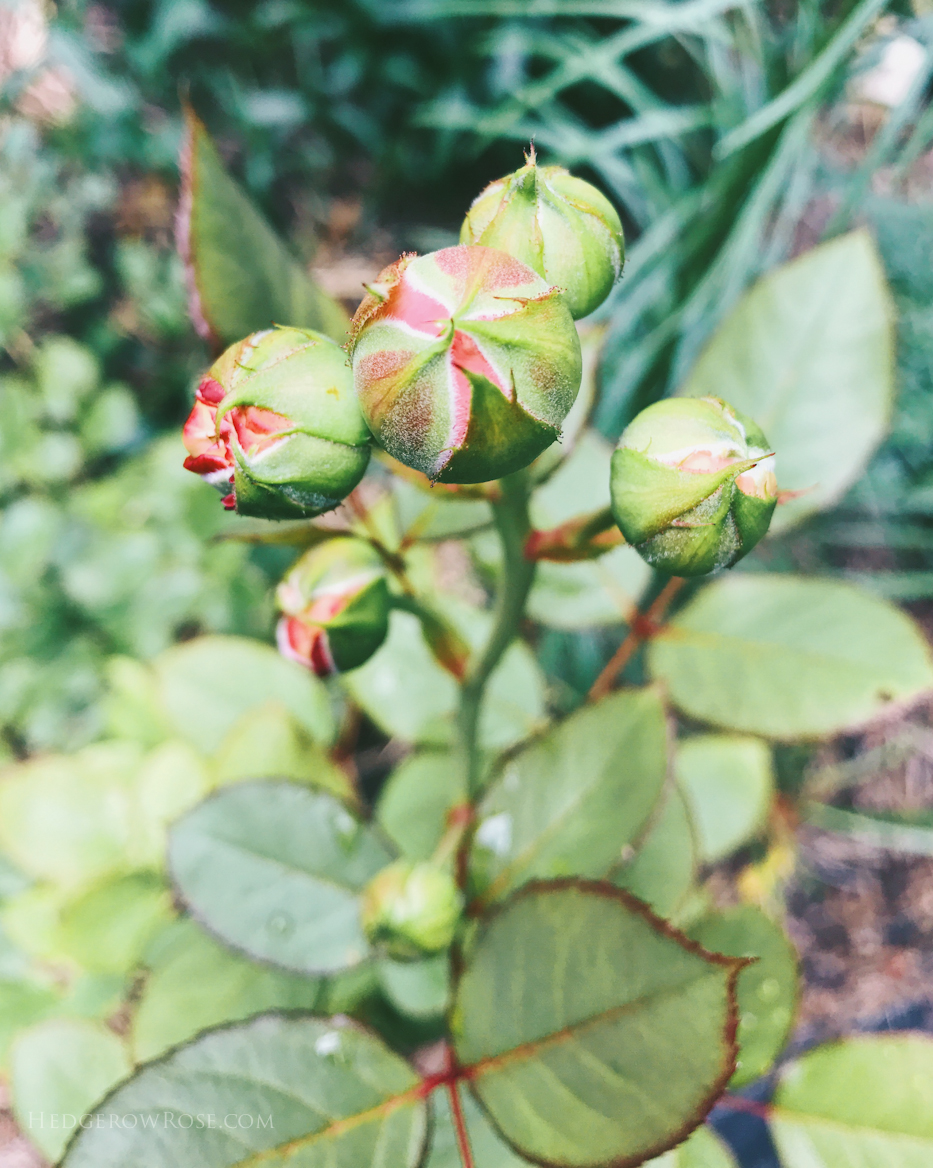 More buds forming on some of our other roses, such as 'Summer Romance' seen here. I'll make sure to share those, too, in just a few weeks. Any roses blooming in your garden right now?