I never thought of the phrase of seeing things with rose colored glasses as a negative thing–although I know it can have that meaning, someone being unrealistically optimistic perhaps. But as gardeners, we can't help but being optimists, right? I mean, we often plant things that we know we will never see reach maturity as a gift for future generations. As a gardener and a person who loves roses above all other flowers, I've always enjoyed the phrase "La Vie en Rose" literally meaning, "life in the pink" or seeing things with rose-colored glasses (in a good way). I wish I had photos of my old bedroom which was painted butter yellow (yes, I took an actual stick of butter into Home Depot and had them match the color) and painted in swirly pink script that phrase right on the wall. Very girly, but hey. So when I received this pretty pinkish/red ruby from one of my suppliers I decided to revisit an old design, in a sense. It's one of the many rosy things I've done this week (ps, that's 'The Endeavour' seen above which bloomed this week in spite of the cold), and on that note, here are some rose-related shares for you:
◆Looking for a fantastic blog? I admit the reason I have been MIA this past week or two is because I have been spending my designated blog time reading old POSY archives instead. In fact, among my husband and daughter we have dubbed the author, Jane, my "English Me" since she and I have so much in common (we even practically share the exact same birthday). Gosh, I hope she doesn't read this and think I'm some crazy American stalker.
◆Someday I want to own a whole pile of these gorgeous, rose-printed, hand crocheted pillowcases by rose hip. She sells out quickly so you have to watch her shop and pounce while you can. (I snagged this one for myself.)
◆I recently discovered Pip Studio, a design house out of Amsterdam and I about fell out of my chair. Pip's motto? "Happy Products for Happy People." How great is that?! Also, I have Jane of Posy to thank for introducing me to GreenGate, how I never knew about this shop before I don't know. So much rosy floral goodness (but it's difficult to track down stockists for each here in the states. You can find some things on Ebay and various shops if you do a Google search). I think I like these shops even more than Cath, and that's saying something.
◆Floret Flower Farm continues to blow my mind with photos of their gardens like straight out of some kind of fairy tale. Don't believe me? Take a look at this.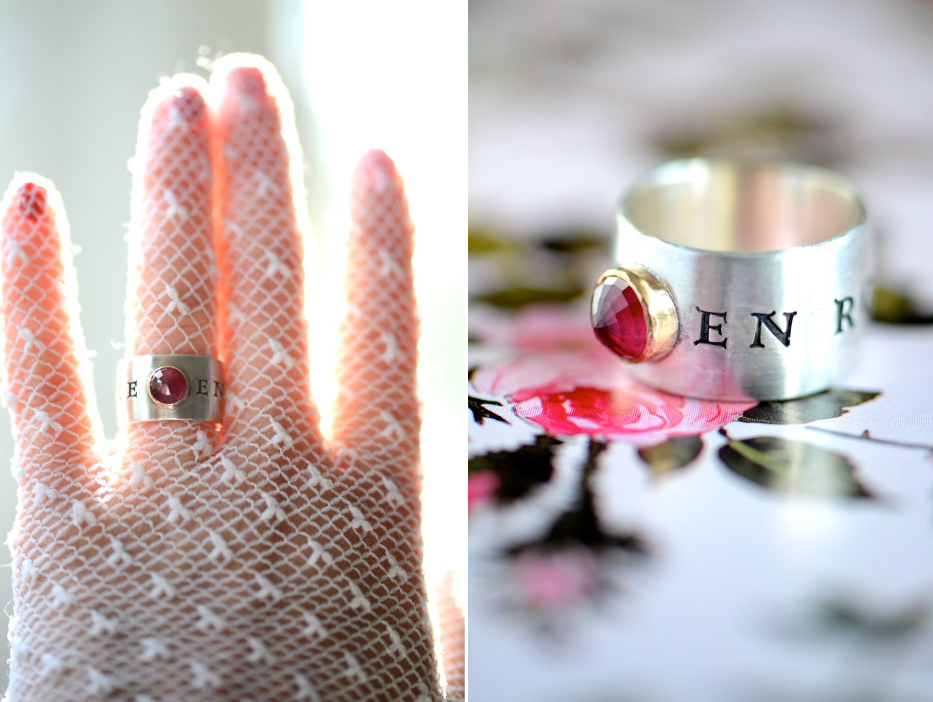 Ruby, sterling and 14kt gold fill ring, phrase reads, "La Vie en Rose". Available now in the shop. Sold out!