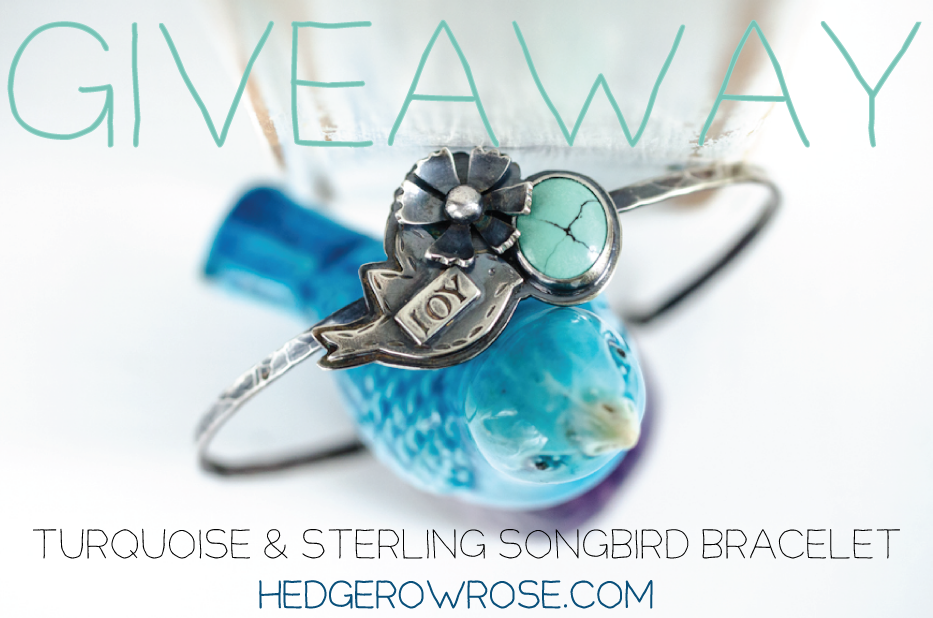 WINNER SELECTED!!
Thank you all so much, no really–from the bottom of my heart–for all of your kind comments. GOSH. I am so blown away by your kindness and wish I had one of these bracelets for each of you!
As for selecting the winner, I used Random.org to help me with this and Vicki F. you have won!
Thank you for your comment: "Hi!! You are an Awesome artist with lovely jewelry, I would wear this Songbird Bracelet with pride! I would also wear it to honor my mother & remember her with joy as she was a bird lover and passed away early this year at age 92."
Vicki, I am thrilled that this bracelet will help you honor your mother. Seems like maybe it was meant for you all along? I will be sending a notification to your email soon so we can get it to you ASAP! 🙂
——————————————————————————-
Finally, a giveaway! I recently created this one-of-a-kind Songbird Bracelet from recycled sterling and natural, solid turquoise. The little bird carries "JOY" in her heart, as I'm sure you do, too. 🙂 This giveaway is open to all, so please feel free to enter even if you live outside of the U.S. I'll leave it open until September when I will randomly choose a winner. Thank you for being so wonderful!
HOW TO ENTER:
♥ Leave me a comment here on this post to let me know you stopped by. Tell me what your favorite piece of jewelry is in my shop (past or present), or what roses you are growing in your garden, or the names of your pets or just say Hi! It doesn't matter–just leave some kind of blurb so I can include you in the giveaway.
♥ Increase your chances of winning by sharing: Are you on Facebook, Instagram, Twitter or Pinterest? Share this giveaway and receive an extra chance to win! PLEASE LEAVE AN INDIVIDUAL COMMENT HERE for each of these shares. So example, if you shared on Instagram and Facebook leave me 2 more additional comments to let me know where you re-posted the giveaway. Get it? That way your name will be included those additional times when I randomly select a winner and it will increase your odds of winning. Good Luck!