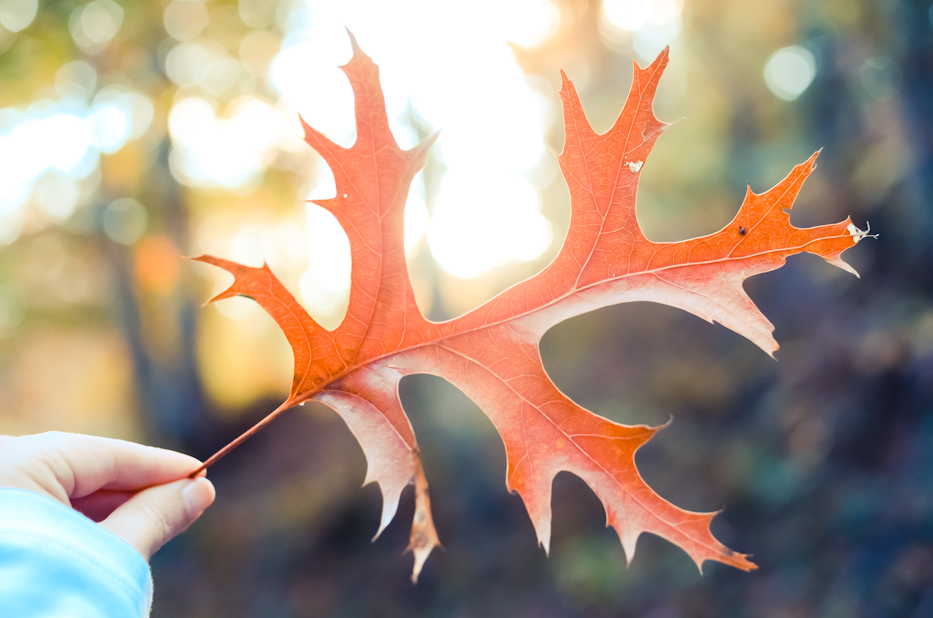 A very merry autumn to you. Has it been the most beautiful fall in your garden, too? Apart from that bit where we got a touch of that hurricane rain, the weather has been too perfect for words. I haven't had this much sunshine since I lived in California. We were just talking about that, in fact, how our old home in State College gets more annual rain than Seattle. At any rate, I'm glad to be in WNC now and soaking up this sun like crazy.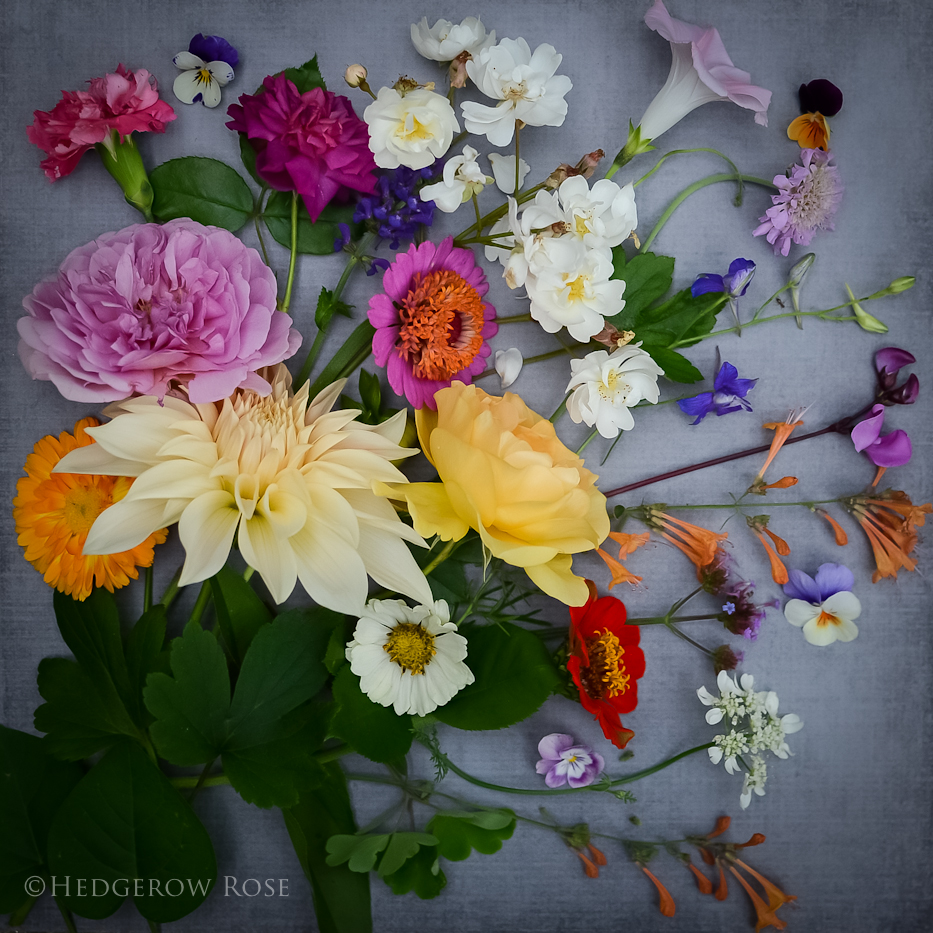 Our measly flower garden surprisingly yielded enough for an autumn collage I was inspired to create for Emily Quinton's #FridayFloralCompetition. Now, it's a new print! Find it in the shop HERE.
Have you heard Adele's new song? It's been stuck in my head all day. Was listening to the interview with her on Radio 1 and say what you will about her music that gal can hold an interesting conversation. Something she said rang true for me, especially in relation to the blog. Something about how we are living in a society of oversharing and it takes away the element of surprise and uniqueness. She said she's been quiet as of late because she didn't have anything to say. Simple truth, and it resonated. My blog has been quiet because, honestly, I feel like I've been a bit boring lately and I have nothing interesting to share. Around here, the name of the game has been "fix it before it gets worse" and less about the pretty. I'm excited for spring, though, when we can have some fun with the garden a little. But for now, here's a little bit of what we've been up to in our garden and our home.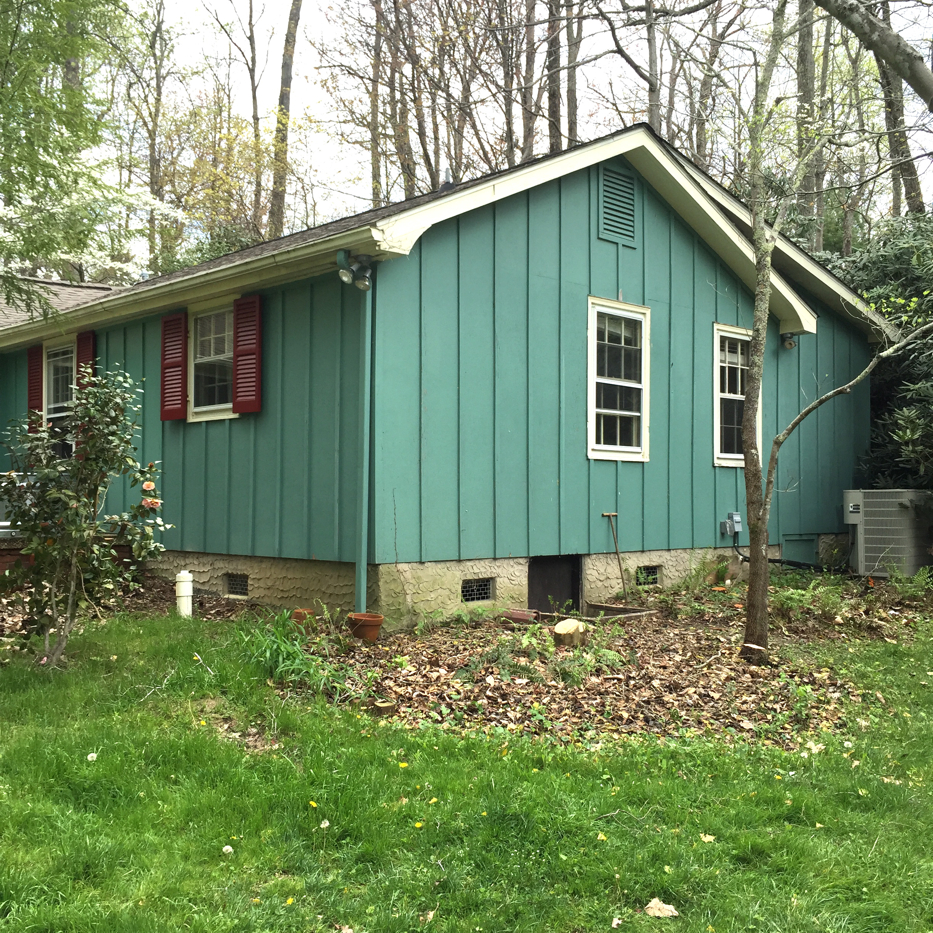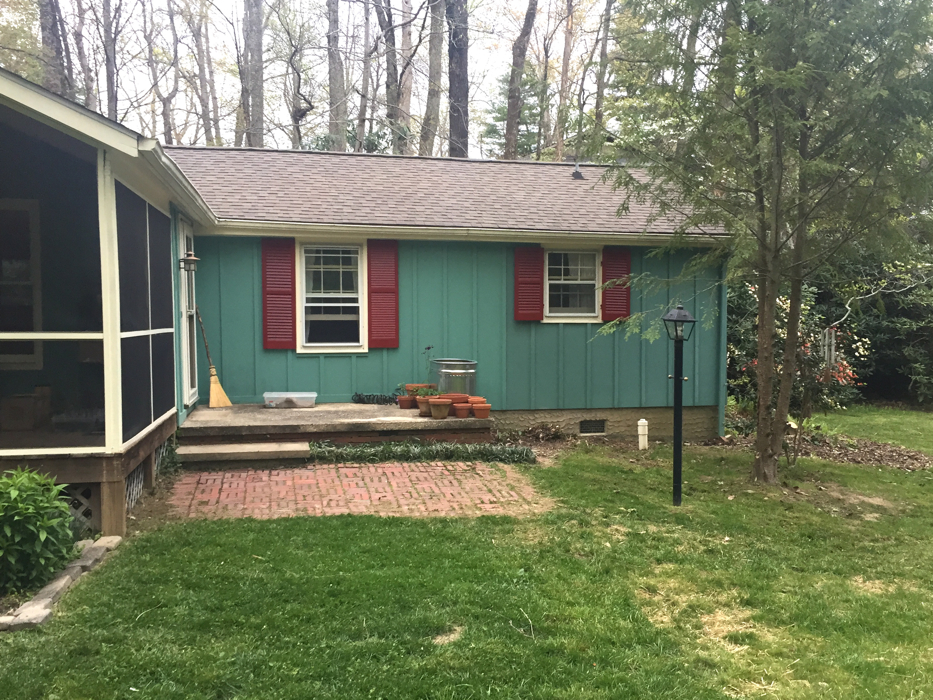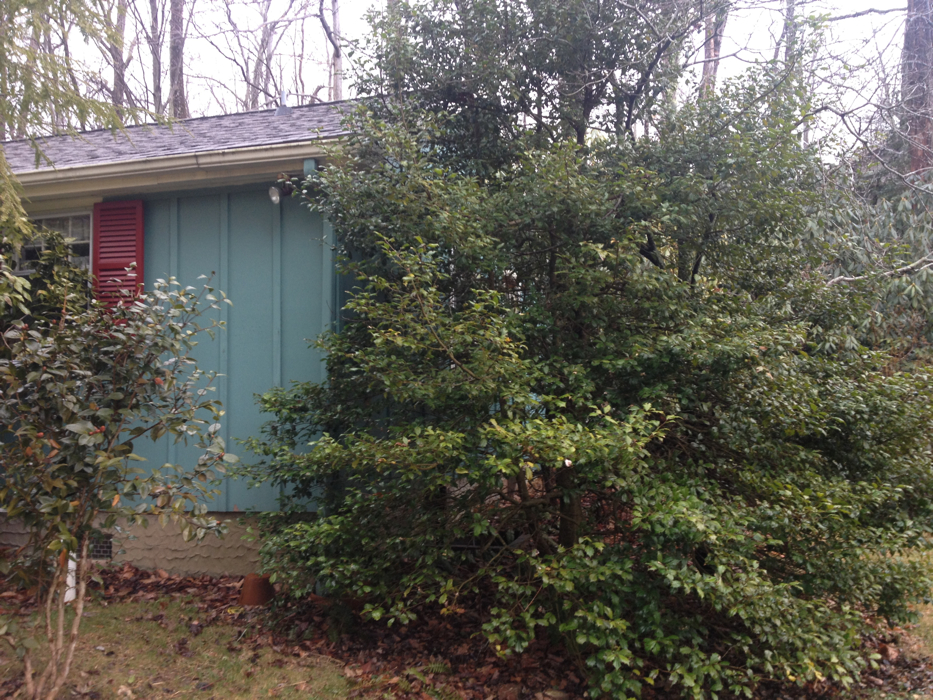 These photos were taken in April shortly after moving in. In some, we had already removed some trees and shrubs that were blocking the windows and discovered the brick patio under the grass. Jesse and I were looking at these photos earlier, and I think he summed it up perfectly when he said, "Why did we buy this house?!" We love it now, but at the time…we must have temporarily lost our wits.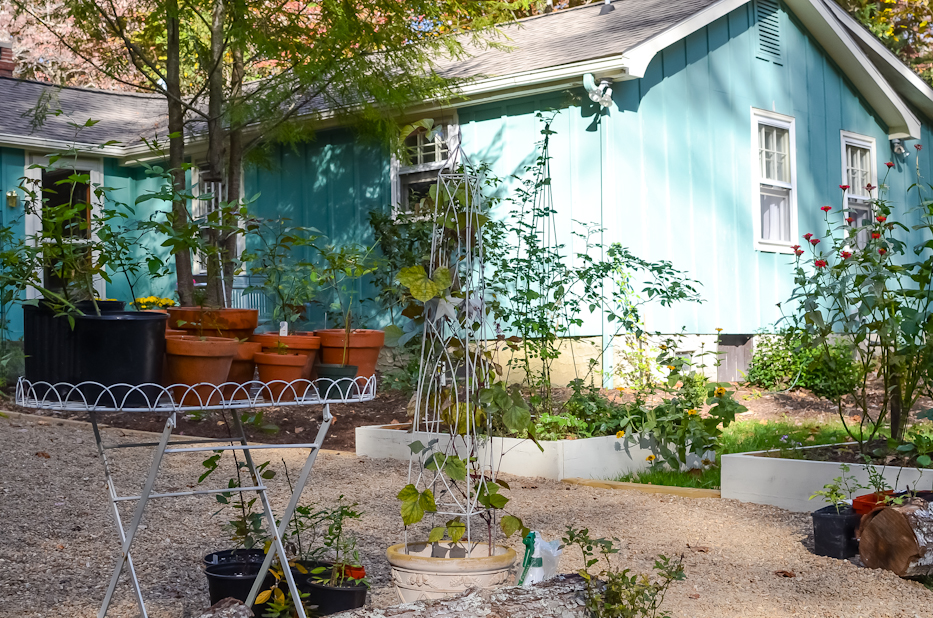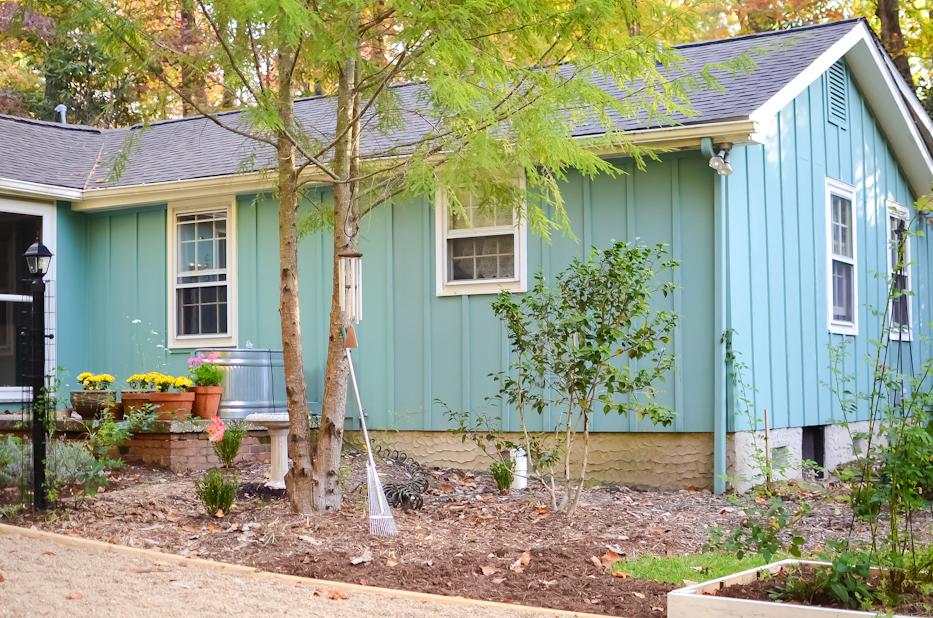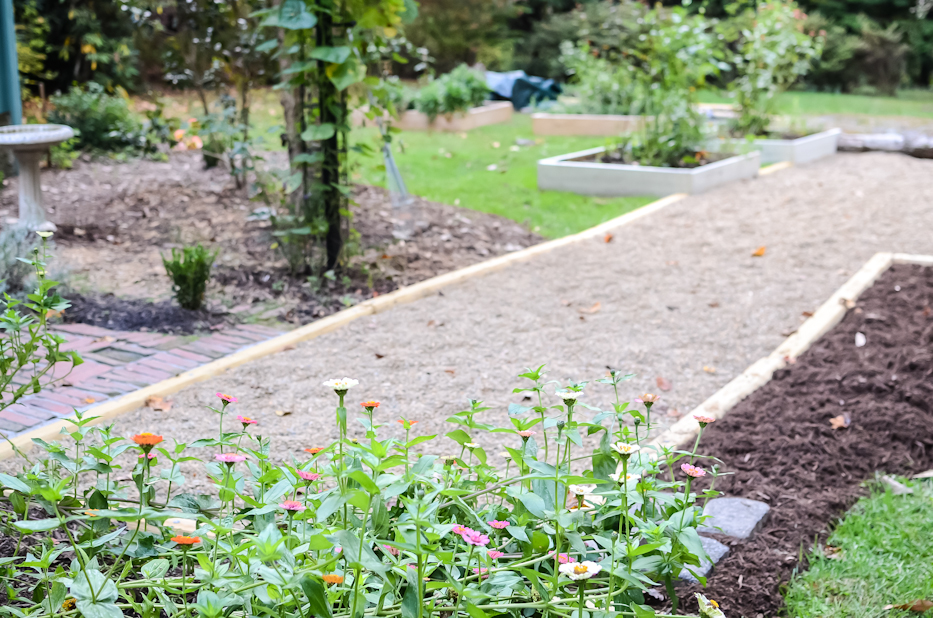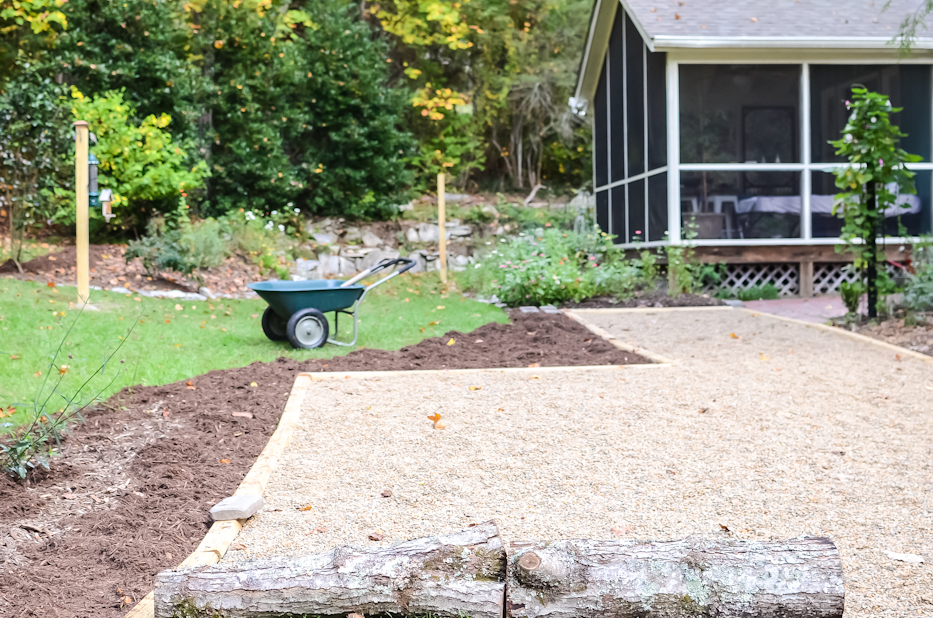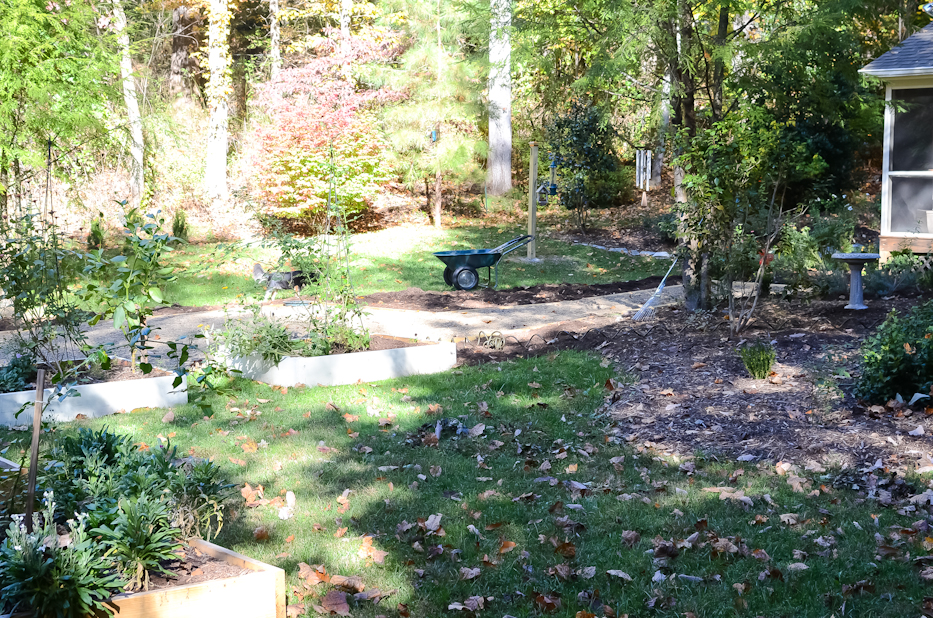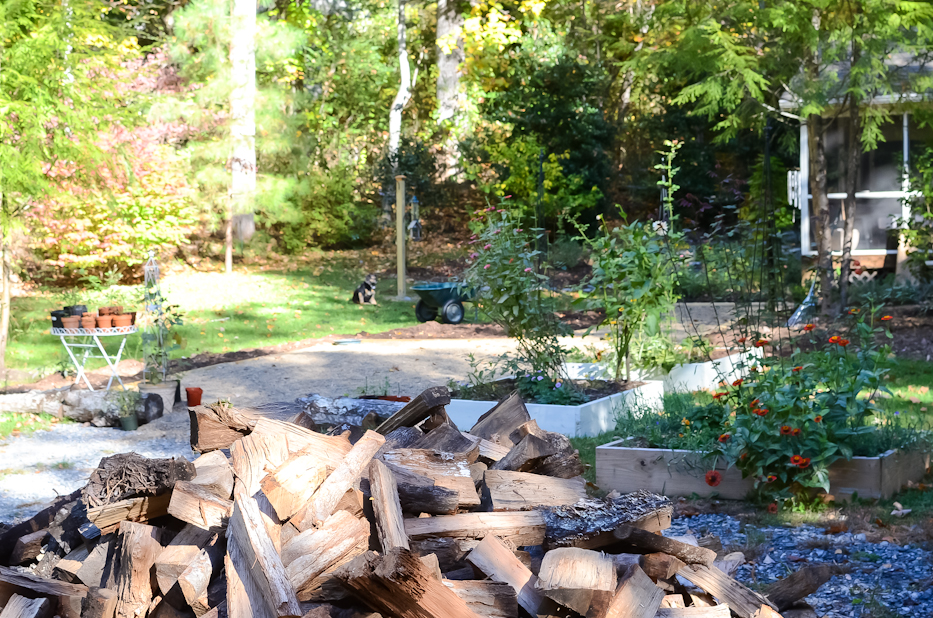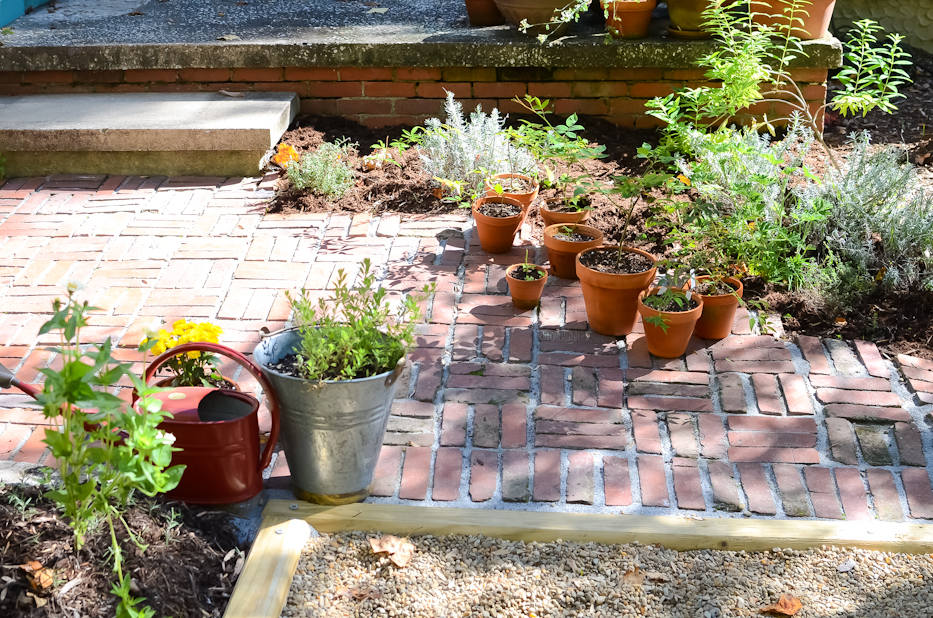 Here's how the front garden looks 6 months later. I think it's even prettier in person, but maybe that's because I'm still loopy from all the effort that's gone into it so far!
Let's start at the front of the house and work our way back. Some of the things we've done here are: removed some trees, brush and invasives, built some raised beds, extended the front border, planted a few hedges (roses, junipers and arborvitae), repaired the old brick patio, repaired the lamppost, removed shutters/repaired some rot, added a front path and small propagation area. Up next: Two more raised beds and mulched paths but, more importantly, exterior, exterior, exterior. The blue has got to go. I also want to add gingerbread trim and windowboxes.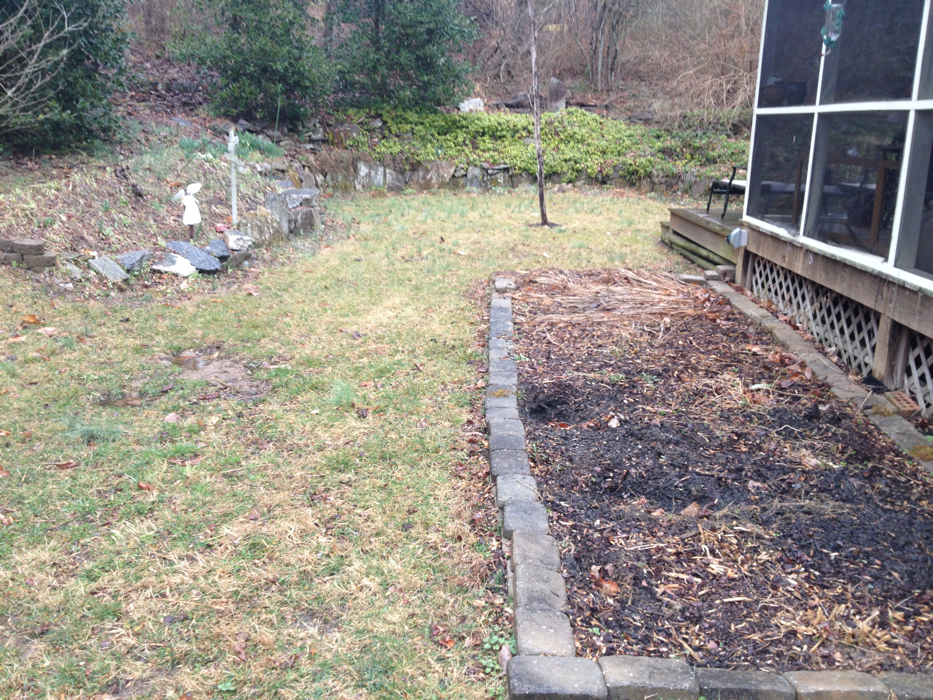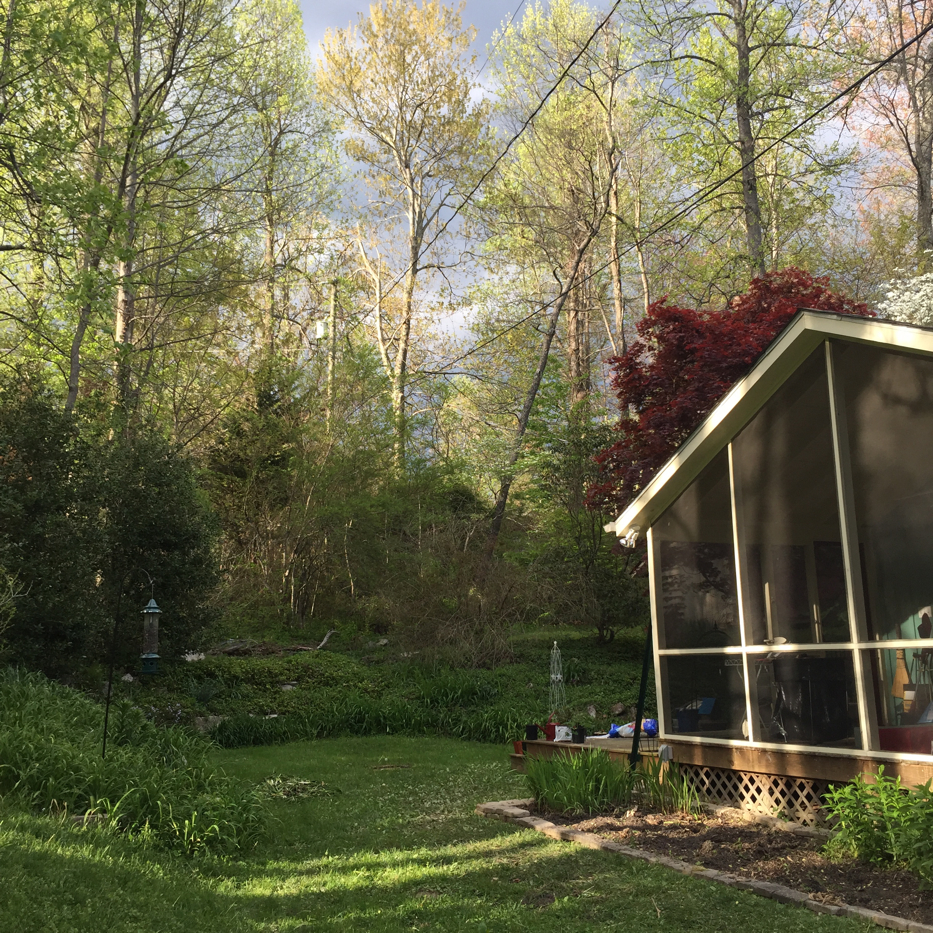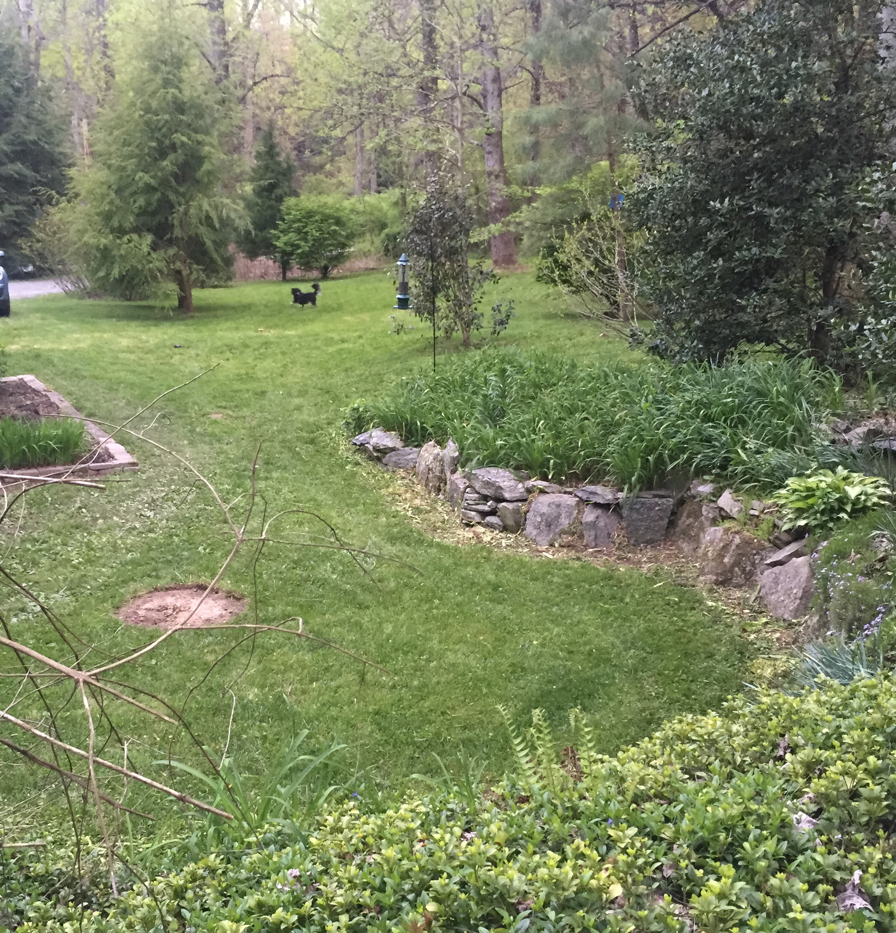 These photos were taken in April during our walk-through and shortly thereafter after I'd starting weeding out.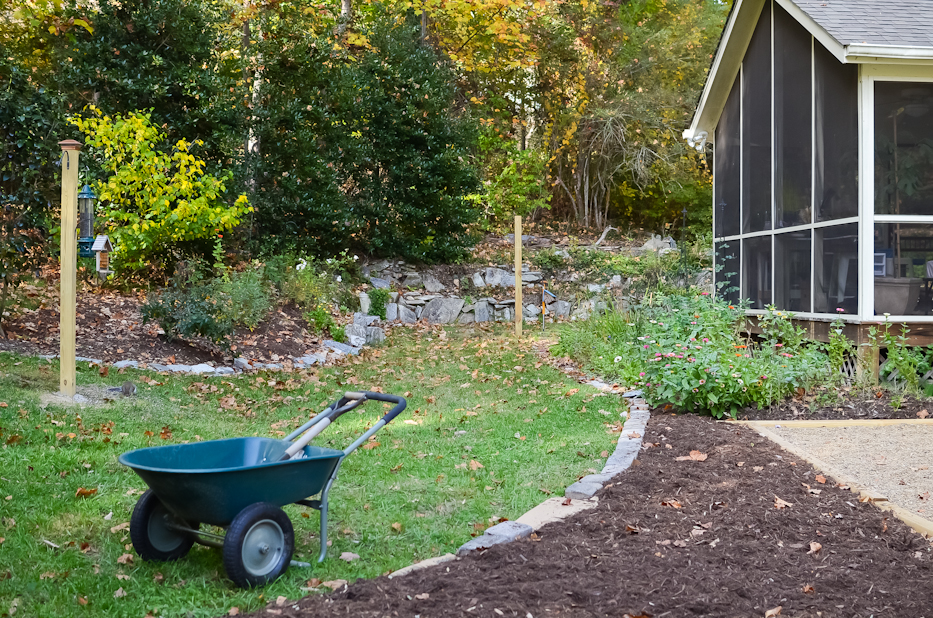 I took the above photos only moments ago. Sorry they aren't very great. In the picture above, you can faintly see the outline of the bed I'm working on now. The bed in the background, behind the rocks, is where the daylilies were and is going to get expanded, too. That birdhouse is hanging there reminding me to bring it up to the shed. It'll probably still be there in a few weeks. 😉
Moving along the side of the house, what we've done here is: removed the daylilies/weeds, extended and weeded the two beds on either side of grassy path, planted some roses and perennials, installed a bird feeding station and a post for future dovecote. Up next: finish the bed around the dovecote (add the dovecote, of course), and perhaps install an arbor.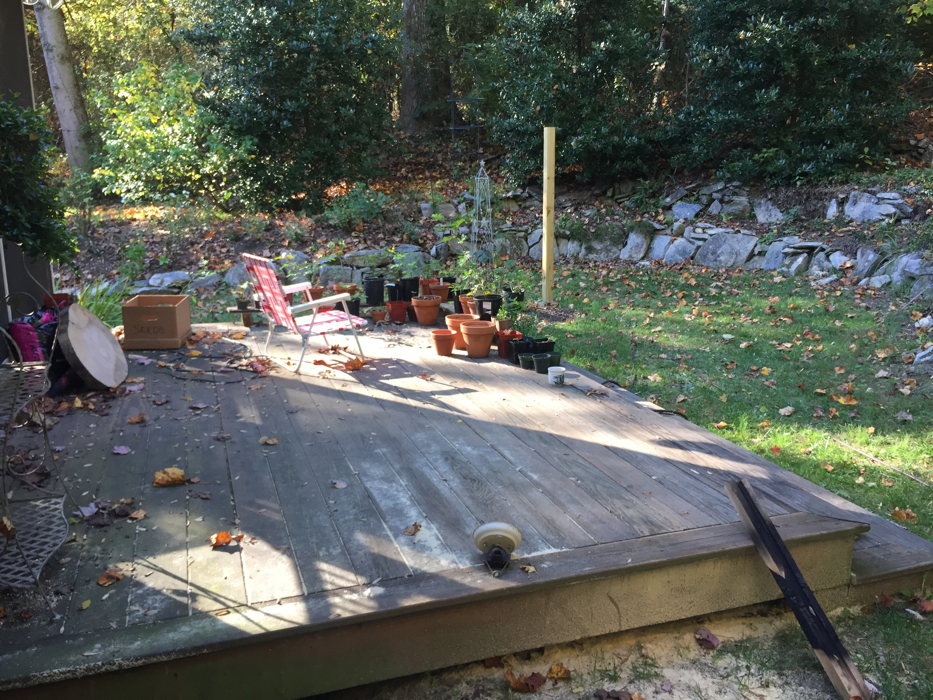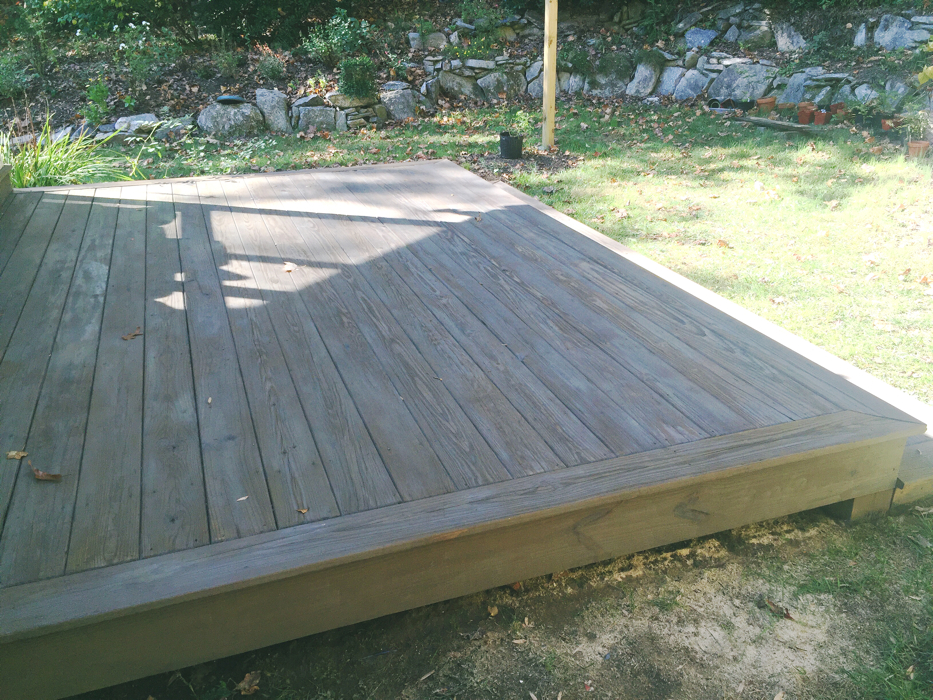 The back of the house has seen the least amount of work, but recently we did powerwash the deck and give it a new coat of stain/poly. Up next: We're still waiting for the rockery garden to get weeded out. It's been like my tell tale heart and I can't wait for it to get done.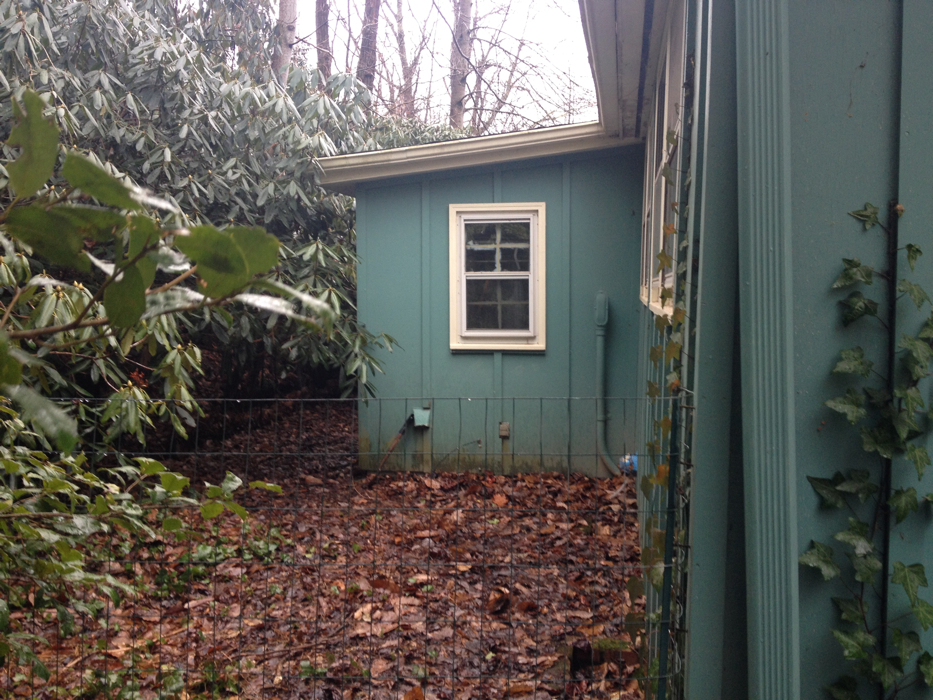 No words.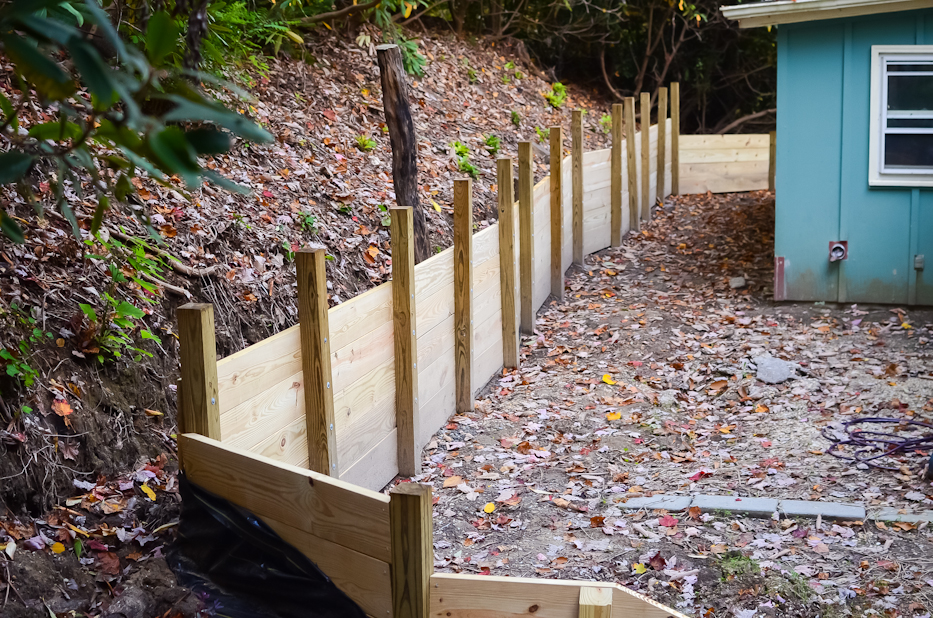 Progress.
The other side of the house has seen some dramatic changes. The native rhodies and scrub trees were literally pressing in on that side causing a lot of damage to the house exterior so they needed to be all cut back. The previous tenant used this area as a dog run and there were a lot of "gifts" from the dog we were left to clean up. Joy. Following that was some kind of retaining wall scenario. We were quoted anywhere from 5K-10K to have one installed professionally so that wasn't happening. My husband built one himself and this is how it looks now. It was a bit of a job as there were many roots he had to contend with and it altered the path of the wall. It's not finished, of course, but it looks so much better back there already. Up next: Finish the retaining wall by adding the trellis topper and there is a lot of work yet to be done on the house exterior. We initially were going to paint it, but now, looking at it more closely, feel it needs more of an overhaul. Ouch. Also, we're getting pea gravel installed back here to make sort of a patio and I'll be creating a bed where you see that mudpile in the foreground.
Note: There's stuff you don't see here in these photos like the termite eradication we had to perform immediately after moving in. I can't even begin to tell you how important it is to test for termites as part of your home inspections. A very, very expensive lesson learned.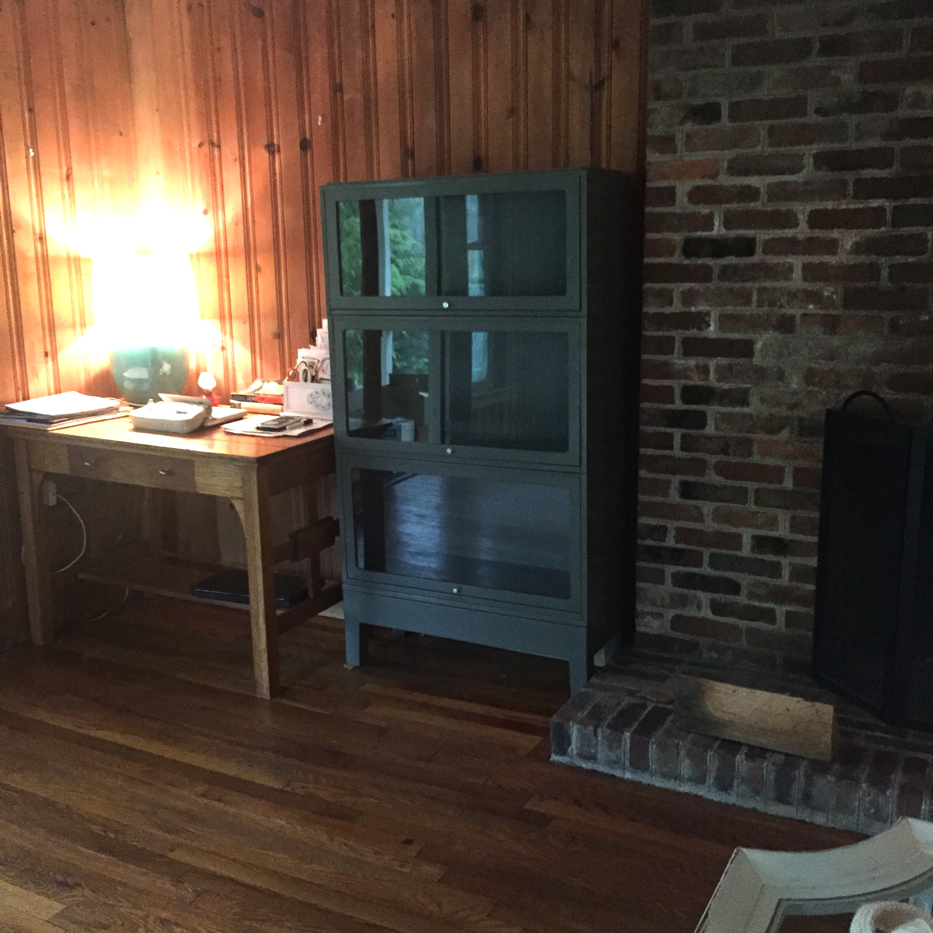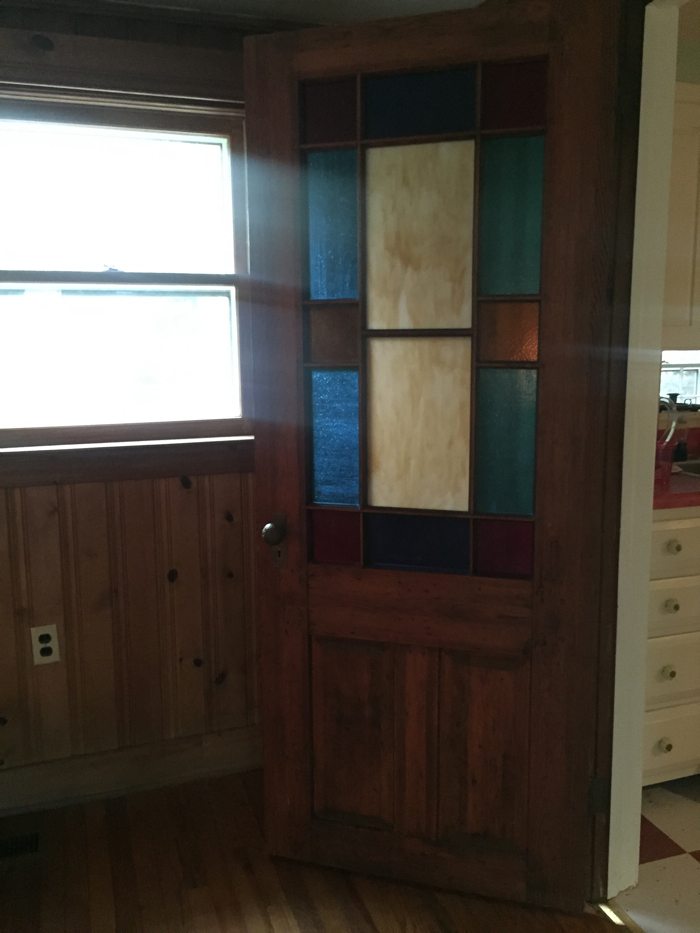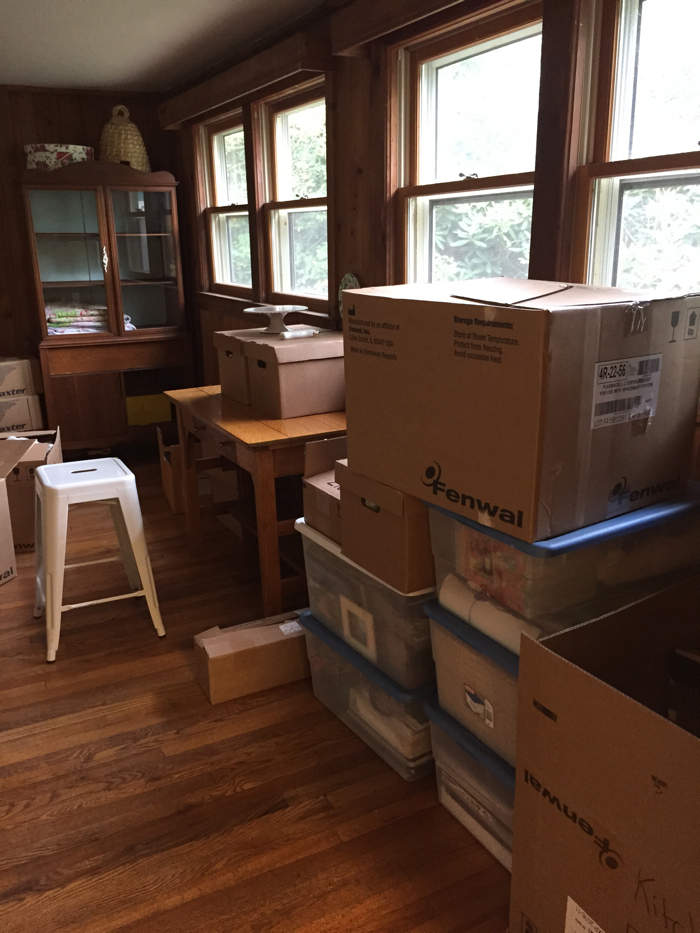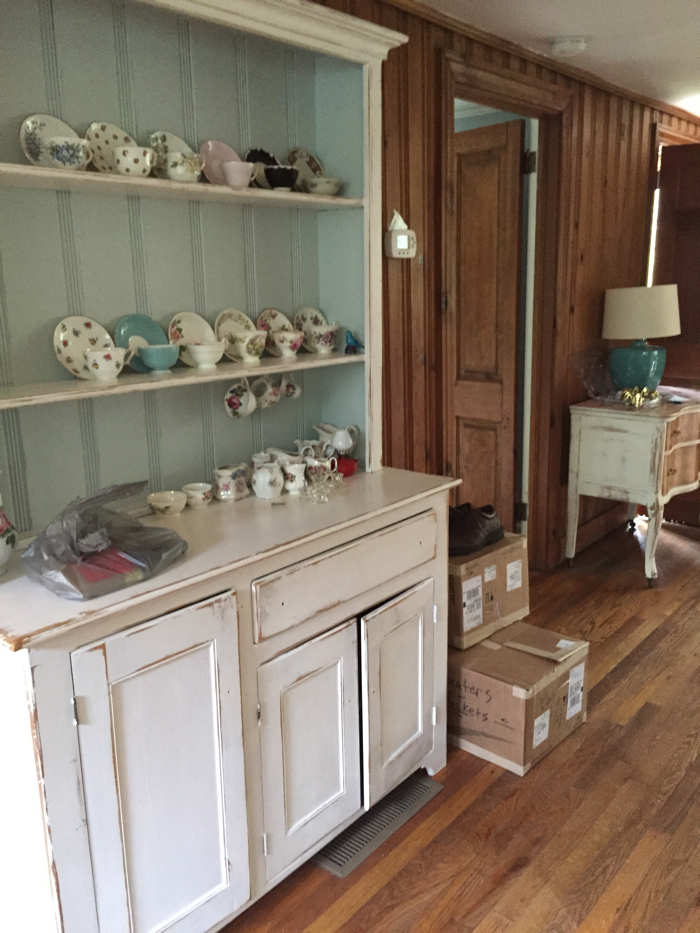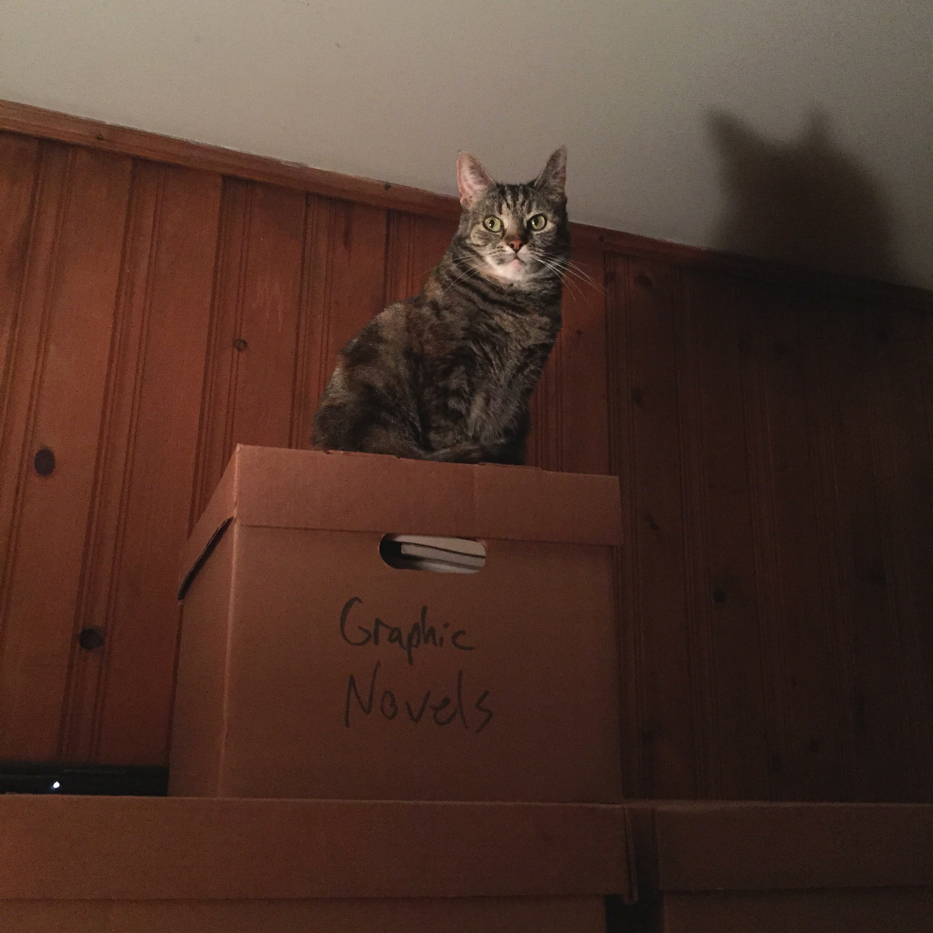 Taken just after moving in…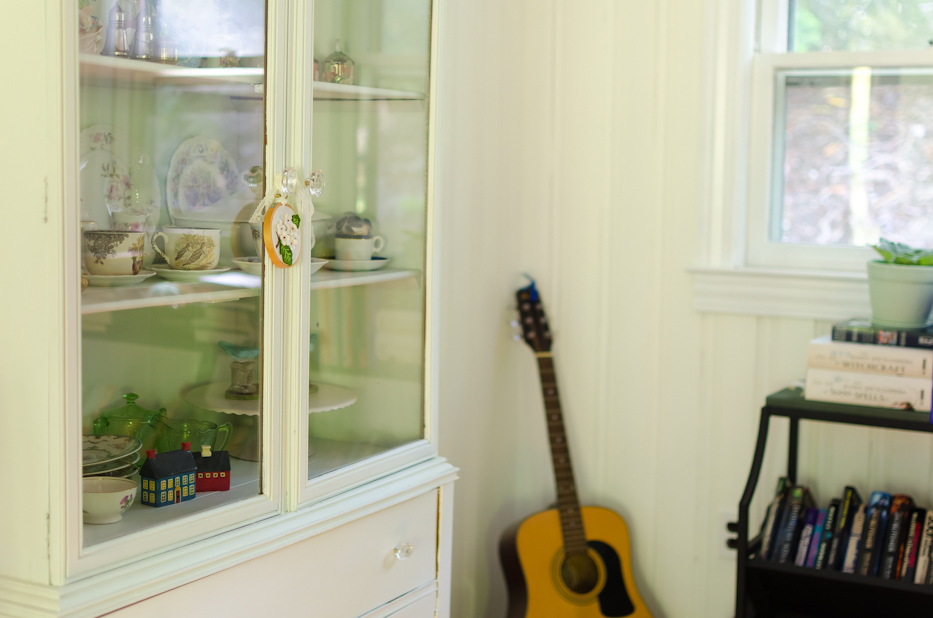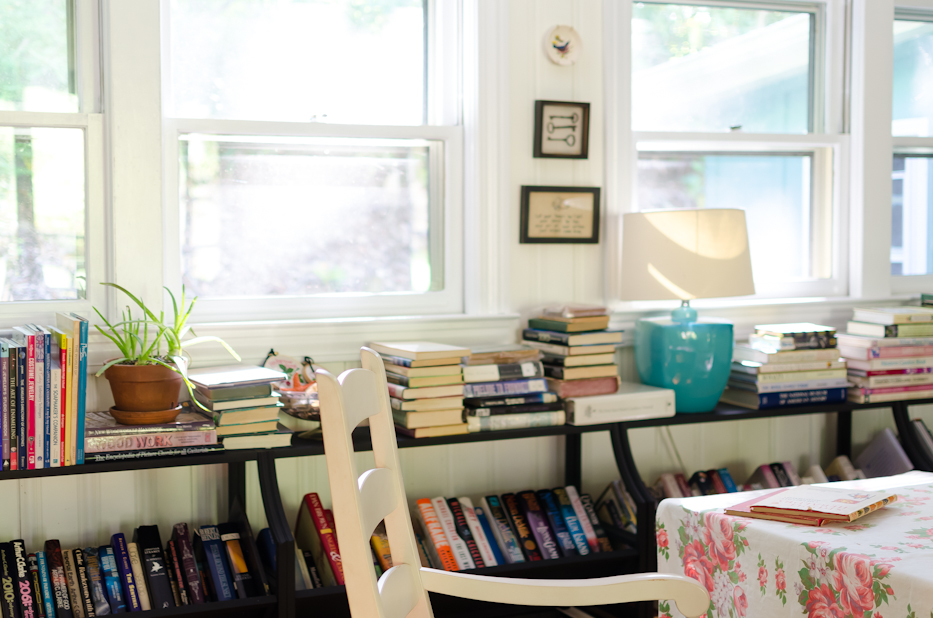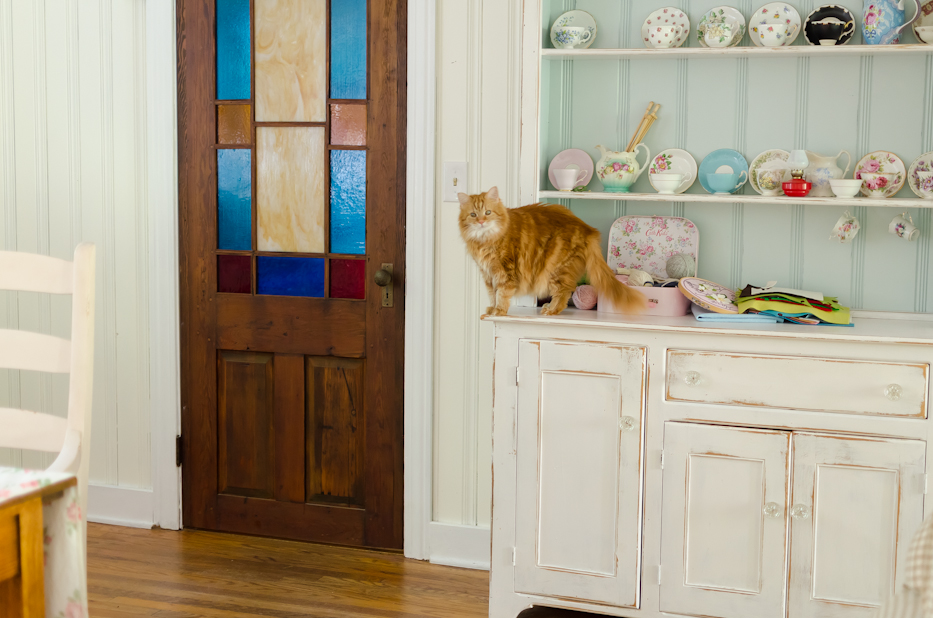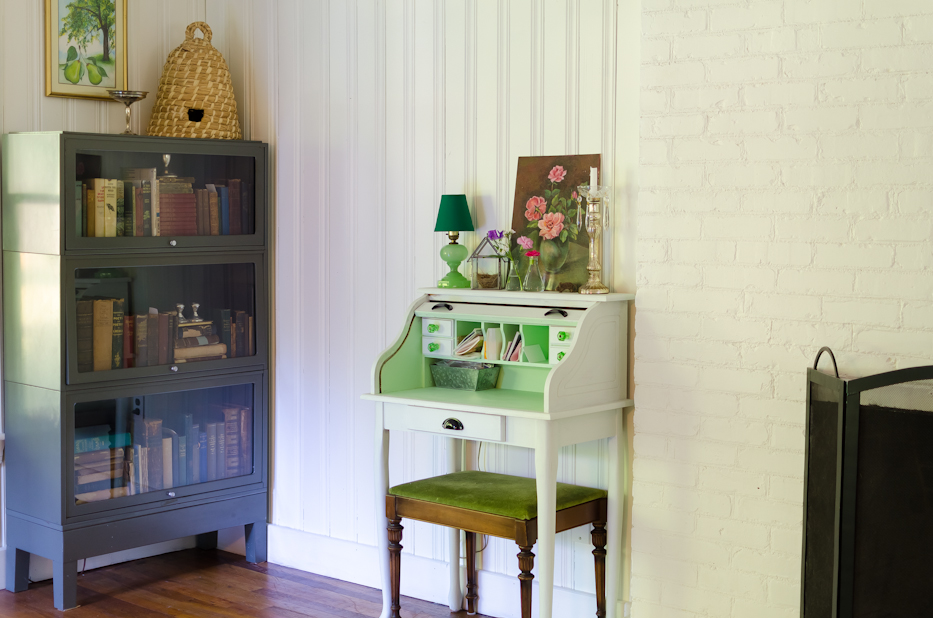 These photos were taken about a month ago. When we moved, we gave away just about everything we owned which was equally brilliant and moronic. I desperately want to get this living space more pulled together and less like dorm-room chic but I think that's going to be last thing on the list.
Inside the home, we painted the knotty pine paneling that lines the living room. Painting these walls made a huge difference for me as far as the house feeling more like home. Even though I'm not sure I'll stick with this particular shade of white (Behr 'Pot of Cream' if you're interested), it's giving us a blank canvas at least. If you're thinking about doing something like this, some words of advice: first, get the Zinnser BIN primer/sealer stuff. It's more expensive and smells like 100 proof vodka, but it gets the job done. Second, paint the knots first with a few coats to really seal them. I also painted the brick fireplace but I actually want to do a separate post about this but that was an odyssey and I think the experience changed me. 😉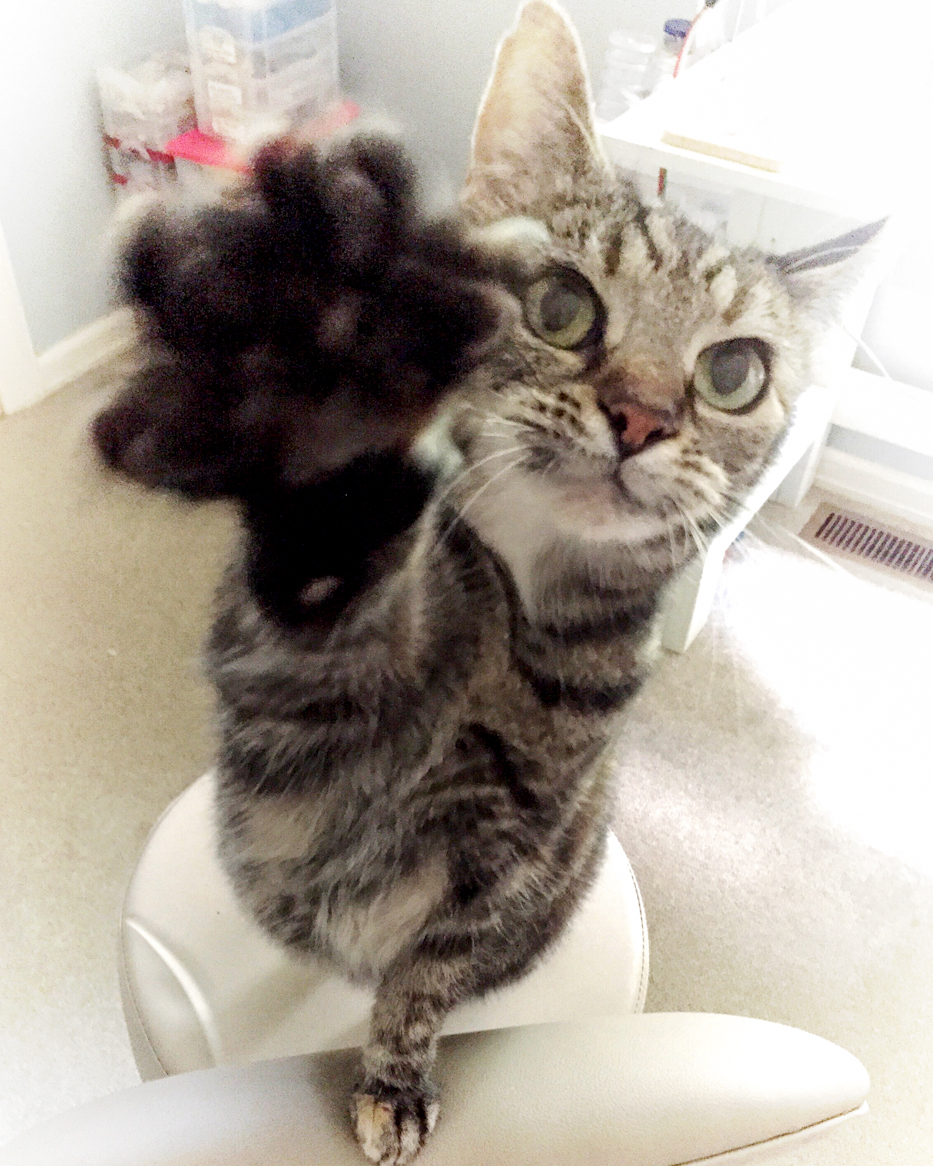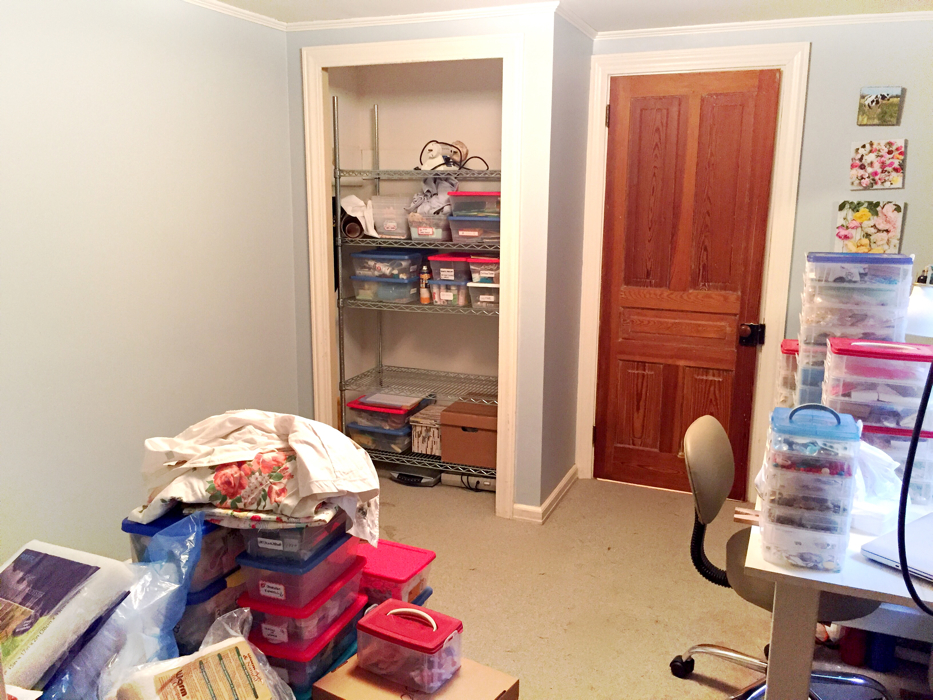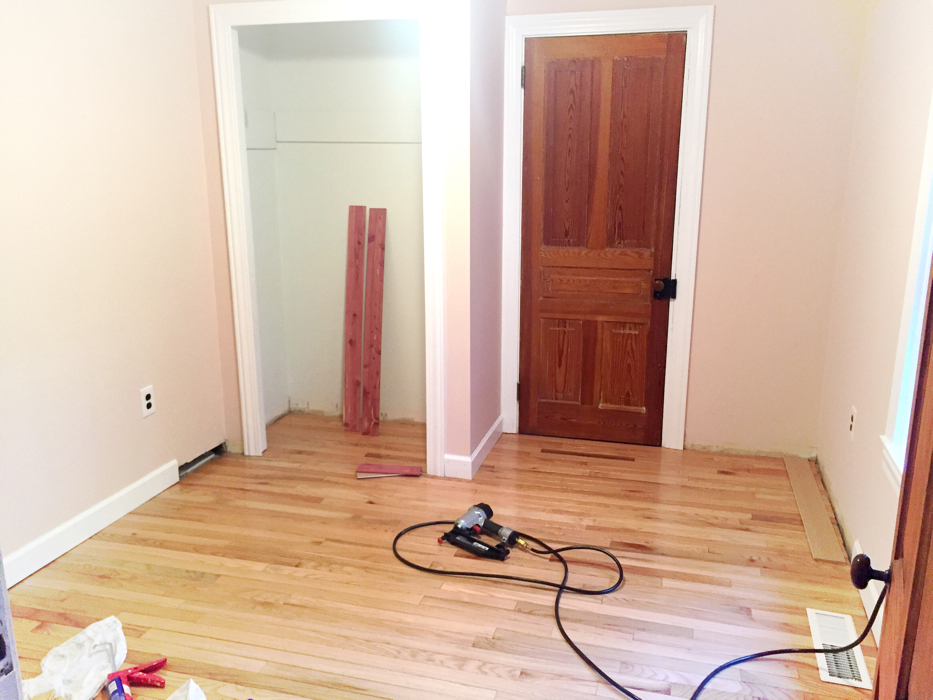 You've already seen the one bedroom we started fixing up, but here's the other so far. (Our house is a 2/2 with kitchen and laundry and everything needing a redo. Sigh.) This room is smaller than our master, if you can believe it, barely clocking in at 100 square feet. I don't know what crazy pills I was taking when I thought I could make it a guest bedroom and a studio space. Like it was some kind of TARDIS? We quickly realized that error of thinking. Here's what it looks like so far and I'll post some more pics of this room when it's finished.
Up next: We're trying to wrap up all projects we've already begun and then take a couple of months off. What with November being right about the corner, our daughter coming in for a visit, my birthday, the holidays, etc. we thought we could use a break! That may or may not happen, though, because we both want to firebomb our laundry room so we may be back at it sooner than later.
And now back to you! What have you been up to this autumn?